Firmly in the nub of New York Fashion Week, we're seeing a roster of collections coming in quick succession now. Between some clean palettes from Tibi to preppy chic from Tori Burch, we're looking at a diverse F/W'19 ahead, where the rules are, well, there are no rules – just how we like it.
Now that we're halfway through NYFW, the meatier collections are strutting down the runway. The labels we've rounded up today convey a mix of tough-meets-feminine (Zimmermann, in particular), sleek and slick via Proenza Schouler, minimalist, maximalist – thanks to Carolina Herrera and immaculate, and we mean, immaculate tailoring from Helmut Lang.
Here they are in greater detail…
Carolina Herrera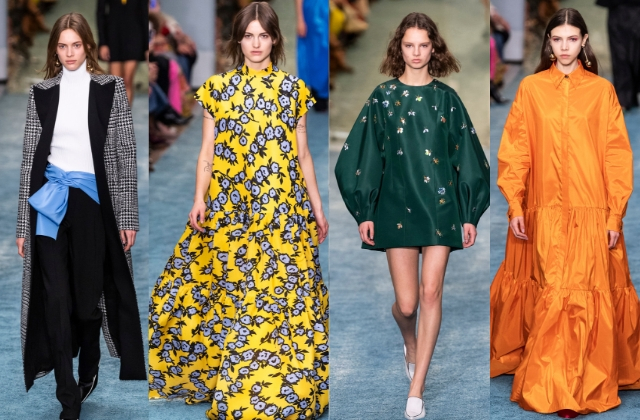 What you need to know: So flowers aren't just reserved for Spring ("groundbreaking," so says Miranda Priestly) as clearly seen in Carolina Herrera's F/W'19 collection. As Creative Director Wes Gordon always does, the silhouettes are billowy, strong in pattern and relaxed in fit. The focus was on flowers, which Gordon referenced with a sunflower wall that was installed in the entrance of the New York Historical Society, where the show was held. In all, the collection is a grand gesture of elegance.
Helmut Lang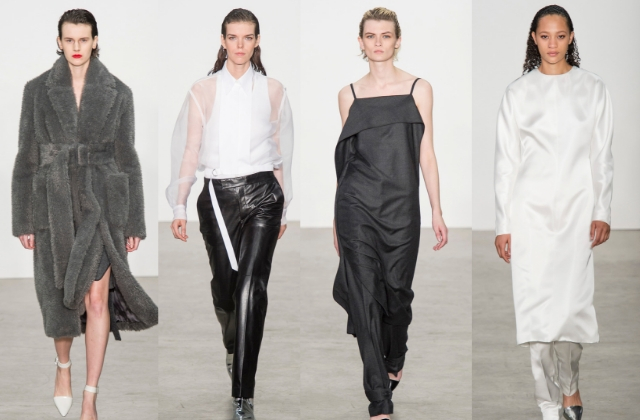 What you need to know: This season Helmut Lang serves up a lot of stiff tailoring and boxy silhouettes – but none of that means stuffy, trust us. The colour palette doesn't stray from the usual uniform selection we're used to: black, white, grey – and elsewhere there are pops of pink and cherry hues. There's also a distinct '90s nostalgia vibe about the collection with tuxedo pants and a towel-robe coat for extra measure (how comfy, though?). Yes it's pretty androgynous and kept within the lines but there's so much dynamism, too.
Zimmermann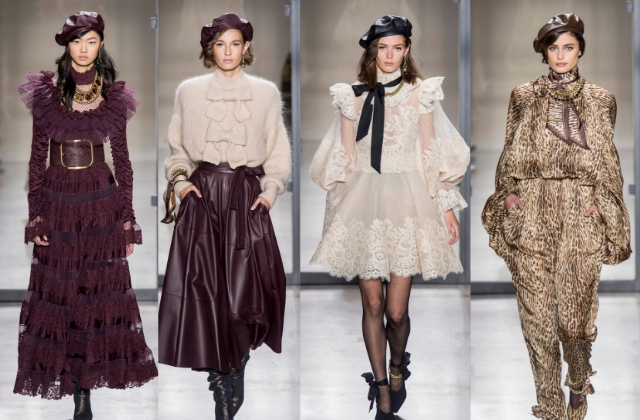 What you need to know: So here we've got a mix of tough and pretty girl brought together in a fashionable Jekyll and Hyde kind of way. There are so many options between buttery leather trenchcoats, oversized bomber jackets, high-waisted, obi-belted trousers and wrap skirts – it's clear the Aussies like to keep their options as open as the sea. We loved the nod to French girl chic (hello Mr. leather beret) and the full-piece animal ensemble – because if you're going to commit to a trend, you may as well go the whole nine yards.
Proenza Schouler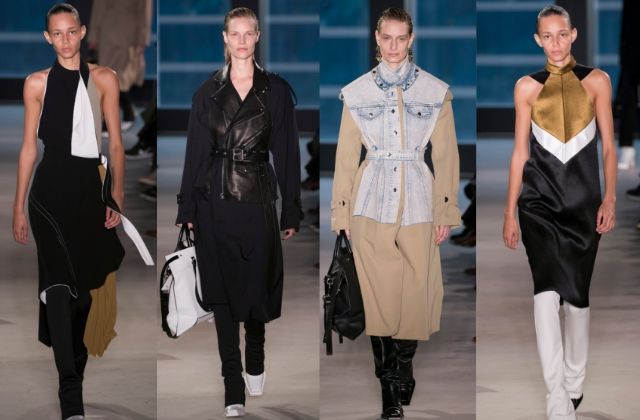 What you need to know: If there's one look that is both easily done and an instant success, it's the sleek and slick vibe. Proenza Schouler has taken a high-shine and heavy-duty layering approach for F/W'19. Denim makes a prominent, albeit cut-up appearance, meshed with trench material, while layering is another key trend here, with basics built up to give a more distinguished look with added oomph. In all, Schouler adheres to winter's key codes but plays with dimensions. We heart a lot.
That's that for day five. More to come after tonight's showcases are complete.