So now the fash pack is firmly living out of a suitcase. Starting off in NYC for New York Fashion Week, to London for LFW and now they're in Milan for some of the most anticipated shows this season.
Take a look at who caused a social media stir on day one…
Gucci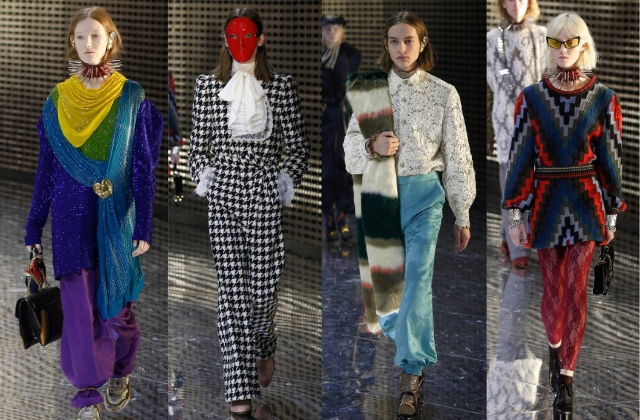 What you need to know: In true Gucci-style, the pre-show social media storm drummed up all our expectations – and the collection didn't fail to deliver. Alessandro Michele has created a sense of ardent individualism through every collection since being made Creative Director. And for F/W'19 he harnessed this in true extreme style. Masks were a central motif saying that "A mask is hollow but also full" meaning it hides and reveals at the same time. Other points of note were the spikes (there was a defensiveness to the entire collection) and punky retro vibes. The fluctuations between wacky power tailoring and more controlled cut lace spoke to Gucci's renowned eclecticism and theatrical qualities.
Side note: Every invitation was delivered in a wooden crate, revealing a plaster-cast classical theatre mask. Now that's how you get an instant RSVP…
N. 21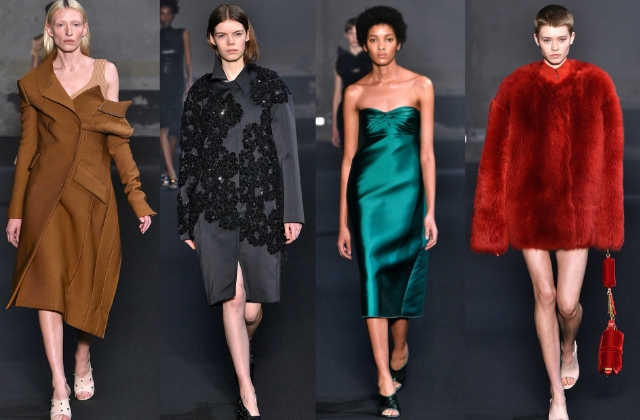 What you need to know: The looks at N.21 for the F/W'19 were on the whole, elegantly paired down across a spectrum of tonal dressing. Creative Designer Alessandro Dell'Acqua was inspired by the film noir Dressed to Kill which we saw in the form of off-the-shoulder and baby doll dresses as well as zippers that were left half done up, revealing quite a bit of skin. In all, the collection is equal parts chic and cheeky.
Side note: Most pieces are formal on the front and more playful on the reverse. E.g. The raincoat is left totally agape at the back. Love.
Alberta Ferretti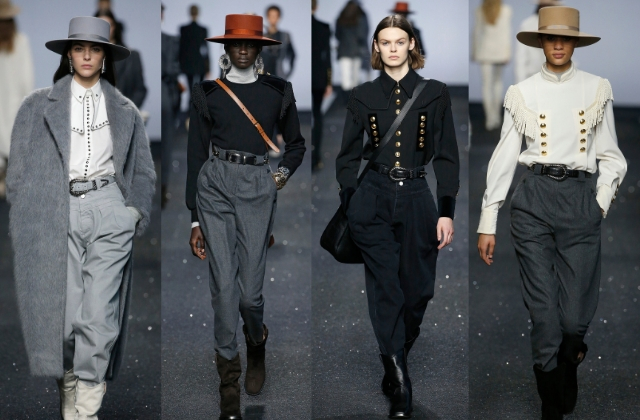 What you need to know: In the words of Alberta Ferretti backstage from last night's show, she said, "I dress women for evening and I've done that and am known for that. I also want to dress her for every aspect of the day in a more eccentric, personal style." And that is why we're seeing a younger, more casual aesthetic for F/W'19 – but with a very Western twist. Think oversized, patchwork leather jackets, Southwest geometric-patterned knits, cowboy belts and flat-top hats. It's clear as well, Ferretti is really feeling the benefits of high-waisted trousers. All that leg room…
Side note: By catering to a younger customer, Ferretti is aiming to court the attention of Olivia Palermo and Chiara Ferragni. We predict she'll succeed no problem.
Jil Sander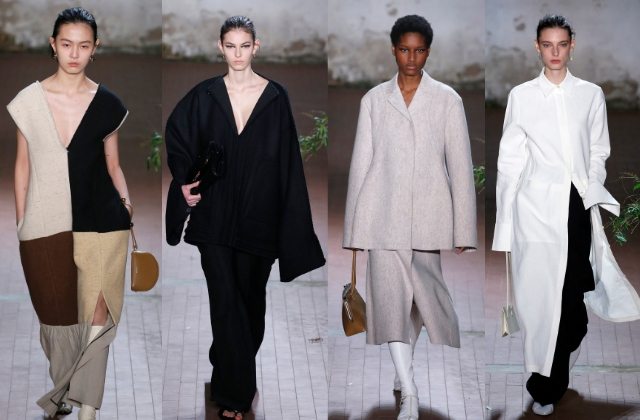 What you need to know: Designers Lucie and Luke Meier have maintained the purity of the Jil Sander identity for F/W'19. Between clean lines, sumptuous fabrics and couture-like techniques, the collection has an artisanal feel. What we love most is how sharp the cuts are but at the same time, we can tell they're super cosy and comfortable with a sporty-like quality and thus wearable all day long. The feminine/masculine duality of the crisp white shirtdress is definitely the hero piece of the collection.
Side note: The 3-D coats and the suits were crafted from Japanese wools.
Well, that was an eyeful for day one. The weekend's worth of shows is set to take social media by storm…
For now, check out this capsule collection for International Women's Day.