Welcome to the Fendi universe. The Italian luxury fashion house has officially opened the doors to its newly-renovated boutique in The Dubai Mall, welcoming visitors to an atmosphere that carries the luxury of Rome in the mall's Fashion Avenue. Now doubled in size as the boutique underwent a vertical expansion, the flagship store emphasizes Fendi's design codes and distinctive dualism, such as the geometric diagonal and glass windows featuring LED arches – an iconic signature that recalls those of Palazzo della Civiltà Italiana, the brand's headquarters in Rome.
Upon entering, you're immediately welcomed into an inviting gallery-like space, with a stunning perspective through all the areas of the store and the collection. Through elements of marble, pink steel and ivory backdrops, you'll find yourselves immersed in the brand's leather goods and accessories offerings whilst embracing the characteristic Italian marble.
Deeper into the flagship sits Fendi's shoe salon, illuminated by a soft palette of ivory, pink and warm champagne, followed by women's ready-to-wear and a separate men's salon that focuses on more masculine tones with green and camel shades. The boutique also presents exclusive leather goods for men, including the Soft Trunk Baguette.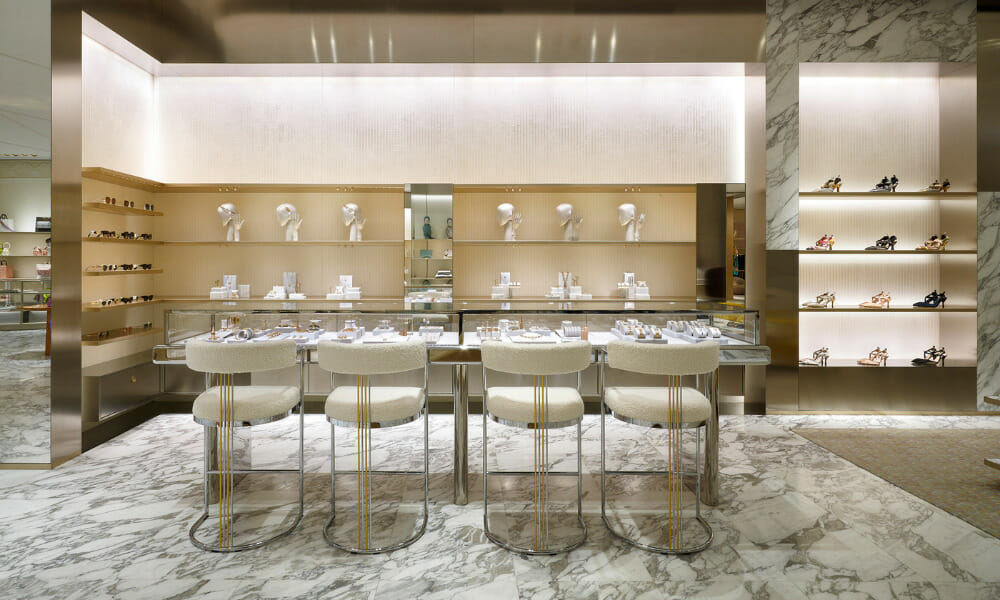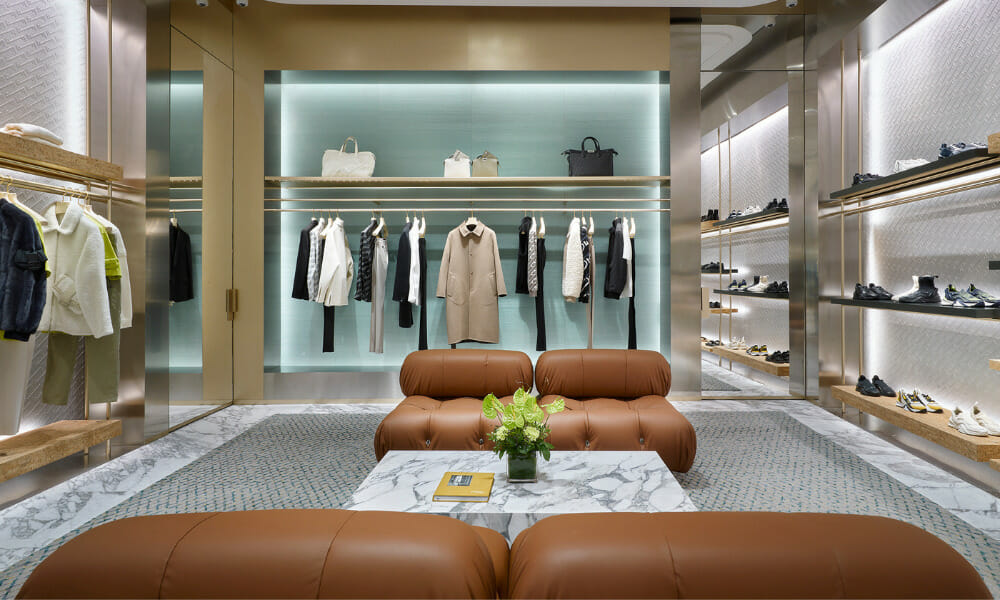 In the centre features a striking round elevator, made of glass and old specks, which brings the client to the opulent Yellow Diamond Room on the upper level offering a splendid golden display of exotic leather goods and iconic fur pieces. What awaits are elements of surprise.
Visitors can access 3 surprising rooms – White Diamond, Amber and the Sapphire Room – each uniquely designed in relation to a special gem (and a tailored fragrance). Your shopping experience starts with the White Diamond Room which hosts the latest couture collection and boutique-exclusive Japanese-inspired pieces, followed by the Amber Room, which offers an exclusive MTO service, available until November 25, and will then transform into showcasing the Home Décor and Lifestyle Accessories collection.
The final room, Sapphire, offers a special display for Fendi Gems – singular-edition pair of bejewelled Peekaboo bags, crafted to celebrate the reopening of the UAE flagship boutique.
As an homage to the boutique reopening and 25th anniversary of the iconic Baguette bag, Fendi launches another exclusive set: a silver Baguette with matching Fendi Frist slingback heels, solely available at The Dubai Mall.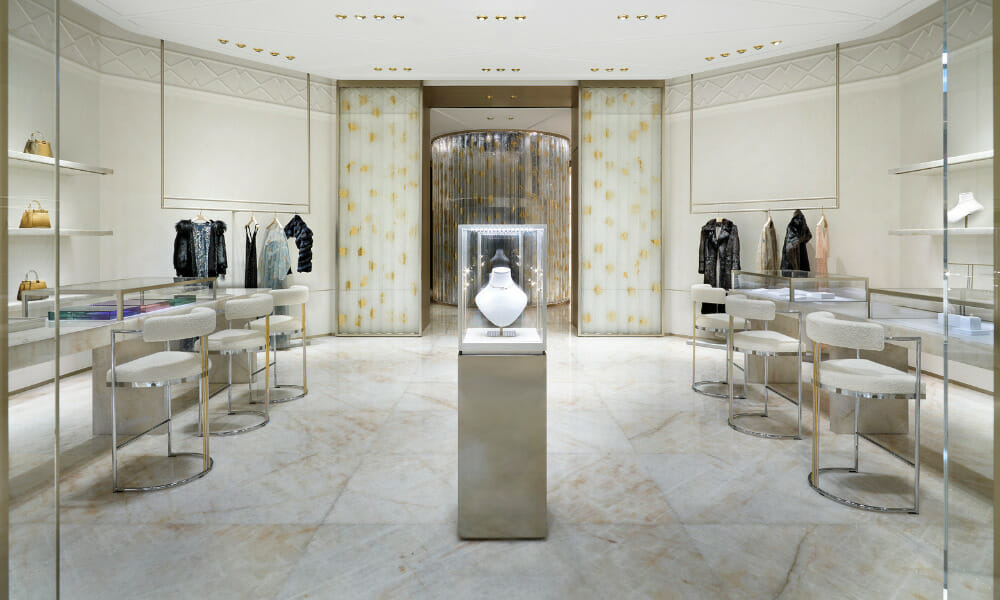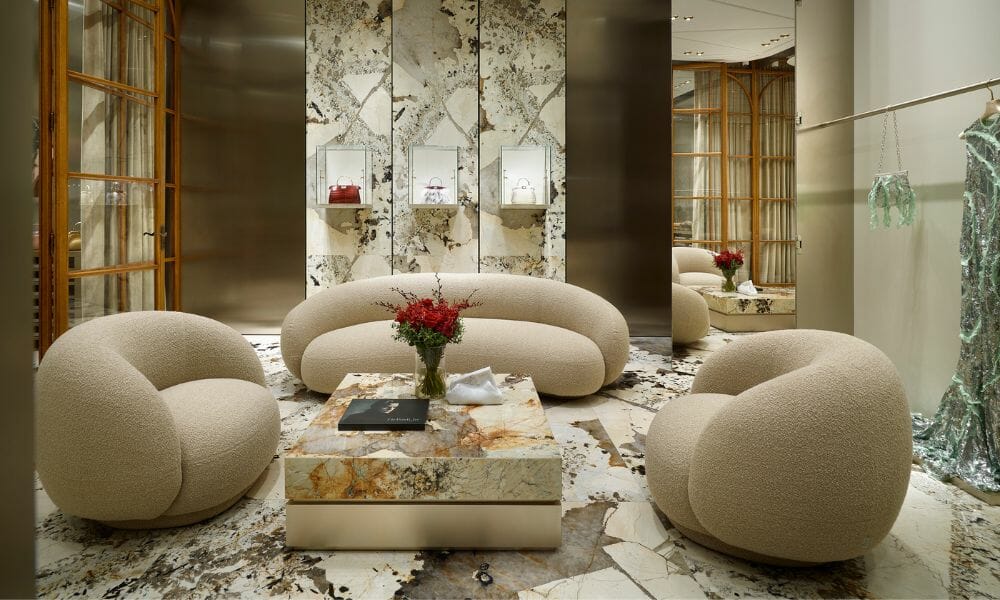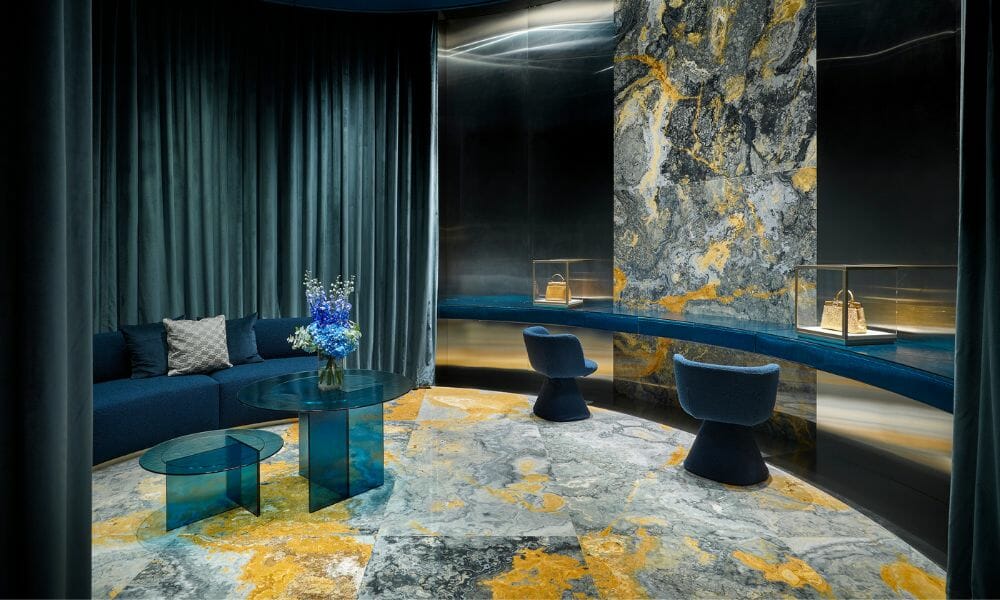 ALSO READ: ORIGAMI TAKES OVER SAUDI ARABIA AND QATAR.