Every year, Dubai shines the spotlight on some of the region's most successful designers at Fashion Forward and Amato always closes the three-day event with his signature stunning designs.
Known for drawing a crowd and creating the most amazing runway set-ups and breathtaking couture creations, Furne One just hit a major milestone celebrating the brand's 25th anniversary in the most spectacular way.
Turning back to his roots and jet-setting to the capital of Philippines, the Dubai-based designer held an event at the Marquis Events Place in Manila where he hosted an exceptional celebratory runway show that saw 60 couture designs hit the runway.
The country's most prominent personalities sat front row and witnessed the unveiling of the ethereal collection. The pieces were made from silk fringe, feathers, lace, embellishments, sequins and a whole lot of intricate embroidery. The collection came in at more than Dhs3.6 million.
Speaking of the collection, Furne One said, "My creativity is inspired by my mother and grandmother's quintessential style that coloured my vision. I have always tried to create exquisite and ethereal designs tempered with a silent touch of strength. My collections aren't for the faint-hearted woman, but one who is comfortable in her skin; her clothes are but a foil to reflect her inner persona."
Take a look at some of the key looks here…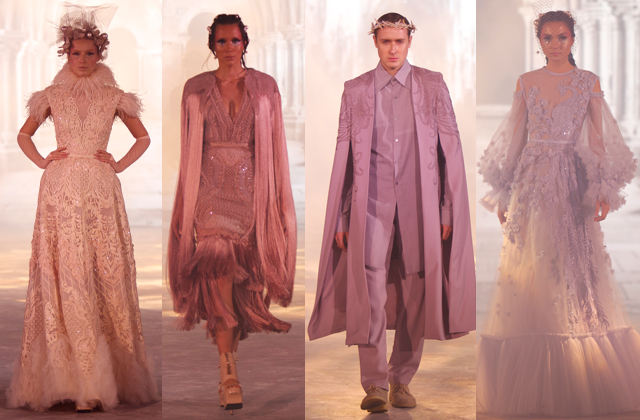 During the show, Mega (his partner for the show) announced that it is launching a competition, titled Mega Young Designer Competition Furne One edition, where the winner will receive an apprenticeship program from Amato Couture in Dubai.

The Middle Eastern city has been home to the designer for the past 18 years and Furne One has continuously expressed his gratitude towards Dubai. "I am forever grateful to Dubai for being my home for the last 18 years. The city of Dubai gave me so much inspiration to be the designer I am today. The Amato brand was born in Dubai and will forever give back to this city as this is where it all started."
The designer also hosted a millennial ball in Manila to celebrate his milestone.
Now, take a look at another Middle Eastern label that just released its Resort '19 collection, inspired by Bahrain.