Overnight, 16 actresses hit the red carpet at the Cannes Film Festival dressed in Balmain. Whilst that may not sound unusual for a festival event, it is particularly significant given that the press call was for a project called Black Is Not My Profession.
Aiming to highlight the discrimination faced by black actors in the French and American entertainment industries, the multimedia project includes a documentary, directed by Aïssa Maïga, which includes the stories of 15 women, as well as Maïga's.
Last night, the 16 women — Nadège Beausson-Diagne, Mata Gabin, Maïmouna Gueye, Eye Haidara, Rachel Khan, Sara Martins, Marie-Philomène Nga, Sabine Pakora, Firmine Richard, Sonia Rolland, Magaajyia Silberfeld, Shirley Souagnon, Assa Sylla, Karidja Touré, France Zobda and Maïga — all appeared together wearing outfits by Balmain.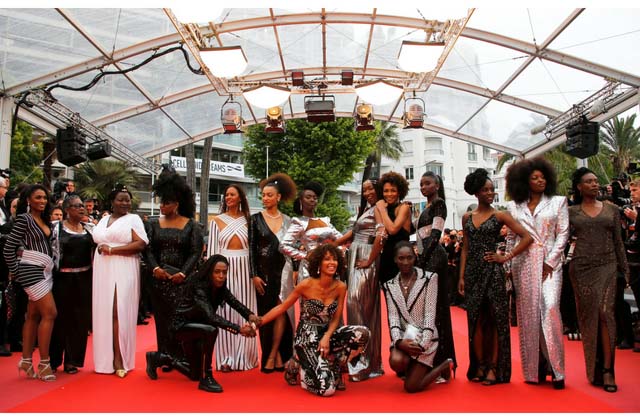 Speaking with WWD, Creative Director Olivier Rousteing said he was approached by Maïga for the project and that he said yes immediately. "The moment I was asked to participate, I knew it was right for me and for this brand, to form a part of this moment. The simple message of the importance of inclusion that these actors are bringing to us is one that I've often repeated over the years — and I've been lucky enough to work at a house that believes in it as strongly as I do. Our 'Balmain Army' celebrates the beautiful diversity of France and the rest of the modern world — we hope others will join us soon."
And speaking of inclusion, find out what Marvel Studios President Steven Feige had to say about the company's plans for a female Muslim superhero movie.