Men's Paris Fashion Week showcased a series of statement Spring/Summer '19 collections over the weekend. We've seen two designer debuts and a whole lot of renowned maisons deliver their seasonal menswear ranges (following on from day one where Off-White, Raf Simons, Valentino and Y/Project showed their newest wares).
Missed the shows this weekend? Catch up on them below…
Issey Miyake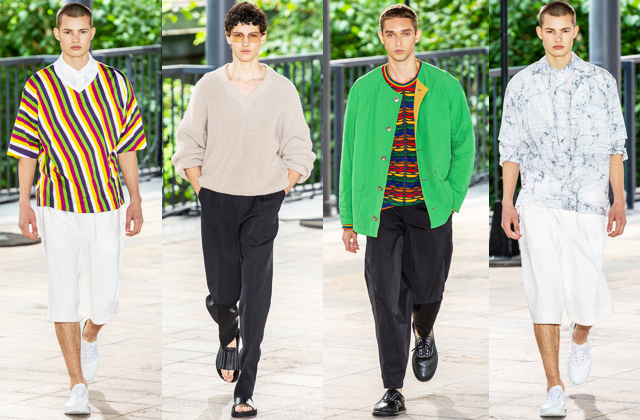 What you need to know: He may be a Japenese fashion designer but Issey Miyake's Creative Director Yusuke Takahashi's stayed far away from heritage inspirations for this season's new collection. Creating the perfect menswear range for Spring/Summer '19, there were a lot of lightweight pieces that came in the form of bermuda shorts, tie-dyed printed tops, oversized track pants and shirt jackets.
The inspiration: According to WWD, the collection was "inspired by the desire for light and of lightness."
Louis Vuitton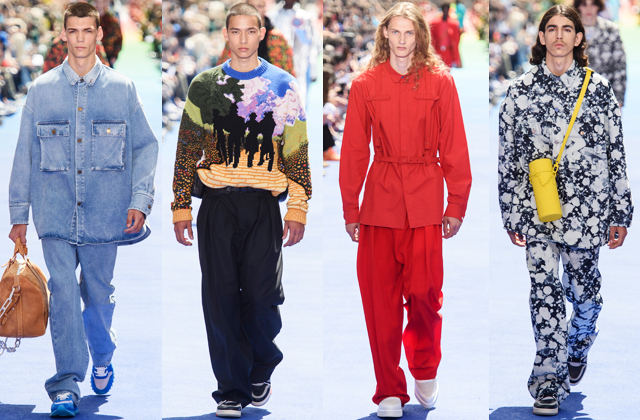 What you need to know: Virgil Abloh finally made his debut at Louis Vuitton and he sure did make a great first impression. With a 50-foot-long rainbow catwalk held in the Palais-Royal Garden, the collection (which was modelled by friends of the designer including Playboi Carti, Kid Cudi, Dev Hynes and Theophilus London) included pieces such as letterman jackets, crocodile leather trenchcoats, neon-coloured vests and much more. As for the prints, there were a lot of references to The Wizard of Oz.
Heartfelt moment: The Off-White designer went to take his final bow and as he walked the runway after his debut, he stopped by his mentor Kanye West and embraced him with a hug as the two wept tears of joy — and so did the rest of us.
Dries Van Noten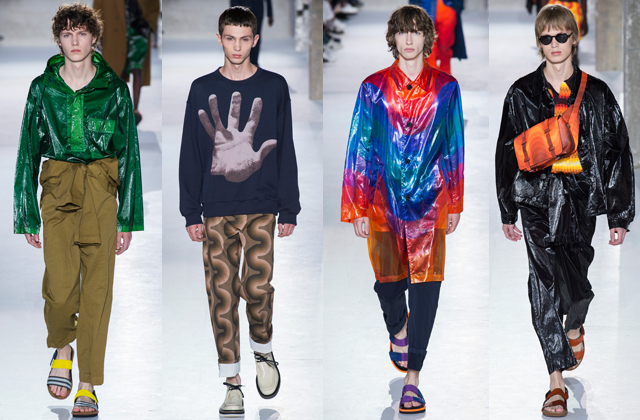 What you need to know: Dries Van Noten took a bright and fresh new approach to seasonal dressing with a colourful menswear collection. Even though the designer offered a mixture of vivid prints and summer-ready colours, he still continued to showcase his signature utilitarian silhouettes such as boilersuits and coats.
Different trends: This season's collection seemed to be a little more retro and modern than usual with more prints, colours and playful fabrics used than ever before.
Comme des Garçons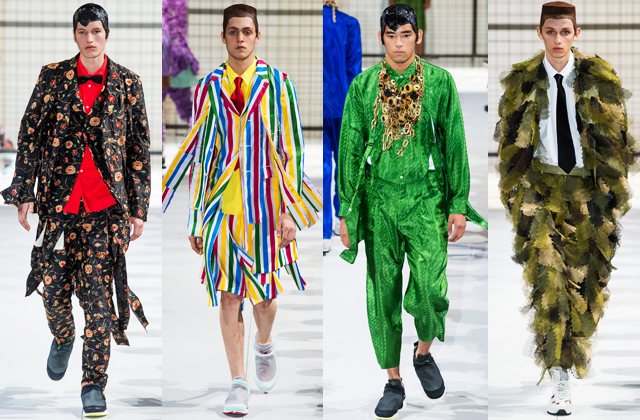 What you need to know: Comme des Garçons has always had a strong identity and you could spot the brand's pieces from miles away. However, this season, the collection was a little more subdued than previous years. There were still plenty of spotlight-grabbing ensembles, though, which sat alongside office-ready attire, sporty parkas, windbreakers, colourful suits, shirts and trousers.
Accessories highlight: The chunky necklaces will be a tough trend for most men to pull off but will make a seriously cool statement.
Alexander McQueen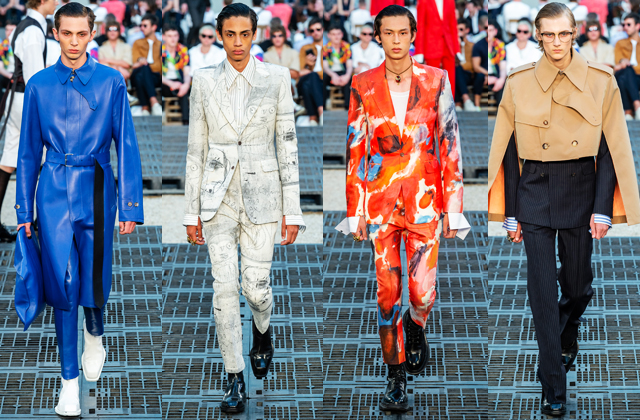 What you need to know: Sarah Burton started off her showcase by sending classic Alexander McQueen menswear silhouettes down the runway. The opening looks included ensembles that looked like they had been sliced up, as well as super tailored separates. These were shortly followed by classic jacquard suits that were covered completely in graffiti by John Deakin, colour-blocked jumpsuits and knitwear, too.
Wish-list worthy: The double-breasted camel jacket that was slashed to the length of a bolero could work for both women or men.
Dior Homme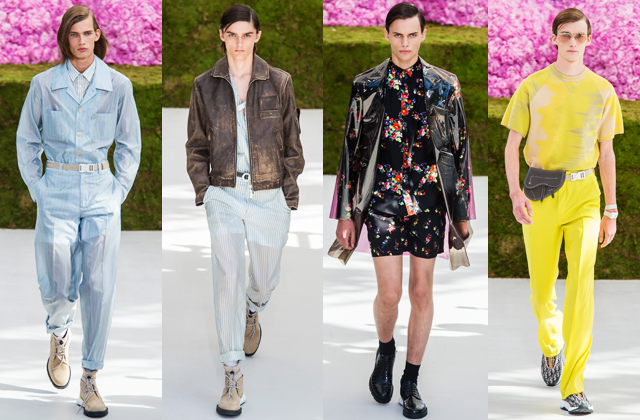 What you need to know: Kim Jones delivered a new menswear collection for Dior Homme which paid dual tribute to "the reality of Dior and the fantasy." Lightweight fabrics cut in cool silhouettes finished in a soft coloured palette dominated the collection. Plus there was a softer side to the collection, with pieces infused with floral feather embroideries and botanical prints.
Designer debut: Kim Jones made his official debut at Dior Homme over the weekend and to show their support for the new designer's position, friends including Robert Pattinson, Kate Moss, Naomi Campbell, Kelly Osbourne, A$AP Rocky, Victoria and Brooklyn Beckham and Rita Ora were all sitting front row.
Hermès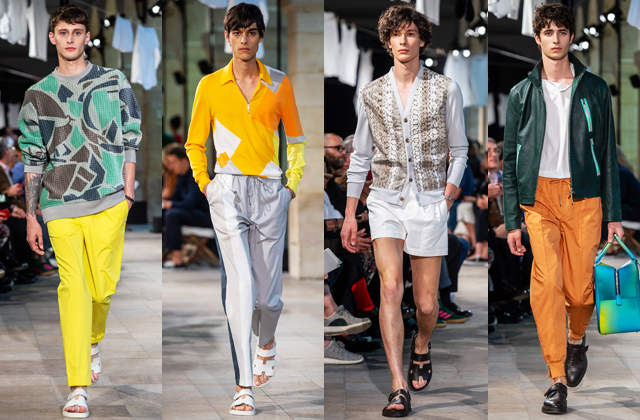 What you need to know: It seems that bright hues are a trend this season. Hermès continued to incorporate its signature orange, blue and green hues and added in canary yellow to this collection. Staying true to the brand's signature codes and elements, the menswear collection was modern and super contemporary.
Key trends: Hermès included a lot of colour-blocking within its looks in almost all the colours of the rainbow. On the footwear front, most of the looks came with the signature H-fronted sports sandal.
Now, take a look at the best street style looks from Men's Paris Fashion Week.