The penultimate day of the Men's Paris Fashion Week schedule has officially come and gone (with Jacquemus left to showcase its first men's collection today) but not without sending a slew of statement ensembles down the runways.
Hosting jam-packed shows with a front row that included some of the industry's most prominent figures (who served up some serious street style), luxury labels such as Lanvin, Balmain, Dunhill and Kenzo showcased their latest Spring/Summer '19 menswear collections.
See the key looks here…
Lanvin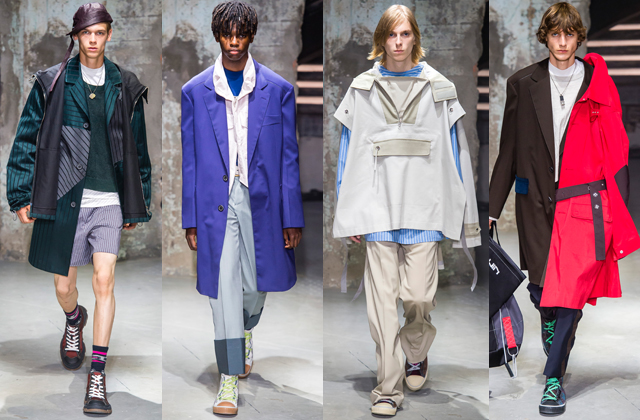 What you need to know: Lucas Ossendrijver showcased a new menswear collection that was full of stylish juxtapositions. Creating statement pieces that are very wearable, the designer mixed fabrics, colours and materials that work for either night or day. The simplicity and ease of the collection is perfect for any man looking for a relaxed wardrobe this summer.
Key trend: It's all about layering this season.
Balmain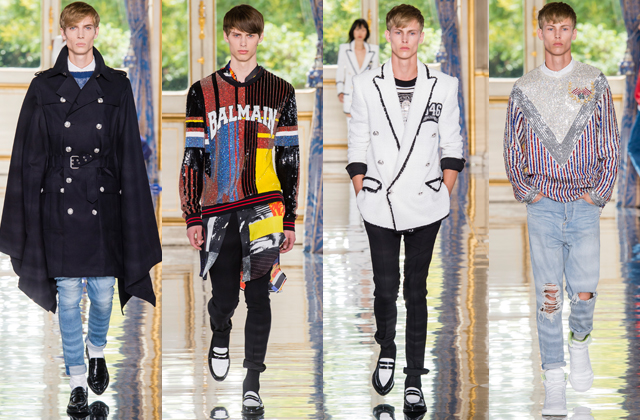 What you need to know: Olivier Rousteing's new menswear collection served up a mix of influences that ranged from Michael Jackson to the American dream, French style and singer Serge Gainsbourg (all of Rousteing's childhood obsessions). There was a lot of sequins (in true Balmain style), jackets that came in the form of military, varsity and formal, as well as distressed denim and ice hockey-style shirts with Balmain lettering.
Wish-list worthy: There were a lot of Balmain-printed tees and sparkling sweaters that are the perfect way to elevate any look, like the red and blue striped embellishment sweater seen above (far right).
Dunhill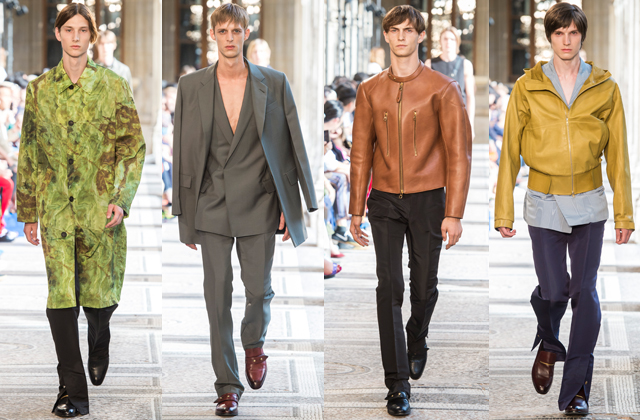 What you need to know: Colourful minimalism dominated Dunhill's new menswear collection and there was also a strong focus on outerwear this season. Delivering sleek silhouettes for men, plus a more refined offering with rich fabrics such as silk moiré, Mark Weston's new creations saw the perfect marriage between elegant elements and luxe sportswear.
New releases: Whilst Dunhill is also known for its perfumery and accessories, Weston sent down a new collection of footwear that featured a newly stacked heel leather loafer.
Kenzo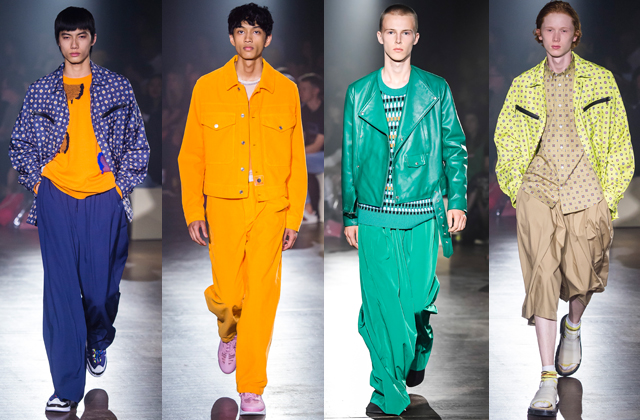 What you need to know: Closing day five with a bang, Kenzo presented a bright and colourful collection that saw a lot of monochromatic looks, colour blocking, printed layers and patterned knitted tops. Courtesy of Humberto Leon and Carol Lim's brilliant creativity, the collection is the perfect palette for the summer.
Trend alert: It was all about the bright hues this collection. Every single look saw a pop of colour that ranged from electric blue to saffrons, magentas and bottle greens.
Now, take a look at how much this French brand is worth.