Few weeks ago, Pharrell Williams' spectacular debut show for Louis Vuitton was all anyone could talk about. That was until Dior staged a mindblowing runway show with models emerging onto the runway from beneath the surface. Conversations quickly shifted to Loewe as Jonathan Anderson unveiled his take on men's fashion for Spring/Summer 2024. We get it; with countless designers flaunting their creative prowess on the catwalks daily, Paris Fashion Week is such a whirlwind of sartorial splendor that even the most seasoned fashion enthusiasts struggle to keep up.
Delve into a world of imagination, where innovation, creativity, and audacity collide, as we recap the Men's Paris Fashion Week Spring/Summer 2024
Louis Vuitton.
Pharrell Williams has arrived on the fashion scene. To launch his debut collection for Louis Vuitton menswear, Williams literally and figuratively shut down Paris as he took over the iconic Pont Neuf to unveil his collection. His groundbreaking debut at Louis Vuitton, attended by Beyoncé and Rihanna, no less, featuring an after-party set by Jay-Z transcended all expectations. While the theatrics of the show captivated minds the world over, the fashion crowd was enthralled by Williams' creative genius.
The collection that was so quintessentially Pharrell–as if it had been plucked from his own wardrobe–seamlessly melded the Maison's DNA with his own artistic vision. Louis Vuitton's emblematic 'Damier' print reimagined in a pixelated iteration was central to the collection, spread across everything from clothes and accessories to Louis Vuitton trunks. A master of contrasts, Williams thoughtfully juxtaposed sophisticated, tailored ensembles with relaxed proportions. With this audacious debut, Pharrell Williams cemented himself as the vanguard of Louis Vuitton's menswear empire, marking the beginning of his creative era in fashion.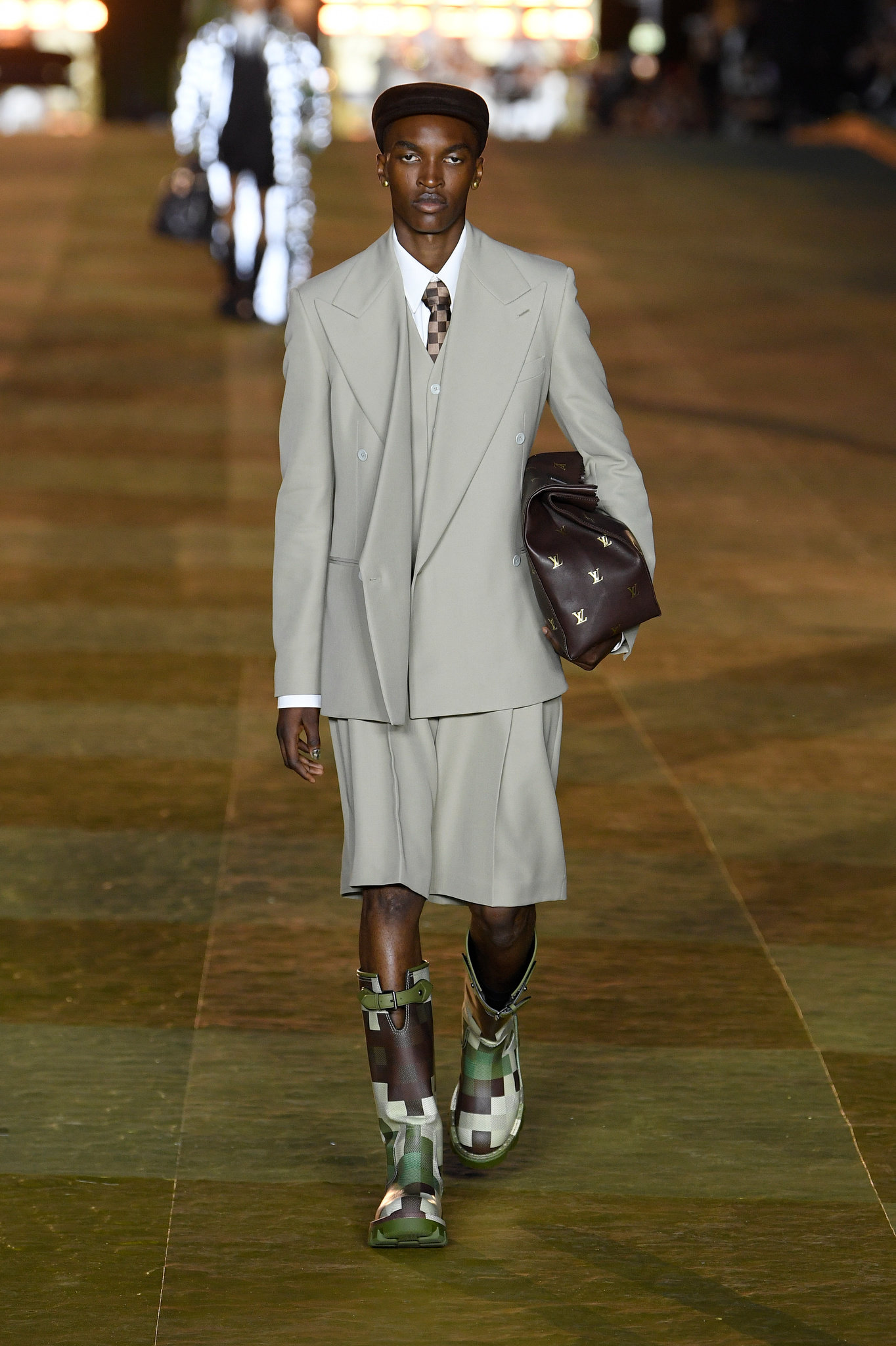 Dior.
While Pharrell Williams made an impressive debut, another fashion genius, Kim Jones, marked his triumphant fifth anniversary as the creative force behind Dior Men. The atmosphere crackled with anticipation as a cast of 51 models emerged via strategically-placed trapdoors from underneath the tiled runway, instantly generating applause. For the Dior Men's Spring/Summer 2024 collection, Jones breathed new life into the legacy of Dior, drawing inspiration from the works of Yves Saint Laurent, Gianfranco Ferré, and Marc Bohan.
Impeccable tailoring perfected every silhouette, while lavish tweed, magnificent cabochon embroideries, and the iconic 'Cannage' print demanded attention. In Jones' world of Dior men, tweed is now a key material used to craft statement coats, tailored blazers, and sleek trousers, even extending its influence to the iconic 'Saddle' bag. Each look was elevated with a range of wishlist-worthy accessories like chunky loafers, comfy sandals, knitted beanies, and bejeweled handbags that added a touch of eccentricity to the otherwise sophisticated palette. Inspired by the past, designed for the present, and unveiled in a futuristic setting, the Dior Men's Spring/Summer 2024 collection blended tradition with innovation.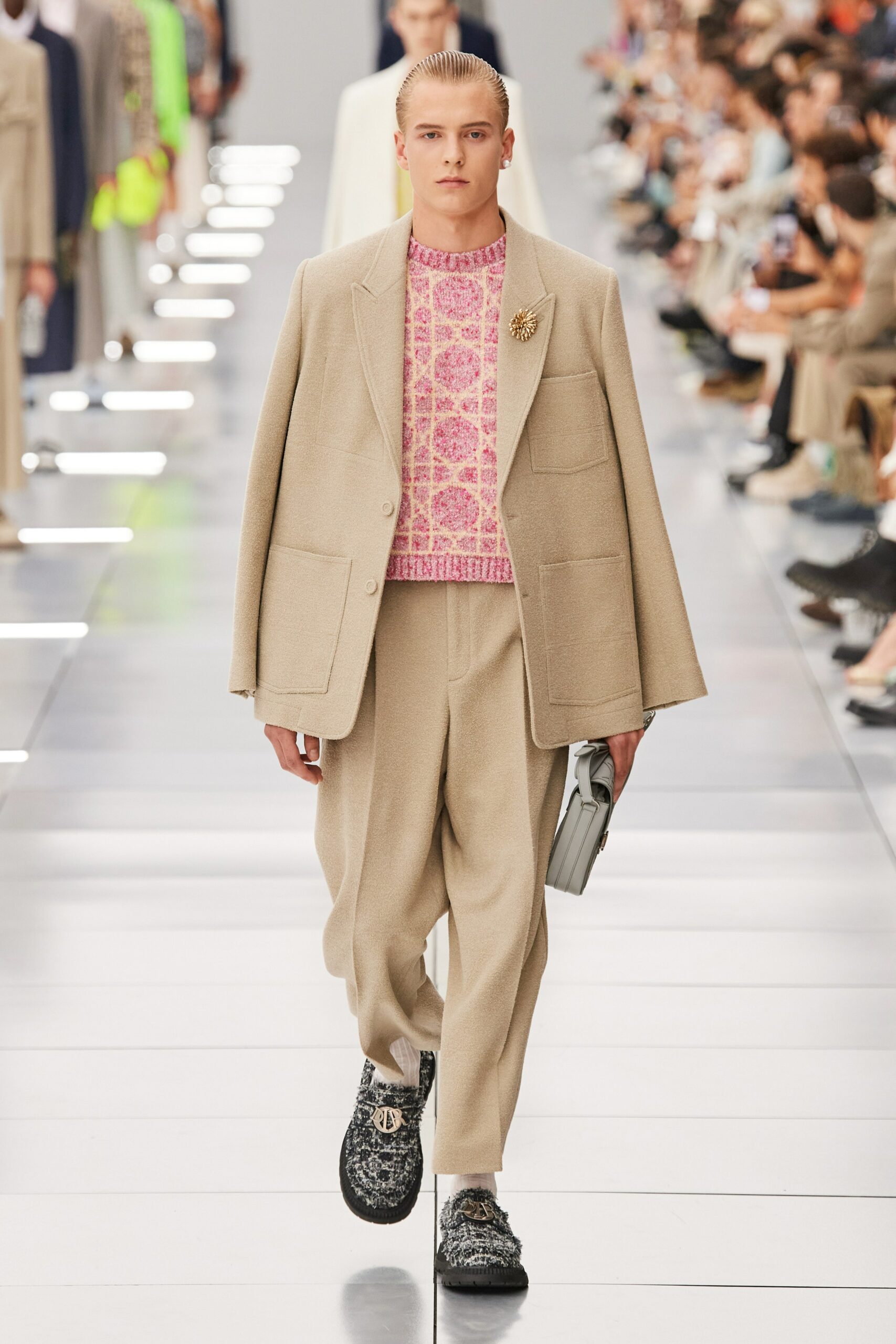 Loewe.
The Loewe Men's Spring/Summer 2024 collection offered a creative take on perspective, inviting fashion enthusiasts to step into a world of wonder.
Three Lynda Benglis fountains towered at the center of the venue as though mimicking the stretched silhouette imagined by Anderson. Glistening under the skylight, the water cascading from the fountains seems to have inspired the dazzling crystal finish that coated shirts and trousers across the Loewe Men's Spring/Summer 2024 collection. Known for his penchant for surrealism, Anderson's latest offering for Loewe menswear included backless tops designed to appear like giant swatches of fabric. The collection featured tailored blazers and coats, sparkly knitted polos, luxe jeans, chic chinos, and cozy argyle knits. The Loewe Men's Spring/Summer 2024 collection offered a creative take on perspective, inviting fashion enthusiasts to step into a world of wonder.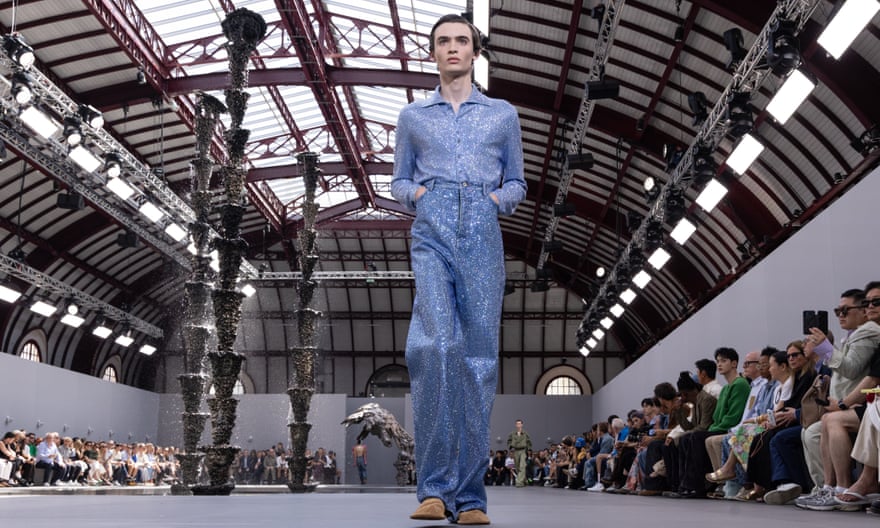 Kenzo.
At Kenzo, the pedestrian-only Passerelle Debilly bridge connecting the Palais de Tokyo and the Eiffel Tower served not only as the brand's Spring/Summer 2024 show runway but also as a metaphorical connection between its founder's Japanese roots and the French capital. Thoughtfully chosen, the location, in Nigo's words, symbolized "a bridge between cultures," a concept that characterized the entire collection. Nigo looked back at his life as a teenager in 1980s Japan, drawing inspiration for the Kenzo Spring/Summer 2024 collection from 'City Pop' (the 80s Japanese music genre), originating during Japan's decade of economic prosperity.
The highlight of the season, however, came in the form of a collaboration with Japanese graphic artist Verdy, who crafted a compelling serif font for the new Kenzo Paris logo. This freshly-minted logo was generously stamped on judo jackets, T-shirts, parkas, and canvas tote bags across the collection. With the new branding, Nigo also gracefully steered the brand towards a more mature and refined Parisian aesthetic, departing from the defining preppy and collegiate themes of previous collections.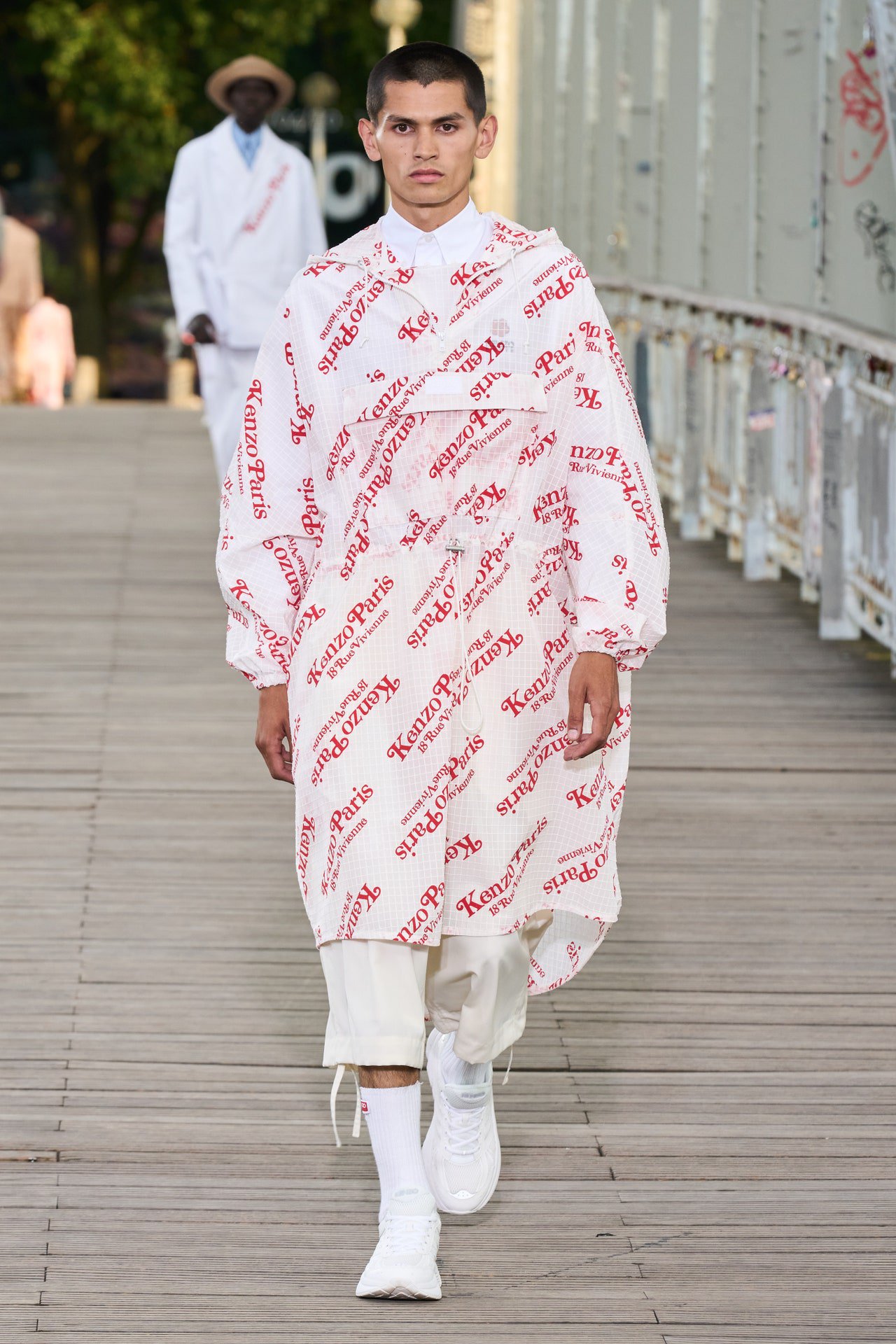 Hermes.
The heatwave has hit the Hermès atelier, where the creative minds under the direction of Veronique Nichanian presented a truly refreshing collection designed to combat the soaring summer temperatures. Defined by lightweight fabrics, breathable layers, and cropped hemlines, the Hermés Men's Spring/Summer 2024 collection promises comfort without compromising on style.
The collection featured gauzy lattice shirts and jackets delicately layered over transparent vests. The blazers maintained slightly longer-cut hems, gracefully skimming just above the accompanying pair of shorts. Speaking of the shorts, the collection introduced hot pants in various materials such as nylons, and ribbed knit cashmere.
As the warm days transition into the night, the Hermès garçons don loose knits and posh silks, offering a cozy yet an effortlessly chic option for evening gatherings. The breezy summer looks were accentuated with reversible bucket hats. Canvas tote bags adorned with typical Hermès scarf prints elevated the beach essentials, while fisherman sandals added a layer of laid-back comfort to the ensembles.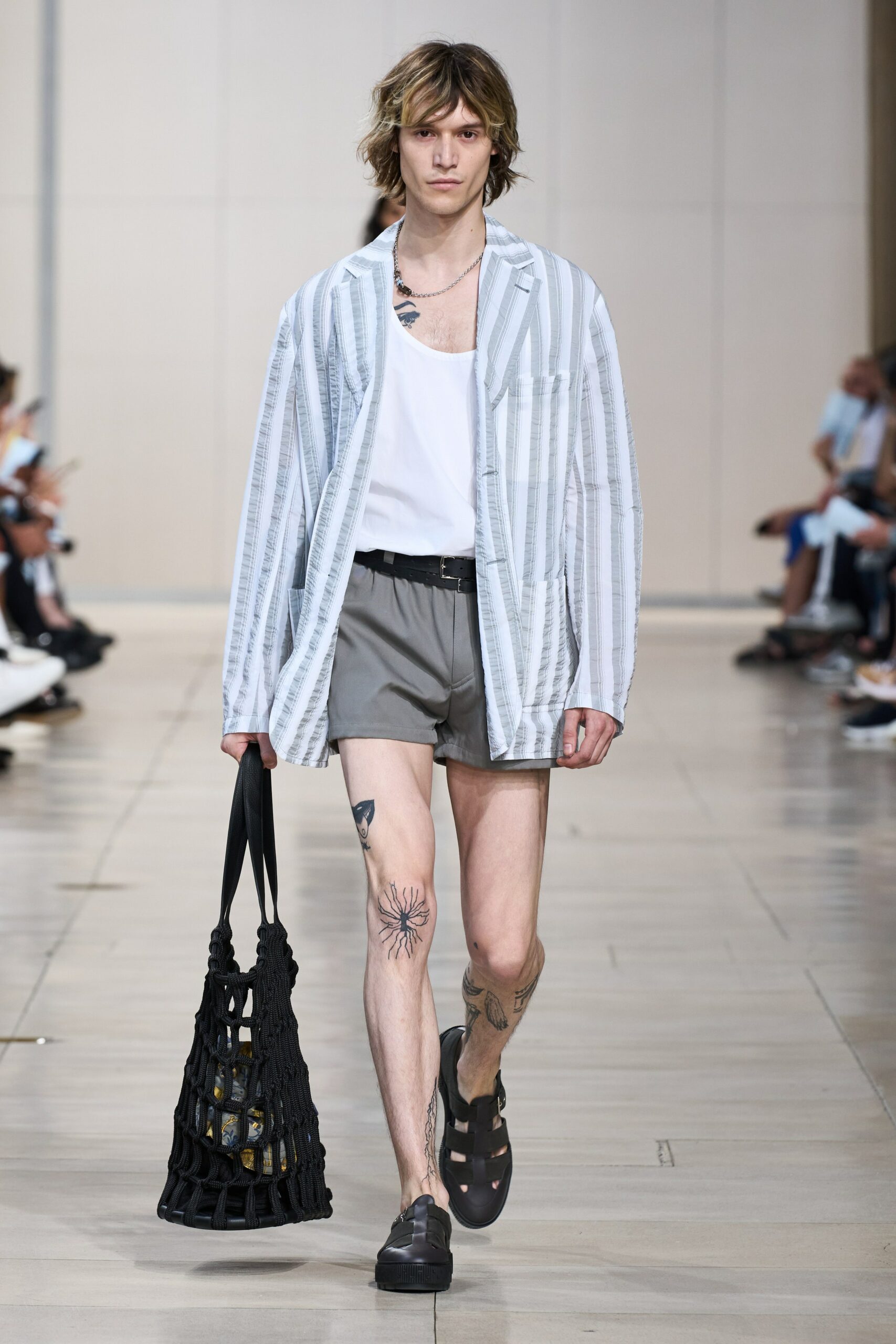 ALSO READ: KIM JONES TRIUMPHANTLY MARRIES THE PAST, PRESENT AND FUTURE WITH HIS MILESTONE SS24 DIOR MEN'S COLLECTION.