A new designer has landed at Harvey Nichols — Dubai right in time for summer holidays. Meet former-magazine-editor-turned-swimwear-designer Elena Makri…
This is the first time your collection has been available in the UAE — why was now the right time to launch?
I am very happy that my collection is available in the UAE. I think it's really the right time as the contemporary Arab woman is adequately informed and updated in the fashion world, travels a lot around the world, reads contemporary fashion magazines and is active on social media. Overall, the stylistic development of the Middle Eastern woman is rapid, so the timing to launch my brand here couldn't be better.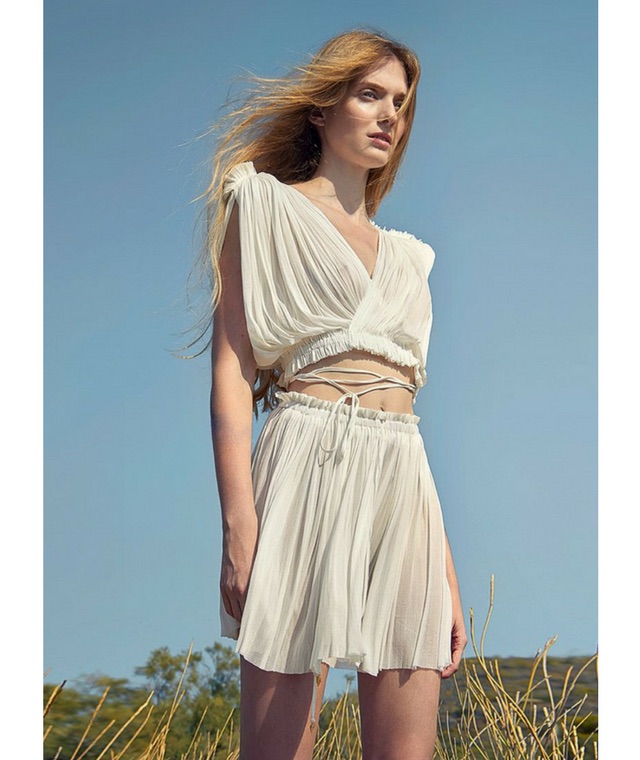 What from your collections has proven most popular with your Middle Eastern customer to date?
From the start, the bestselling pieces have been the silk kaftans. They give comfort, luxury and somewhat resemble the style of their traditional clothing. I also make a more premium kaftan range with gold embroidery for evening occasions, which is also very much appreciated by my Middle Eastern women.
How would you describe the Elena Makri woman? And how does that woman align with the Middle East?
The Elena Makri woman enjoys luxury, and that's why she only wears valuable and expensive materials like silk. She gives great importance to her appearance during her vacations. She thinks the kaftan is the epitome of chic not only for the beach, but also for a night out. She likes gold details as an accessory, but at the same time enjoys strong prints. I think what she has in common with the Middle Eastern woman is that they both know how to appreciate luxury in their everyday life. They know and understand fabrics, and on vacations they like to relax wearing comfortable and cheerful clothes.
What's the hero piece of the collection in store at Harvey Nichols — Dubai?
The Antigone Set (pictured above) definitely is the hero piece of the collection. This specific range, the Artemis Collection, is all based on silk tulle, a handmade material very difficult to make and rare to find, which makes it even more special.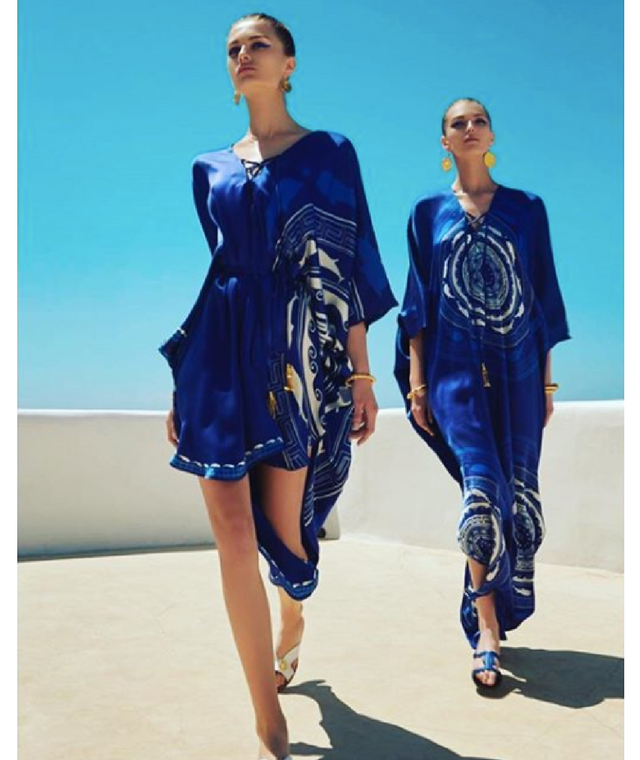 What's the one item of clothing that is always in your summer holiday suitcase?
My "Filippias" Short Kaftan (pictured above) in any colour or print is always in my holiday suitcase. It serves me perfectly, whether I am going to town or to the beach club. It's easy to throw on in any summer occasion.
Elena Makri's collection is now available to purchase in Harvey Nichols — Dubai.
Now, see the collaboration between Rami Al Al and Nadine Kanso that has the region talking.