The pandemic has caused the fashion industry to reinvent itself and whilst July is usually slated for Haute Couture, The Fédération de la Haute Couture et de la Mode is going digital for the first time.
Here, we speak to Pascal Morand, Executive President of The Fédération de la Haute Couture et de la Mode, to discuss the future of Fashion Weeks, French fashion couture and the digitalisation of Fashion Week…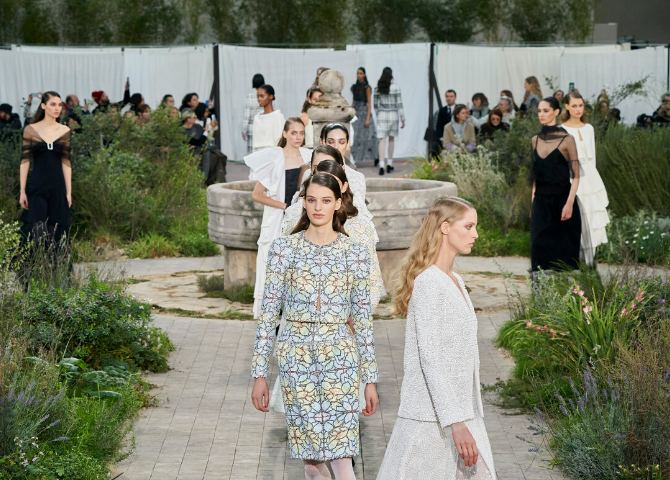 What is the role of The Fédération de la Haute Couture et de la Mode in the fashion industry?
The federation has several rules. First, it includes members. Its members are always very creative brands, designer and creative brands, luxury brands, which are very much let's say an international variety. 50% of these brands of these brands are French, and 50% are not French, so it's a very international federation. It is a selective federation. It's difficult to be part of the federation. Brands must apply, they must show in presentations that they [unclear] creativity and international development and so on, and have a high reputation. We have roughly 100 members, 110, let's say. Having said that, the federation is composed of three chambers, one for haute couture, one for menswear, and one for womenswear. But brands can be part of one or several of them, depending on the nature of the brands.
We have different roles. First, we bring services to our members, many types of services. It can be services for legal affairs or for social affairs or for innovation and sustainable development policies and a number of other services. Like any federation is bringing organisation at all times, bringing services to its members, so this is what we do, and, of course, the services that we can bring can be different depending on big brands or small brands. We have a close relationship with our members. For instance, during the COVID crisis we have been informing them very often on what's happening in the country, the government dispersals and that type of thing, but we can go much further in the services that we bring to our brands.
Then we coordinate the Fashion Week. Accordingly, the Fashion Week means coordinating the official calendar of the Fashion Week. That is very important because when we say Fashion Week, it's a number of days per year, because we have twice nine days for womenswear, it's 18, twice five days for menswear, that's 28, and twice five days for haute culture, so that is let's say 37 to 38 days per year. For instance, now there is no physical Fashion Week, but we're launching digital platforms  and there will also be the selection committee and selected on the same principles. When we have Fashion Week, we have members who are allowed to show, and we invite guests in consultative and selective committees, which are also composed of journalists and buyers.
They change each time because we don't want any  to say, okay, if they are going to be accepted or not accepted, so it's not a decision of one person, but several persons. Of course, the policy, you have  the president, and then there is one president for each chamber. So it's very collective work, but we're also surrounded by experts to support us in the choices we do, to make some objective.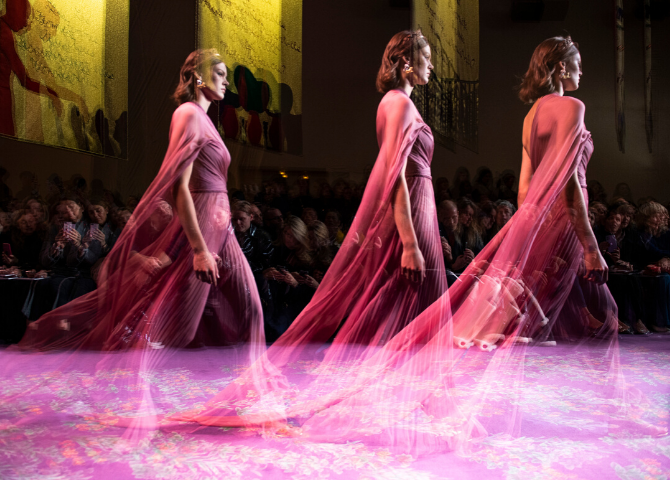 These are the main roles of the French Federation of Couture today?
Let's say it is the most visible. It's the most traditional in the right sense and the most visible role. It's very important. It has always been the key, the centre, the core of the federation, but, as you say, as I told you, the services that we bring is also important. Then we have a policy to support young designers, emerging brands and young designers. We do our best to do that and there are many ways we do that. One example, it's a showroom for emerging brands that we have, which is called Sphere, and other policies to support the young brands.
Then we also involve education quite a lot. We support a lot of members involved in the French Institute for Fashion, the Institute Français de la Mode, which is now a global leader in education and it's going for professional studies towards PHDs. All these programmes are in fashion management, in fashion design, and also technical knowhow at any level. This is a very important institution that we support.
We want to be very much ahead and bringing contributions on these matters. To give an example, which is both think-tank and services we bring, we're working hard, not only us, but with PWC, to set up sustainable development tools for the industrial value chain, starting with design of our fashion shows, for measuring and doing the best in terms of environmental matters, and measuring the performance also, the  level for Fashion Week.Yes, it's really large roles, actually.
We are going through a difficult crisis around the world. How will the French Federation of Couture assist the massive fashion houses and the young designers during the coming two seasons, because you are supporting the next RTW for men, and Haute Couture in a new digital format, which has never existed before?
Yes, we do other stuff for young brands, seminars supporting them in benefitting from the French government's measures which have been very massive and very important and we just launched and so on. What we also do here, we've got Right to Talk, it's is the online platform that we run and that we're launching. We could have said, okay, we'll wait for physical events to be back and we don't do anything, but we took this opportunity, this difficult time, to launch a platform. We have a partnership that we will announce very soon, in the next days, for having live broadcasting, which is new, because this is a new role for the federation to do that. The brands do that themselves, but the important part here is the balance and the mutual respect between the big brands and small brands in what we do, so that's a true experience that we do.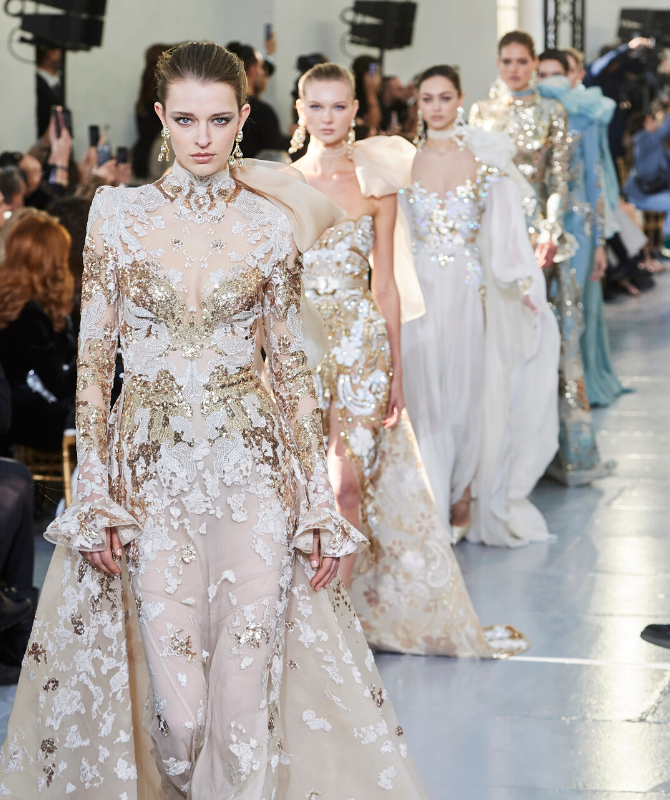 In your opinion, the coronavirus crisis has impacted France, as well as the fashion industry around the world. In your opinion, will it go on to 2021 or 2022?
We don't know exactly because we don't know when we will be fully finished with the crisis, with this confinement and decontaminant story. We know that at this moment the situation is much better in Asia, but still it's here and there, it's not really in control and it's very difficult. Things are getting better, but we have to watch. We're still in a certain period. There's another thing, which is that it has absolutely and fully and strongly accelerated digitalisation.
That is true and we see that it's true in B2B, but of course we also see with digitalisation, the physical world. But now we enter into a world where there will be more, let's say, balance between the physical events and physical lives and the digital lives, so this is where we are. It has been a huge crisis and it's still a crisis, but we also know the digitalisation process has been accelerated by five or ten years. If there wouldn't have been a crisis like this one, it would have taken five or ten years just to go ahead, just to reach the point of digitalisation where we are now.
Can you tell us a little bit more about the concept of Digital Fashion Week?
Will this really work in your opinion, especially for the haute couture, because the concept of haute couture is mainly that the clients have to be present at the show and celebrities and stars, etcetera.
Can you explain a little more about Digital Fashion Week?
The digital is not a simple transposition of the physical. We didn't ask the houses to show the collections in the same way that it does in the physical life, real life. We didn't do that. We thought that some of them can do that precisely and it can be like a true reproduction. It's in a digital way, which fashion shows or couture shows, but this is not what we have asked. We feel that the houses are absolutely free to show what they want. If they want to show the collection, if they want to show some products, if they want to show a statement of the designers, if they want to show any film which is only an inspirational film, this is fine, and that is innovative. We don't stick to the idea of having to show the transposition, the way it is done in real, physical life.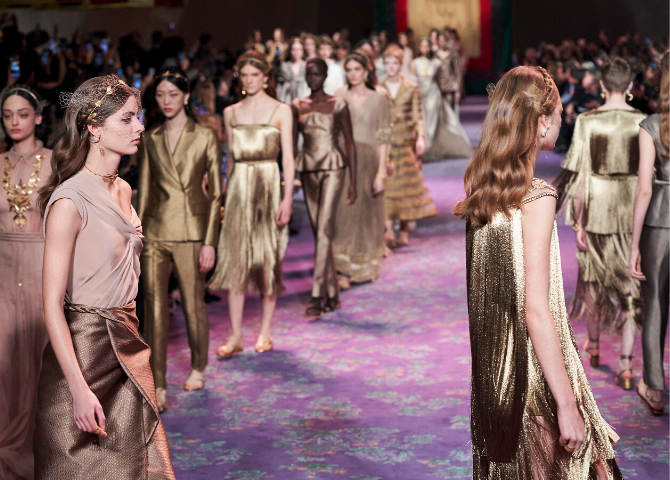 That means that the power, the range of the digital media, but we will see, but then we also see that it will never replace the physical. It will not replace this. It will be something different. Maybe, like a client couture will see that, she'll be inspired, she wants to get this. She has even better knowledge and better understanding of the material brand, of the couturier, of the designer where the collection was done. It's very much a communication tool, by definition digital is communication. It doesn't necessarily mean that it will imply buying. Like, for menswear, for example, buying is done in the vehicle showrooms, not at the occasion of the shows themselves, so it's not necessary. Each house will be free to show what they want to show. It makes us very impatient, like we are anxious to see what we get, what will appear with these videos.
It could also be a little bit scary with Digital Fashion Week, in my opinion and other creative people's opinion. Of course digital is amazing, it's very creative but it might kill other businesses, like, let's say modelling agencies, photographers of the shows?
I think that it we will get back to being physical. We have announced in September that we'll get back to the physical. The digital will be complementary, but the digital will never replace the physical. For creative brands it cannot happen. If you have a basic product, if you want to buy it, when you've got product by itself, on a commercial basis it can work, like e-commerce and so on. But for creative brands, on which you place such an importance on the imagination of the designer and of the brand, and also the quality of the fabrics, and the fluidity of the model, you can't do that. We are very far from reproducing that in digital.
You can show other things. It depends on the brand also, but you can show other things. There are other things to communicate. If we see a show, a show is not only the collection which is there to be sold, a show is a communication tool, with the idea that you have a global artistic scenography. What we love about fashion shows as well.
That is true also for commerce or selling, because at the moment you need to touch the clothes, you need to touch the fabrics, so then you cannot, but it is helpful. Even if you go to the physical show, the vision is not the same. The perception of the vision is not the same one as the one which is digital. It's not the same story. The emotion to be with other people, physically it's not the same, so it will not replace, it cannot replace.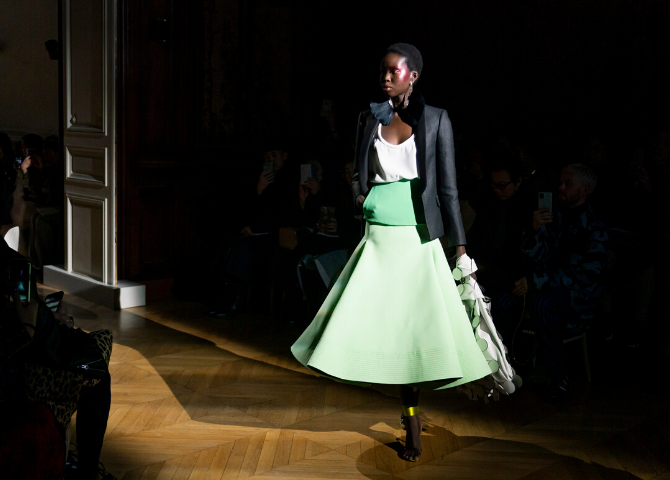 Was it a difficult decision for you to cancel these two fashion weeks in June and July?
With the executive committee and the board of directors, we decided quite early because we knew that we could not, because we are always following the sanitary authorities, and the Minister of Health, always. But then we immediately announced that we would work on collaborative projects, which is what we do and what we have done, as you can see and as you will see.
Do you think this situation will continue in Paris?
The situation is getting better but we never know. In any situation beyond fashion, when we are in a difficult situation, it's always a question to overcome this and to try to innovate. Innovating is good. Constraints are stimulating for innovation. That's the reason that we do our best and we are stimulated by the fact that we make something new. These new things that we see, new systems, is not going to replace the facts. We will very probably continue with this system and this platform in the future, not replacing the shows.
In your opinion will 'See Now-Buy Now' be the right business model for the fashion industry?
No, the problem with the See Now-Buy Now is that it can work for collections which are not so creative. It's a classic marketing, it's a consumer driven marketing process, so you click, you buy, you see, you buy. But then for designers it means, the collections, it means the production is already done.
For very creative brands it's emotion, which is something different. Many designers don't want that. There are many arguments on that. I see the interest, which is that the interest, making sure that there is a sticking between the showing and the retailing commercialisation. But luxury and designer brands require some time. You can wait for that, you can make pre-orders, you can make that type of stuff, but not everything can be instantaneous and [unclear] for creative brands.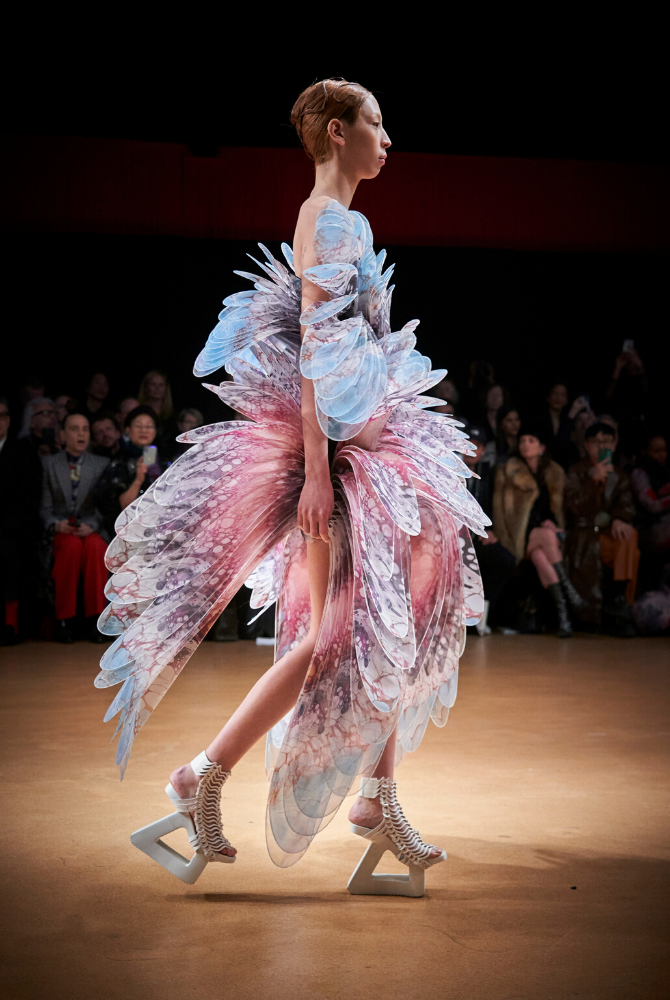 Shops have been closed for many months, and in some countries they are still closed. When do you think the brands will put their Winter collection in stores and what will they do with the summer collection that did not already sell out?
We are in a tough situation, as I said. We know that online steps we're developing, it's obviously developing retailers. What happened is that orders were cancelled, so we have an excess of supply. But then the whole system, still, people and the customers telling the clients they need some novelty. So let's say the brands do, with their own way of managing this, in a way they need to sell all this because of excess of supply.
Just managing that in a fluid way and trying to manage the best the overproduction and the cancellation, and at the same time the system is also changing with this acceleration of digitalisation I was talking to you about. So there is not one solution and they will see in the next month what happens.
What about the city of Paris, because French Federation of Couture is based in Paris and I'm sure you collaborate with the city and Fashion Week generates so much profit for the city?
Yes, of course, that's true. There is a lot of big activity. We have that and also the importance of tourism. So now it's closer to normal when you go outside, now, at this moment, which is fine, but, of course, it raises more difficulty. Activity which is induced by that, which is where people expect the online activity, the challenge will be if it will be replaced, so at least they know there has been a lot of effort.
The positive things that come out of this crisis is also very important. The thing is innovation, innovating, your usage. We need to innovate. We cannot allow to be pessimistic. It's what we have done, we have a platform, an auxiliary. We need to be innovative, to be strong.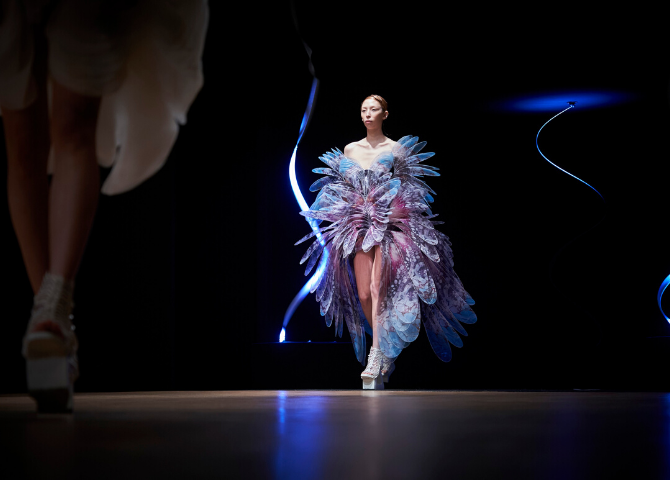 Many fashion houses are now working hand in hand to support the government, to support hospitals and to support The Fédération de la Haute Couture et de la Mode. How are you supporting them as well?
As far as we're concerned we're very much supported by our members. This is great. It's definitely great and very encouraging and it makes us strong. It's stimulating for us. The people, globally and at national level in the country, you have the, let's say, the company, the brand, they want to survive and to keep on developing to show the financing. Then they benefit from these disposals, now they have to go further. But we know that especially for creative brands and so on, for a number of companies it's difficult. If you look at the restaurants and the hotels and all that type, many companies may fail.
It will be to say that there's a united climate to overcome everything throughout the level of the country, but they have the will to go ahead. As far as we're concerned in the federation, we just want to work with other organisations in this country, we share the load with the organisation like we do in other countries. We want to go ahead, to go forward. We know it's difficult. We cannot be blind to the difficulties that companies are encountering, but we think that difficult times always bring innovation. This is where we want to go, so we work collectively.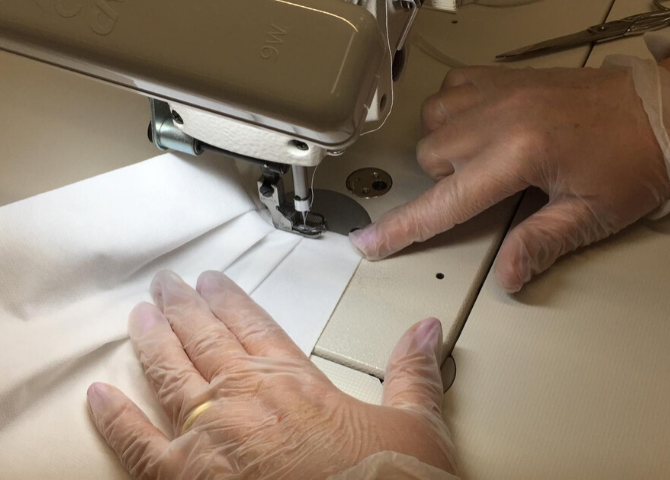 What surprised you most during this challenging time and how does a CEO work from home?
Everybody has been at home much more to work for home and that brings a lot, but we also see the limits of that. It brings a lot in terms of giving more rigour. Straight to the point, the fact of having Zoom meetings or any, where there's others, we will meet the whole day. It's quite tiring for the eyes and it's quite tiring for the brain. Doing it every day, it's not so easy.
But then it showed that we can go ahead and work from home and this will stay somehow. Let's say that digital home working is good for making things systematic, but once again we are very much using these innovative behaviours and organisation, but it is changing.
Now, discover Dior's latest Haute Couture collection.