For his second (and final experience) as a guest designer for Marina Rinaldi, Marco De Vincenzo drew inspiration from the carefree, festive air that permeates certain evenings in June, when there's a strong desire even in the city to bid farewell to the dark of winter. The looks embrace the warmest shades of brown, red, antique pink and yellow combined with touches of green and bright blue. All pervaded by sparkling lurex, a hallmark of De Vincenzo's aesthetic.
While visiting Dubai, the designer sat down with BURO. Middle East to discuss the collection…
Can you tell us a little bit about your partnership with Marina Rinaldi?
They [Marina Rinaldi] called me and I immediately accepted because I knew about their previous collaborations and I was in love with their intentions and their mission. It's not about a big brand collaborating with young designers, it's an opportunity to work on your codes and to make something right for the brand you're working with. During the lockdown, I was looking for something different in my creative life and we were ready to start!
What was the most surprising thing you believed came out of this collaboration? Maybe something you discovered yourself as a designer?
For example, colours are for everybody! You'd think that black is the colour for a curvy body – it's a title but it isn't true. Colours are for everyone! For me, the style of Marina Rinaldi found me a little bit 'under controlled' and they told me to just relax and be me. What I understood was that colours are really for every women.
What were the challenges imposed when designing a collection for a plus-sized woman?
There are no limits to this. When I met the Marina Rinaldi team for the first time, they advised me not to be afraid and to keep the identity I have with collections I previously did before. It's true that we always have something to respect even when I'm in front of a standard model for a fitting but we have to understand that perfectionism is an illusion, working with both a standard and a plus-size model is the same for me. Honestly, what is important is to have a very universal line and whoever the woman is or looks like, they're all looking the same. It was interesting to prove that fashion can talk to anybody.
What is the inspiration behind the collection?
I started from the first inspiration as I did with the first capsule. There was colours and colours but now, it's about lurex. I found something optimistic in the material. I had imagined a party and we can find opportunities to dress in a certain way. I was always a party designer and designed pieces for special occasions. And I found this opportunity after lockdown. The result was a very colourful and light collection.
What is the must-have piece from this collection?
It's difficult to pick just one but I would pick the brown trench because it represents the spirit of the collection. Brown expressed the daily approach for women and is perfect for real life. The touch of lurex on the back represents the dreamy side of the collection so the collection joins both reality and dreams. I always thought of doing a special design and my pieces are far from being basic, a day trench with a touch of lurex has definitely a special place in every women's wardrobe.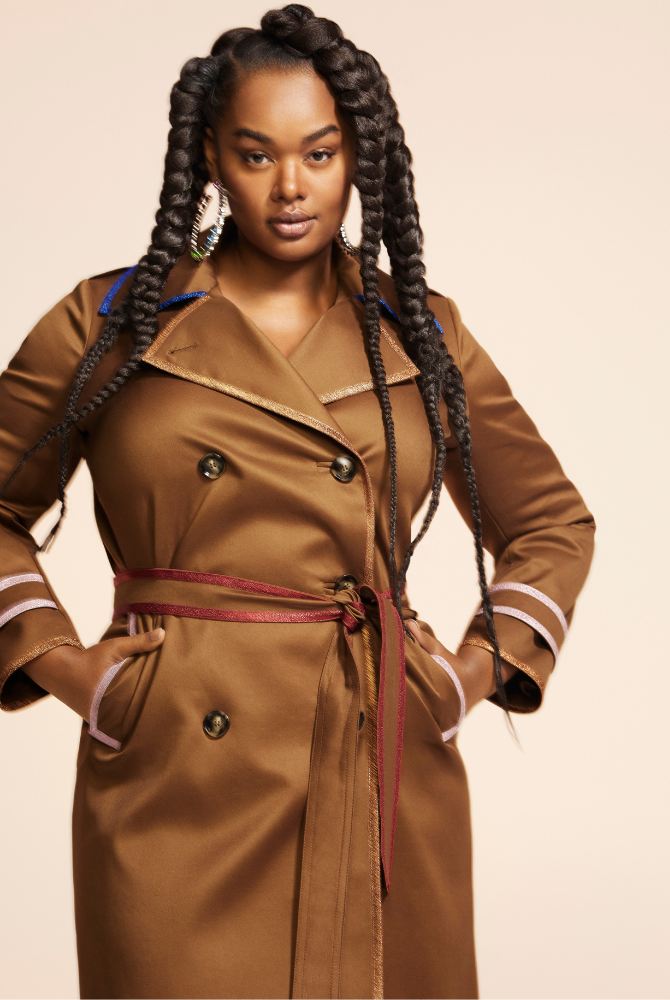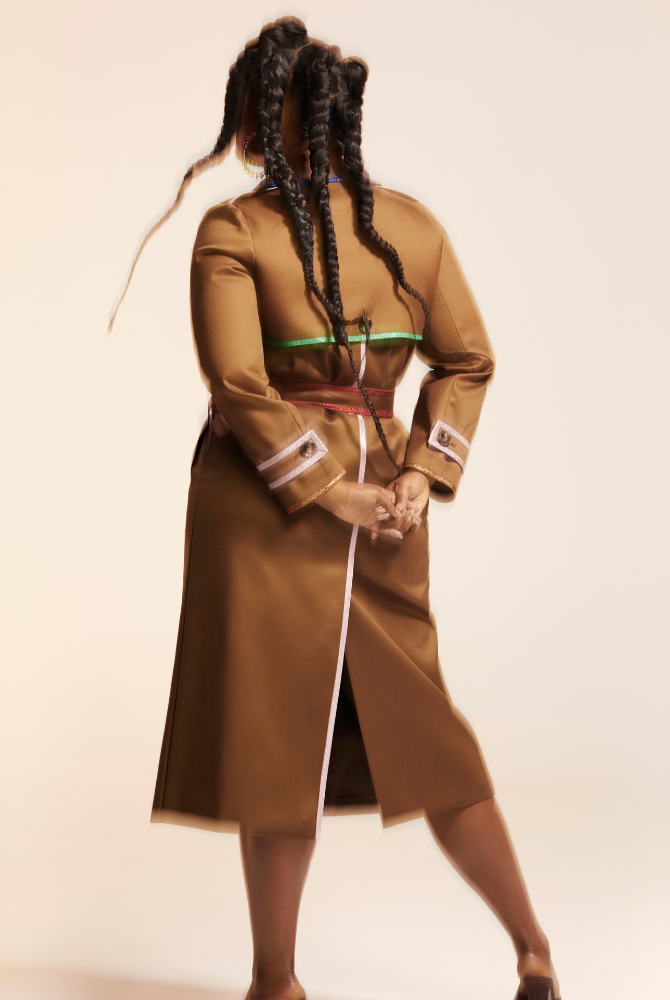 You're known to have an innate tendancy for contradiction. Where does this show in this collection?
Contradiction is in every piece. For example, the suit is classis but has a touch of disco and the '80s, with colours and lurex. It's a pleasure for me to always join contradictory elements in one piece.
If you were to send one message to women about body positivity, what would it be and why?
It's time to focus on identity and personality, and now more than ever, the fashion industry is focused on that. It all starts at the chore of every woman, it's not something a designer has to give but we all need to understand that when we're comfortable in our own skin, we become beautiful.
If the pieces themselves can portray a message, what would it be?
The message is to come back to life. It's the same message every designer tried to give and share after COVID. Come back to life, to dreams, to normality and to positivity. Fashion is made for that – at least, mine is. For me, fashion is a way to escape from reality. It's to represent something that you don't have in your wardrobe.
The fashion industry, now more than ever, is inclusive in terms of the sizes they offer, and even diverse in terms of the faces they choose for their collections and shows. Do you think designers are throwing these terms around in order to be safe? Do you actually see a change happening?
I think it's too soon to understand if we're talking about it being a marketing or PR idea. It's too soon to understand if these are the true values of designers and brands. However, it is important that everybody is talking about it and I hope this will be true. During the first lockdown, everybody was talking about slowing down and that fashion is too fast, but it's just in the moment. I hope it will be true. That's why I'm very happy that my first collection with Marina Rinaldi is because the brand is not just a moment. They had a story from the very beginning. It's authentic.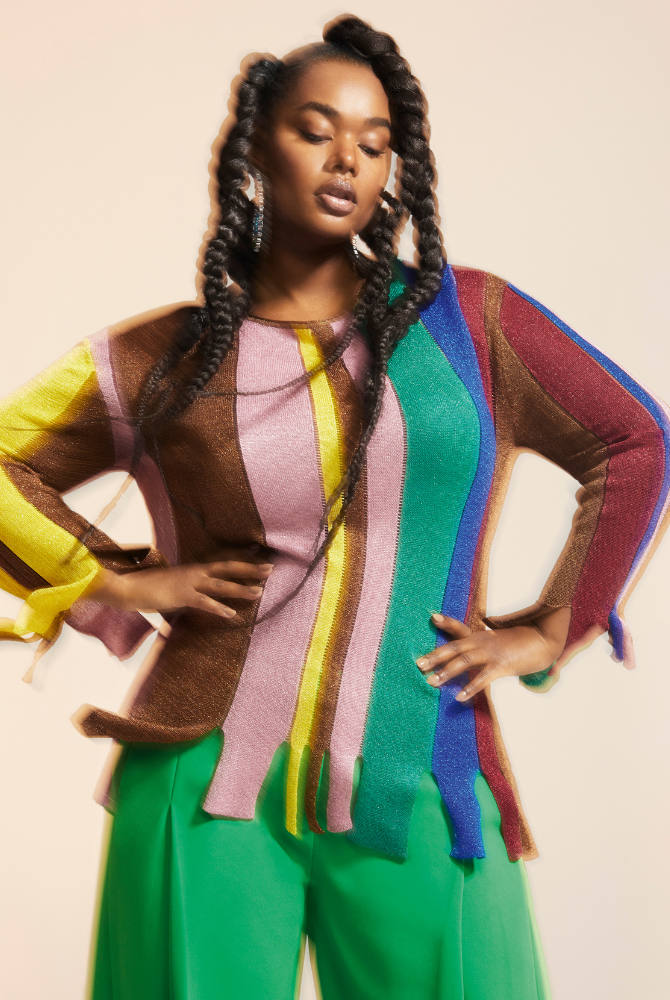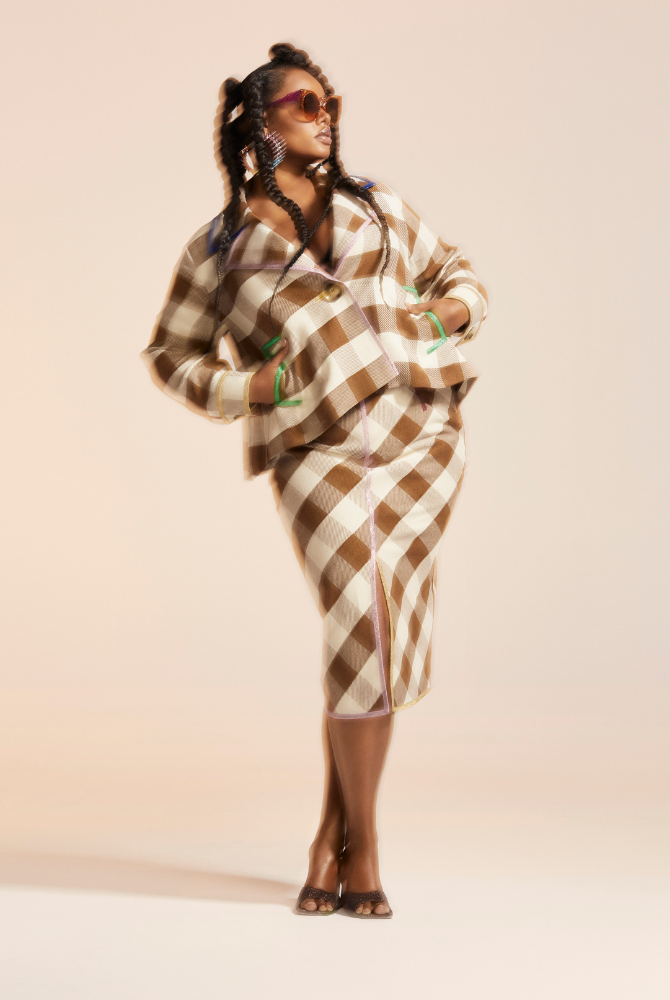 What are some of the shared values you share with Marina Rinaldi?
Marina Rinaldi is a big brand but they never worked to be on stage. They don't do these big fashion shows or mega productions. They simply work on clothes to make women happier and I believe, this is what we have in common. Working in fashion without being too fascinated with that 'staged' moment.
What did you learn from your experience with Marina Rinaldi?
It is important to start with a fixed idea in mind to enhance and empower women, and it's time to go beyond fashion and beyond our limits. Today is everyone's opportunity to merge the past with the future.
If you could describe the collection in three words, what would it be?
The collection is energetic, well-detailed and I would say private stage (made to feel excited by the clothes more than wanting to show it off).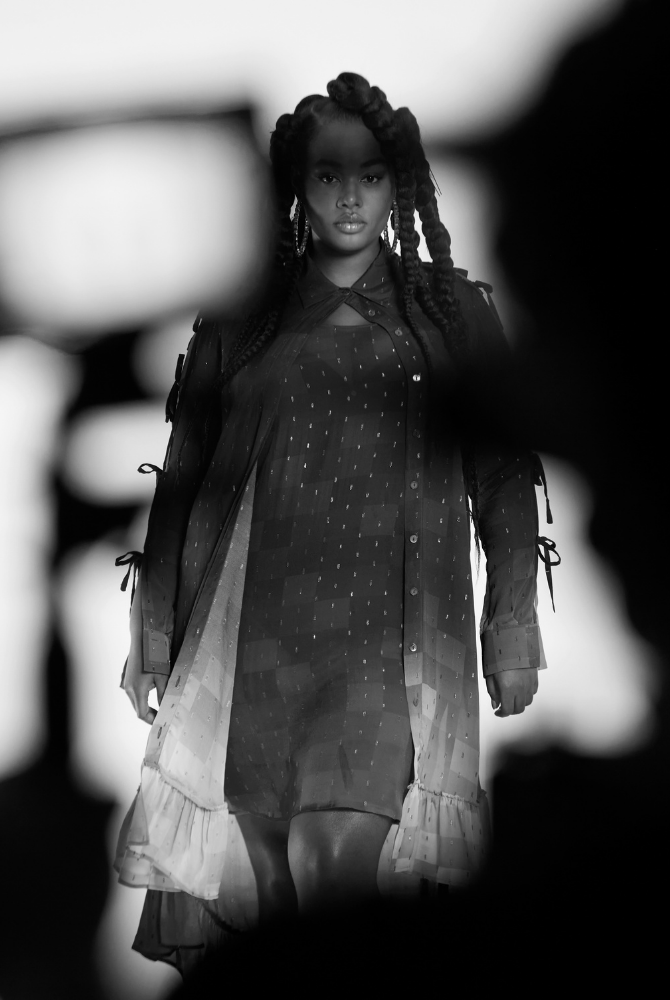 The collection is now available at Marina Rinaldi stores.