Happy birthday to Claudia Schiffer! The supermodel — who rightfully earned her status as legendary — turned 50 two weeks ago and she looks SO good. Alongside fellow OG models such as Naomi Campbell, Linda Evangelista and Cindy Crawford, Schiffer rose to fame in the '90s and ever since, has been one of the most popular faces to front campaigns and strut the runway. So, it's no surprise that she celebrated her milestone birthday in style.
Here, the supermodel takes a trip down memory lane to walk us through her favourite campaigns, her favourite memories of the late Karl Lagerfeld and her beauty tips…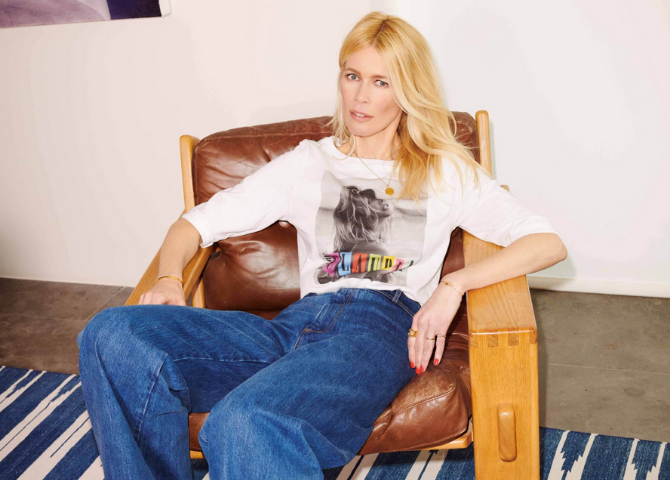 What are some of your greatest memories from the best advertising campaigns you've done throughout your career?
When I released my eponymous coffee-table book a couple of years ago with Rizzoli, I had the opportunity to personally select my favourite fashion moments captured by some of the industry's most iconic photographers such as Richard Avedon, Patrick Demarchelier, Arthur Elgort, Steven Klein, Karl Lagerfeld, Peter Lindbergh, Steven Meisel, Herb Ritts, Mario Testino, Ellen von Unwerth, and many more.
It's impossible to choose a favourite and I have so many memories, but one of the best comes from when I met German photographer Ellen von Unwerth in Paris at 17; she was starting, I was starting. We got on like a house on fire, having fun, being silly, just mucking around next to the Centre Pompidou on the streets of Paris in my own clothes. Cut to Paul Marciano, who saw the pictures and wanted us for Guess Jeans ad campaign. Then numerous trips around Europe and the US started from Nashville, Tennessee to Mykonos Greece for the many Guess campaigns and were heavily featured in all the magazines.
There is a particular black and white photo, which became the most well-known, because shortly after, Revlon rang and wanted this to be their first ever fragrance campaign for Guess, which they were creating. I remember flying around the US to every major city for signings in department stores with massive crowds, only to be interrupted when a duck flew into one of the engines of Ron Perelman's private plane. But only for a moment, then the tour continued to all major TV shows from Jay Leno to David Letterman. When I came home afterwards, I remember getting up the next morning sleepy eyed and uncombed into my elevator in one of the high rises in uptown NY near Central Park, when a person entered and said for the first time "Are you the Guess girl?"
Also, the Richard Avedon campaigns for Versace were amazing and the Arthur Elgort campaign for Valentino, shooting in Rome and re- enacting La Dolce Vita. Life imitated art as we were chased through the streets by a huge following of paparazzi and TV crews. In one balcony scene a crowd of people formed below and when I was directed to wave out at them, they responded by chanting my name.

You've been the face of Chanel for years now. What was it that Karl Lagerfeld taught you?
I feel incredibly proud and grateful. Karl was my magic dust; he transformed me from a shy German girl into a supermodel. He taught me about fashion, style and survival in the fashion business. What Warhol was to art, he was to fashion. He is the only person who could make black and white colourful and I will be eternally grateful to him.
You will always be grateful to Chanel because of?
How I started and amazing memories to remember.
You seem to have a fusional relationship with Karl Lagerfeld, before he passed away. Can you tell us more about this iconic fusion?
I first met Karl when I was 18 at a fitting in his studio in Paris on Rue Cambon. He had seen my UK Vogue cover by Herb Ritts and asked that I come in. Before I knew it, I was being fitted for his new collection and then the next day I found myself driving to Deauville to shoot my first Chanel campaign, photographed by Karl. I remember us bonding over the fact that we were the only two people full of energy at 3am in the morning. In his case, he was always full of energy; I was just always full of adrenaline loving every second of working with him.
For other Chanel campaigns, we went to Vienna and I remember Karl dancing the waltz in front of us, laughing; this remains my favourite memory of him. In Berlin I remember rating different dumplings whilst Karl continued shooting for Vogue. Another campaign was shot in Monaco and I recall all of us having a picnic on the pebble beach for lunch, with full silver service by Karl's butler, who by the way was part of the "family". Then there was the Chanel campaign in Sylt, Germany where we all had a giggle as Karl and I were nearly knocked over by the strong winds, but we still continued, and the laughter kept us warm.
How other people loved their holidays, he loved his work and never went on holiday. He was a creative genius to whom, like Mozart, incredible abilities just came naturally. As a photographer as well, he had so many ideas and would have easily continued photoshoots till sunrise. He was incredibly generous when taking photos and his enthusiasm was infectious. Working long hours with him, he often joked that we were the only people who had the discipline not to drink and live healthily, as we had the energy to continue whilst the rest of the team were getting tired! He was always open to my input and loved chatting and laughing.
Karl's scope of work didn't just evolve, he continually re-invented it, emerging season by season in the fashion zeitgeist; this is why his vision was so extraordinary. I've often described him as the Warhol of fashion, because like Warhol his work spanned such a wide variety of media and he understood the relationship between photography, artistic expression, celebrity culture and advertising. Fundamentally though, he always had a kind heart and generosity for people who were honest with him and didn't break his trust.
What rules do you follow when it comes to makeup?
For the day, I like fresh looking make up, using an eye lash curler, brown eye liner, mascara and a rosy blush. I also like a bit of shading, which looks like just a hint of a tan.  In the evening, I just add dark brown eye shadow, black eyeliner near the eye lashes, as well as lip liner and lipstick in an apricot colour.
Good skin starts with?
I have a busy schedule whether it's work, being a mum or spending time with my husband, so my morning and evening skincare routines are two of the few times in a day that I have to myself. It's really important to take time for yourself for your mental health and well-being, but also the key to having good skin and slowing the signs of ageing. Having spent years on photoshoots with make-up being taken on and off, I learnt from a young age how important it is to take care of your skin. I've always been rigorous about cleansing and using natural skincare products that nourish and fortify your skin, which is why as I turn 50 my skin feels better than ever.
How would you describe your style after 30 years in fashion?
I'd describe my personal style as quite instinctive and my everyday "uniform" tends to be denim coupled with cashmere jumpers and blouses, with great accessories. I love outfits that feel effortless, but that can take me from the school run to meetings and onto dinner with friends.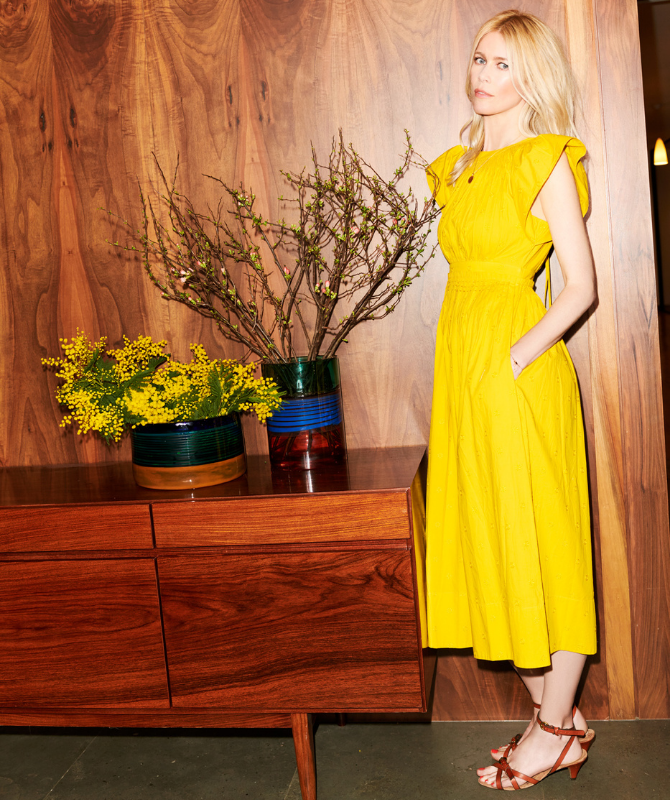 How do you prepare yourself to embody the different facets of the several brands you work with?
I'm very lucky to love what I do and to be able to pick and choose my projects with partners that I admire. I'm also enjoying the different avenues my career has taken including roles where I am designing or curating collections, which felt like a natural next step for me.
What are your makeup essentials?
My make-up essentials include mascara, MAC eyelash curler, Estée Lauder concealer and Shiseido brown eyeliner, Marc Jacobs brown eye shadow palette, Chanel brown blush for shading, Sisley pink blush, a hairbrush and orange or red nail polish with my nail kit. My favourite fragrance is by Agent Provocateur.
You recently turned 50! How did you celebrate your birthday?
I'm incredibly excited that brands including Balmain, Dolce & Gabbana, Isabel Marant and Versace, as well as Bamford, Barbie, Frame Denim and Lucie Kaas have decided to release limited edition and one-off pieces in celebration of my birthday, launching this September and October. From a taste and style perspective to a shared ethos on embracing age, health and well-being, these are all brands that are special to me, so I'm thrilled. Select items and sales will go towards a number of charities from Unicef, for whom I'm a UK Ambassador to Heads Together and Humanitas Ricerca.
You'll also be able to shop some of Claudia Schiffer's collaborated pieces with Être Cécile here. "The collaboration was inspired by the effortless feel of the 60s and 70s style icons such as Sylvie Vartan and Jane Birkin. Looking at signature pieces like a classic Breton tee, we re-worked certain shapes and added playful design twists like fun motifs, typography and slogans," explains the supermodel.
Now, discover the Lebanese designers ruling the red carpet at the Venice International Film Festival.