Describing the Blazé Milano woman as "effortless, charming, chic, sexy, nonchalant, busy, discreet and confident," the brand's designers Delfina Pinardi, Corrada Rodriguez and Sole Torlonia are resolute in their approach to design. Their brand — and the pieces that encapsulate its collections — is made for modern women on the move who value classic cuts in quality materials with a contemporary edge.
The designers have teamed up with MATCHESFASHION.COM for an exclusive trunk show that begins today and ahead of the collection going live, they spoke with Buro 24/7 Middle East about their key styles, the Middle East's favourite pieces and what we can expect when the trunk show goes live…
How did this exclusive trunk show with MATCHESFASHION.COM come about?
Delfina Pinardi: Very naturally. MATCHESFASHION.COM has been a partner of ours since the beginning. In 2017 to celebrate their 30th anniversary they asked us to collaborate on a capsule collection.
What can customers expect to see in the trunk show?
Corrada Rodriguez: This collection is inspired by the quintessential British character, the colours of its countryside, its earth tones and raw wools. The idea was to create a collection which could be both charming and classic, perfect for the great outdoors and social events in the countryside. Bottle green, landed gentry, loden and heritage tweeds have been the guiding light of our work. In the end, our blazers' names — chilling morning, royal tan, hello dandy — embody the spirit of the most classic British landscapes.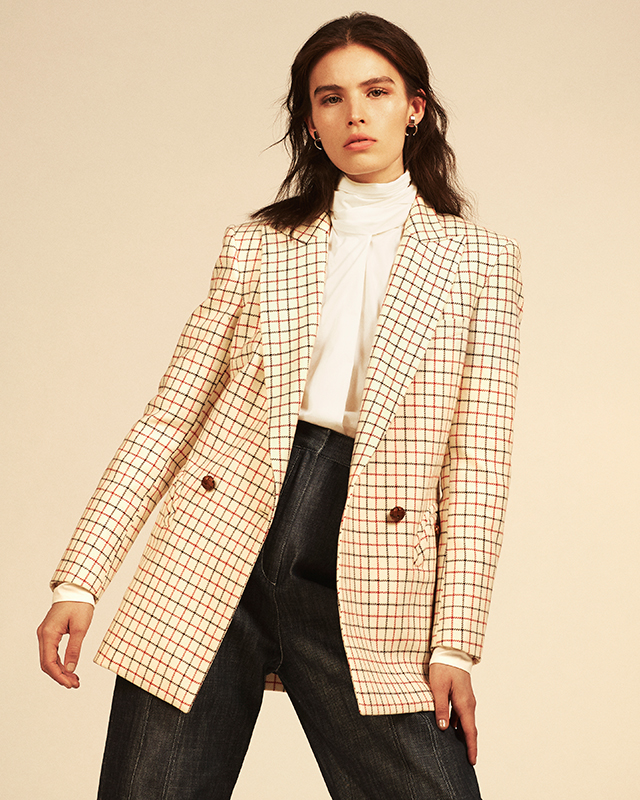 Are there any new styles or twists on classic Blazé Milano pieces we should keep an eye out for?
CR: In each collection, we introduce new models which are variations of the same silhouette. We are very consistent in the image we want to transmit, so every new model when worn gives the same mood and feel: effortless, understated and chic.
Last summer we introduced the After Dark Blazer, the longer version of the Blazer Dress and sleeveless. It can be worn as a dress or a long gilet. The Ballroom Blazer was another model introduced as well as the Pool Blazer. For next winter we will introduce a few other variations to the team but basically, we always rotate the key piece: the blazer.
Which pieces do you think will resonate most with your Middle Eastern customer?
Sole Torlonia: The best seller in the Middle East is still the Blazer Robe, with its wrapped belt on the waist, which we propose in many variations and textile weight and types. Plus it can be worn both day and night.
Why did you start Blazé Milano? What gap did you see in the market?
ST: There was a need for a women's only made-to-order collection of blazers that were made in Italy and well done. We felt that there was a hole in the market so we decided to fill the empty space. All three of us love this garment as it's so discreet and so iconic, yet adaptable with limitless interpretations. We are fascinated by the long history of the blazer and the countless interpretations that have been dreamed up over the years, so we designed a garment that combines exterior elegance with interior function.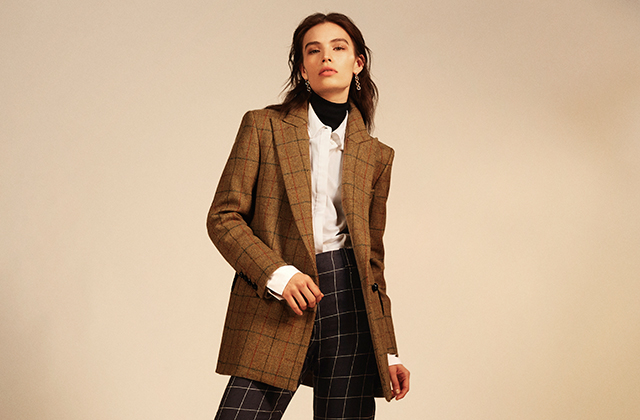 How does your editorial background affect the way you create pieces/collections?
DP: All the years in fashion, being in the most amazing ateliers, on photoshoot sets and meeting great designers, gave us the basis to understand the business quickly and what women want. We have to admit that until now we managed to do everything by ourselves, and finally today we are a small team of six people plus a managing director and two freelancers who support us in the production department, which makes us very proud. We know how to shoot a still-life item, how to organise a photoshoot, how to do casting, editing, styling etc. We knew from the beginning that this experience was good to have as we started a brand because we had lots of aesthetical skills and the credibility from colleagues in fashion.
We do not follow trends, but every season we choose a cool muse, and we start to analyse her habits, lifestyle, background and taste, and we construct a story around it. This time was Lady D, last season Lou Lou de la Falaise, before that it was Bianca Jagger — strong women with strong taste and a passion for blazers.
In your opinion, why are blazers such a key part of a woman's wardrobe?
CR: The blazer is one of the oldest and most rigorous uniforms of all time, universally recognised as a chief symbol of elegance, but still easy to adapt according to the occasion. Women just stole this iconic item in the modern time, as the blazers is suitable for a business meeting to a stroll in the countryside and lunch with a friend. It's a true 24-hour piece.
The Blazé Milano trunk show is available to shop from today on MATCHESFASHION.COM. Now, discover the new Middle Eastern e-commerce platform that will launch at the end of the month.