Philipp Plein has always been a disruptive force in the fashion industry and once again, he's breaking all of the rules. In December 2019, the German fashion designer entered the world of perfumery by debuting his first fragrance, The $kull, and now, is ready to seize the olfactory industry with a second scent, titled No Limit$.
Mimicking an unlimited credit card, No Limit$ was created in partnership with master perfumer Alberto Morillas, who co-created the new frangrance alongside Philipp Plein and Mr Patrizio Stella, Ceo of Philipp Plein Parfums.
Here, Buro. Middle East's contributor Farouk Chekoufi speaks to both Morillas and Plein to discuss the future of fragrances, the new scent and why it smells like success…
Fragrances always evoke emotions. Can you tell us more about your creative process for this new perfume, No Limit$?
Alberto Morillas: The first time I met with Philipp, I was immediately drawn to his incredible energy. Through his expressive eyes and his captivating smile, it was evident that he is an extremely strong and creative person. So I wanted to combine these particularities and translate them into a fragrance that encompasses all these codes; surprise, exceptionality, energy and capture them in a highly distintive bottle. That's my image of Philipp's world.
How did you begin the process for this perfume?
AM: I started with Philipp's personality and image. I was surprised by his very particular tattoos, an expression of his energy. I wanted to embody his image and the strength of his tattoo into the perfume, so that when you wear it, it is as indelible as a tattoo on your skin.
In your opinion, what is the future of fragrances?
AM: We have entered a time of high perfumery where traditional perfumery codes are revisited with a modern twist, with a strong focus on high quality ingredients and texture. Nowadays, sophistication is becoming more appreciated through the play of textures and thanks to the quality of raw materials, rather than by the extreme masculinity or the feminine sensuality of a juice. The objective will be more and more to find an olfactive singularity, while the borders between feminine and masculine fragrances are less relevant. Consumers are looking for authenticity, singularity, trying to move away from the norms.
What is the inspiration behind this perfume, No Limit$?
AM: No Limit$ is a high-voltage fragrance, a storm of passion, energy, money and muscles. Once again, in this scent I wanted to capture Philipp's unstoppable energy, his excessive and fascinating life, his world beyond all possible limits. I was triggered to create for him an indelible and desireable olfactory tattoo that translates his passions for beautiful women, cars, jewellery and travels.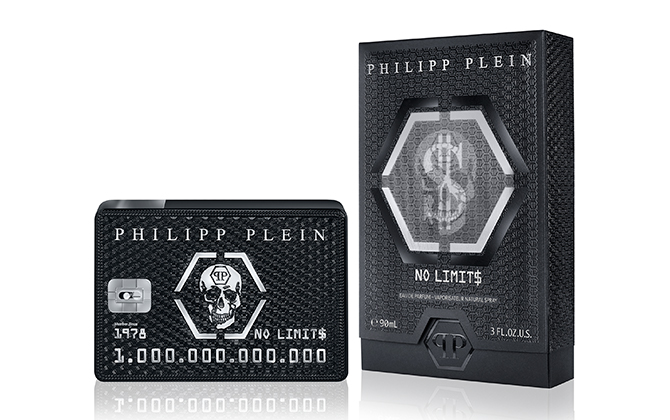 Is the quest for raw materials complicated?
AM: I am very demanding on quality, nuances, even sometimes about the raw materials sources, so I built myself my own olfactive palette of ingredients from what Firmenich possesses. Some ingredients are really essential to me, just as some tools which you are used to work with every day would be. I am very keen on natural raw materials and for me it is impossible to compose a fragrance without them, but I also enjoy using synthetic molecules which have been discovered by Firmenich researchers.
What is your favourite ingredient or raw materials globally and for this perfume?
AM: I have many favourite ingredients. Among all the gems of my perfumer's palette, musks are my talismans to create mythical signature and I enjoy playing with their texture to give sensuality and brightness to a fragrance. I like to push their radiance, beyond limits, to reach the full power, the supreme alchemy with the skin to provoke ultimate emotions.
What are your top five favourite smells or scents?
AM: My favourite scents reflect my Andalusian origins and remind me the sun and long summers of my childhood. I like everything that would evoke the Mediterranean Sea, with the deep blue water, the sun and the nature which go with it. I do have a preference for ingredients bringing freshness and vitality to fragrances, such as mineral saltiness, citrus fruits and delicate Mediterranean flowers including jasmine, tuberose, neroli and orange blossom, when I smell it, my childhood in Spain comes back to me.
What characterizes the No Limit$ perfume? Which elements of No Limit$ inspired you?
AM: I can say that No Limit$ doesn't look like any other fragrance. It has a woody side, mysterious, bright and aquatic. It evokes the scent of banknotes that give you an immediate feeling you can do whatever you want to do — it's limitless.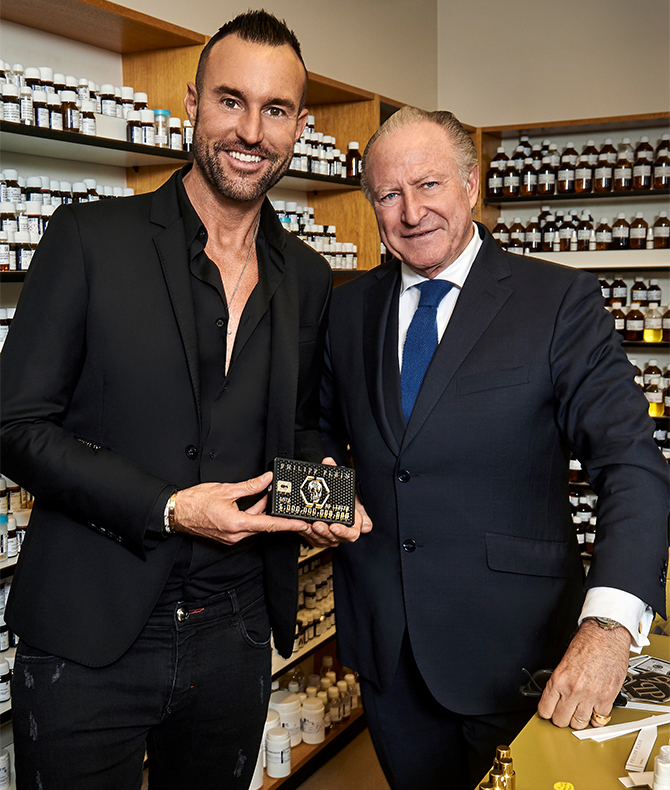 Tell us about your career in the fashion word?
Philipp Plein: I never ever wanted to be a fashion designer, it happened by chance. I was studying law when I decided to launch a furniture design brand under my name. It went actually very well as I created a unique brand that got recognition in the design industry quite quickly. When I released some clothing samples to better display my closets, I realized how much potential a fashion brand with a strong aesthetic could have had, indeed I made my first million in one year with a military parka. This was the very beginning of what is now an international fashion group. I still have many markets to enter and dreams to realize. I never settle and always work 24/7 to make things happen.
What do you think of this new perfume?
PP: Mr. Morillas did an incredible job putting together the best perfume I could ever have imagined, it embodies my energy, my favourite essences and it is a brand new fragrance, something never done before. I keep on spraying and I could never get bored of it! When I do meetings with my team I spray it in the room, haha! It is perfect on men and women, an olfactive dream.
The diamond-encrusted skulls regularly found on your creations are your signature. What is the inspiration behind this?
PP: The skull is an iconic symbol since the early years, it has always been used. When I launched my line of cushions back in the day, they were covered in Swaroski crystals and the best seller was the one with the skull. This is the reason why I then decided to put it on my first parka and over the years always brought me luck. This is the reason why it became my trademark symbol!

How would you define the No Limit$ fragrance?
PP: Unique and fresh, something new on the market that embodies the PHILIPP PLEIN limitless lifestyle.
With this new project, what's your next goal?
PP: We could create a women's only fragrance… maybe?
What does No Limit$ smell like, according to Philipp Plein?
PP: It smells like success!

What is No Limit$'s identity and how does it stand out in the market?
PP: No Limit$ is breaking into the market as something new, from the fragrance itself to the communication, we wanted to create something as unique as PHILIPP PLEIN collections. It took years to make this happen, I wanted the best for my first fragrance and now it's finally here and I am beyond proud of it.
Now, discover your backstage beauty must-buy list.