Bringing a luxury leather goods brand that is deeply rooted in tradition into the modern day is no small feat. It takes a specific creative to be able to expertly navigate the fine line between DNA and diversification, heritage and hashtags, however Christian Beck more than fits the bill. The Creative Director at Aigner for 10 years, he has helped bring the brand into the digital age — a mission that continues today.
His latest collaboration is with Kuwaiti blogger Ascia with the pair teaming up to create an exclusive bag for the Middle East. Christian is in town to celebrate the new launch (his second ever visit to the region) and Buro 24/7 Middle East's Managing Editor Maddison Glendinning caught up with him for a quick chat about why the Middle East is such a key market for the brand and what we can expect next…
Why did you decide to do a Middle East-specific collection?
The Middle East, for me, is one of the most inspirational countries. Plus, it's one of our biggest client bases also so it was obvious to me to do that.
What drew you to Ascia as the person to collaborate with on this project?
Ascia, when you think of a modern Arabic woman, she is the typical one. She is breaking boundaries but keeping her traditions, she's very open-minded and has her eyes on the world. People like looking at her, how she lives her life and how she keeps up with her husband and her family, her private life is very inspiring.
How did the collaboration come about?
We knew each other from before. We met three years ago when the brand turned 50 and then we thought about a collaboration. She came to Munich to see my creative office and we were talking about the bag — the Ascia bag is inspired by the Genoveva which is the most famous bag collection for us in the Middle East so I just said, feel free and go ahead. So we did it together. I did some drawings and showed her what kind of materials we could use, what kind of surface, what kind of metal finish…
How would you describe the design process with Ascia? Was there a lot of in person time, or did WhatsApp and email get a good workout?
It was a mix but more in person really. We had a whole day where we were scribbling and sketching, real handwork not only computer-based stuff.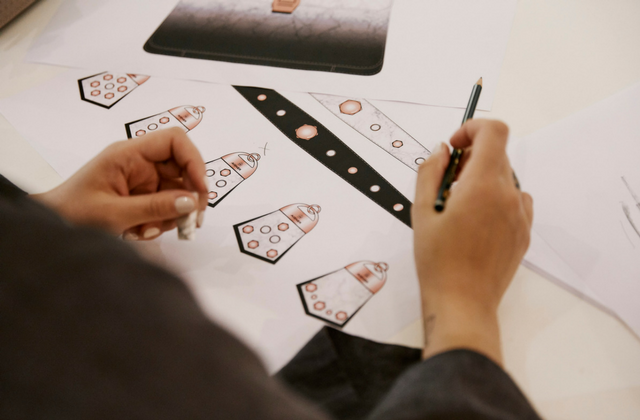 So does that mean the design for the bag came together in one day?
Yes, just about that!
From that point to having the bag made, how long did that take?
A few months. Having the first prototype, changing it, adjusting the dimensions, the print work etcetera and the dégradé that we have takes a lot of work to refine it.
Is the marbling effect something you've done before?
This marble effect, no. We had used trompe l'oeil in the past but imitating a surface with this marbling is something we've never done before.
And the rose gold finishing is beautiful…
Yes I feel like it's very Middle Eastern.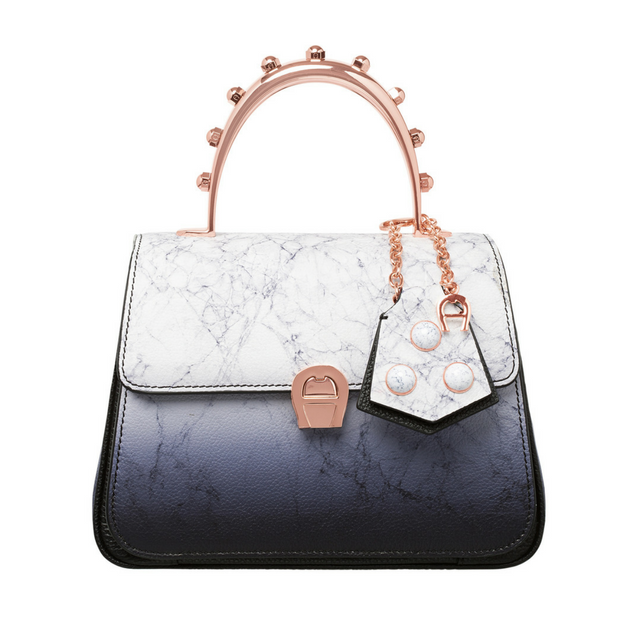 Aigner is incredibly popular in this market — how would you describe your Middle Eastern consumer?
For me, Middle Eastern women have another perspective on luxury and leather. They really honour brands and follow brands. When they do fall in love with a brand, they stay with it.
You mentioned that the Genoveva is the most popular style here in the Middle East — why do you think this style resonates in particular?
It's a classic lady bag. For the past two years, and it's still going on, the trend has been for the classical one handle lady bag so this matches that style. Then you have the nice logo clasp, which I think is most important for the Middle East, to be able to show your brand and what you're wearing.
I think that's something Europe can learn from the Middle East: when you honour a brand, you can show it and it's not a problem. In Europe, people perhaps think, 'Oh I want to be more decent' but I like the idea of showing a logo because that's why you buy something. You've paid a lot of money for it! (laughs).
I think that's something Europe can learn from the Middle East: When you honour a brand, you can show it and it's not a problem.
Are there any plans to do any further dedicated collections for the Middle East?
I think it was a good start. I already came up with the next collection which will be delivered in summer and there's lots of oriental patterns in it, as well as Moroccan influences, and influence from old carpet designs.
You have such a big fan and consumer base here — does that influence the way you design when you're putting together new collections?
Actually yes it does. I'm so happy to be here again because I can see in real life what people are wearing, what they're thinking of, what kind of attitude they have towards new fashion, what they want and what they don't want. I'm open to seeing everything here.
Using Ascia, and in the press material there's the use of hashtags — is this to introduce the brand to a more millennial customer?
I think we're on to a good thing, but we still have to work on it. It's a good time to see how we can work as a modern brand with our traditions.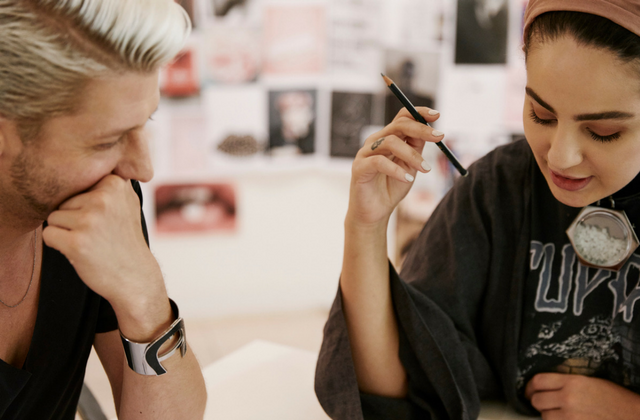 How has the brand changed in the time since you've been at the helm?
I've been with the brand for 10 years now so it's a long time and I think changes take time. I didn't want to rush into anything and do too much and overload the brand with too many ideas. So it's been a slow growth but that's healthy. I think I'm a modern-thinking person so I always give my ideas and my way of thinking to the brand but I don't want to change it totally because I love the idea of having heritage and the background to the brand.
So it's about trying to balance your own creativity and ideas with the brand's DNA and heritage, which must be difficult!
Yeah it's difficult because sometimes it's a step too much, sometimes it's too slow so you really have to find a balance.
In addition to the brand's leather goods, you also offer a selection of ready-to-wear pieces — is this an area you'd like to expand in the future or are you happy to keep the focus on leather?
I'm happy to keep the focus on leather. We will keep the fashion show in Milan for sure, and we have the image of the total look which I really love to do. Our next show is in two weeks and we will have some pieces, like sweaters and leather pieces to sell, but I don't think it's going to be a focus.
In these times, it's a hard time for fashion brands. I think when you have accessories as the main focus it's really good for a brand.
When it comes to our clothes, I focus more on leathers, sweatpants, blousons in leather because these are the things you buy like a bag: you buy it and you keep it.
So the show is coming up in two weeks — can you tell us a little bit about what we can expect?
(Laughs) It's called Wunderkammer, which is like a cabinet of curiosities from the baroque era of the 15th, 17th and 18th centuries. It's like a collection of things so mixing Asian inspiration, Portuguese tiles, and oriental inspiration all together to make an interesting composition.
Watch this space.
Now, discover how to correctly pronounce Versace because it turns out we've been wrong all along…