An unforgettable experience, an inspiration, a high standard for what fashion presentations should be like, a celebration of freedom, beauty and femininity – that was the concept for the new edition of Hotel Vivier for the new season.
The historic building and French abode were opened for Creative Director Gherardo Felloni to showcase his fantasy and vision, titled 'The Secret of The Swan'. Upon entry, we were welcomed with a towering swan with a showgirl sharing a live rendition of John Lennon's 'Imagine', the entrance opened to three floors and many rooms, a high octane spectacle to feast our eyes and senses, each with special characters and performers and of course the most extravagant and new iconic shoes and bags.
We were even more lucky to have a one-on-one discussion with Felloni during his visit to Dubai, who told us more about the presentation and collection…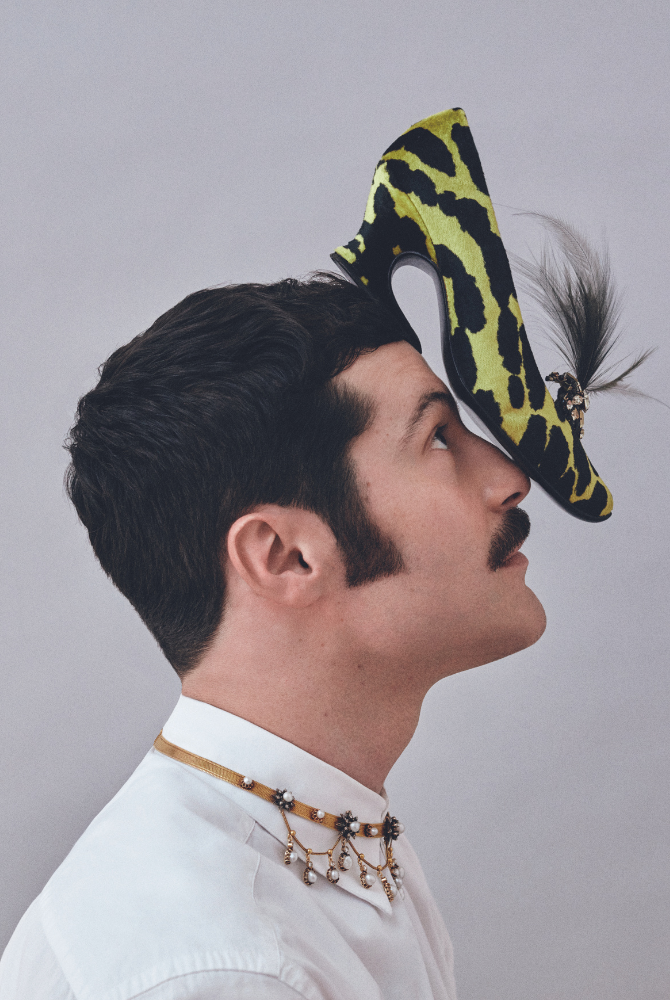 Your Fall/Winter '22 presentation in Paris was all about experiences. What kind of experience would you like to invite a woman to when wearing your shoes?
I don't like to impose things on women but I have always been a designer who likes to propose something. I always think to myself and say: 'What would women love next season?'. When women come to Roger Vivier, they need to find a big selection of shoes, something to satisfy every taste and mood because I believe that in every woman there are so many women, something to satisfy their freedom of mind so you cannot impose things but you have to propose things. So for the next Winter collection, the Roger Vivier women like to be outside, enjoy their lives and just be free.
What is your favorite shoe and bag from the collection? And why?
I would pick the 'Choc Feathers Pump' in pink, which is very precious to me and the brand. It takes one week to produce one pair and fuses a lot of passion, history and savoir-faire. Taking inspiration from pieces in the archives, I reproduced this model originally invented by Roger Vivier like precious jewellery to be worn on the leg beneath the knee which lightens the step, fanciful, always and forever. On another note, exceptional meticulousness, as shown by the emblematic Viv' Choc strass bag, which emerges in a neon pink satin variation topped with a rhinestone buckle would be my favourite. No fewer than twenty-five unique models of the Viv' Choc feature various embroideries and crystal jewellery buckles. The friendly, impish eye of Monsieur Roger Vivier takes in this assembly where the senses and genders intermingle. The portrait of the House founder appears in a room where craftsmen reveal the precision of their skill. The spirit of a workshop that is at the heart of the brand's eminently Parisian identity.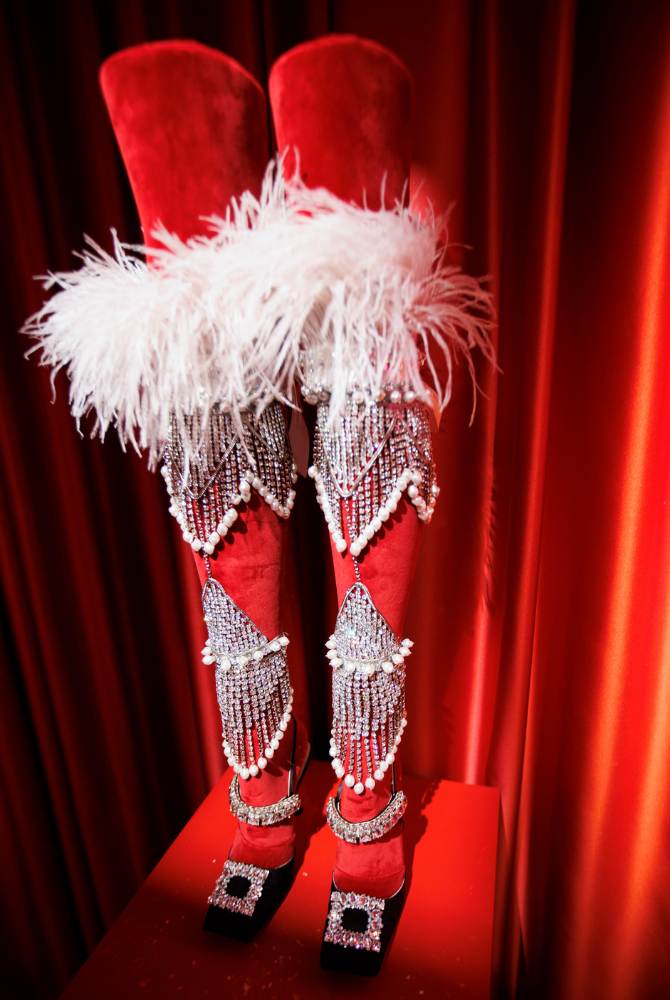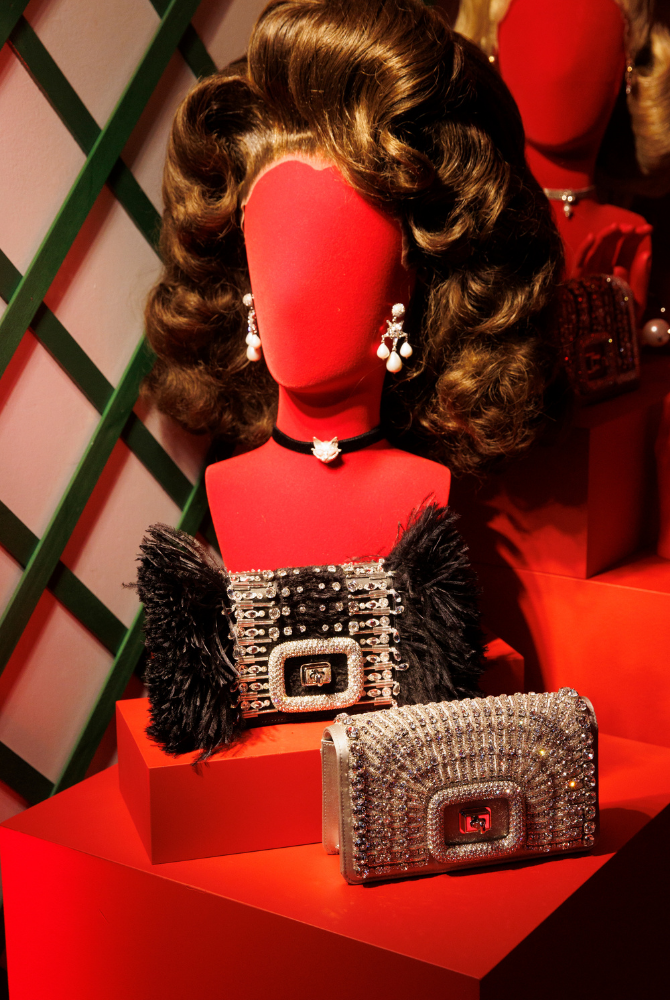 Strass, feathers, celebratory and show details were implemented. What would you like to celebrate?
We are celebrating the house's savoir-faire because without it we wouldn't be able to bring all the ideas to life. I also want to celebrate the 'Joie de Vivre, freedom which is mostly shown in all the presentation that was held in Paris.
What kind of woman did you have in mind when designing this collection?
She can be anyone but to wear this kind of statement shoes, really excentric, especially the ones featuring feathers or the other ones with jewels, you need to be confident and understand that you are about to be seen everywhere!
If you were to be locked for the rest of your life in one of the Hotel Vivier rooms, which one would you chose and why?
If I had to choose only one room I would pick the room at the entrance because it's the one that joins all the rooms together. Inside this room, there's a giant sculpture of a slender, proud swan – symbolizing both desire and purity greeting the guests arriving at Hotel Vivier. An actress tells a tale about the Hôtel space. It's also the room that opens to a variety of performances and spectacles: a boudoir where a surprising Marie-Antoinette character is surrounded by cat-headed footmen; a bedroom where a majestic soprano pauses between two opera arias; an intriguing dining room buffet; statues that come to life and the backstage of a party venue where performers metamorphose their appearances with wigs and jewellery.
Did you experiment with any new material, styles or embellishments this season?
For me and the house, it was the first time to experiment with feathers. I implemented a technique that Roger Vivier also took from Haute Couture hats and used for the first time in the fifties. This is why I decided to work again with this technique using the help of the only two artisans in the world that can do this. On another note, the jewels on the leg are also something new for the house and to do these there's a list of other requirements and things to take into consideration, so I implemented another jewel technique from the sixties and made it newer and more relevant to our days.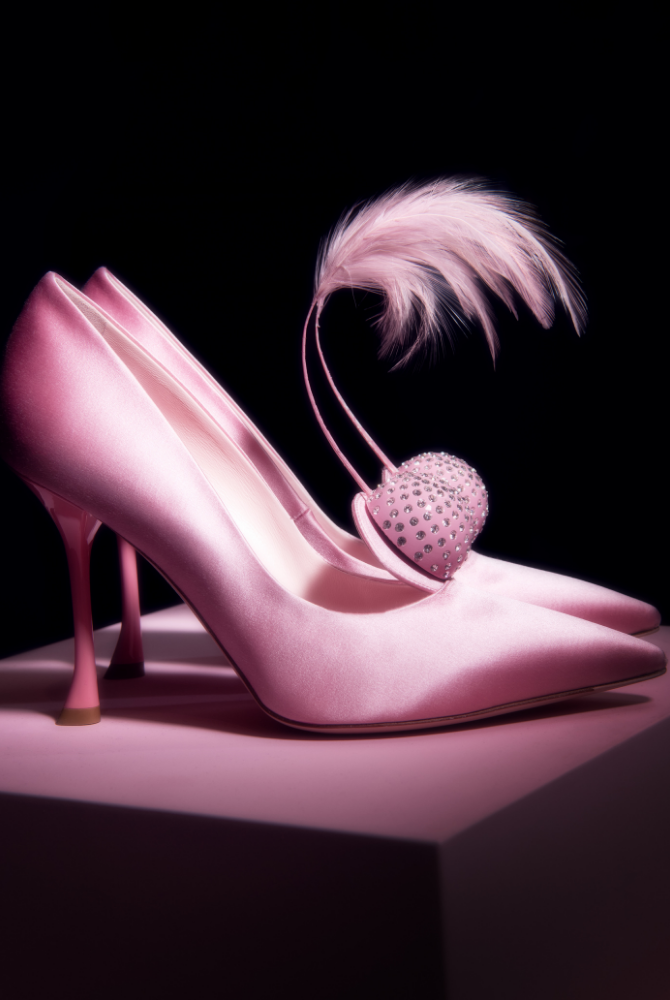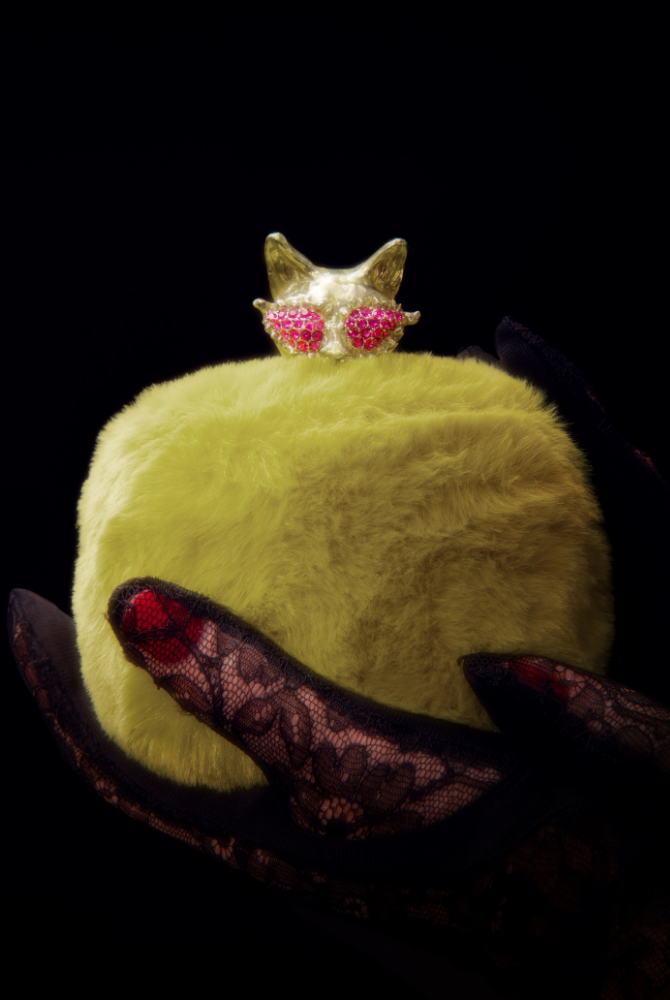 Also read: Olivia von Halle gives us a reason to invest in rest.