Just below our earth's surface, there's a magical underground structure that is made of webs of fungal threads, connected in a network to allow roots to grow, trees to connect with each other and for nature to truly just work its magic. It's a metaphor for interconnection and a sense of community – and this was the starting point of Sarah Burton's Autumn/Winter '22 collection for Alexander McQueen. "We exist as single, individual entities on one level, but we are far more powerful connected to each other, to our families, to our friends, to our community," explains the Creative Director in the show's notes. "Given everything that has happened over the past two years, that seems more important than ever. As a community, we are infinitely more able to restore, reinvent, rejuvenate – heal."
For the occasion, Alexander McQueen hosted a one-off show in New York following its Spring/Summer takeover in London's rooftop car park. Guests were welcomed to piles of woodchip (all harvested from trees that had fallen naturally, assured Burton), a distinct earthy odour and a soundscape of insects and birds at Brooklyn's Agger Fish Building. The setting of the show was timed to capitalise on the city's evening light as dimmed golden rays filtered through the warehouse's windows.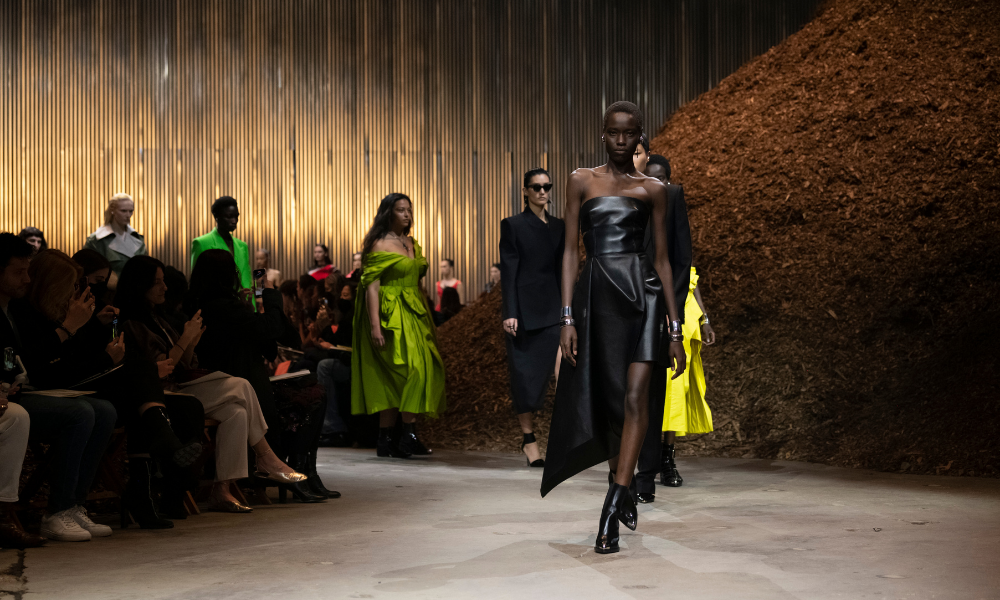 The return to New York was its first in over two decades and it has always been a city close to the Alexander McQueen brand. "I am so happy to be back in New York," explains Burton. "We showed the Dante collection here in 1996, and then came again with Eye in the autumn of 1999. It is part of our community, a place that has always welcomed us, and this season I want to honour that."
Inspired by the idea of community, the connection of that underground network, specifically by mycelium, was the focal point of the collection. Whilst we initially thought the collection would be exploring mycelium as an alternative material, the exploration was far more than that. Although backstage, Burton assured that around 85% of the collection is sustainable.
"Mycelium connects even the rooftop of the tallest skyscraper to the plants, to the grass, to the ground, to animals and to human beings. Mycelium has the most profound, interconnecting power, relaying messages through a magical underground structure, allowing trees to reach out to each other when either they or their young need help or are sick. The idea is humbling – beautiful – and, of course, a metaphor for interconnection and for community between people, between us all."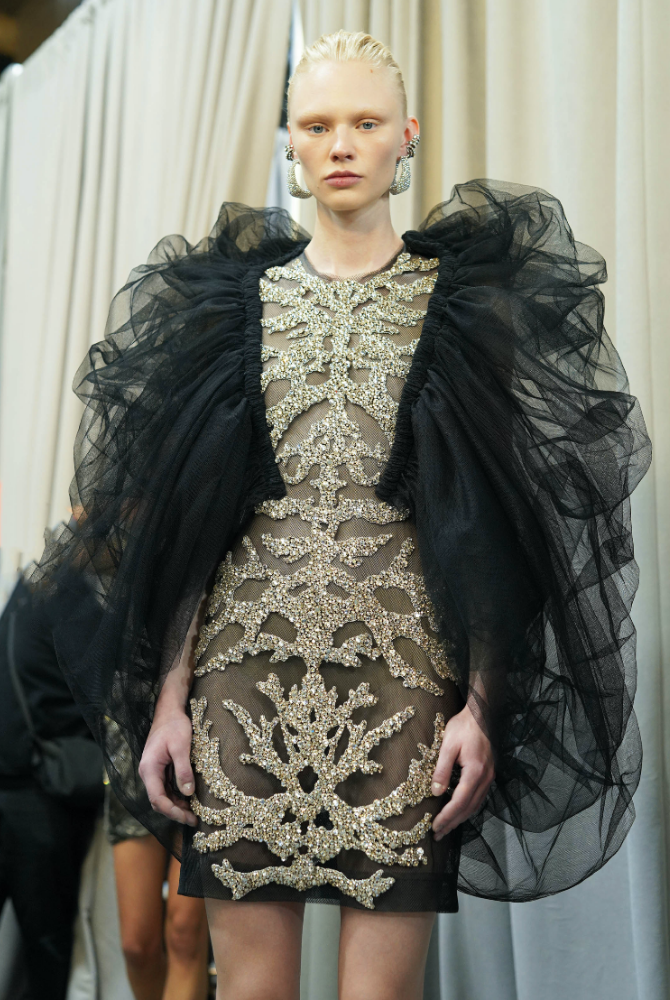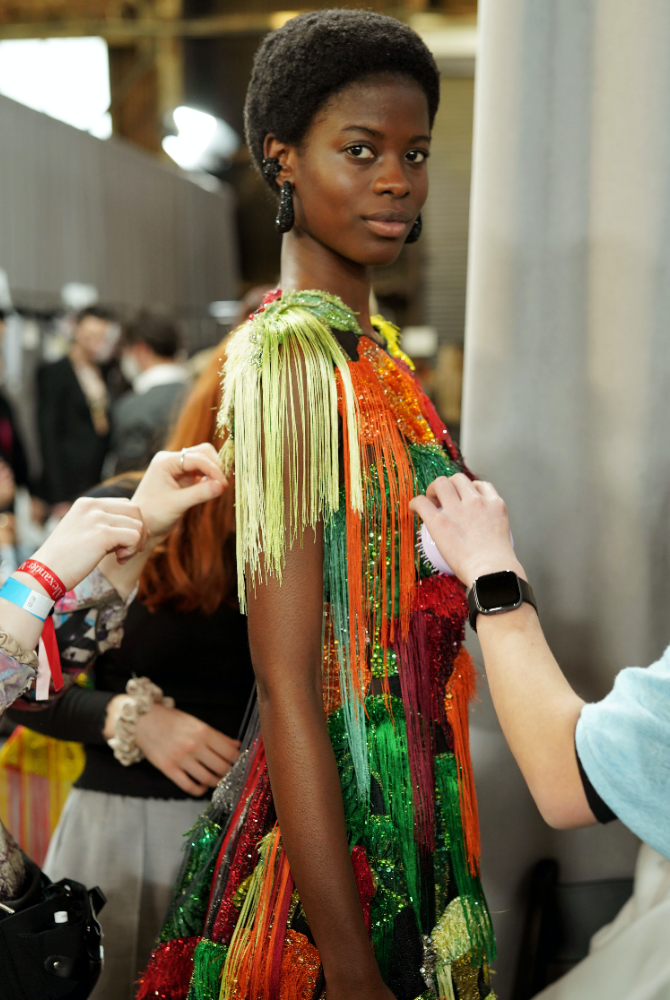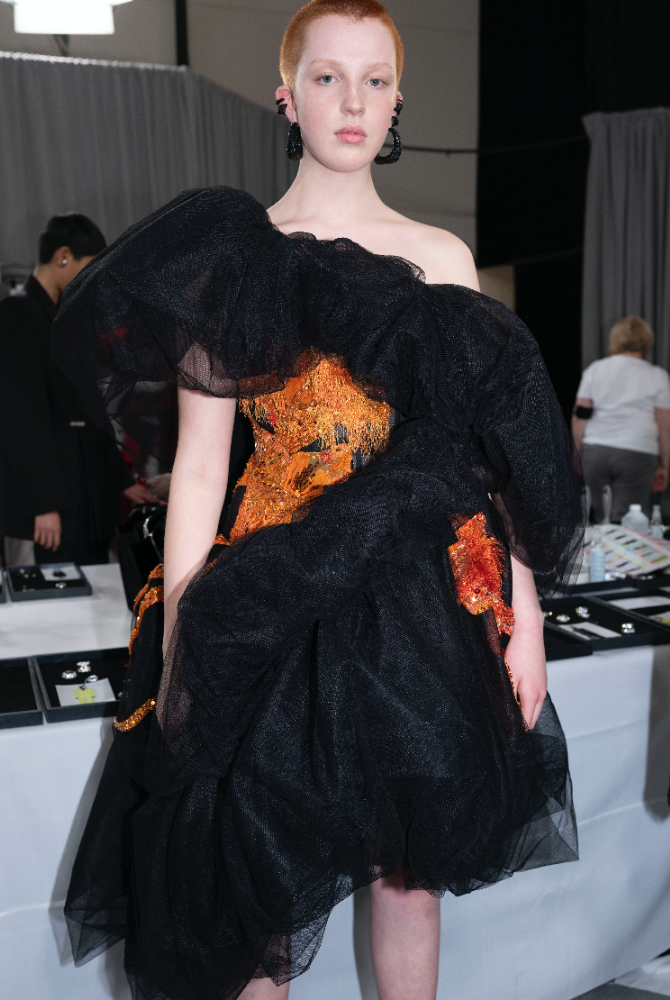 The theme of mushrooms was subtle yet striking as it found its way into beautifully constructed suits through red, ivory and black spotting on a double-breasted tailored jacket; sheer tulle dresses that featured skeleton embroidery mimicking a mycelium web; or were even referenced in the ruffled necklines of a plethora of dresses. The dark colour palette was interrupted by acid brights and kaleidoscopic bursts of colour.
It wouldn't be a classic Alexander McQueen collection without the androgynous use of its house codes too. Firstly, there was flawless tailoring and a blend between masculine and feminine silhouettes, but there was also an injection of punk and romance as leather, fringed dresses, tasselled embroidery and voluminous tulle came complete with deconstructed finishes, oversized zips, chunky chains and buckled boots.
On the accessories front, there's was plenty to swoon over. The new era of handbags includes an oversized Bow bag in bright hues and micro-jewelled satchels in black leather with silver studs.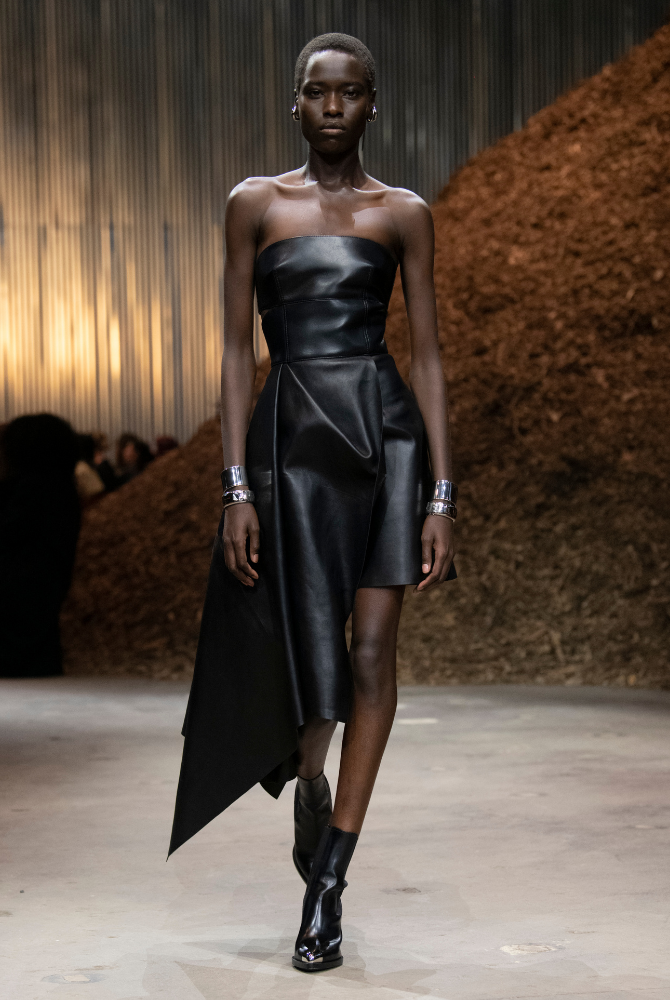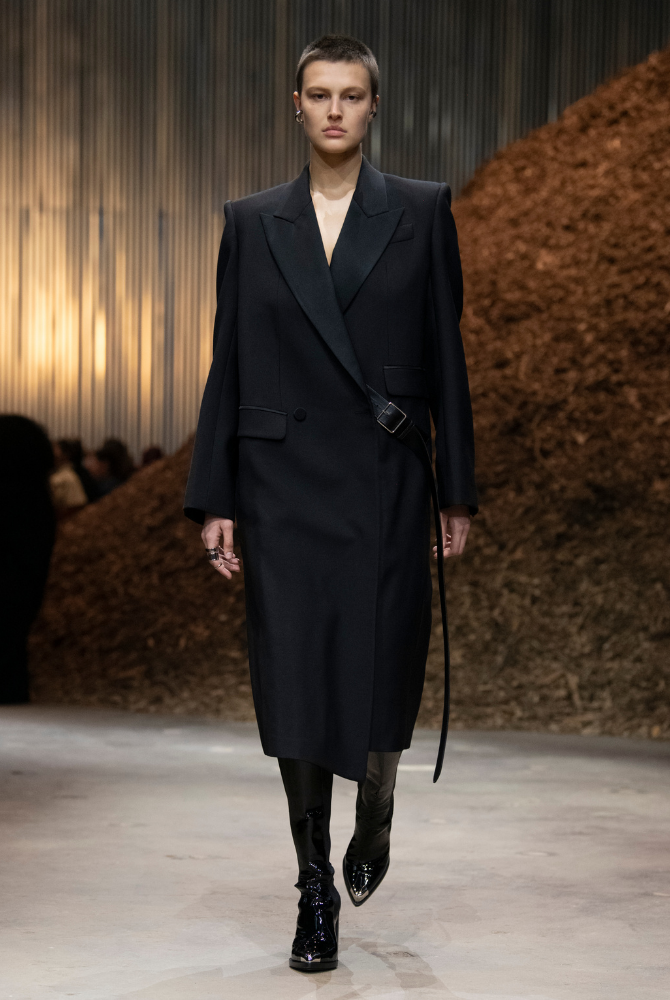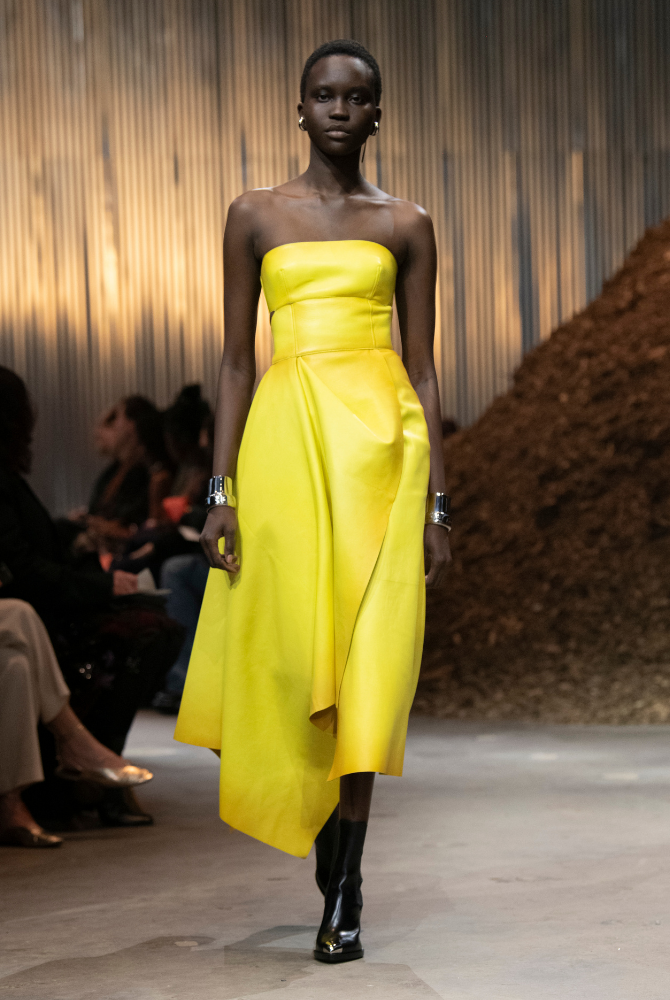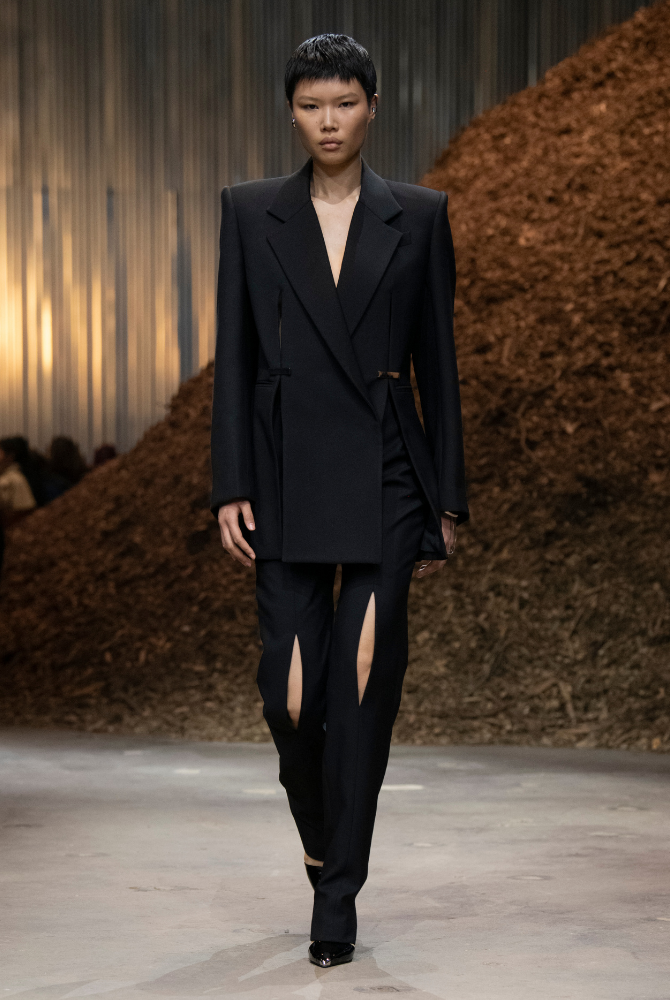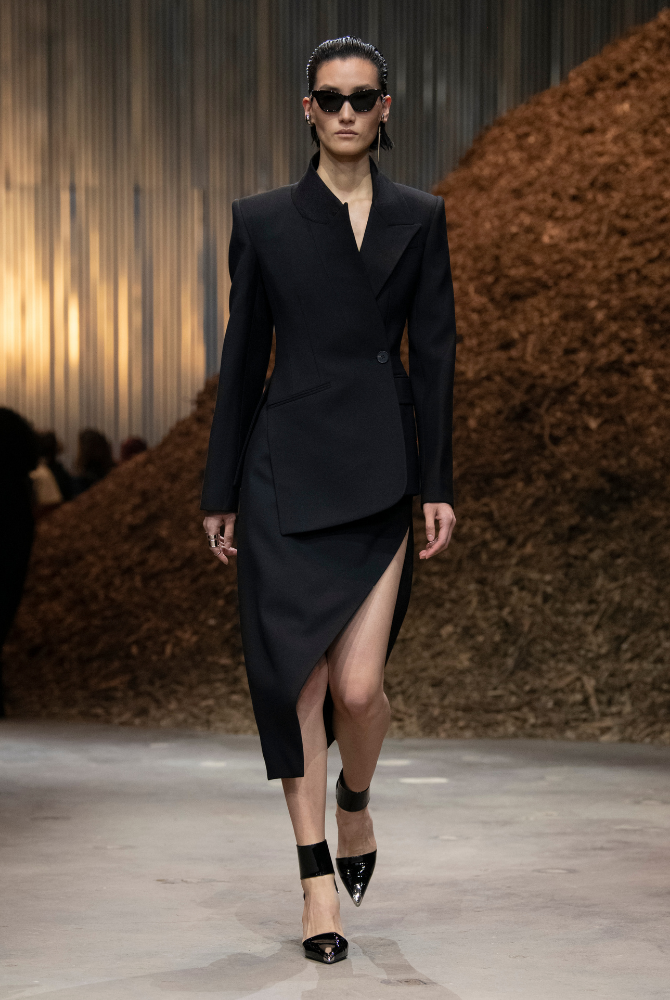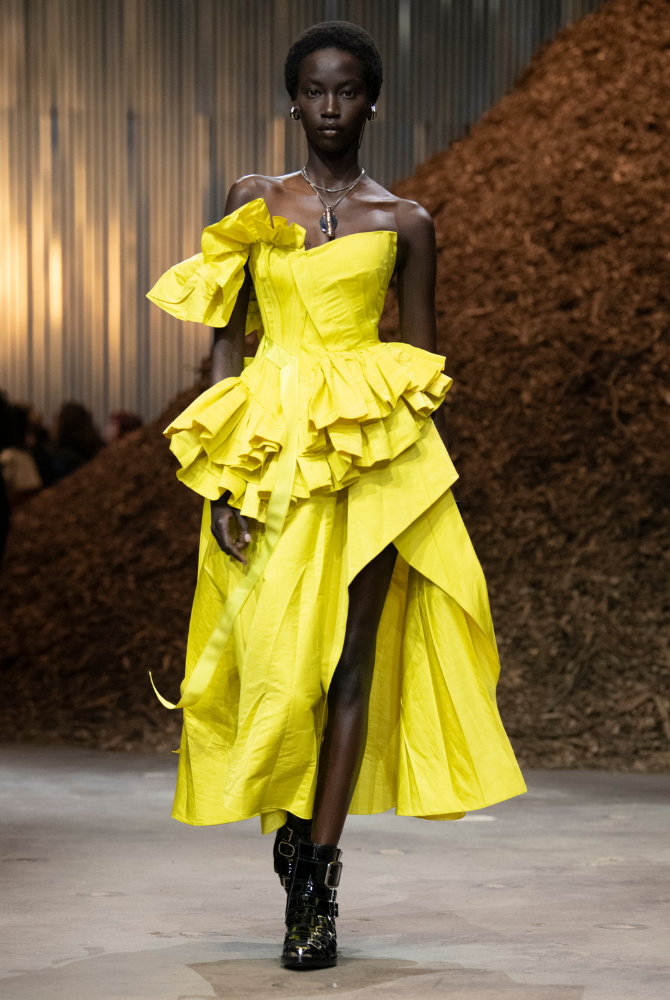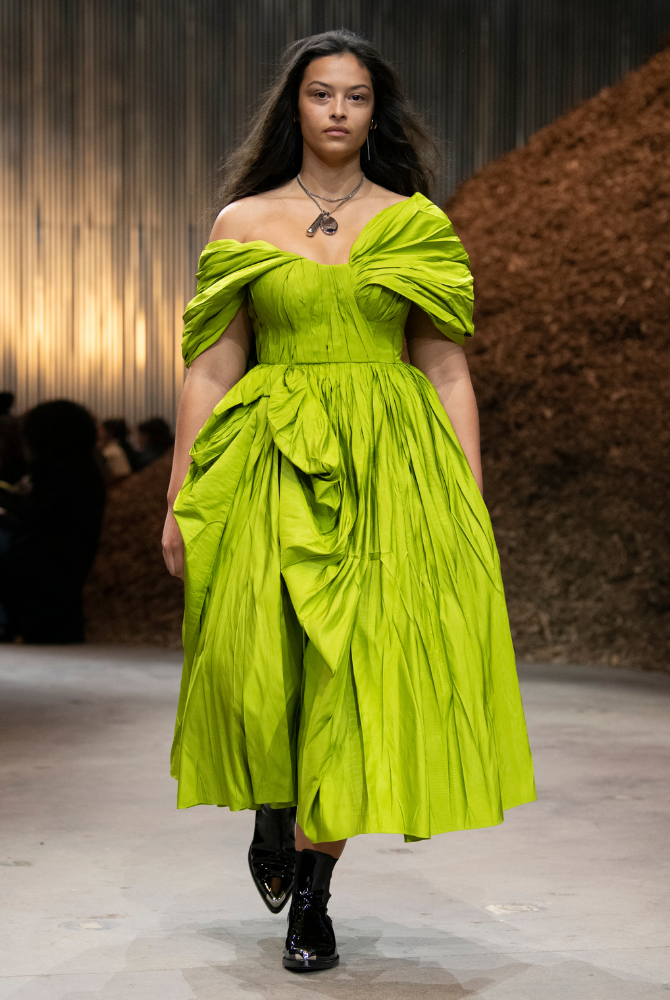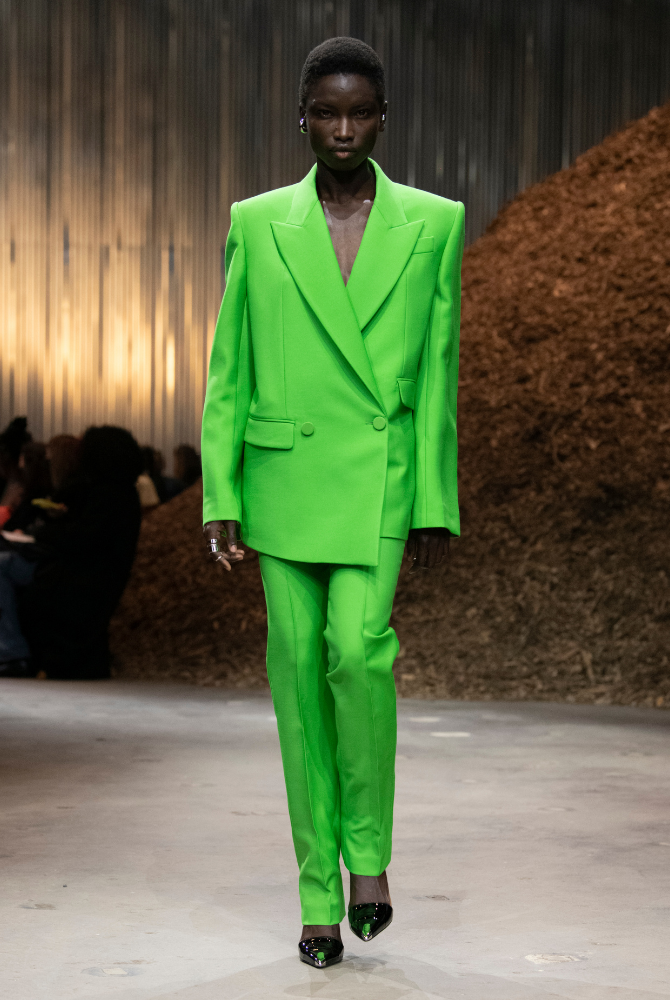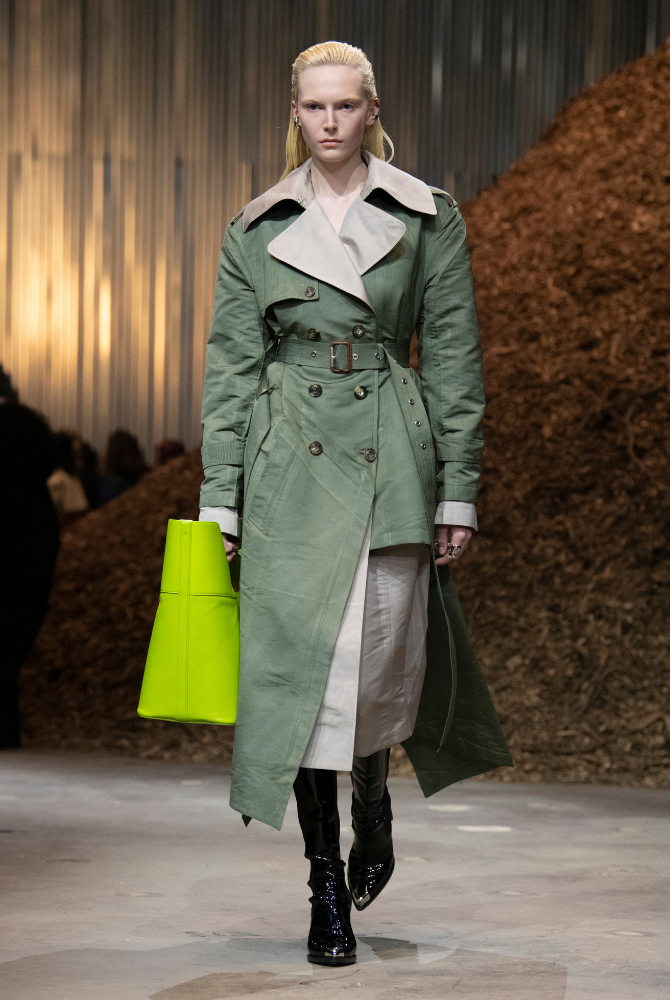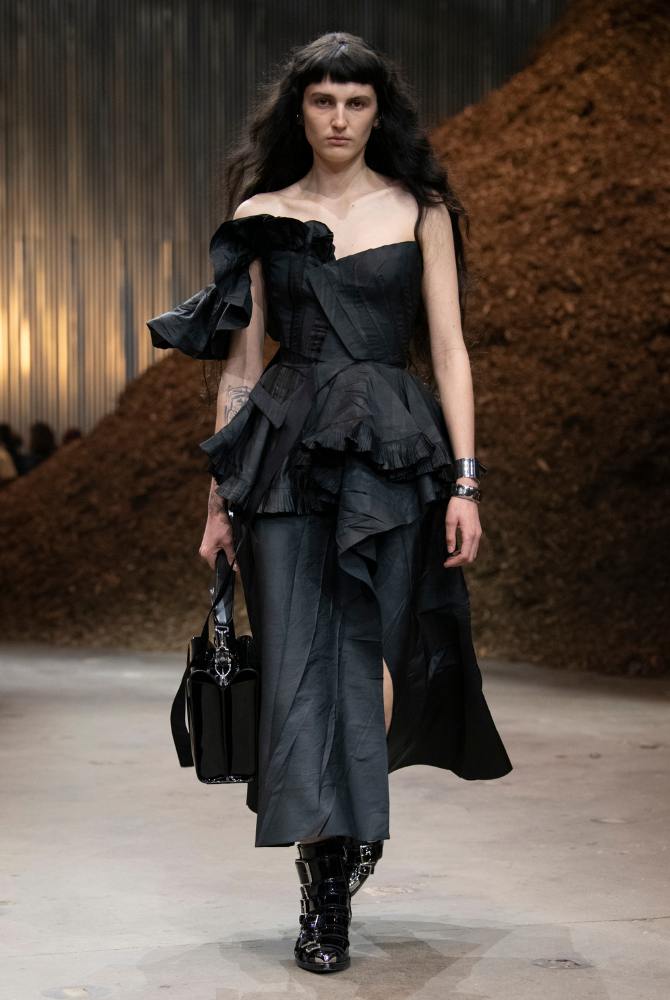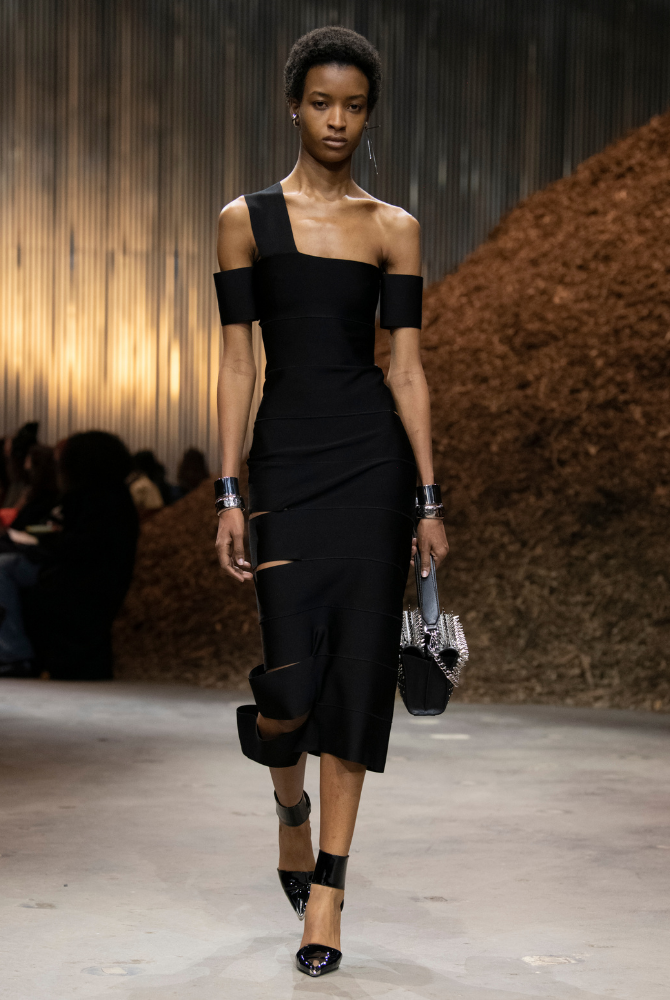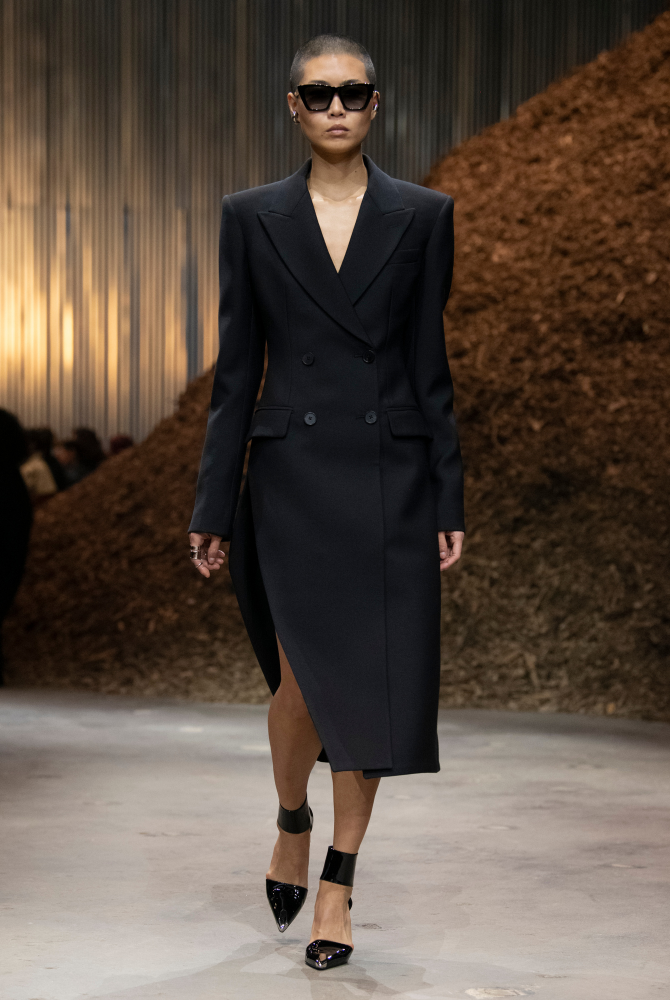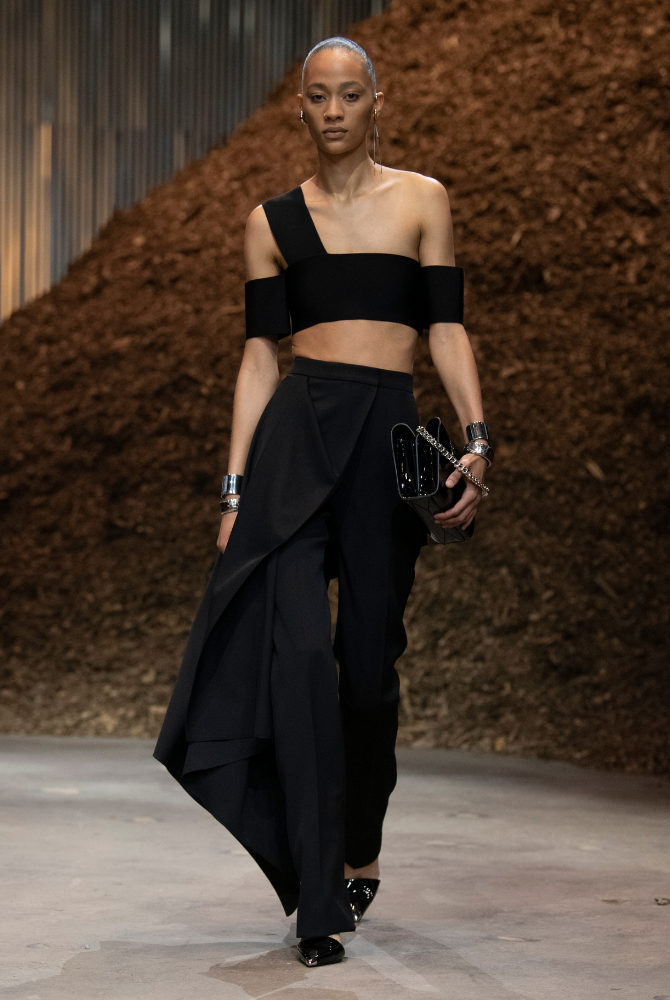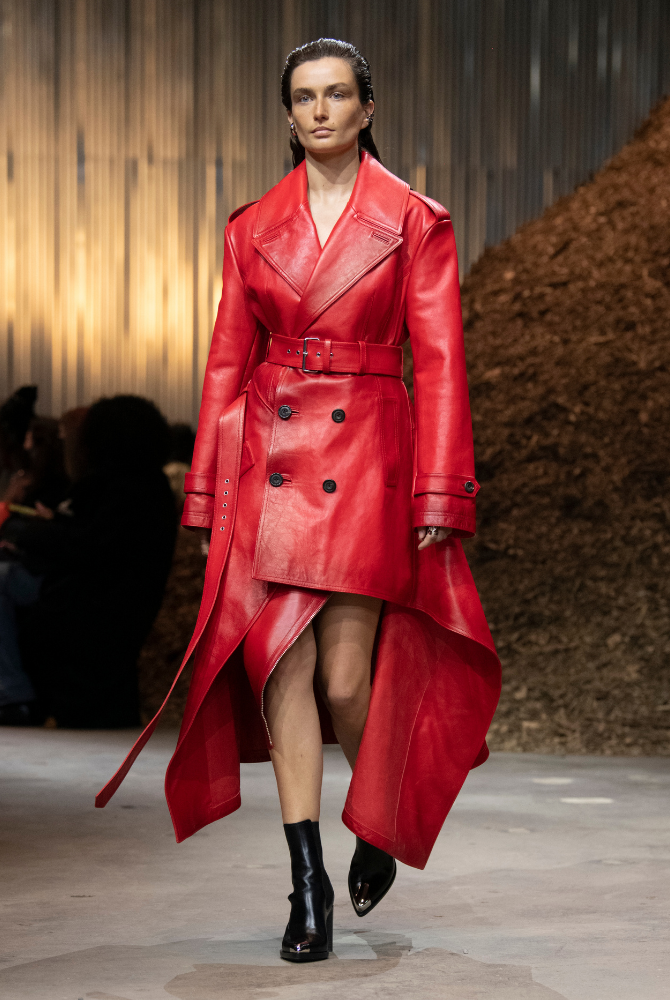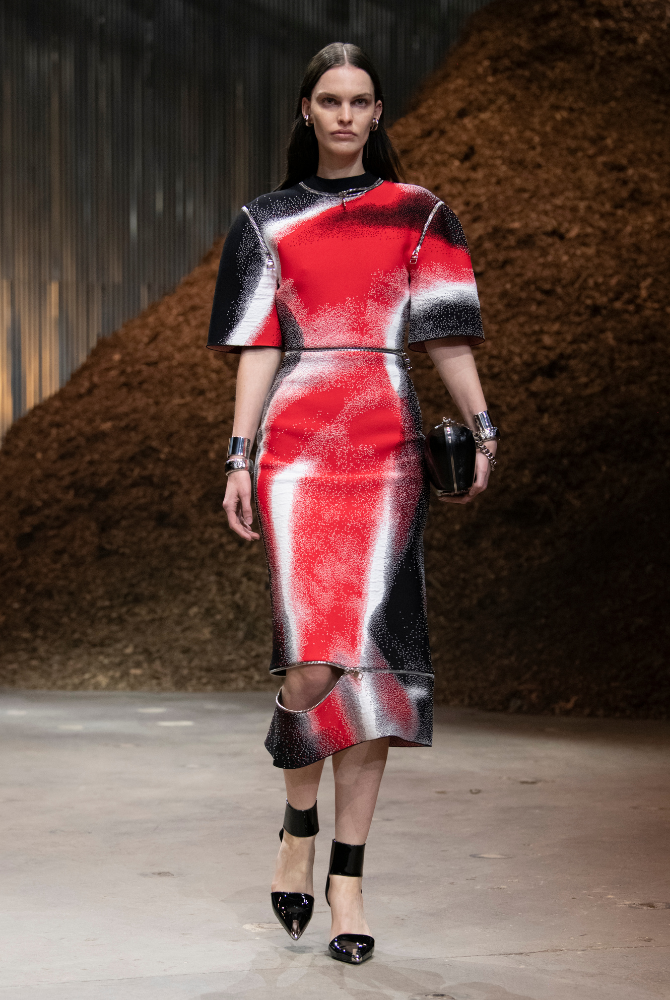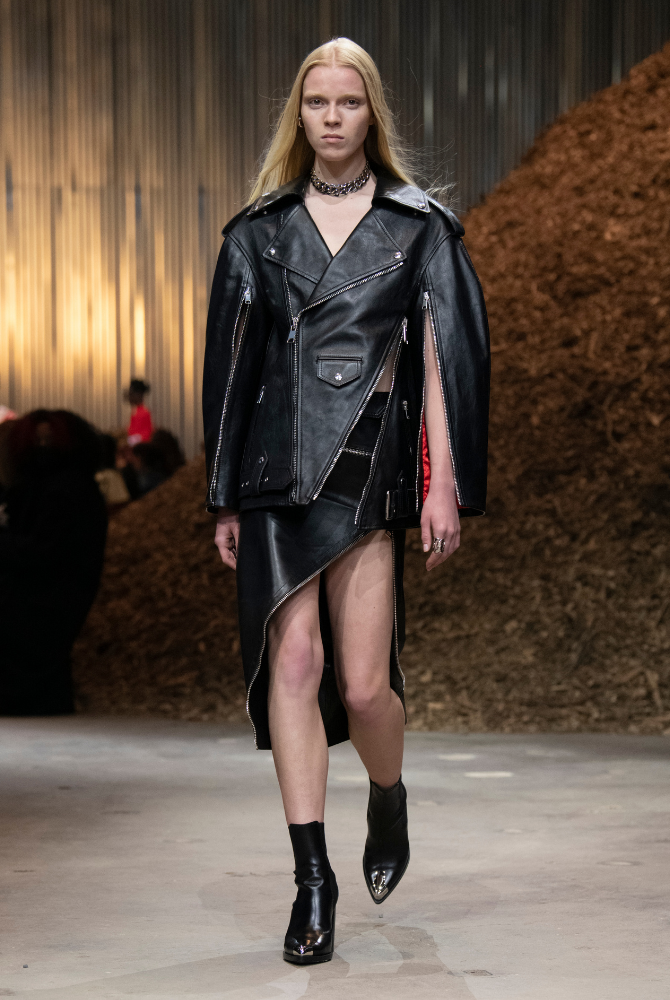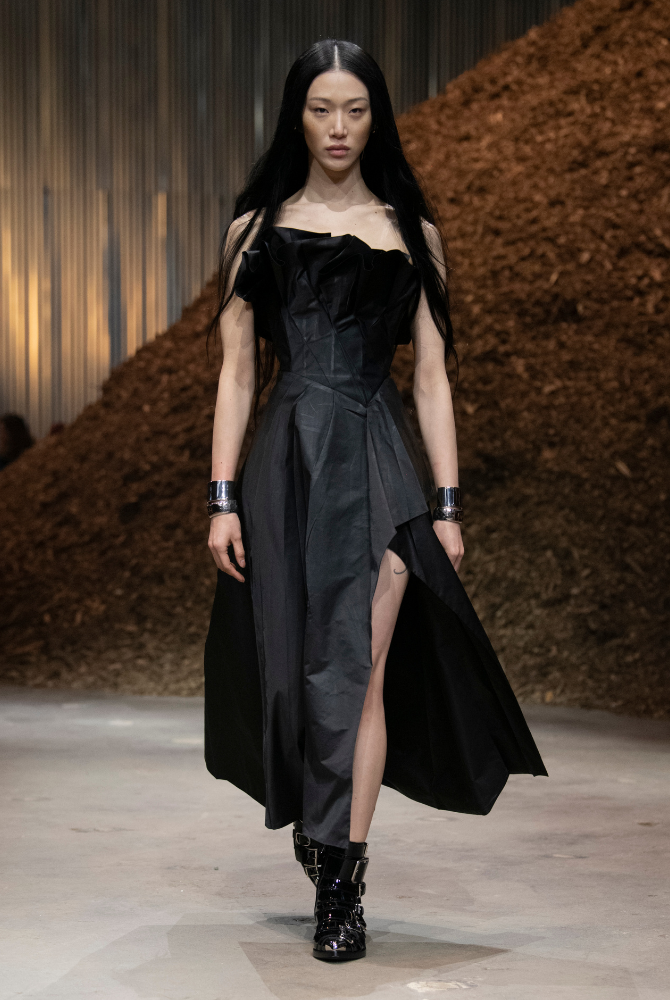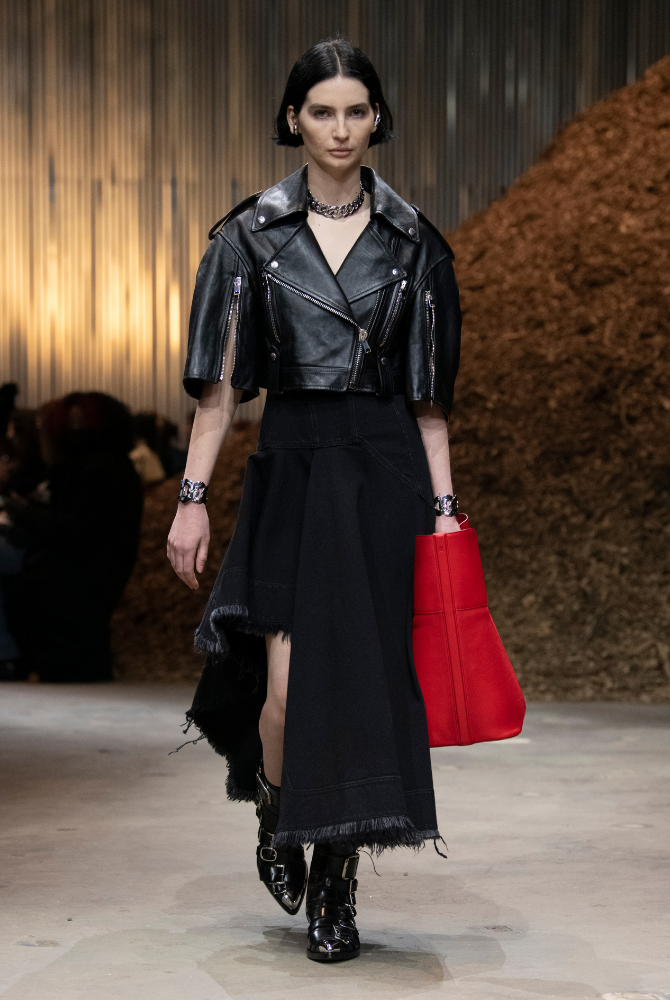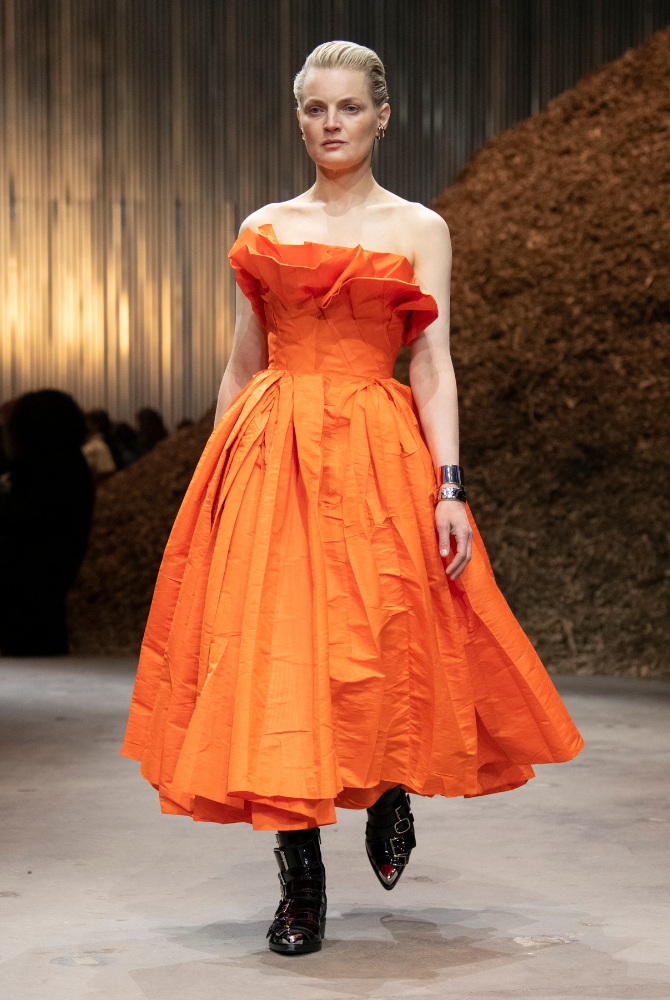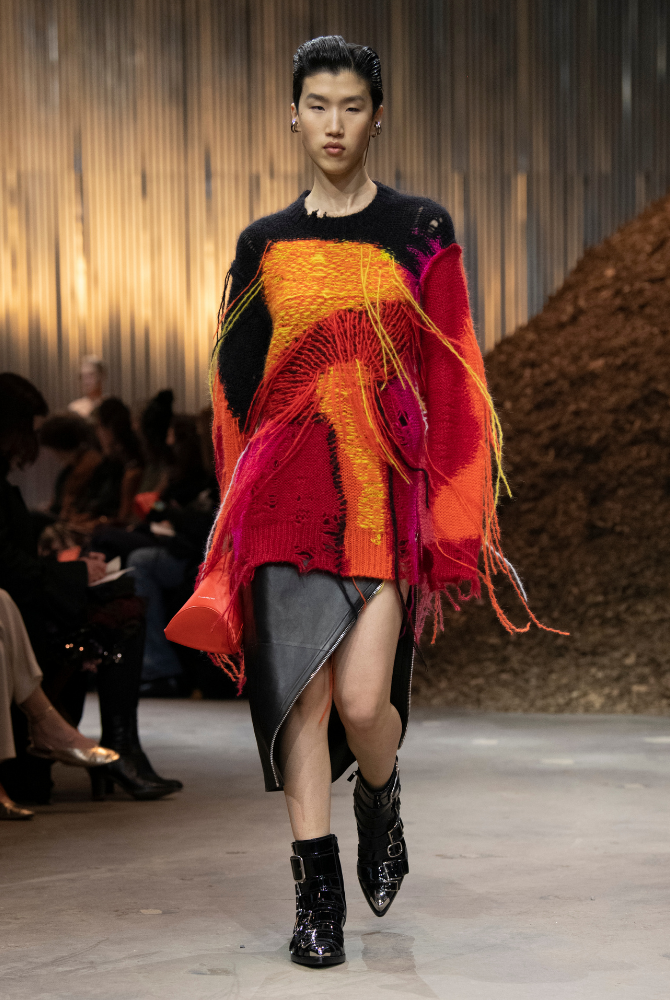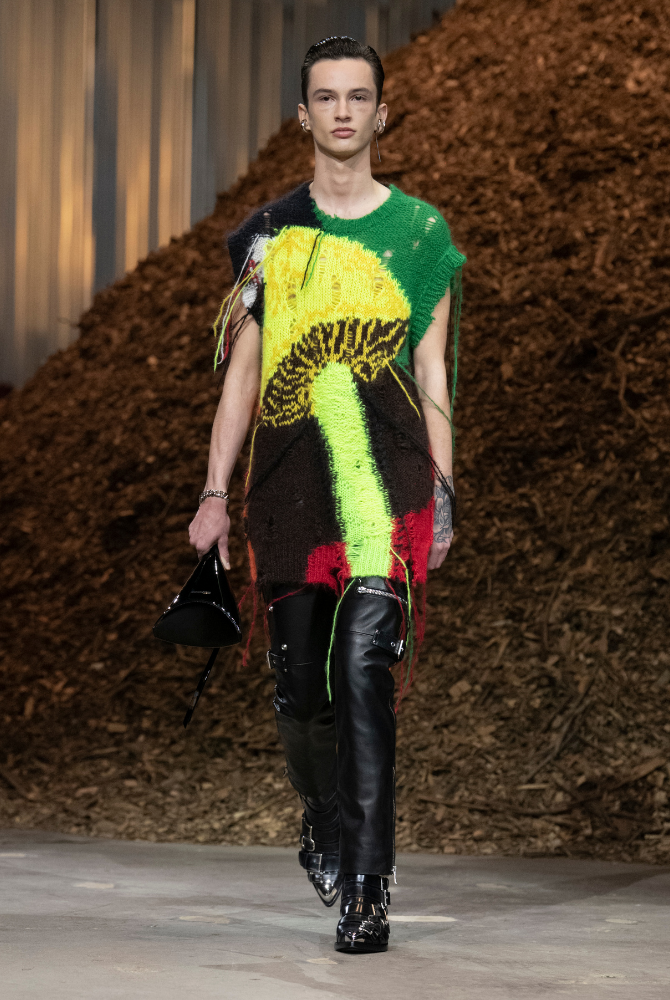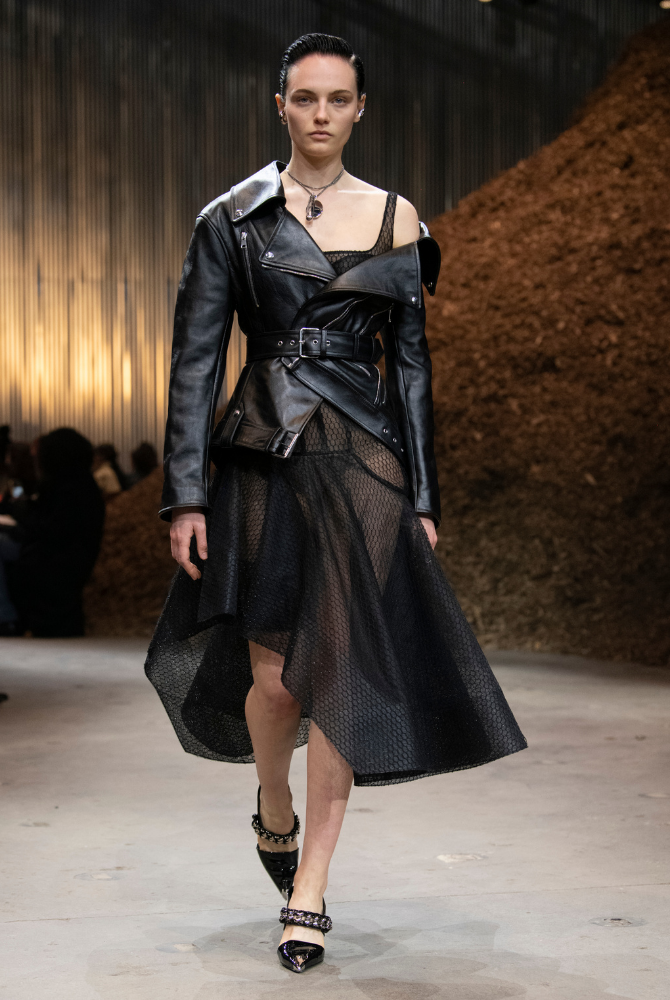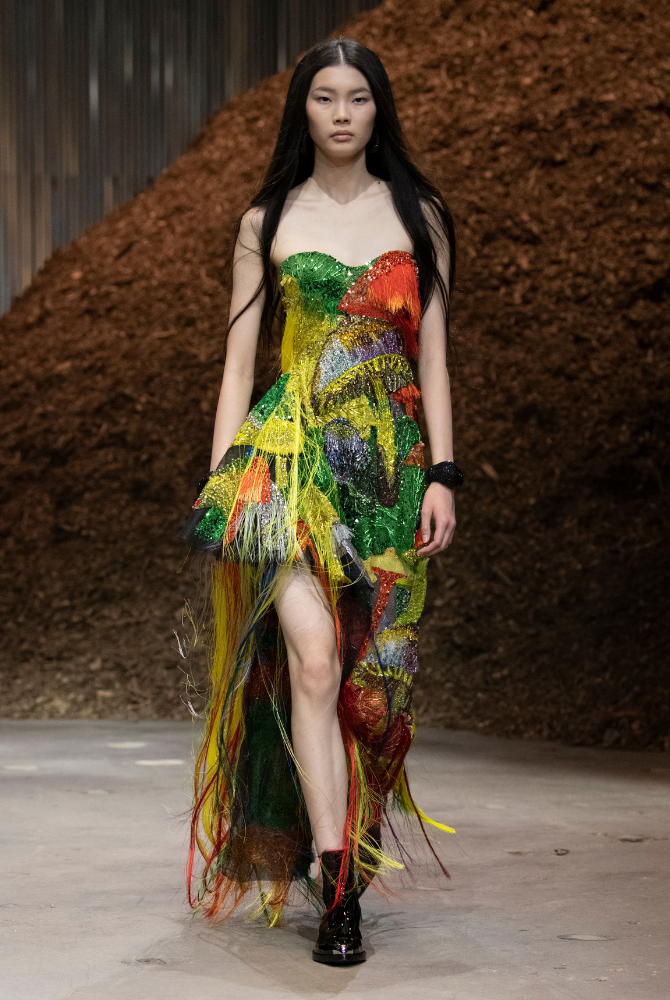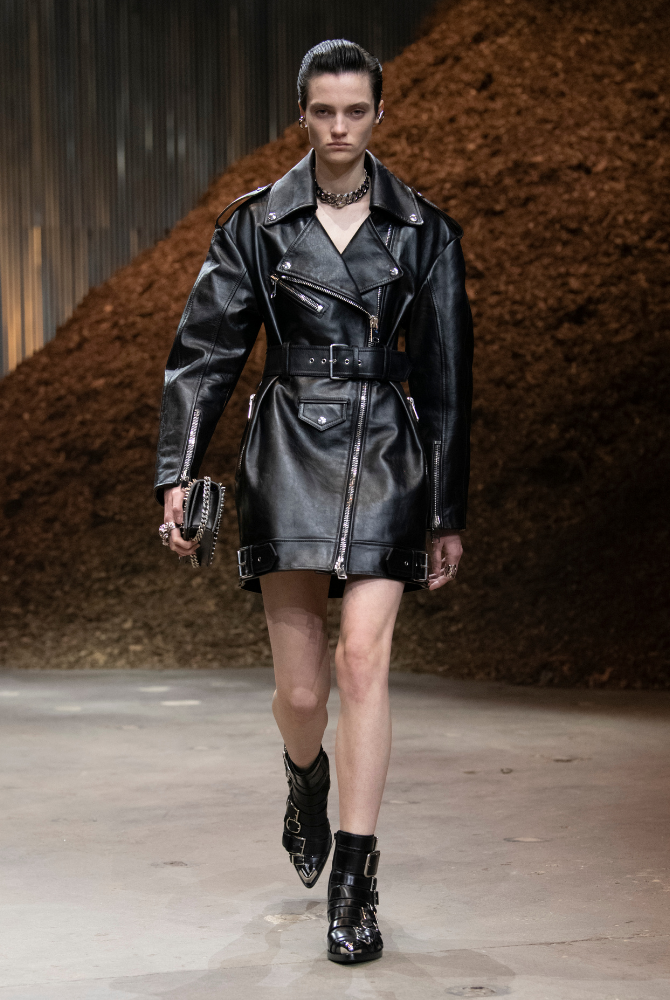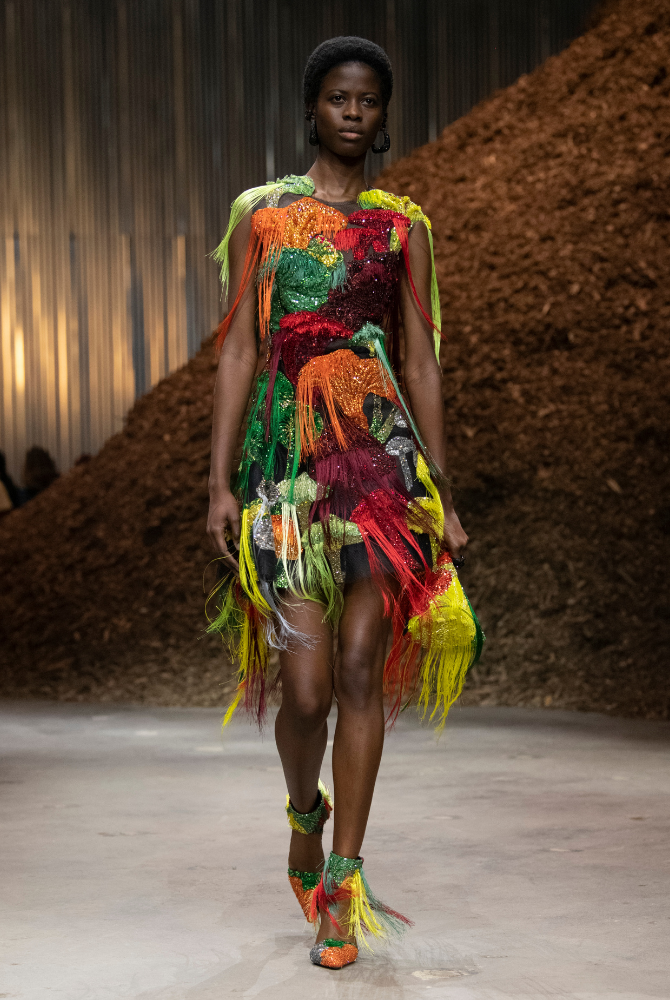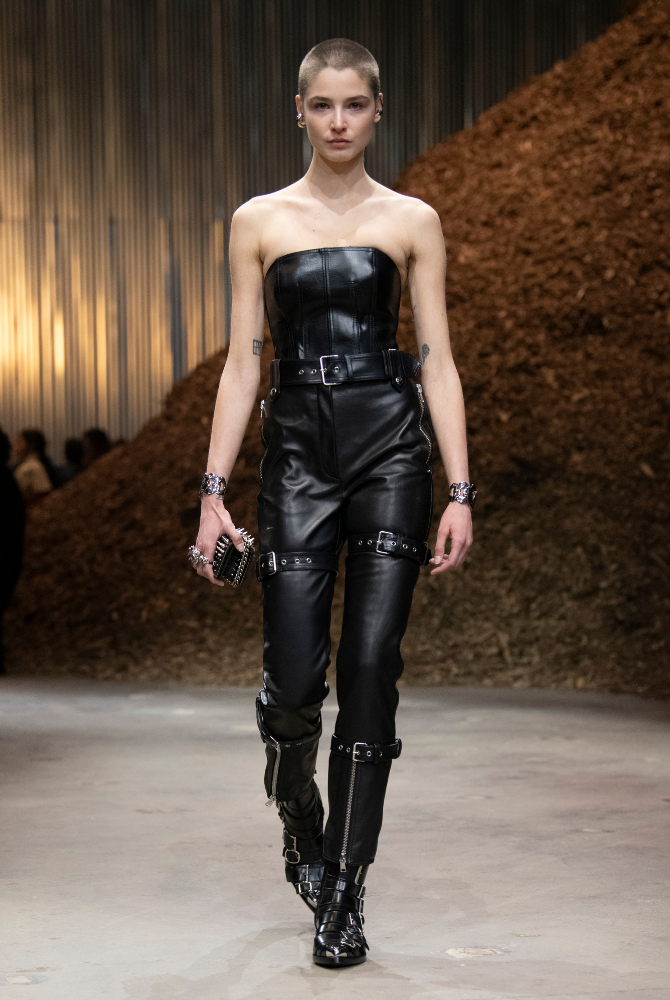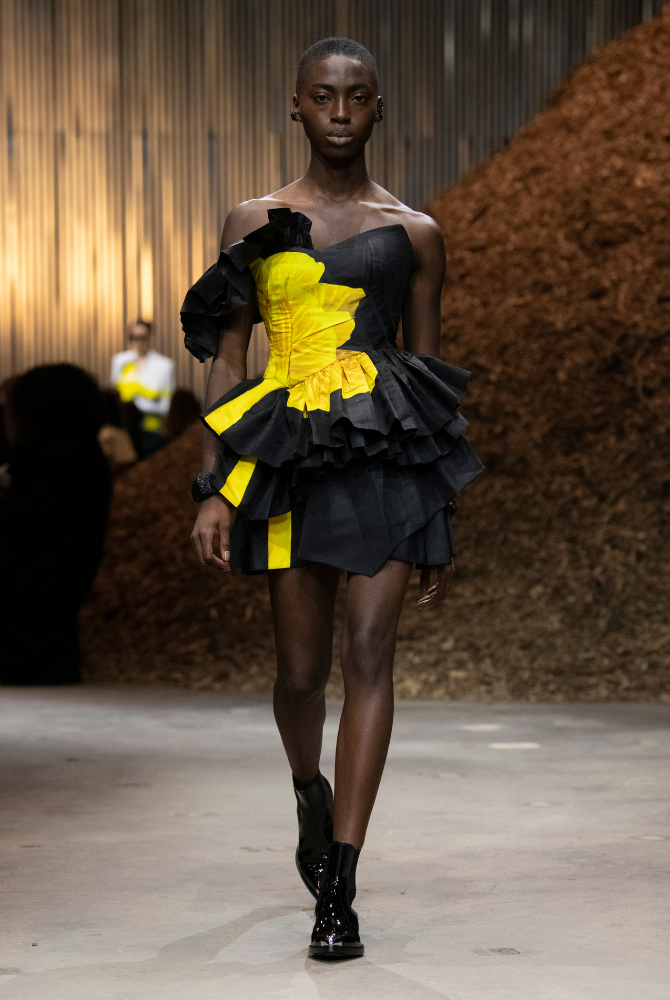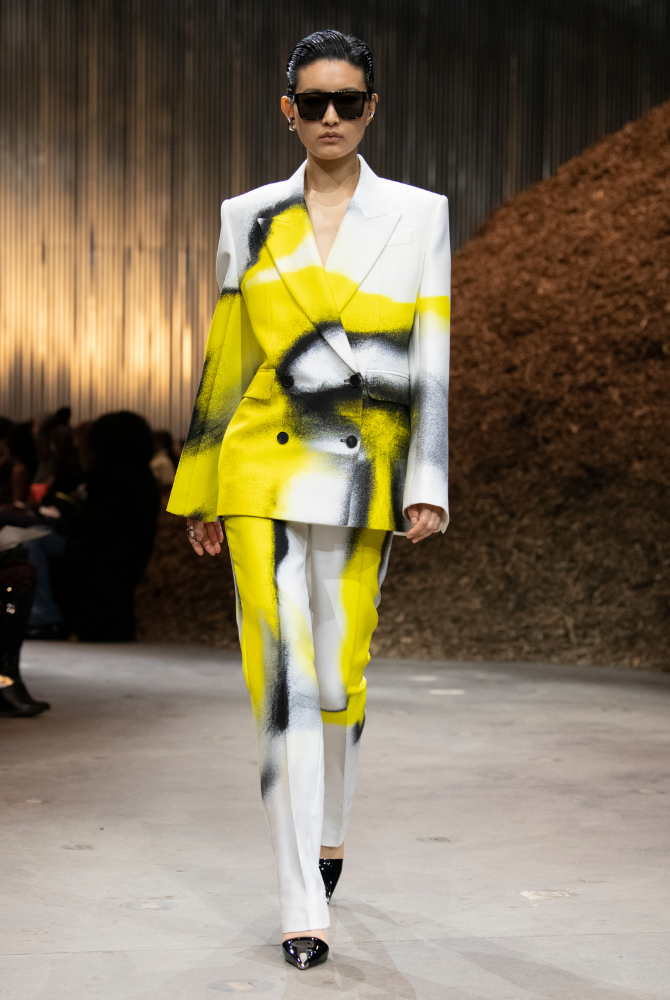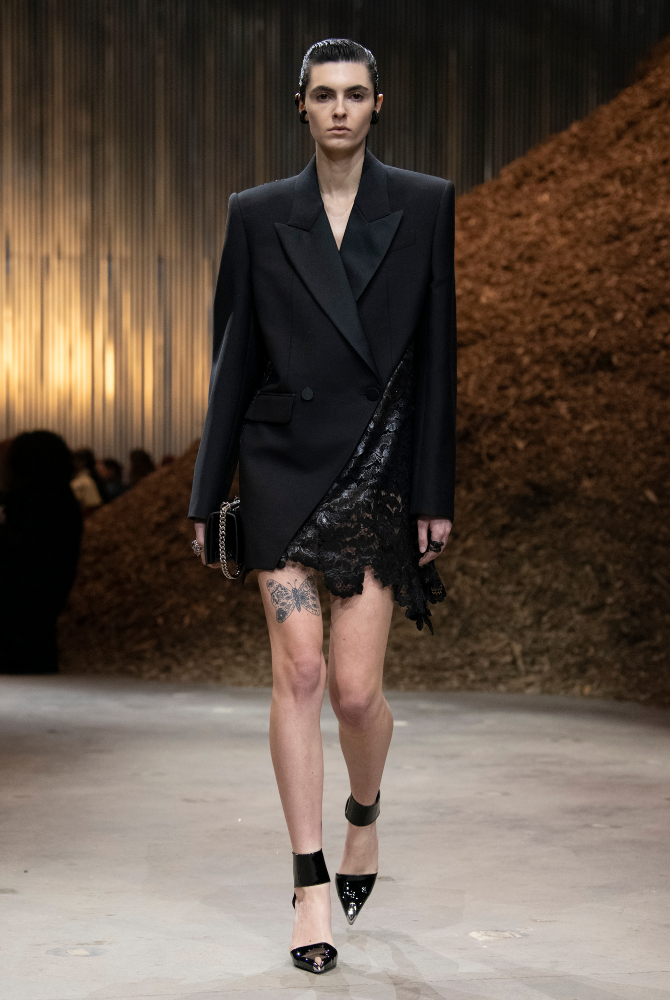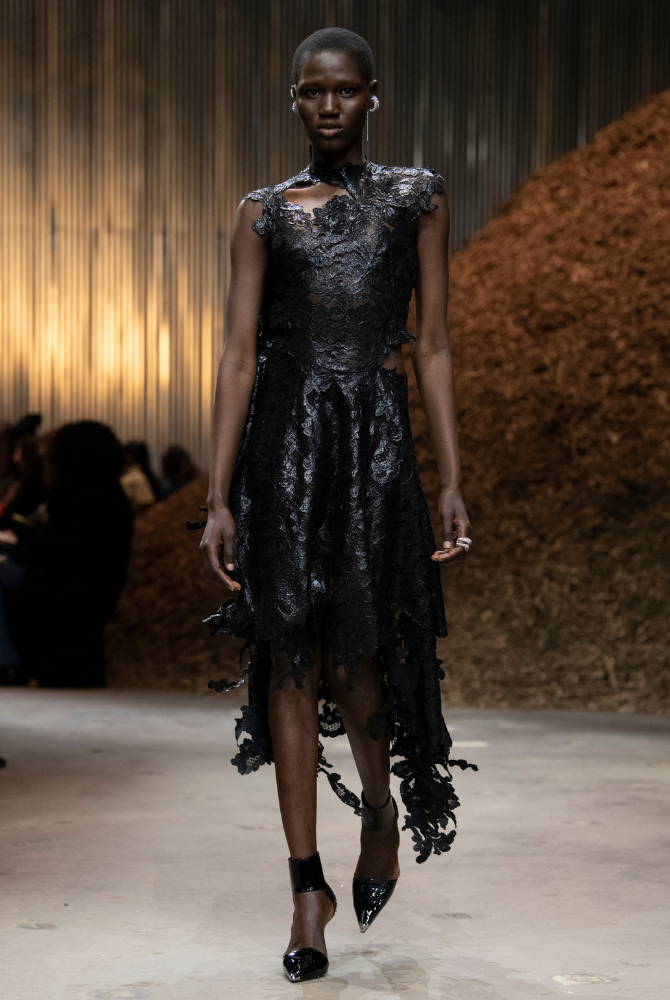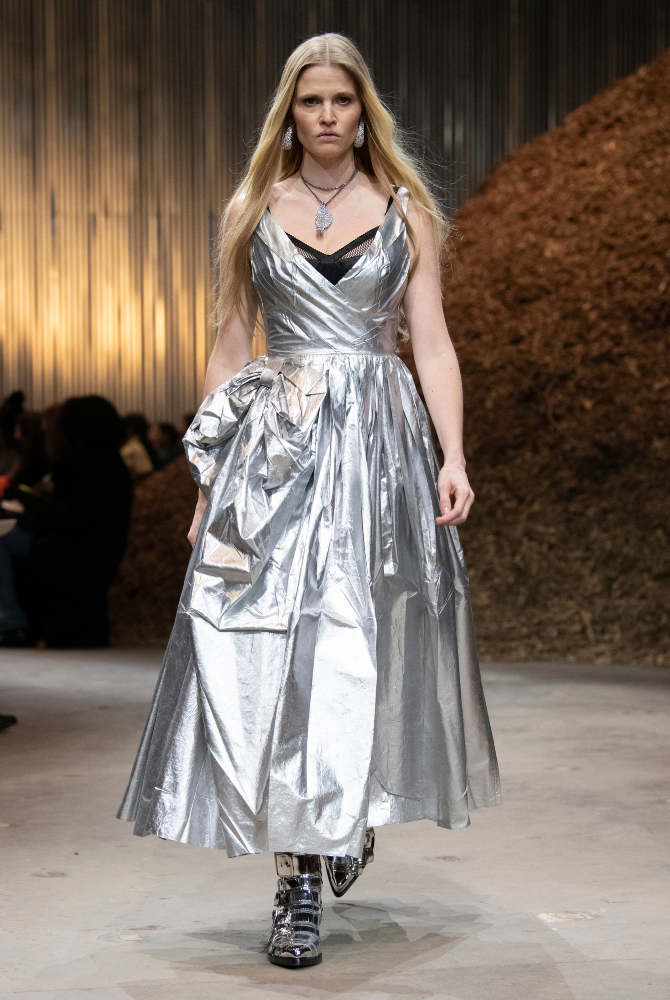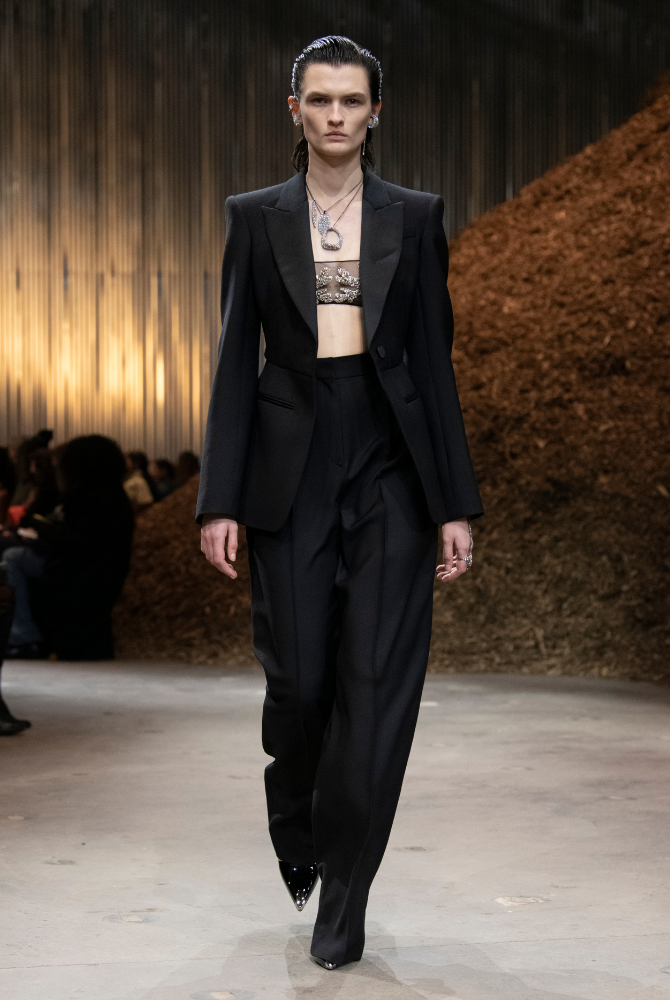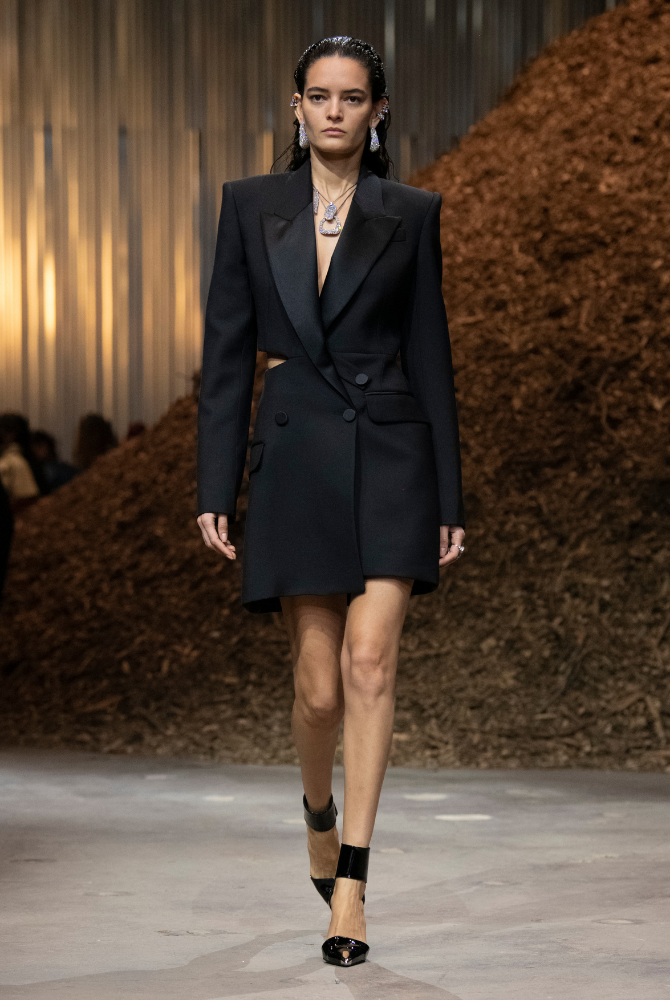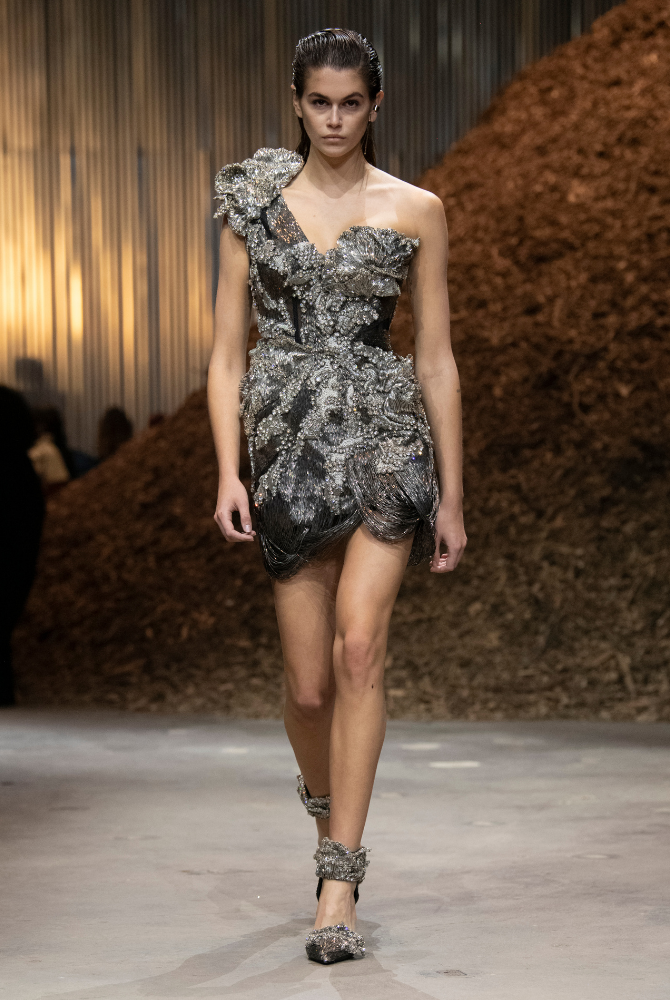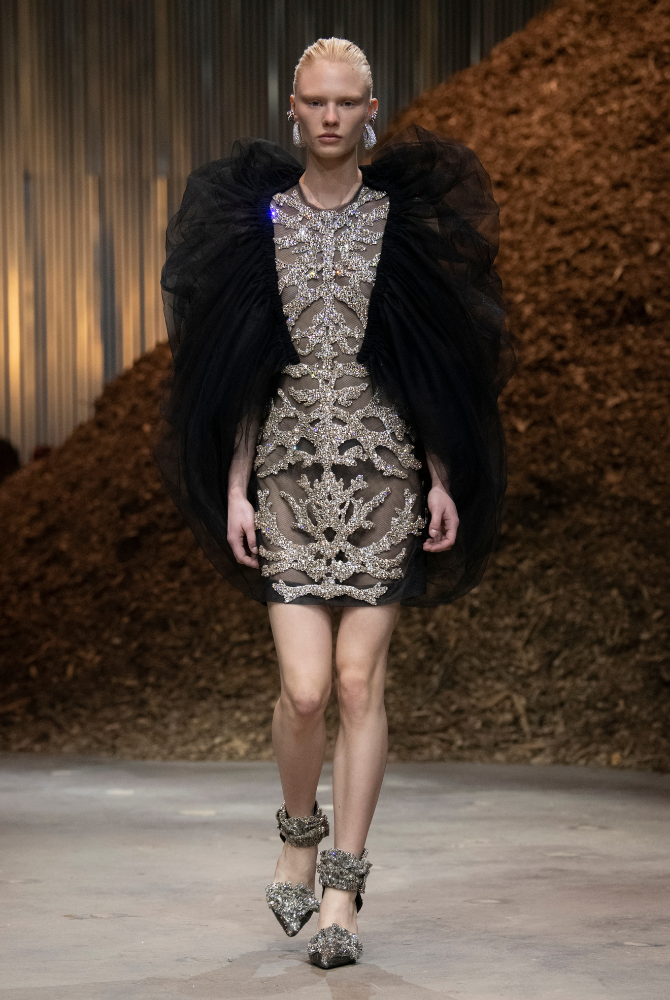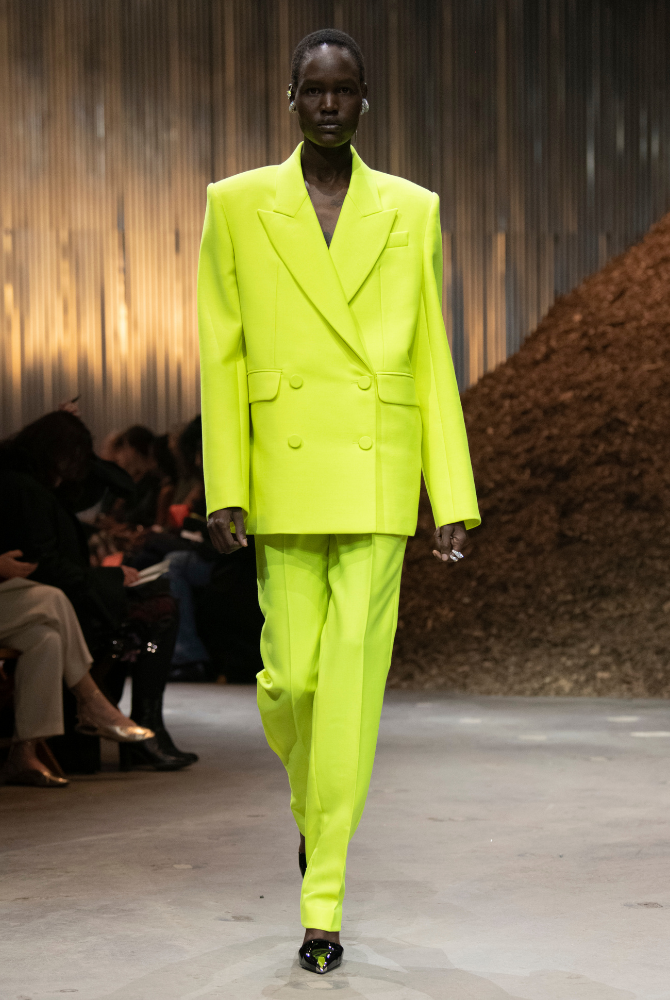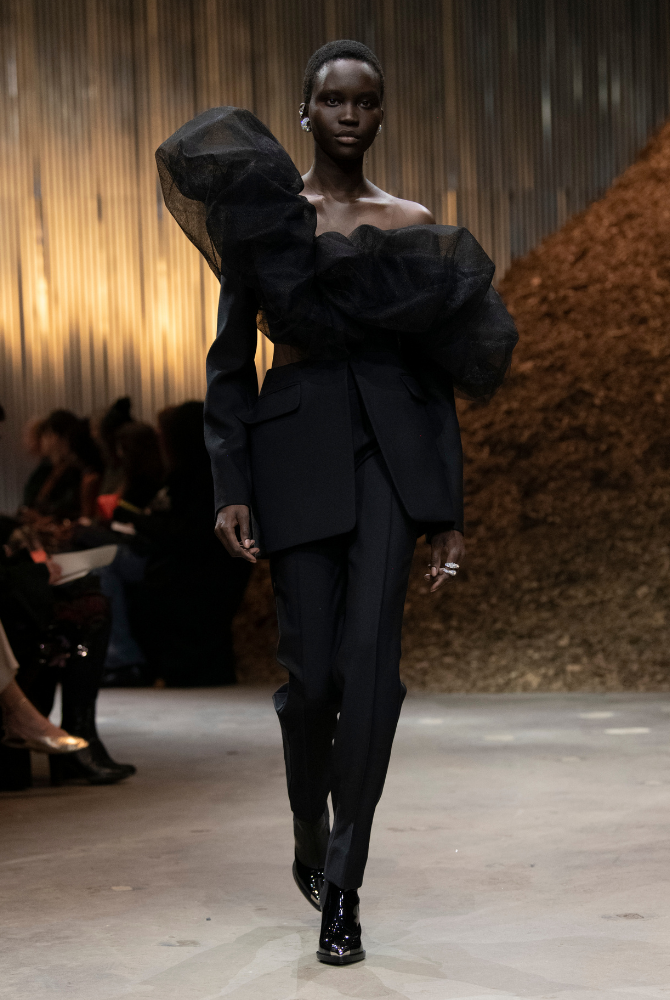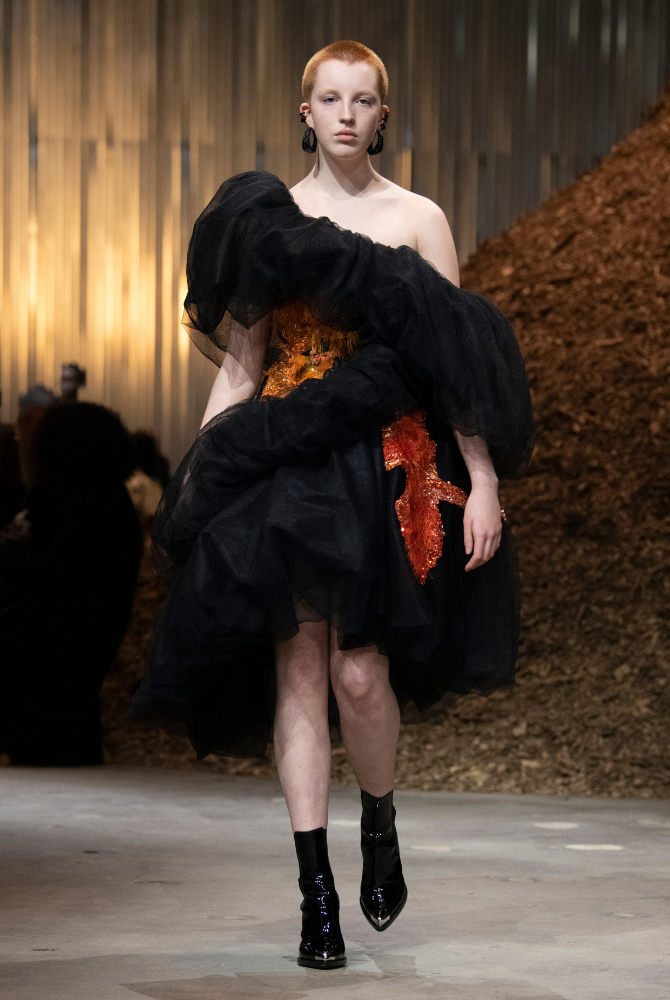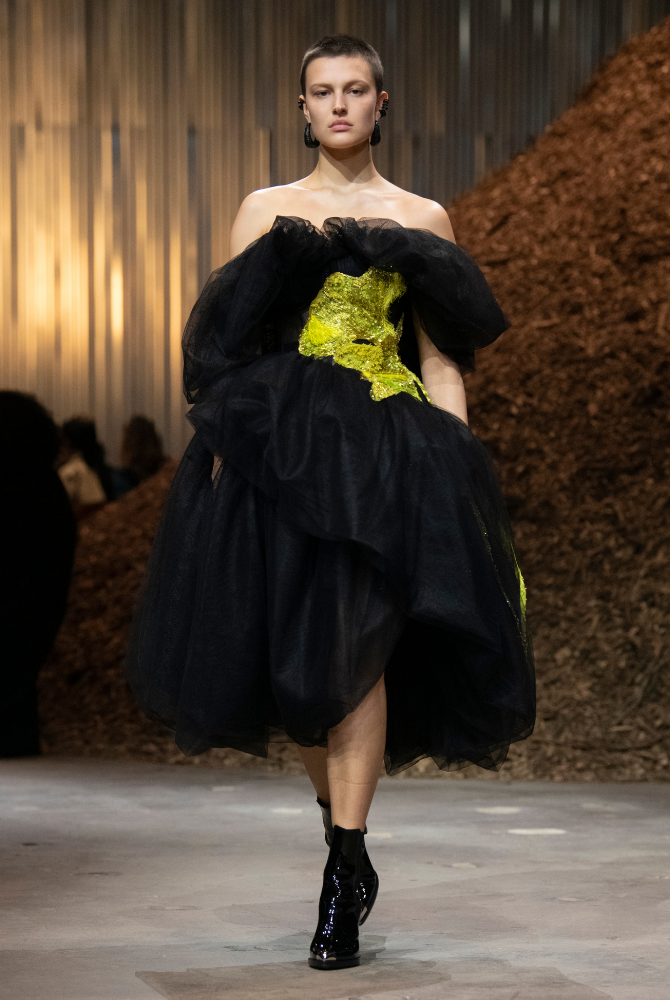 As models walked to the tune of A Forest by The Cure, we couldn't help but notice that some of the suits looked like they'd been spray-painted with the shadow of a rushing body – paying tribute to *that* iconic moment in which Shalom Harlow and her strapless white dress were painted by a pair of robots.
Burton's adaptation of community and connectivity was present as the collection connected the brand's roots to the future. The diverse cast also reflected Alexander McQueen's community at large. And we are so here for it.