To celebrate the Holy Month of Ramadan, Rene Caovilla and Yasmin Al Mulla join forces and launch a capsule collection that beautifully echoes the designer's minimalistic and luxurious aesthetic with the values of the Rene Caovilla maison.

The Emirati designer's vision is translated to the dust bags of the collection featuring an opulent white organza fabric – something that will be sold with the Ramadan Middle East exclusive collection.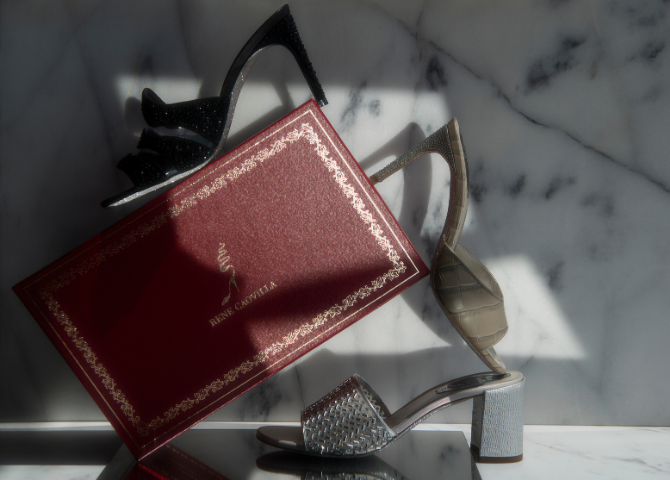 The two powerhouses have also collaborated to reflect the Holy Month's spirit of giving through the display windows of the Rene Caovilla boutique at The Dubai Mall. Complete with Ramadan centric themes, the display windows reveal the collection with bespoke and modernized artwork inspired by Middle Eastern women, with panels made out of dried palm leaves formed by a traditional handcraft called Al Khous.
Whilst the sandy colour palette is a nod to the modern Middle Eastern architecture and skyscapes, the floating moon and stars evokes the spirit of Ramadan.

"Dedicated to our powerful Middle Eastern women who have shaped the course of our lives with their intelligence, style, strength, elegance and passion," says Yasmin Al Mulla. "Formed by the beauty of this holy month and influenced by the impeccable cultural crafts, with its diverse branches, and the strength behind it all. It is a celebration of the beauty of our culture, the impressive modern tranquillity, and the magical nights of this holy month."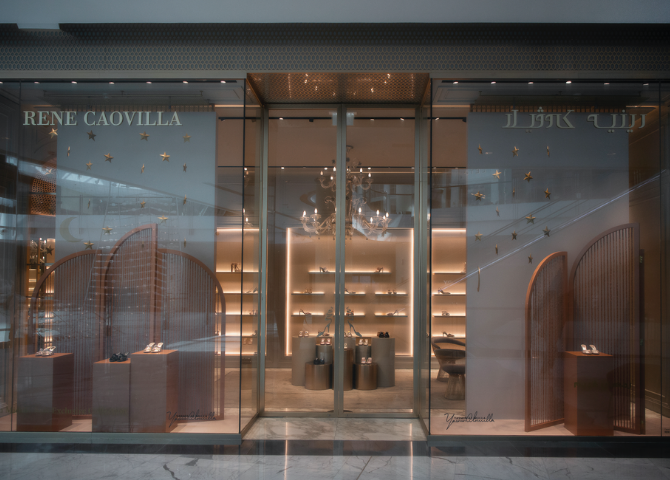 The exclusive Ramadan collection is now available at its flagship boutique at The Dubai Mall.

Now, read more about Yasmin Al Mulla's collaboration with Christian Dior Parfums.