Katrine Hanna is a name that has garnered a cult following over the past few years. Based in Dubai, the Lebanese-Australian footwear designer has established herself, no longer as an emerging designer in the regional sphere, but as a renowned creative that has a unique signature – the Banksia heel.

Her eponymous label, currently stocked at Level Shoes, is an extension of the designer's interest in fantastical exploration as she uses the Banksia nut (which is native to Australia) and crafts it into a heel – something that has never been done before.

Her creative approach to footwear is expressed through unique textures and experimental material combinations, and her newest collection and campaign speaks to that.
Katrine Hanna's new collection, titled Nightshade, is inspired by the juxtaposition of the natural colours found in the nightshade plant family (think deep reds, purples, yellows and browns) and the surreal colour aesthetic of 1960's Italian Giallo films (soft Nappa leathers and metallic hues).

Consisting of her signature Banksia heel, the collection includes a new Bad Banksia Bianca model – an edgy take on the classic mary jane footwear style. Other styles include the Tiana (a best-seller from last season) and the Demi, which have both been reimagined in new nightshade colours and straps.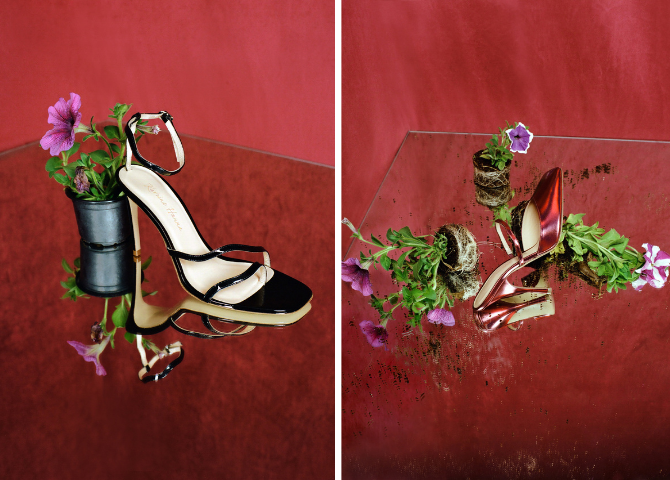 To celebrate the new collection, Katrine Hanna also launched a captivating campaign – a result of two perplexing worlds coming together. Collaborating with the photographer, Prod Antzoulis, and Mariam, Katrine Hanna said: "I really enjoyed working on this photoshoot. During these difficult times, we appreciate even more the creatives that are close to us and how through simplicity among each other we can produce and create a beautiful vision."

Katrine Hanna's collections are also handcrafted in Italy by local artisans. The 'Nightshade' collection is available online at katrinehanna.com and Level Shoes in The Dubai Mall.