At long last, there's a new President sitting in office. In a historic inauguration ceremony that took place overnight, Joe Biden was sworn in as the 46th President of the United States, alongside now-Vice President Kamala Harris. And yes, they did it all in style.
It was quite noticeable that following inauguration day, America's fashion industry was given a boost of confidence as the Bidens, as well as Harris and Emhoff, opted for American designers. Below, we break down the best Inauguration Day 2021 fashion moments.
President Joe Biden and First Lady Dr. Jill Biden

There he is – the 46th President of the United States looking dapper in a custom suit by fellow American designer, Ralph Lauren. First Lady Dr. Jill Biden looked radiant in a design by New York-based label (and female-founded should we add) Markarian. The ocean blue coat was adorned with Swarovski crystals, clearly letting her sparkle under the spotlight.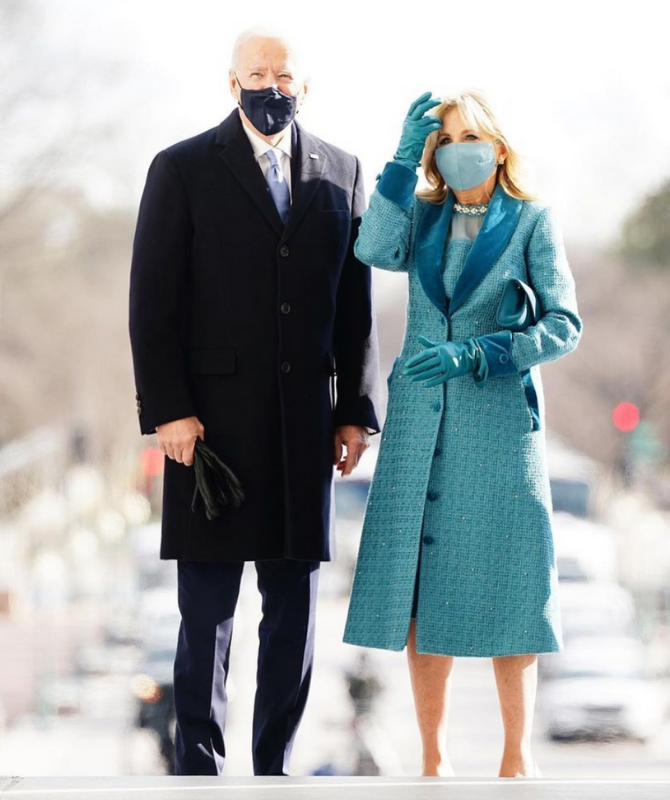 Vice President Kamala Harris and Second Gentleman Doug Emhoff
If you've watched the Inauguration, you would've noticed that power of purple was surely the standout colour of the day. Former First Lady Michelle Obama (dressed in Sergio Hudson) and Hillary Clinton (in Ralph Lauren) both wore shades of the colour, but all eyes were on the new Vice President Kamala Harris. The new lady in office championed designers of colour by opting for a design by 2020 CFDA Emerging Designer of the Year, Christopher John Rogers, and Sergio Hudson.
Next to her stands the country's first Second Gentleman, Doug Emhoff, wearing Ralph Lauren.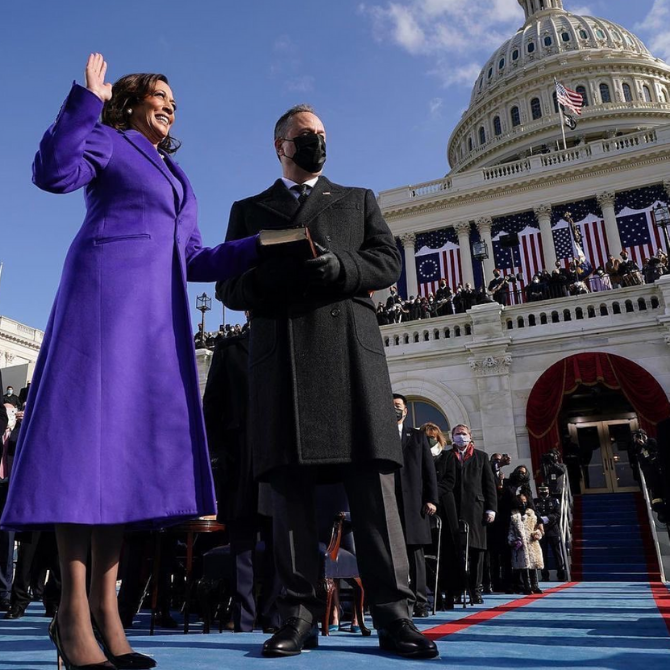 Lady Gaga
Lady Gaga made a statement with her Schiaparelli Haute Couture gown when she performed the National Anthem, and it was quite hard to not miss the very visible accessory of a gilded brooch of a dove carrying an olive branch. A symbol of peace, the brooch further highlighted the multi-hyphenates' dream of a better America.
"I pray tomorrow will be a day of peace for all Americans," she wrote on Instagram on Jan. 19. "A day for love, not hatred. A day for acceptance, not fear. A day for dreaming of our future joy as a country. A dream that is non-violent, a dream that provides safety for our souls. Love, from the Capitol."
Her custom ensemble was still representative of American fashion as it was the work of Texan designer Daniel Roseberry, who served as artistic director for Schiaparelli since 2019. "As an American living in Paris, this ensemble is a love letter to the country I miss so dearly and to a performer whose artistry I have so long admired," said Roseberry.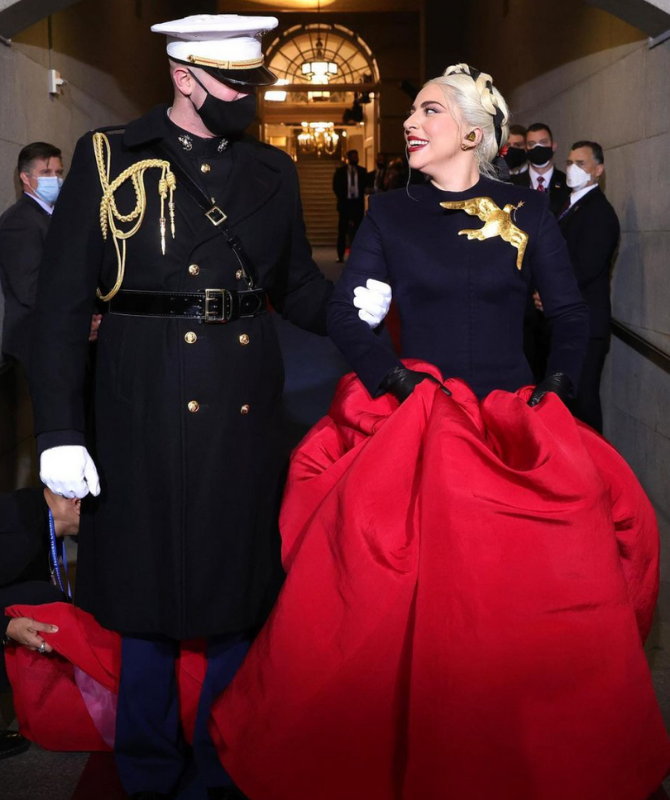 Jennifer Lopez
Jennifer Lopez has been cemented as a style icon and her latest address to the nation was proof. Dressed in head-to-toe white in the form of a Chanel pantsuit, the colour was a nod to the history of women's suffrage and its continued symbolism of women's rights.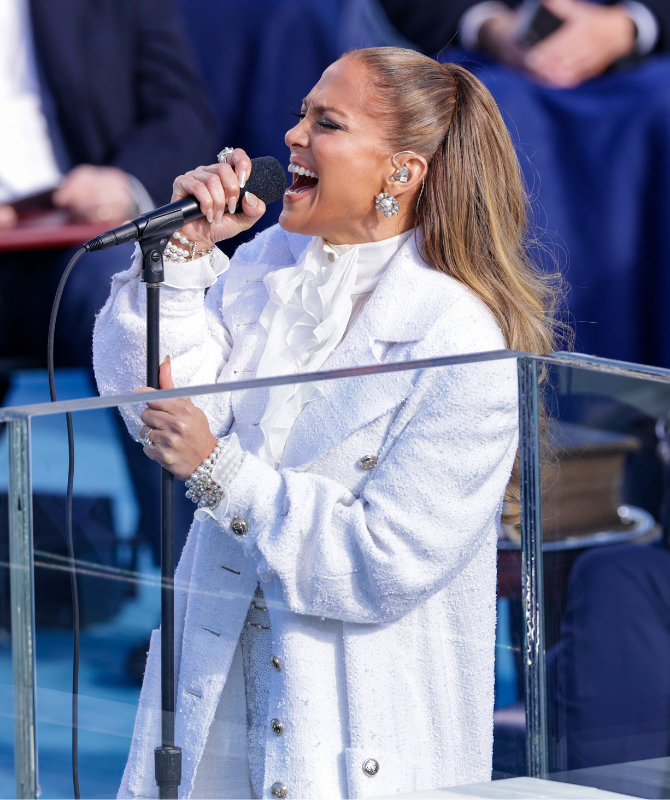 Amanda Gorman
National youth poet laureate Amanda Gorman was just one of the stolen spotlight moments from the historic 2021 Presidential Inauguration. Whilst people around the world were captivated by Gorman and her powerful poem, "The Hill We Climb," it was her popping Prada ensemble and significant ring on her right hand that caught our eye. "I would be nowhere without the women whose footsteps I dance in," the 22-year-old later tweeted. "While reciting my poem, I wore a ring with a caged bird-a gift from Oprah for the occasion, to symbolize Maya Angelou, a previous inaugural poet. Here's to the women who have climbed my hills before."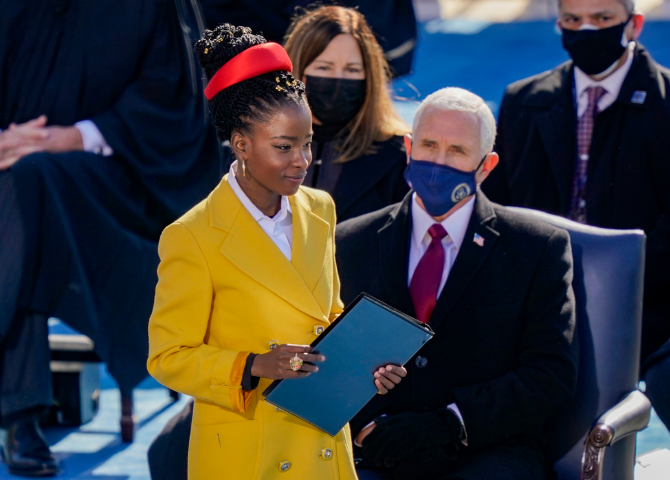 Ella Emhoff
There was a new style star spotted at the Inauguration: Ella Emhoff, Kamala Harris' stepdaughter. Her sartorial look made a splash as she donned a beaded, plaid Miu Miu coat that caught everyone's attention.
Get ready to see the 22-year-old knitwear designer making round on the fashion circuit over the next four years.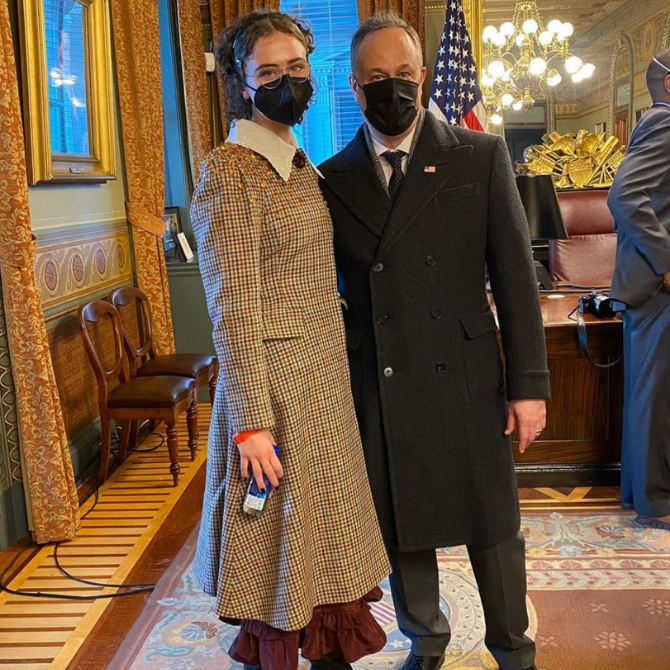 Now, find out why this was an inauguration like no other.