On January 20 Donald Trump's presidency will come to an end and Joe Biden will be sworn in as the 46th President. Alongside him, Kamala Harris, the country's first female and first vice-president of colour. You don't need us to tell you that this is a seminal moment. Though also one that coincides with a pandemic and shadows an unprecedented assault on the transition of peaceful power.
Yes, the storming of The Capitol last week saw far-right Trump supporters scale walls, beat police, vandalise property and wave Confederate flags while brandishing other symbols of hate. It left five dead, many more injured and American democracy in tatters. As security concerns grow, The Pentagon has authorised the sending of 25,000 National Guard troops.
Between coronavirus and coups things look a lot different this year, and there will only be a handful of in-person events. The schedule however, still honours the usual pomp and protocol. Lady Gaga will sing the national anthem before Biden and Harris take the oath of office. The President will then give the most consequential speech of his career. Father Leo O'Donovan will deliver the prayer. Andrea Hall, a trailblazing firefighter will recite the Pledge of Allegiance, while 23-year-old activist and Harvard graduate Amanda Gorman will recite a poem. Reverend Dr. Silvester Beaman, a longtime friend of the Bidens, will deliver the benediction. Other celebrities — this is 'Murica, after all — include JLo, who will sing, naturally, and Tom Hanks who'll present a 90-minute segment featuring Justin Timberlake, Bon Jovi and Kerry Washington. The call sheet serves as a salient reminder of just how many A-listers distanced themselves from Trump's dark and divisive day four years ago.

For an inauguration not marred by a pandemic you could expect anywhere from 300,000 (George W. Bush, 2001) to 1.8 million (Obama, 2009) attendees. But in 2021 there will be no more than 2000 people. On stage, approximately 200 VIPs, including the families of the president-elect and vice president-elect, congressional leadership and a couple of senior diplomats will sit — socially distanced, of course. And all will masked and tested for the virus, which presumably, is more than can be said for the sendoff party that Trump is reportedly hosting in Maryland.

"To all of those who have asked, I will not be going to the Inauguration on January 20th," Trump tweeted. "Big 'A lot of you have been asking about my skincare routine' energy," read one accurate retort. And so to his list of monumental presidential blunders Trump can add being the first president in a century not to attend the swearing in of his successor. It came as Jenna Bush Hager (George W. Bush's daughter) shared throwbacks from twelve years ago, when her and her sister Barbara welcomed Sasha and Malia Obama into the White House, "[teaching] the girls how to slide down the banister and all the secrets… we loved as little girls — the best hiding spots, the movie theatre, and bowling alley."


HOW TO WATCH JOE BIDEN'S INAUGURATION
The ushering in of Biden will begin at 4pm GMT (8pm GST) with the parade starting between 7pm and 8pm (11pm and 12pm GST), available to watch on BBC, Sky News and US networks (save for Fox, of course).
MUST-FOLLOW ACCOUNT
A new Instagram account by Washington enthusiast Murray Clark, The State of It delves into and delivers politics on a need-to-know basis. If his reporting on The Capitol siege, that spliced real-life footage with tweets from pollsters and pundits and breaking news is anything to go by, we're in for a treat.
MEMORABLE INAUGURATION MOMENTS
IN NO PARTICULAR ORDER OR CHRONOLOGY…
Barack and Michelle slow dancing into history while Beyoncé serenaded them with a rendition of Etta James' 'At Last', just after Obama asked the crowd "how good-looking is my wife?" Sob.
A befuddled Michelle receives a sizable Tiffany & Co. gift from Melania right before an historic picture is due to be taken. "I mean, this is like a state visit, so they tell you that you're going to do this, they're going to stand here," Mrs. Obama said in an interview with Ellen DeGeneres. "Never before do you get this gift, so I'm sort of like, OK," she said. With no-one to give it to and nowhere for it to, Barack had to step in and take the gift inside.
It was pathetic fallacy at its finest. As Donald Trump was sworn in, it began to rain and so ensued an ordeal for George W. Bush as he tried —and failed — to put his poncho on. "George W Bush so embarrassed to be seen in Trump's company he hid in a plastic bag #feels #InaugurationDay," read on tweet.
Same pic.twitter.com/PA5cn5pOUG

— Andrew Katz (@katz) January 20, 2017
Sasha Obama's yawn, cementing her reputation as the sassy sister. Who can blame the kid, these things are long and the bowling alley was calling.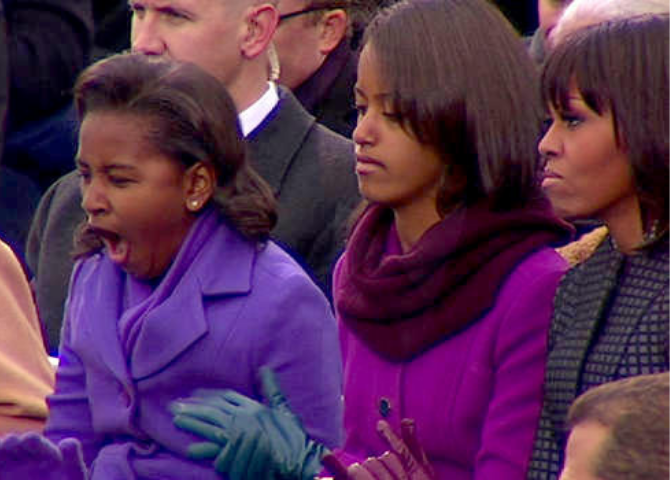 Originally published on Buro247.com.