We've got Miu Miu on our minds. And by "we," we mean literally everyone. It wasn't long ago that Miuccia Prada's namesake brand was announced as the top-ranked on Lyst's third-quarter index of the Hottest Brands. While it marked the first time the brand held the top spot on the list, the news came as no surprise for the most covetable pieces of the season, and even the one before came bearing the Miu Miu logo. For who can forget the adorable Miu Miu ballet flats, cozy Miu Miu cardigan, the risqué micro-minis, and even its collaborative footwear with Church's?
Speaking of Church, earlier this year, Miu Miu unveiled a special collaboration with the historic English luxury shoe brand. The Church's x Miu Miu Fall/Winter 2023 footwear collection seamlessly blends the formal aesthetic of the heritage brand with Miu Miu's free-spirited design sensibilities. The Church's X Miu Miu shoes, crafted in glossy brushed leather and available in timeless black and tobacco shades, boast a rounded and broader shape compared to their original counterparts. These shoes feature a flexible, non-slip, sporty molded rubber sole, replacing traditional leather soles, and retain the signature patterned serration. Rich detailing includes the Miu Miu logo on the shoe tongues, embossed on the sides of the soles, and the Church's X Miu Miu logo printed on the insoles.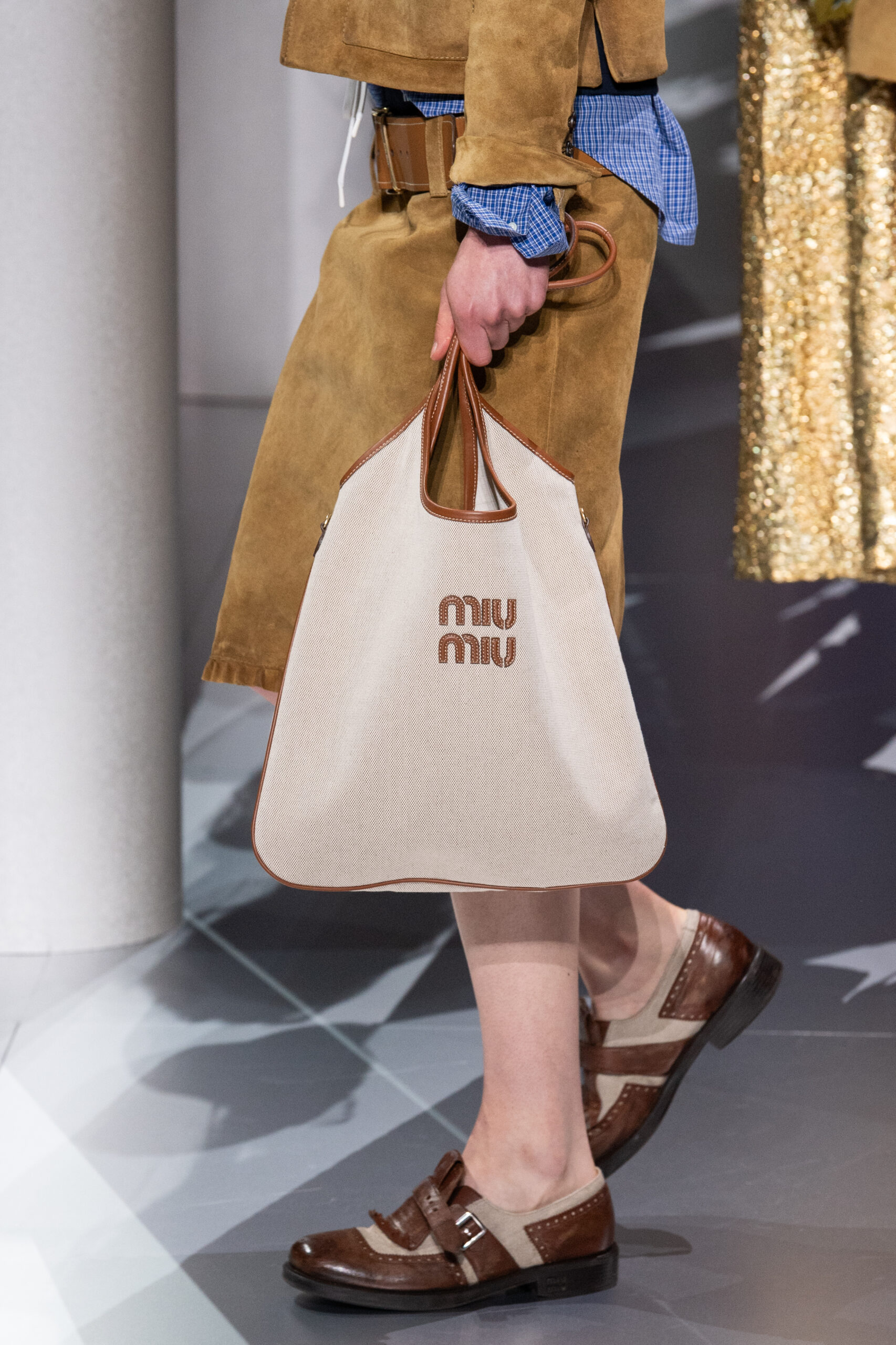 Following the success of the collaborative footwear collection, Church's and Miu Miu presented a second edition of their co-branded designs during the Miu Miu Spring/Summer 2024 show. As a part of this vision, Church's famed 'Shanghai' shoes got a Miu Miu makeover. Boasting a tan leather and beige canvas exterior, the Church's x Miu Miu 'Shanghai' shoes feature Miu Miu's logo on the top and the heel of the shoe, while the dual-branded logo appears on the inside sole.
ALSO READ: THE ULTIMATE BREAKDOWN OF THE RIYADH FASHION WEEK MENSWEAR SHOWS.