Last month, Lady Gaga stepped out sporting Hedi Slimane's first handbag design for Celine. The brand stayed quiet on the new product at the time, however it has finally revealed more details about the bag, which has also been spotted on Angelina Jolie.
Overnight, the brand took to Instagram to announce the name of the bag as the 16 (officially pronounced 'seize' according to a release), which "comes from the maison de couture's Paris address." Séverine Merle, the CEO of Celine, also commented on the design exclusively to WWD saying, "The 16 handbag is the ultimate symbol of Hedi Slimane's vision for Celine: it emphasises our knowledge of incredible craftsmanship. To achieve this level of perfection, Hedi pushed our team and asked them to deliver their best: despite drawing the 16 on the day of his arrival, it took our team more than six months to achieve the final version, meticulously developing each detail and testing the most luxurious skins to find the perfect leather."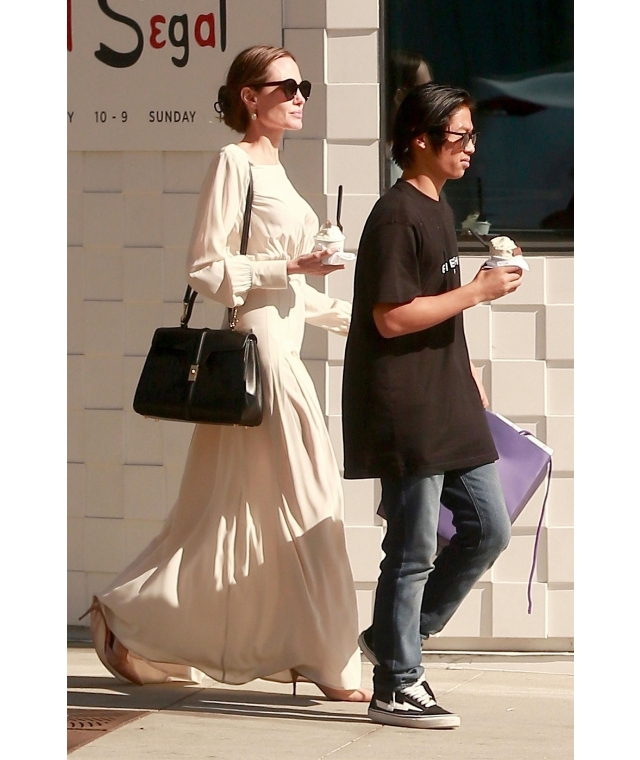 Merle also confirmed that the bag will be available in a variety of colours (as well as materials including satinated calfskin and crocodile) and in three sizes and it will go on sale from November 12. What's more is that the 16 is apparently "one of three new handbag lines Slimane plans to launch this fall to sit alongside some of the pillars introduced by predecessor Phoebe Philo," according to WWD.
There are big hopes for the design, with Merle commenting, "Judging by the high level of advance inquiries, [Slimane] has laid the foundation for a future iconic classic."
The bag will be available to purchase in store as well as through the brand's e-commerce website which has been temporarily deactivated until Slimane's official debut during PFW.
Until then, find out when you can get your hands on Riccardo Tisci's debut designs for Burberry on Monday.