It's official! HH Sheikh Mohammed bin Rashid Al Maktoum's three sons, Sheikh Maktoum bin Mohammed, Deputy Ruler of Dubai; Sheikh Ahmad bin Mohammed, Chairman of the Mohammed bin Rashid Al Maktoum Knowledge Foundation; and HH Sheikh Hamdan bin Mohammed Bin Rashid Al Maktoum, Crown Prince of Dubai are celebrating their wedding next month.
The news first emerged that they've all gotten married earlier this month and whilst much to the delight of fans of Dubai's ruling family, we were wondering when the celebrations would kick off. And now, we finally know the answer.
The royal trio's wedding will fall during the Eid holidays on June 6, 2019, at 4pm in the Dubai World Trade Centre, marking a double (or shall we just say triple?) celebration for the country.
According to Gulf News, images of the invitations were circulating on social media this week and it was of the men's wedding reception set to take place in just about one week's time.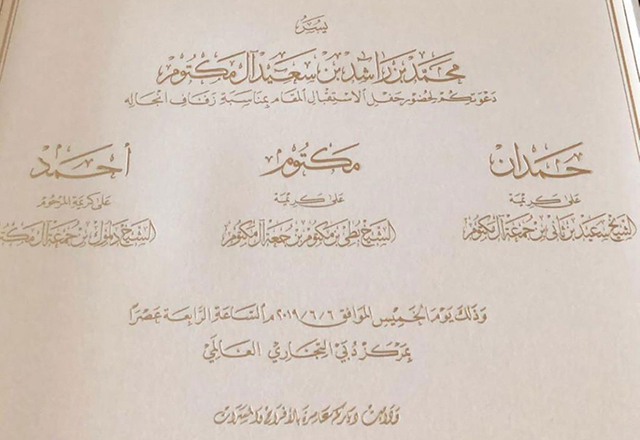 In beautiful gold Arabic calligraphy, the name of Sheikh Mohammad Bin Rashid appeared at the top of the card inviting guests to attend the wedding reception of his three sons. The names of the grooms — Sheikh Hamdan, Sheikh Maktoum and Sheikh Ahmad — were written (from right to left), with details of the celebrations written below.
Mabrook once again to the royal family!
Now, find out why we're drooling over this Eid collection by Emirati designer, Shatha Essa.