Meghan Markle attended her very first solo royal event overnight for the opening at Oceania at the Royal Academy of Arts.
Looking chic in a black Givenchy midi dress which featured a velvet triangle panel down the middle and sheer sleeves, the Duchess of Sussex met with members of New Zealand parliament and performers from the London Maori Club. In a touching gesture, Meghan performed a hongi — the traditional Maori greeting where you rub noses —with several of the guests.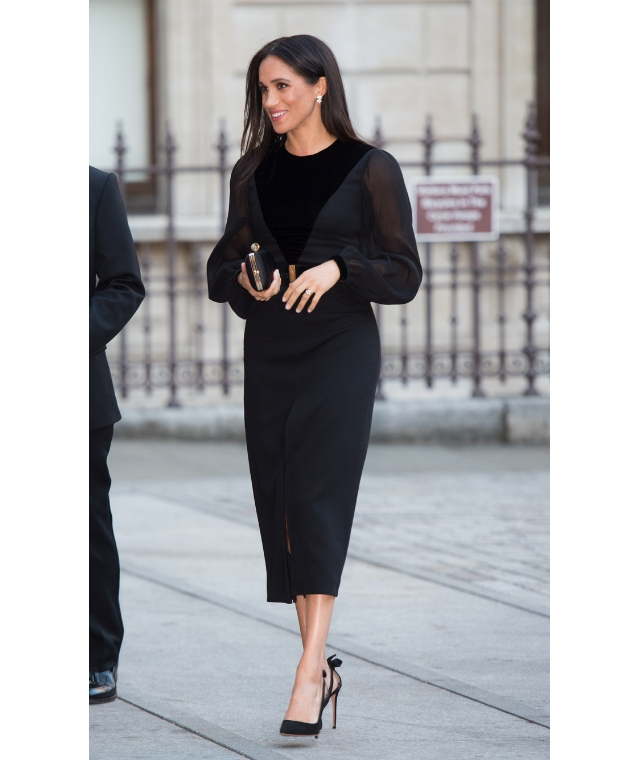 The Oceania exhibition is home to more than 200 artefacts that represent Maori culture, and the Duchess told her hosts, "It's a great introduction to the sights and sounds of that part of the world" ahead of her upcoming royal tour.
Her first solo appearance came exactly one year to the day since she first stepped out with Prince Harry at the Invictus Games last year. Somewhat hilariously however, the Duchess' first solo outing was the talk of the town for a rather peculiar reason — she shut her own car door. Yep, the internet is a strange place sometimes. When Meghan arrived at the event, her door was opened for her and she stepped out to greet one of her hosts. As they began to walk inside, Meghan closed her own door. Apparently such a move is a break in royal protocol (as royals usually have their doors closed for them) and it's been incredibly well-received by online fans who have praised the Duchess for remaining down-to-earth.
Video: #duchessofsussex arrives at the RA. A princess who still takes the time to shut her car door. Well done Meghan! pic.twitter.com/kJZXctr8AH

— Emily Andrews (@byEmilyAndrews) September 25, 2018
So when you close your car door today, know that the move is now officially royally-approved.
Now, find out which rapper has been confirmed to play at this year's Abu Dhabi Formula One Grand Prix.