With the biggest day of her life coming up in a matter of days, Meghan Markle should be focusing on all things happy in the lead-up to her wedding to Prince Harry. However, this week has been marred with sad stories regarding the royal-to-be's father.
Thomas Markle was due to walk his daughter down the aisle at St. George's Chapel this weekend however announced to TMZ that he would no longer be doing so after it was revealed that he had willingly partaken in staged paparazzi images for which he was paid. When the story broke, Mr Markle suffered a heart attack prompting his withdrawal from the celebrations. One day later, he said he would like to be at the wedding, adding further confusion to the situation.
Kensington Palace issued a statement in response to this news, and Meghan Markle has just released an official statement herself through the palace confirming that her father will not be a part of the wedding. She wrote, "Sadly, my father will not be attending our wedding. I have always cared for my father and hope he can be given the space he needs to focus on his health. I would like to thank everyone who has offerd generous messages of support. Please know much Harry and I look forward to sharing our special day with you on Saturday."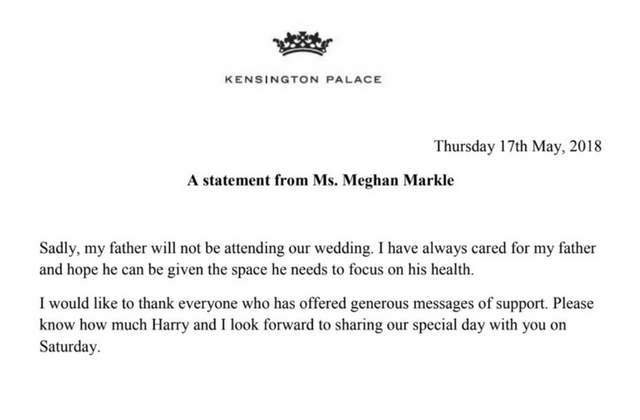 It remains a mystery as to who will now accompany Meghan on her walk down the aisle, however it's thought her mother Doria is the most likely substitute, or that she may even walk alone.
Watch this space.
In the meantime, find out who will serve as page boys and bridesmaids for the royal pair.