On November 22, 2018, Yas Marina Circuit will host the 2018 edition of the Abu Dhabi Grand Prix and it's already shaping up to be a huge event. Each year, the event brings some of the world's biggest musical names to play with the likes of Jay-Z, Eminem and Rihanna all having taken the stage in previous years.
This year, The Weeknd has already been confirmed to perform on November 24, so too have Guns N' Roses (who are headlining the 25th) and Sam Smith but the fourth act remains a mystery. Well, sort of.
Yas Marina Circuit took to Twitter this week to tease the announcement of the final performer. It posted a graphic that asked users to take their birth month and the date they were born to create a rap name which the site said was "in honour of our next #ArtistAtF1".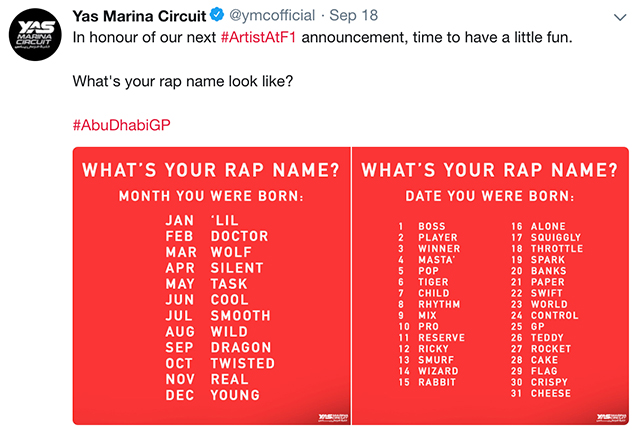 The big reveal is expected shortly, particularly given that the event is just over two months away. Any guesses as to who it is?
In the meantime, discover which singer just landed himself EGOT status and became the youngest ever star to do so.