Last year, Robinson's department store in Festival City played host to a sprawling exhibition of dresses that chronicled the sartorial evolution of national dress in the UAE. Dr Reem El Mutwalli was the woman responsible for the display, having spent years learning about and collecting dresses from women of different generations. Since then, her collection has grown yet again, now totalling 170 dresses that, although are worth plenty in monetary value, are worth so much more in sentimality. Here, she chats with Buro 24/7 Middle East's Managing Editor Maddison Glendinning about how she got started and why she'll never stop…
Tell me a little about your background and how you came to do what you do…
So, I grew up here. In 1968 my father was invited to be the Economic Consultant to the Crown Prince who is now the President, Sheikh Khalifa Bin Zayed. I lived first in Al Ain, and then in Abu Dhabi and now Dubai. I was raised among the ruling family in Abu Dhabi so I know them on personal basis. I was very lucky to know Sheikh Zayed himself and I have many fond memories with him as well. I did my PHD in Islamic Art and Archeology and my passion has always been the woman's life in the area. What I realised was that it is an enclosed realm of life and I was privileged to know it, to be involved in it. My insight was a direct insight to what is going on in this time, in this period, in this era. The UAE has specific circumstances whereby everything happens so quickly. When the UAE began to open to the world through globalisation, it was very important that this closed society, the oil society be recorded, registered and documented before it was gone. With all the changes which are happening, even the indigenous people in the area have forgotten certain details of their past and heritage. So it's very important that we document it. I find it a way to give back to the country that adopted me.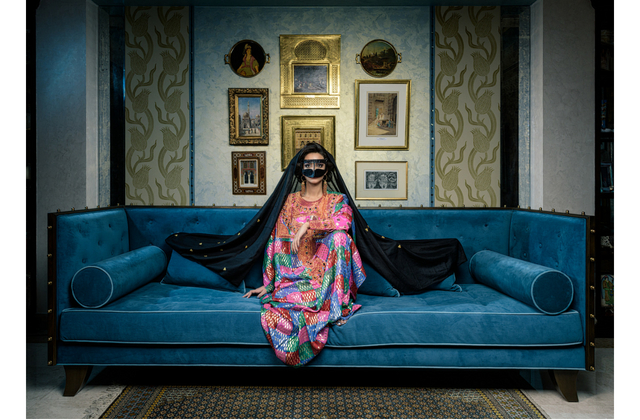 How did you come to be interested in the women's clothing in particular?
My passion in that subject comes from the fact that I am a female, I am interested in this stuff. Plus, I used to watch them, how they dress, how they wore it, what are the components of it and so on. So I went back and I started studying it in an academic format. By that time I had compiled a whole collection of dresses because I used to wear them myself and I had to go back, look at the collection and understand what was missing out of it, figure out what links I needed to add and so I started collecting again. I managed to compile a collection of about 170 dresses.
That's huge. How long did that take?
Years. I mean luckily, I was here before I started collecting so I had a base to start from, as I said because of my father's position, from the day that we arrived until today, we would get gifts. Now it's different because they know me, they know I collect so they send it to me. Sometimes it's gifted to me, sometimes I ask or I commission someone to make it so it's all by chance that I have pieces that go back to the 1960s, '50s and '40s. And sometimes people tell me, for example, 'you know there's a tribe that's in this area and they have this and we saw this sort of dress with them', so I would talk about this dress with them and would go meet with these older people and get the materials and some information from them. After I did my degree, I came back and decided that this needs to be published. There's a good collection and it needs to be published. It's important to have it published. So we published a book.
What is your plan for the collection of dresses moving forward?
I want to eventually find a place for this collection. At present, I do these installations or exhibits collaborating with entities, designers, and institutions because it serves two purposes. One, the fact that I can show these dresses, I have a limited time and it helps me preserve them and secondly, it keeps them in people's memory. It keeps them alive. What's the use of having it in a cabinet and locked up and nobody's seeing it? I hope one day they will have a room of their own where people can continuously look at them.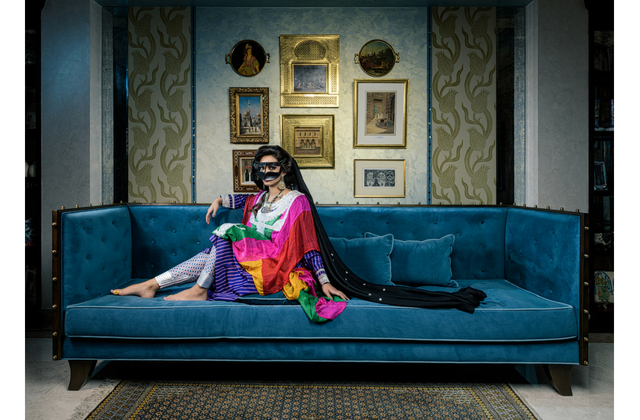 It's interesting for me as an expat to hear about what you have done but I imagine that it is so important for the young women who are UAE nationals who maybe have forgotten or don't know much about the history that existed in the era of their grandmothers for them to be able to have a record of those pieces…
Yes and I think, the more we go forward in time, the more important they are going to be and the more sought after they will be. It is good that I managed to capture that and make it available.
What is the biggest change that you have seen in the fashion from the early dresses to how the women dress now in the UAE?
There's been a lot of changes. Now, more and more, they are wearing Western style of clothing. The only two articles that they continue to wear now on a daily basis are the abaya and the sheila. These are the forms that you see in public. It covers their dresses underneath. Now they interchange between wearing Western and traditional dress. Of course the most important change that has taken place is the fact that women no longer wear the burqa. And when I say they no longer wear the burqa, I have to be careful because many of the women in the older generation continue to wear the burqa. As time passes by, the younger generation is opting not to wear the burqa. There are always exceptions to the rule but in general, the majority are no longer wearing it. That's one major aspect that has completely changed.
Earlier this year, there was a statement made that women don't have to wear the abaya and that it doesn't need to be black. However you look at the Gulf and every woman here wears a black abaya and the sheila. You told me that in your collection you have a lot of colourful pieces — how do these fit in?
In earlier times, the abaya used to be a square piece of fabric, very simple, folded with an opening at the middle. You just wore it as the over-cloak that covered you completely. And then with time, it became of more a coat. It started to acquire sleeves and started being worn on the shoulder. That's how we differentiate them — we call it the 'head abaya', which is worn off the head and that's the square looking bulky one and then we have the 'shoulder abaya' which has sleeves and can be made in different cut and styles. Plus, in earlier times, women liked to wear very white sheilas.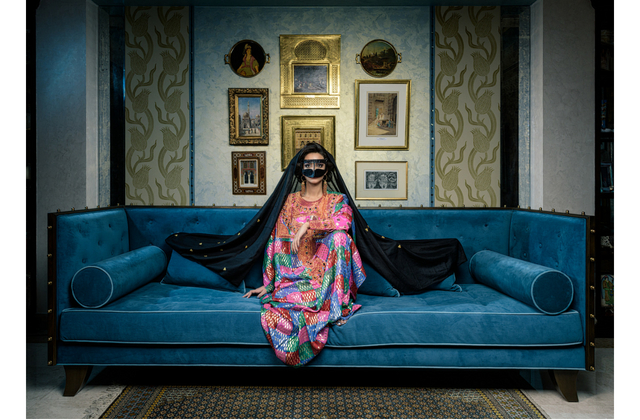 Back in the day, urbanisation did not exist so it was very small community. The women used to go about in their colourful dresses; they never wore the abaya. They wore the large format of the sheila which was multi-functional as it covered their head and their body as well. With urbanisation and the introduction of the abaya, the sheila started becoming just a small scarf that you can put on your head. You no longer need it to cover your body, you have something else that does that. So that is what happened to the outer wear. In public and in pictures you see a black abaya but when you walk indoors and they remove it, you see normal women wearing Western clothing or traditional clothing that is very colourful.
In terms of the colour, it doesn't have to be black, nobody said it has to be black. It just happened to be black because when you want to cover something, the best way to conceal it is with a dark colour and black is a colour that everybody uses. You know throughout history the abaya came in different colours but at a certain period, the beginning of this century, black became the style.
I think this is what makes your work so important, that you are helping to preserve these trends and the memories of what existed before.
That's the thing — if we don't keep it, it's going to disappear and you would not even know about it. One of the issues that I am very much concerned with is the fact that many of these women were never documented, nobody has ever written about them. I was lucky that I documented them and I wrote about them and I included them in the book. They are dying now and we took it for granted when we lived with it on a daily basis. That's why I am very excited about Instagram. We started a page after the exhibition I did at Robinson's.
Why was then the right time to launch the Instagram account?
We wanted to find a way to get people interested in coming to the exhibition. It evolved into a life of its own. We post one image a day and each image describes something related to a dress. I post certain photographs, both old and new. And the information that I was able to gather through this and the dialogue that's taking place — it's been unbelievable. For example, there are images that were taken by travelers in the early '40s and '50s of the last century. Ever since the day I started studying, I used to always see these images in black and white or colour and they would say 'Bedouin women bringing water' or 'Bedouin woman washing clothes' or whatever. Since sharing these images on Instagram, I have had people tell me that this Bedouin woman that was bringing water is their mother, grandmother, aunt. Her name is so and so. She was not getting water, she was walking at this place and the photographer ambushed her and she didn't know what photography was. She didn't understand that he took a picture of her and that it was preserved. Through these interactions, all of a sudden, these pictures came to life.
On the other hand you have, for example, a picture of young girls wearing jeans and an abaya and when I put those up, we have hundreds of arguments between the older and the younger generations. Then you have the wordings and terminology, I mention a fabric and you get so many different people telling me that in their area they call it this and that. What once took me years to collect now happens within a day.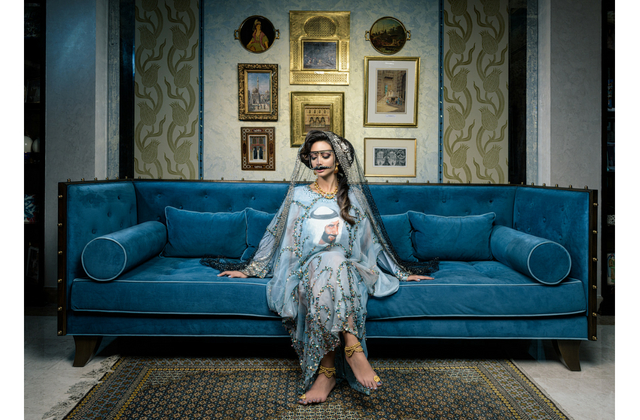 I imagine being able to connect with the families of the women you have studied for so long in these photographs is pretty special. Have you ever been contacted by the women themselves?
I have one image of a girl who was about five or six years old, and she sent me her photo recently. The girl is so beautiful as a child and the woman is even more beautiful. To be able to see her and take this photo of this child that I have known for 25 years and then go and meet her and get to know her, it's just lovely.
You have a close relationship with the royal family. What was their feedback on the work that you've done?
They really love it. They all understand the value of what I have done and that's why I keep adding to the collection. And many of these events that I create, they come, they attend, they support it, they are there and they follow me. They are very happy about it.
I know it's a large collection and you've got amazing pieces there. Is there one piece or one woman in particular that stands out from the collection to you that is particularly important? Whether it's a piece that's using a technique that no longer exists or from a woman that has passed away and that has a connection to you?
Each piece is unique which is very important. I don't have a repeat of anything. Each one of them has a particular story. Each one of them represents a story of a human being. I can't pick one because they all contributed in one way or another. Most of the collection that you see are from the friends I made when I worked in the art industry so I know them on a personal level. Some of these artists painted these dresses and they have passed away so that's historic now, too. So even those who are not a part of the history of the UAE have now taken their own importance.
Now, read our interview with Indian director Nandita Das where she discusses women's empowerment and her career.