1. *THAT* Will Smith and Chris Rock confrontation shocks the Oscar audience
OK, so did anyone else think that the slap was a publicity stunt at first? Yeah, us too. That is until Will Smith returned to his seat and vulgarly expressed his anger: "Keep my wife's name out of your f***ing mouth!" Let's recap.
Chris Rock appeared on stage to present the award for 'Best Documentary' and made a joke about Jada Pinkett Smith's shaved head, which did not appear to go over well with husband Will Smith. The comic joked "Jada I love you, 'G.I. Jane 2,' can't wait to see it." At first, it seemed like the Hollywood couple laughed at his joke but then the camera cut to Pinkett Smith, who rolled her eyes as she sat next to Smith. "That was a nice one," Rock said, appearing to respond to the joke not going over well. FYI, Pinkett Smith has been open about her struggle with alopecia, an autoimmune disorder that leads to hair loss.
This led to Will Smith going on stage and deliberately slapping Rock across the face, before returning to his seat and continuing the verbal part of the exchange. Who was in the wrong here?
2. Roughly minutes after the incident, Will Smith wins his first-ever Oscar
Twenty years ago, Will Smith was nominated for an Oscar. Overnight, he finally won his first Oscar – awarded for 'Best Actor' in a leading role for his portrayal of Richard Williams in 'King Richard', where he plays the father of tennis superstars Venus and Serena. To accept his award, Smith returned to the stage and apologized to the Academy and his fellow nominees for the incident, without mentioning Rock's name.
Tearfully accepting the award, Smith said Williams "was a fierce defender of his family." He continued: "I know to do what we do, you gotta be able to take abuse, you gotta be able to have people talk crazy about you. In this business, you gotta be able to have people disrespecting you. And you gotta smile and you gotta pretend like that's okay." He wrapped up his speech by saying he hopes that the Academy invites him back.
It's sad that Will Smith's acceptance speech for his first-ever Oscar award will not be remembered and instead, his approach to handling Chris Rock's comments will be.
3. Billie Eilish also snags her first-ever Oscar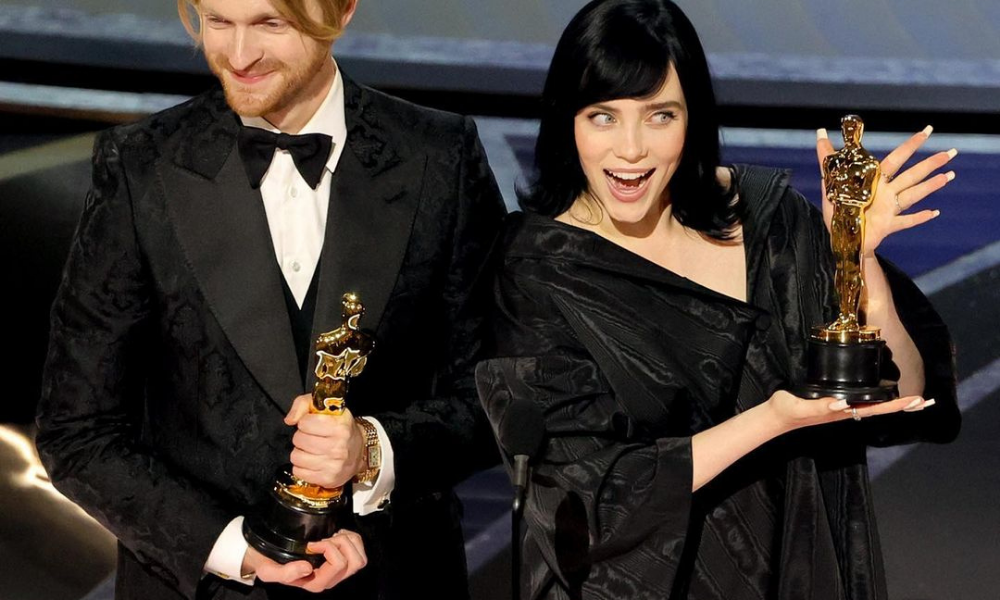 And the Oscar for 'Best Original Song' goes to Billie Eilish and Finneas O'Connell for "No Time To Die" from 'No Time to Die.' Just minutes before she won her Oscar alongside brother Finneas, the duo performed the haunting track for the James Bond movie – sending chills down our spine.
The category also included nominations for Beyoncé's "Be Alive," Sebastián Yatra's "Dos Oruguitas," Van Morrison's "Down to Joy," and Reba McEntire's "Somehow You Do."
4. Speaking of musicians, there was a performance by Beyoncé
With all of the commotion that took place during the Oscars ceremony, some might've missed that Queen Bey was actually there – and even, opened the 94th Academy Awards with a performance of the Oscar-nominated song, "Be Alive". The performance took place at the Tragniew Park Tennis Courts in Compton, California, with appearances by Blue Ivy Carter, King Richard actresses, Saniyya Sidney and Demi Singleton, and the Compton Cowboys Junior Equestrians. It was a tribute to the superstar tennis sisters, Venus and Serena Williams, and even took place in their hometown.

Honestly, Beyoncé's only competition is herself.
5. Apple's "CODA" wins historic Oscar for 'Best Picture' at the Academy Awards
Apple officially made history at the Oscars after "CODA" landed not one, not two, but three Academy Awards for Best Picture, Best Supporting Actor for Troy Kotsur, and Best Adapted Screenplay for Siân Heder. Marking the first film with a predominantly Deaf cast to win Best Picture, it truly was a memorable evening as star Troy Kotsur also made history as the first deaf male actor to win an Oscar, followed by Siân Heder winning Best Adapted Screenplay, and Apple becoming the first streaming service honoured with Best Picture at the Academy Awards
"On behalf of everyone at Apple, we are so grateful to the Academy for the honors bestowed on 'CODA' this evening," said Zack Van Amburg, Apple's head of Worldwide Video. "We join our teams all over the world in celebrating Siân, Troy, the producers, and the entire cast and crew for bringing such a powerful representation of the Deaf community to audiences, and breaking so many barriers in the process. It has been so rewarding to share this life-affirming, vibrant story, which reminds us of the power of film to bring the world together."
Also read: The best-dressed celebrities on the Oscars 2022 red carpet.