With just days left, this weekend is your chance to discover unbeatable deals, family fun, exclusive entertainment and more with Dubai Shopping Festival.
Get your shopping fix sorted at the DSF Final Sale, where you can enjoy discounts of up to 90% at your favourite brands in Dubai. Or take home the freshest styles at the milestone 10th edition of Dubai Shopping Festival's favourite outdoor market, Etisalat MOTB. Plus, enjoy spectacular shows perfect for the whole family.
Below, we've created the ultimate guide of where to be – and be seen – on the final weekend of the Dubai Shopping Festival.
DSF FINAL SALE
Bringing the best of its sales – an opportunity you most certainly will not want to miss – the DSF Final Sale will run from January 27-29. This is your chance to take advantage of an unmissable shopping spree with further reductions of up to 90% on some of your favourite brands in stores across Dubai.
There's no better way to end the citywide shopping celebration other than by splurging on fashion, lifestyle, beauty products, gadgets and much more at over 500 brands around the city. Participating brands include All Saints, Bath & Body Works, Crate & Barrel, Faces, Home Centre, Homes R Us, Hour Choice, Levi's, Nautica, Nine West, Steve Madden, The Children's Place, Yves Rocher and much more.
The mega weekend of shopping is also your last chance to enter citywide shopping promotions and raffle draws. One lucky shopper will win Dhs1 million in cash at Dubai Festival City Mall so put your name into the hat by spending just Dhs300 at the waterfront shopping destination.
Shoppers can also win at Oasis Mall Dubai where Dhs50,000 is up for grabs whilst Mercato Mall shoppers can win a grand prize worth Dhs20,000. JUMBO customers can take home gold whilst Tickit members can secure rewards points worth Dhs100,000. At City Centre Deira guess what's in the DSF Black Box until 31 January and you could be taking home whatever the box contains. And finally, this weekend marks your last chance to become the final DSF SHARE Millionaire of the season – to enter all you have to do is shop at Mall of the Emirates and City Centre malls in Dubai.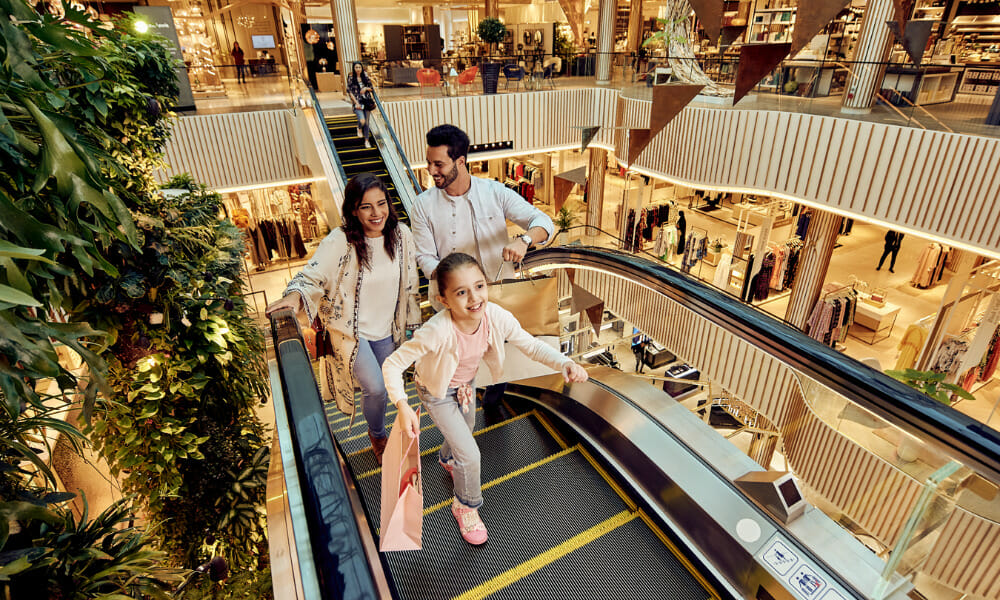 DSF DRONES LIGHT SHOW
There's nothing quite like immersing yourselves in the spirit of what Dubai has to offer, and why not end your day with a dazzling display bound to take your breath away?
The DSF Drones Light Show at Bluewaters and The Beach, JBR is the perfect excuse to spend an evening out with all your friends and family. This unmissable production is the longest-running drone show in the Middle East and Africa and has entertained residents and visitors every night at this Dubai Shopping Festival.
If you haven't been yet then don't delay any longer as the shows will end this Sunday. And for those that have seen either of the twice-nightly shows expect new surprises and additions with each performance.
The immersive experiences tell two different stories with the first of the shows (running for roughly 5 minutes) delivering a spectacular visual feast that imagines a tourist in Dubai navigating the wonderful world of deals, markets, raffles, concerts, cultural events and so much more. The next show follows a robot on a journey into the future and will showcase themes such as sustainability and connectivity with Dubai 2040 as the main inspiration.
The performances will take place at 7pm and 10pm.
But wait, there's more. Dubai Shopping Festival will close out on 29 January with an unmissable extravaganza of sky-high entertainment with the biggest light show in the region. You don't want to miss the Fireworks, Drones and Laser Finale at 10pm at Bluewaters and The Beach, JBR. The fireworks especially promise to leave you wanting more with five barges firing out delightful colours into the night sky.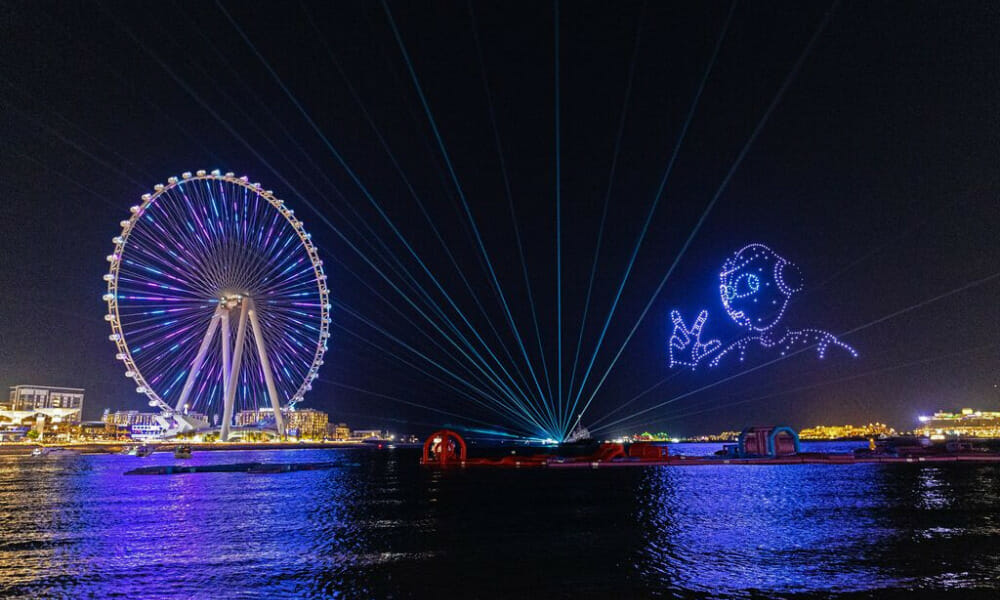 ETISALAT MOTB
Everyone's favourite outdoor market, Etisalat MOTB in its new home in Dubai Design District, is still going strong and is still the place to be to discover the trends of tomorrow, today. Free to enter, visitors are set to be thrilled by a new-look with Instagrammable backdrops around every corner.
Join fashion gurus and trendsetters and explore a treasure trove of wonders. With so much to shop, eat and do, guests can enjoy a jam-packed calendar of events featuring something for everyone.
Stay ahead of the curve when you shop at Etisalat MOTB and set the trends for all your friends with the best in urban streetwear, throwback sportswear, and incredible vintage must-haves. Live luxury with the latest in high fashion from boutique jewellers to inspired collections of menswear, womenswear, and more from stylish designers from across the globe. Explore every corner of Etisalat MOTB and you'll discover even more must-haves from your next signature scent to the finest in beauty, homeware, kidswear, and more.
You'll also be able to find your perfect shade at the Etisalat MOTB exclusive: Fenty "Shade Match the Nation" Truck. Set to thrill, this exclusive pop-up offers visitors the chance to get their foundation shade matched with the Fenty Beauty Pro Filt'r Foundation range. You can also get yourself a "Fenty Face" makeover. Like what you see? Shop their products at the beauty truck from Sephora online and get them delivered straight to your home.
And there's free live music with incredible Arab artists. Stars of the contemporary music scene will take centrestage at Dubai Beats on 28 and 29 January. Don't miss must-see live performances by Kuwaiti popstar Bader Al Shuabi or vibe to Emirati songstress Shamma Hamdan. Fans of Jordanian musician Sillaway can groove to his beats whilst Lebanese pop makes a splash with singers Farah Chreim and Lama Shreif. To see the full line-up planned for each night of Dubai Beats visit motb.ae now.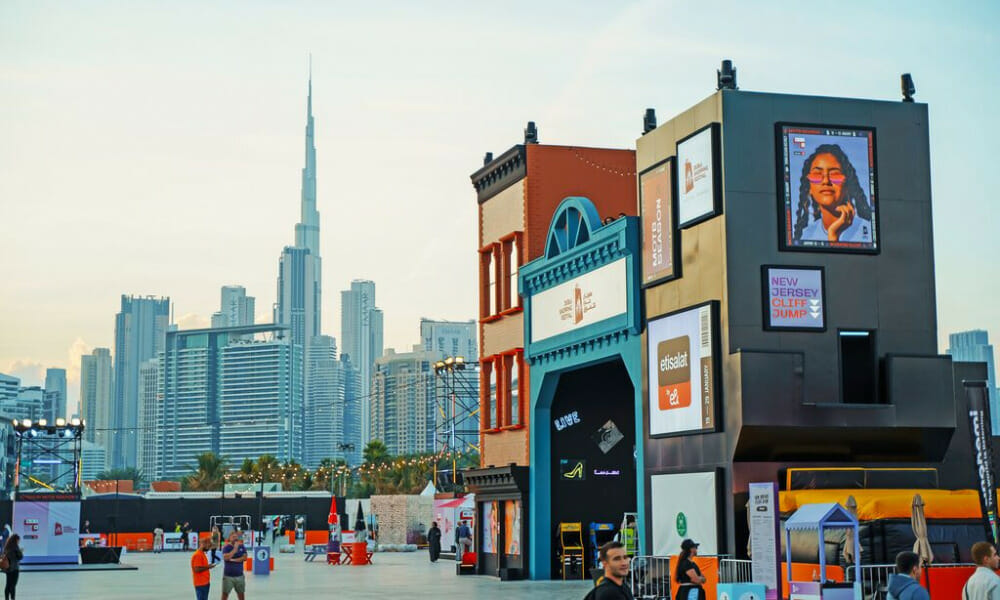 DUBAI LIGHTS
It's your last chance to catch the amazing interactive art installations that have lit up the festival since day one. Back by popular demand, the Dubai Lights series can be seen at three different Palm Jumeirah locations as well as City Walk and Dubai Design District.
At The Pointe, visitors can enjoy the festive season as they walk around the illuminated promenades with plenty of photo opportunities with the Pointe Fountain shows providing the perfect backdrop. Make sure to get the giant underwater illuminated sculptures in the frame too.
Next up, check out Palm West Beach where even more fun and games await families. Or make a beeline for Nakheel Mall to interact with the Sea Wonder pop up where workshops and activities are sure to keep you entertained. For an extra special treat, take the Palm Monorail to any of the locations and along the way you'll discover illustrations, animations and so much more of life-size dolphins, jellyfish, pink coral ornaments, starfish, seashells.
For a truly memorable experience head over to City Walk where 10 must-see pieces are exhibited as part of The Spark Within exhibition. Previously exhibited at the prestigious Amsterdam Light Festival, these landmark exhibits pulse with light and colour and are on display until Sunday, 29 January. Best of all, it's free to attend.
For even more Dubai Lights check out Sky Castle by Studio ENESS at Dubai Design District. The interactive public art installation is in Dubai for the first time – having already lit up international cities such as Sydney, Hong Kong and Brussels – and is a must-see for residents and visitors at this year's Dubai Shopping Festival.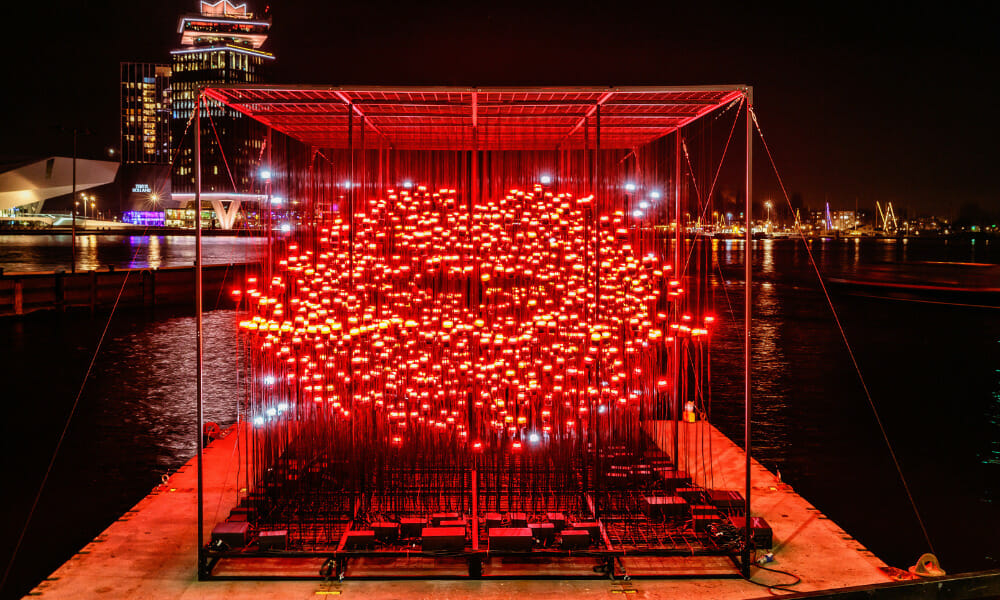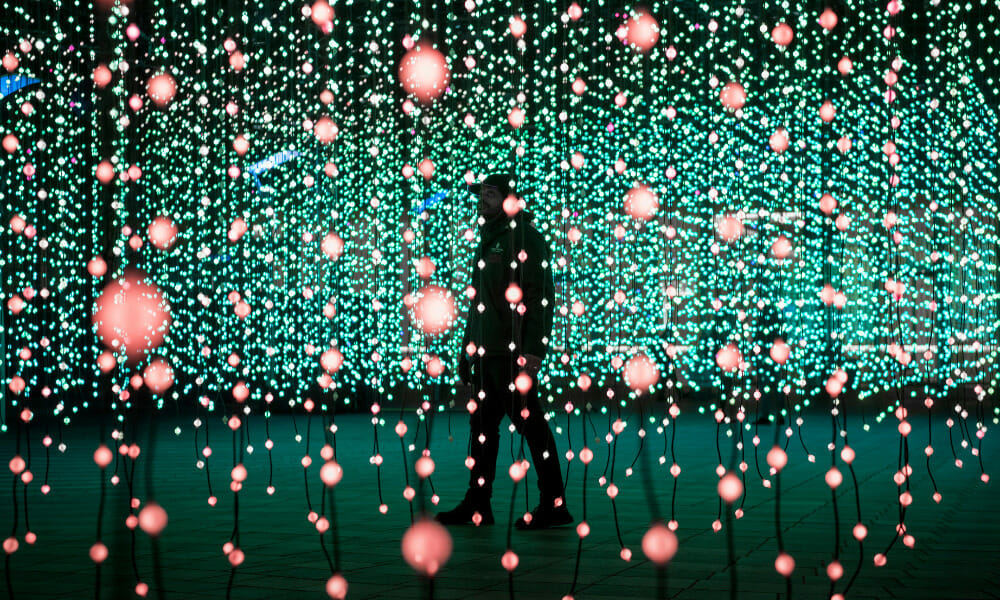 The Dubai Shopping Festival will run until January 29, 2023. Stay tuned for more. For more information, visit mydsf.ae.