The Dubai Mall has welcomed some incredible stores to its lineup in recent months, and one of the most exciting new additions is Maison Assouline. The renowned French publisher has just opened the doors to its first ever boutique in the Middle East and it's a haven of paper and style. Assouline was founded in 1994 by Prosper and Martine Assouline and has since grown to be one of the world's most renowned and respected publishing houses, with a distinct focus on fashion and lifestyle.
Prosper was in Dubai ahead of the store's opening and we stole a few moments of his time to talk about his vision for the store and what to expect when you visit…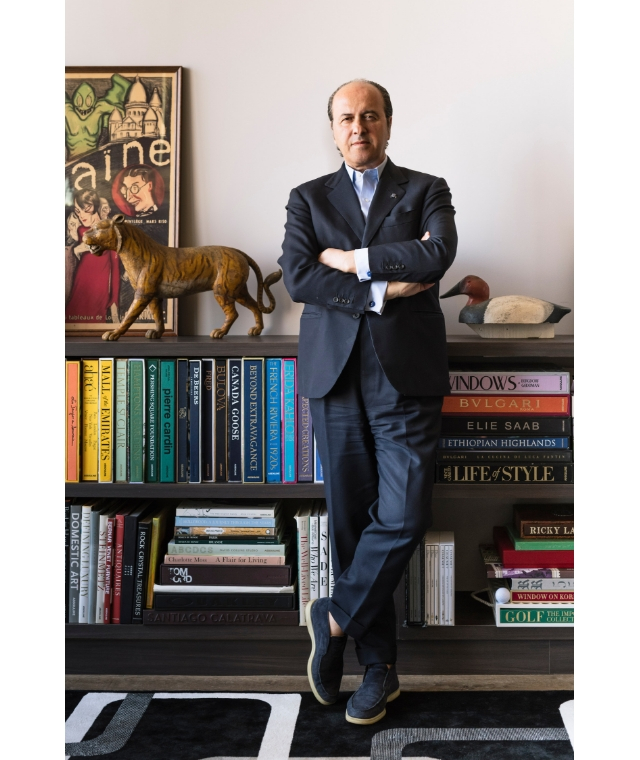 The store space is beautiful. Tell us a little about what you were going for in terms of design…
It's a heritage. It's a Maison Assouline, the first one is in London on Piccadilly but because it was an old bank, more than 120 years old, it was not easy but it's a real place. Here, we needed to create something completely new. We designed it like something very warm, I didn't want to have a feeling of something cold, or perfect, like a store at the mall. I wanted to feel very comfortable, to want to sit, the leather is fantastic, if you want to have lunch, take a coffee, everything is a detail. You have all of this surrounded by thousands of books on style.
We have two unbelievable things in store — the huge tables which come from the British Library in the 19th century. There was only eight produced and we have two of them.
More and more, we are going to sell everything we have in our books. For example, when we have a book on Bvlgari, we will sell pieces from the brand. We are doing a book on Rolex now, a huge one, and we will sell vintage Rolex. There's going to be a lot of pop-ups.
We have a private room, and this room is just for private clients where we can show jewellery, art, you can customise your own library. We can design your library providing books, building it, putting art in there, anything you want. If you tell us that you want something just on fashion, we will design it with 2000 books on fashion coming from everywhere in the world. Also in this room, we do private books. Say you have a beautiful collection of cars, we will do a book just on your cars, on you. We create a book just for you, 100 copies, 500 copies, five copies, we can make it. We have just finished a book for a billionaire in Korea who took a lot of pictures from his farm that is the size of the windows. It is a huge book, it has wheels on it to move it!
We also sell furniture from our collection, the sofa, the desk, the bookshelf etcetera. It really is an experience.
It's much more than a store — it's a lifestyle.
Yes, it's not a store, it's the cabinet of curiosities. If you don't like something, we will help you find something you do like. You have to be appropriate, educational. For me this is very important. All of our books are about education. It's not just pictures, at all.
That's what makes Assouline books so special. No matter how you come to it, whether you buy it yourself or it's a gift, you will learn something and take something away from it.
It's exactly that. Most importantly they are all designed as a collection that can live together because you open these books a few times in your life, not everyday, and the other times they are displayed.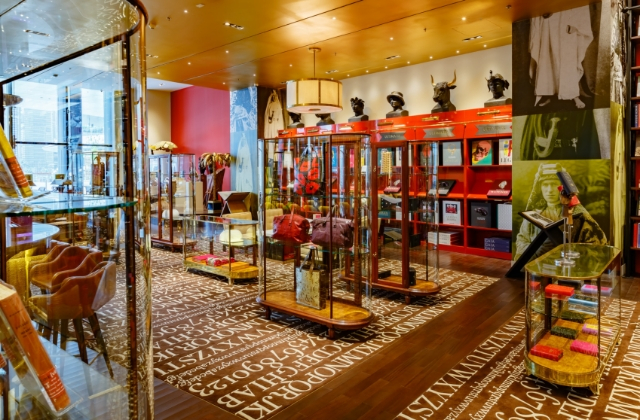 I think the level of experience you're curating in store is really important given the rise of digital. Was that a factor in how you designed the store, to draw people into a physical space to show them the power and beauty of books?
Yes. Now what I love is that what is inside the books is coming alive [in store]. We have a book on Ottoman chic and we're going to have a complete showcase with everything about Ottoman that you can buy — ashtrays, objects etc. This is what I love.
You want to touch it, it's textile and tactile. All of this makes it alive.
Of all of the books you have worked on, are there any that particularly stand out?
Yes the collection we are doing with Dior. It is a catalogue of Dior. At the end you will read Dior on the spines. One book is 500 pages and it's one book per designer from the beginning and all the dresses were shot for the book in studio one by one. So it's Christian Dior, then Yves Saint Laurent, Marc Bohan for Dior, Gianfranco Ferré is coming next month, then after it will be John Galliano and the three other designers. So at the end, which will be mid next year, it's going to be a big collection of 2,600 pages on Dior.
The fashion houses obviously come to you because Asosuline presents their work like no one else can…
We do it like a movie. We do it like a story. We are not a printer, we don't print books. We do books.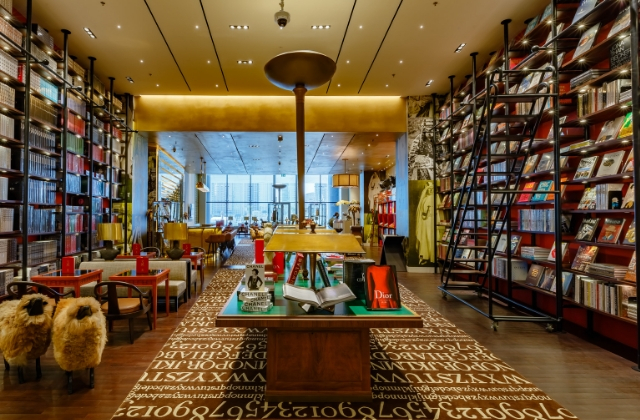 Do you feel like there's potential in the Middle East for books to be made on the region?
I'm going to do a lot of books on the Middle East. We have another book coming at the beginning of next year of the best 100 mosques in the world which is amazing. We are doing books about the fashion, about the style, we are going to do a lot of books.
What do you want people to get out of the store at the end of the day?
To buy something intelligent. It could be a piece of furniture or a book, or a gift — it's a lifestyle store. This atmosphere is very important. I want you to make all of your appointments there because it's going to be for you. This place is going to be the best of the best! At the restaurant the drinks will be named after our books, too, which will add a very nice flavor. Everything is related to books.