Whilst Jordan is a country enriched with traditional practices, rich history, endless views and ancient art, it is also dotted with modernity through its hospitality offerings — including the W Amman hotel.
The Marriott-owned hotel has perfectly encapsulated the fascinating history of the country (as well as the euphoric energy of the summer) by teaming up with street artist and muralist, Dina Saadi. Born in Russia, raised in Syria, Saadi is now based in Dubai and created a brand new mural on the hotel's beautiful rooftop space, bringing a fresh and vibrant aesthetic to the season's go-to hotspot.
Titled Desert Nomad, the new mural highlights a deep local connection to the country, with references to Petra, Wadi Rum, the houses scattered across Amman and women in the Middle East.
The wall art and graffiti consists of a fusion between traditional fabrics, colours, floral lines and Islamic geometrical patterns. It beautifully portrays the unity between past and present, as well as tradition and modernity.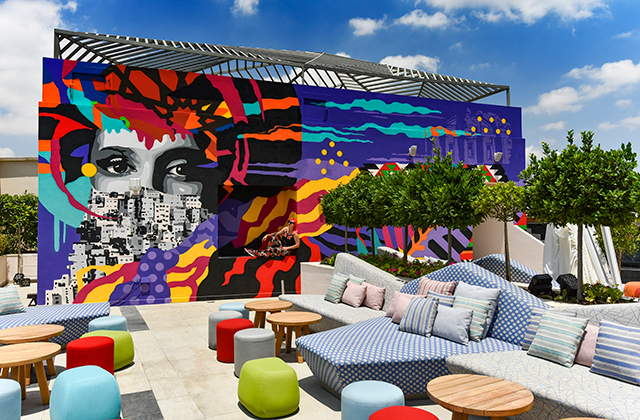 "I hope that the mural triggers a sense of connection and curiosity among guests, sparking their own inner desert nomad, to embark on a journey of discovery through the ancestral history and culture of Amman and Jordan, as well as the beauty of the desert," said Dina Saadi. "It also adds a bright new and uplifting vibe to the beautiful rooftop space for all to enjoy this summer and hope that it helps make it a special one!"
Now, here are six reasons to plan your next getaway to this other hotel in Jordan.