To celebrate the 49th UAE National Day, we couldn't think of a better way to honour the country other than by tapping an Emirati artist to give insight on her view of the beloved UAE.
A multiple award winner, the Abu-Dhabi based artist and art curator Sumayyah Al Suwaidi, started her journey with digital art in 1996 and soon after, launched her first collection inspired by the late Sheikh Zayed Bin Sultan Al Nahyan.
For the 49th National Day of the UAE, Al Suwaidi exclusively created an artwork for BURO. Middle East. and dedicated it to our founding father. "It's his vision that is making us aspire to reach to the moon," explains the artist. "We are a nation that started from the desert to the sea, then to agriculture and urban cities until we reached our mission to Mars — but we won't stop there as with the guidance of our rulers, the vision of Sheikh Zayed will continue and will always keep us ahead of our time."

What are you most proud of being Emirati?

My rulers, the Sheikhs, the fathers of all Emiratis who put us before themselves, who treat us as if we were truly their children, with all care and kindness. I don't think there is any other country in the world where its people are being treated the way we, the Emiratis, are being treated and taken care of.

What would your love letter be to the UAE?

I love you, my UAE! I am who I am because of you and I would not have been me if it were not for you.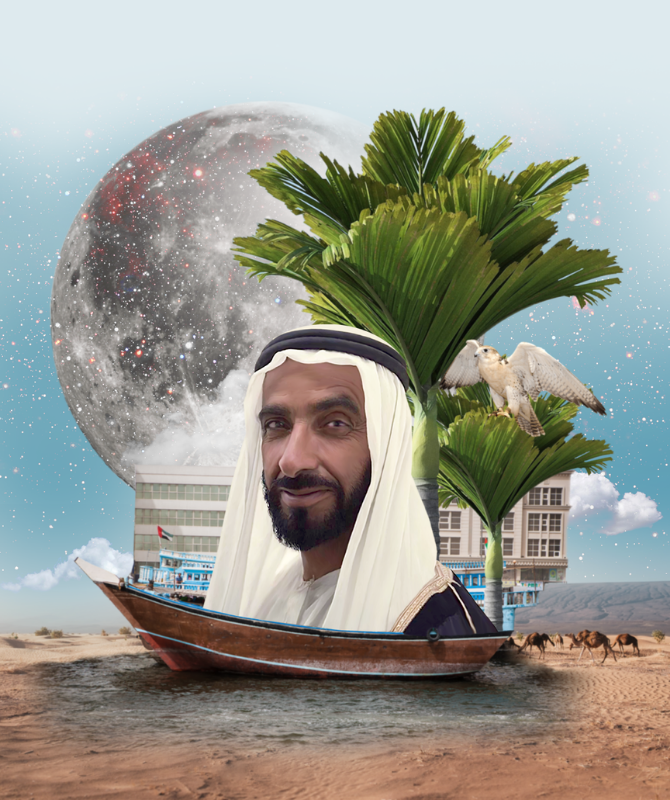 For the UAE in specific, this year was supposed to end very differently with Expo 2020 and was set to look forward to the next 50 years. How do you think the UAE coped with the pandemic?

I think it coped seemlessly as it was ahead of many countries in the measures that were taken to contain the pandemic. The country made sure that every person living in it, Emirati or a resident, had all the support needed to continue living and surviving this crisis.

How does the UAE empower its citizens and residents?

The UAE provides a healthy and secure living for all its citizens, Emiratis and residents alike. People come and go safely and securely without worrying and this empowers them to fulfil many of their life goals and dreams. This life of comfort and secureness gives them a life with less stress and worry, which brings out the other side in them — the side of creativity and self-development.

Now, read Shamsa Al Omaira's love letter to the UAE.