Each year, the Dubai Design District hosts the Dubai Design Week, the region's most prominent design festival. Running from November 7 to 12 this year, the Dubai Design Week will feature over 500 designers, architects, and creatives, exploring topics from avant-garde technologies to sustainability and design-led social impact solutions.
As the Emirate gears up for yet another season of Dubai Design Week, we are rounding up ten regional creatives to look out for during your visit.
ALYA OLA ABBAS
Syrian architect Alya Ola Abbas is bringing a sensory experience to Dubai Design Week 2023. Her installation, aptly titled 'Breeze Houses', is inspired by Al Barjeel, an architectural feature that allowed for natural cooling in traditional Emirati desert homes.
ALZAINA LOOTAH AND SAHIL RATTHA SINGH
Emirati architect Alzaina Lootah and Indian architect Sahil Rattha Singh present 'Naseej,' a wooden pavilion inspired by Emirati culture. The pavilion is crafted entirely out of recyclable wood and makes for space for quiet introspection. The design is inspired by Emirati weaving techniques, with each layer of wood carefully arranged to emulate the intricate patterns found in traditional weaves.
AREEN HASSAN
While you're at Dubai Design Week 2023, make sure to visit Palestinian artist Areen Hassan's installation. Titled 'Flowing Threads,' the piece is a clever take on the interconnectedness of humanity and the significance of transparency.
MAJID AL BASTAKI
Majid Al Bastaki, an Emirati architectural engineering student, is proud to present 'Palm Repose,' a furniture piece drawing from UAE farmers resting amid palm-laden landscapes. The bench honors the natural landscape of the region with a palm tree trunk repurposed from locally sourced trees as its focal point. Encased in a black metal frame, the bark is upholstered with cozy cushions, transforming it into a functional piece of furniture. This innovative piece celebrates local heritage and sustainable design, offering a fresh perspective on incorporating cultural symbols into practical objects.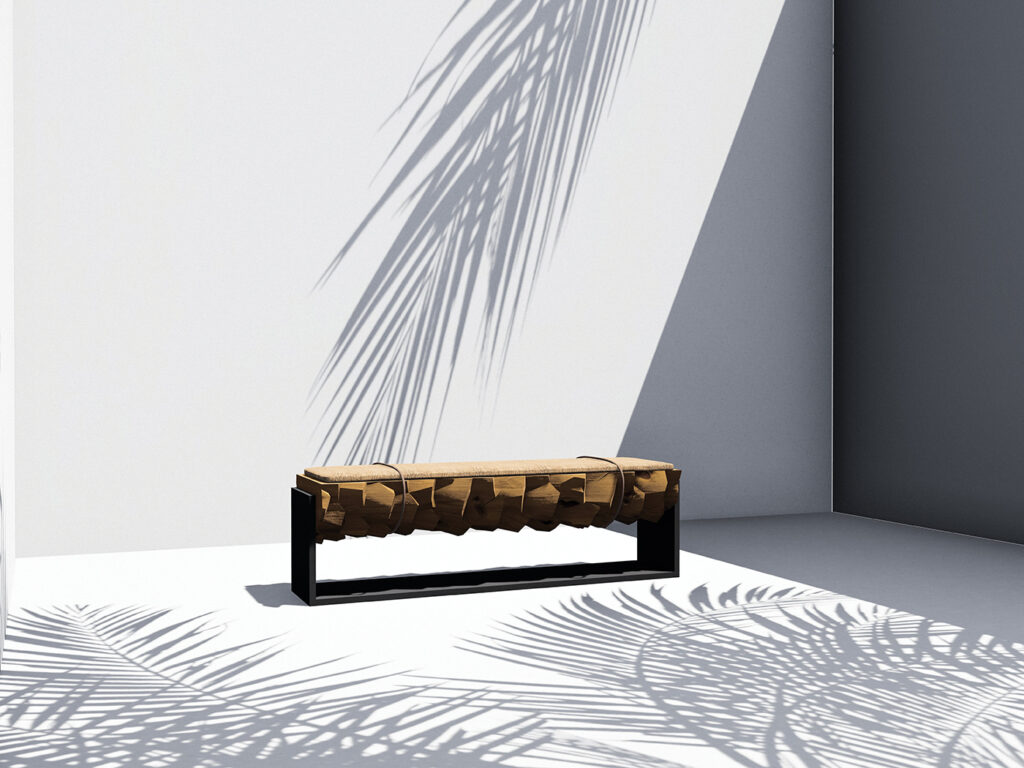 NUHAYR ZEIN
Nuhayr Zein is an Egyptian architect and the genius behind Leukeather, the world's first plant-based emboss-free exotic leather alternative. At Dubai Design Week 2023, Zein will showcase 'Al Mandoos, ' a jewelry box that marries tradition and innovation. Inspired by mandoos boxes (wooden chests) from the region, Zein's jewelry box commemorates UAE's 'Year of Sustainability' by incorporating concepts of unity, sustainability, and heritage in its proportions, materials, and functionality.
RAGHAD AL ALI
Palestinian architect, designer, and glass artist Raghad Al Ali will present not one but two art installations–'Gestures' and 'Ruffles'–that mimic the natural movement and fluidity of marine life using glass and 3D printed clay. 'Gestures' features rhythmic folds inspired by marine animals' motion, while 'Ruffles' consists of kiln-formed glass pieces that capture the flow of marine creatures.
RUND SAMMAN, OMAR AHMAD, AND ALI CHARAFEDDINE
Saudi Arabian Rund Samman, Palestinian Omar Ahmad, and Lebanese Ali Charafeddine, the co-founders of Parallel Studios, will feature a unique mirror installation reflecting (pun intended) the diverse population of the UAE. The special assembly of mirrors invites visitors to contemplate the intertwining nature of human existence.
SARA AL RAYYES
Bahraini architect Sara Al Rayyes, leading Orient Design Studio, intelligently repurposes discarded mother-of-pearl oysters from Bahrain's pearling heritage into sculptural creations as part of her Dubai Design Week 2023 showcase, 'Blessings of Iridescence.' This project honors and preserves the local pearling industry by integrating the oysters within architectural structures, highlighting their natural radiance and resilience. Using sustainable concrete as a composite material, the installation represents key visual symbols of the pearling industry and reflects the studio's mission to preserve culture through a modern and sustainable approach.
TARLAN FARAHANI AND RIMIA CHALHA
'Pulp Fractions' is an innovative installation by Iranian architect Tarlan Farahani and Lebanese designer Rima Chalha of TEE VEE EFF that repurposes discarded paper and cardboard waste, primarily from delivery boxes and paper bags, into stackable and adaptable structures. By using pressed and dried paper pulp, these modules offer a sustainable solution for reusing waste material. The resulting sculptural forms are both symbolic and functional, providing a unique narrative of innovation and aesthetics while addressing the issue of packaging waste.
WAEL AL AWAR AND KAZUMA YAMAO
Architects Wael Al Awar and Kazuma Yamao from waiwai studio in Dubai and Tokyo have transformed the traditional UAE palm frond structure, known as "Hadeera," into an urban oasis using sustainable salt-based materials. This innovative prototype demonstrates the enduring relevance of Hadeera for contemporary city life, providing a communal space for reflection and interaction amid the urban landscape. Their design combines local vernacular architecture with modern sustainability considerations, addressing social and environmental challenges while fostering cultural connection.
ALSO READ: FROM WORK TO WEEKEND: DIOR HAS NEW VERSATILE DENIM OUTFITS FOR MEN.