Paris+ Art Basel strikes again.
If September in Paris is dedicated to Fashion, October can be easily called the Art month thanks to the countless art and design events that take place over the course of several days. And all of it thanks to the hottest art gathering in Europe, Paris+ Art Basel (20-22 October), that last year replaced FIAC, the leading but less international French art fair. The second edition united 154 galleries, including 61 local names, in Grand Palais Éphémère, a temporary structure two steps away from the Eiffel Tower. And with the Brazilian Gallery Mendes Wood DM and the Swiss Hauser & Wirth opening their Parisian spaces during the same week, it seems only natural that the international art dealers are flocking to the City of Lights in search of the rarest finds. Another case in point: the exhibitions from the new Parisian cultural institutions supported by two leading French fashion fortunes François Pinault and Bernard Arnault: Mike Kelley's retrospective (through 19 February) opened in Pinault's Bourse de Commerce just a few days before Paris+ Art Basel and so did the historic blockbuster Mark Rothko exhibition (though 2 April) at the Arnault's Louis Vuitton Foundation, attracting art lovers from all around the world.
Among the highlights of the Paris+ Art Basel one could not miss Robert Rauscheberg's "Untitled" (1962) sold for $2mn at Thaddeus Ropac, a yellow Triumph TR6 with two "Bunnies" by Sarah Lucas (2023) parked in the center of the booth at Sadie Coles (priced at £950 000), and the most expensive and never-sold Mark Rothko's "Olive over Red" (1956) priced at $40mn from the financier Thomas H. Lee's collection, who died earlier this year, which was central piece at Pace (the move was to mark the artists' retrospective at the LV Fondation, so the other works on view were newly commissioned to the gallery's artists that worked with Rothko as an inspiration, all of them sold out). If you got the impression that to own a piece of art you need to be a billionaire – worry no more, this season the Korean artist and philosopher Lee Ufan created two minimalist espresso cups with his iconic brushstrokes for Illy that have been celebrating contemporary artists for more than 30 years now (the set will be available to order worldwide for €51). Ufan is one of the hardest to get living artists, during art week his one-of-a-kind masterpiece was sold between €700,000 and €800,000 at Mennour.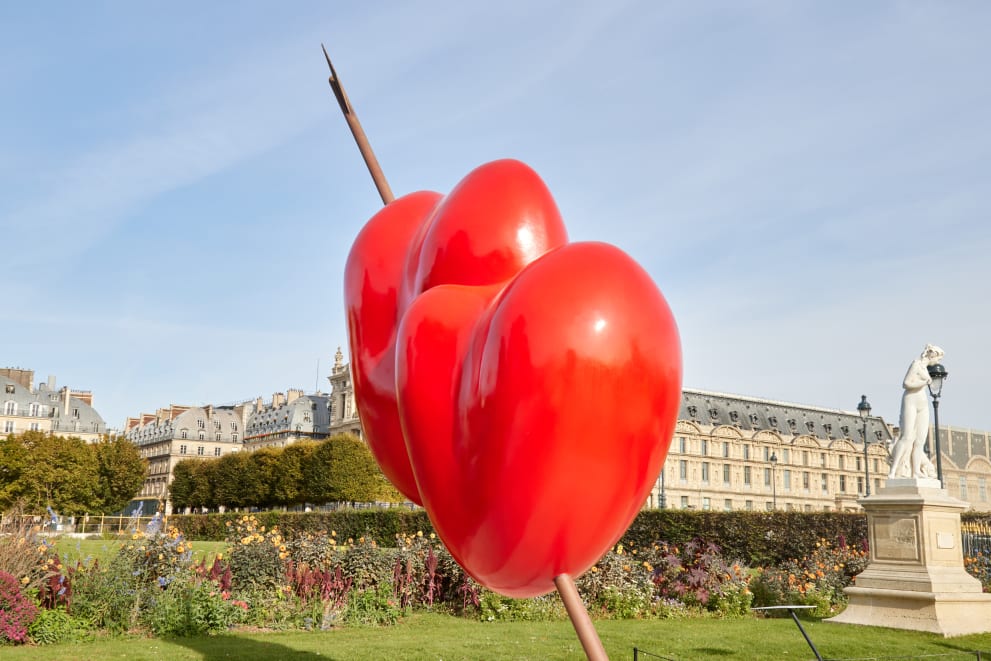 When art comes to Paris, it's also celebrated everywhere on the streets – and the Parisians and tourists seem to love it. This year, the public citywide program featured Urs Fisher's monumental five-meter-high aluminum "Wave" sculpture on the Place Vendôme (on view until 1 December), Sheila Hicks' textile monument "To the New Horizons" on the parvis de l'Institut de France, and 25 sculptures signed by Alex Ayed, Alicja Kwade, Claudia Comte, Zanele Muholi, Nicène Kossentini, and Gaetano Pesce among others, in the Jardin des Tuileries (those will stay until 10 November). While Daniel Buren and Michelangelo Pistoletto took over Paris's Palais d'Iéna (until 29 October).
Next year Paris+ Art Basel will move to the legendary and iconic Grand Palais, which will finally open its doors after three years of renovation, and we can't wait to see what other art surprises will be on view.
Design Miami/Paris: design boom in the city of Lights.
Who says art buyers and collectors, also thinks about design fairs. For the first time, Design Miami took over Paris at the same dates as Paris+ Art Basel (the art aficionados know that the two fairs are like twin sisters in Miami). The inaugural edition was supposed to happen last year in a tent on Place de la Concorde to coincide with Art Basel's debut in Paris, but was canceled at the last minute due to Yellow West protests. So here we are, one year later, 27 leading design and jewelry players from all corners of the world showcase their latest finds in the 18th century mansion on Rive Gauche. L'Hôtel des Maisons used to belong to the Pozzo di Borgo family and later was a home to Karl Lagerfeld (and it's also exactly here that Francesco Risso chose to stage his Parisian show for Marni just a few weeks ago). So no tents, only Maison's lavish interiors (by the way, galleries were not allowed to modify them). A very Parisian way to present design, n'est-ce pas?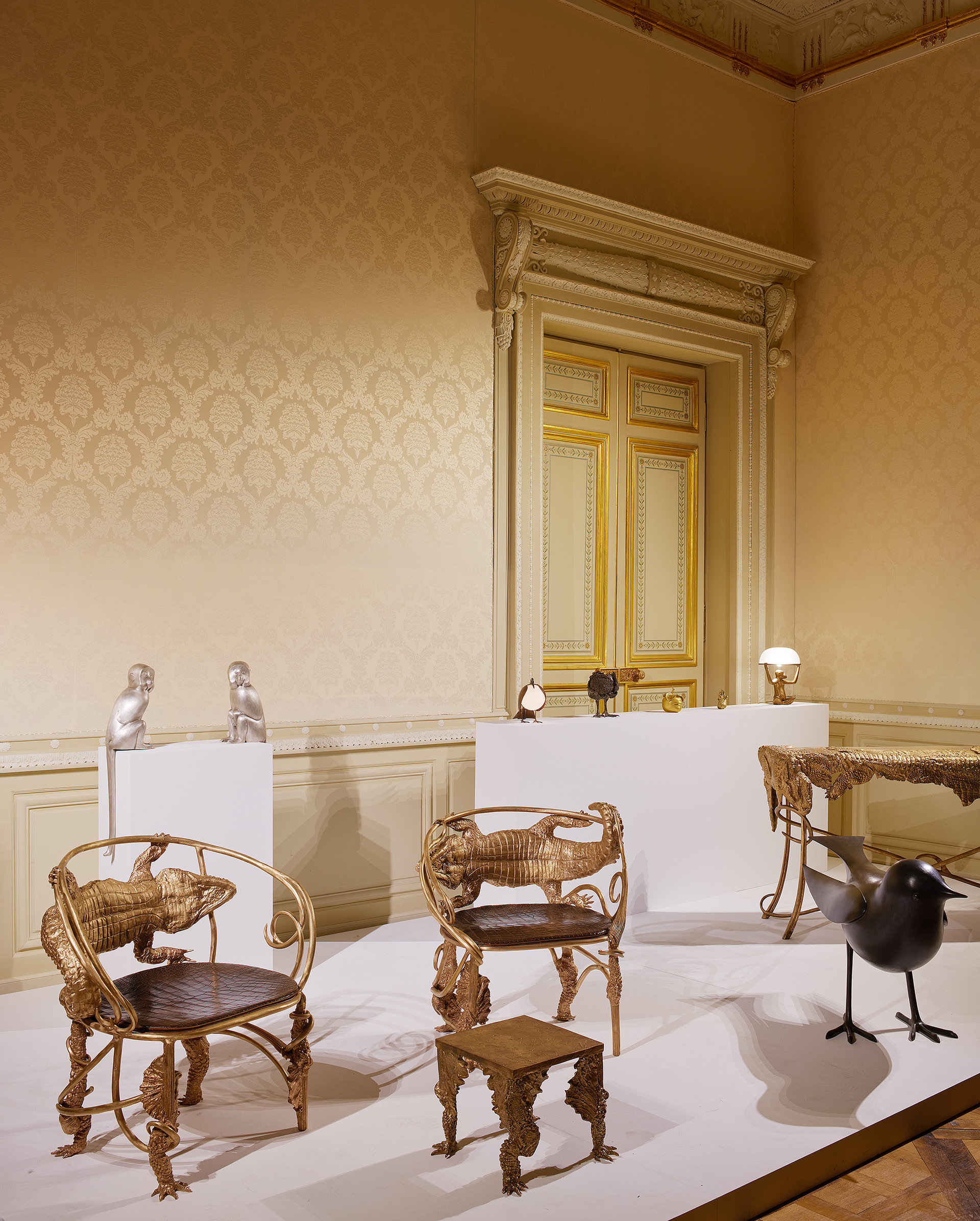 Among the most curious findings spotted during the fair were Jean Prouvé's 6×6 demountable house settled in the garden of the Maison presented by Galerie Patrick Seguin (sold on the first day, unsurprisingly), François-Xavier Lalanne's lovely monkeys at Galerie Mitterrand and a life-size donkey "Ane Attelé" (1989) spotted in the courtyard, Bulgari Serpenti watches from the 60s showcased at Karry Berreby (if you are a fan of vintage jewelry, note down her name, it's one of the hidden addresses of la Parisienne), the cherry red Polar Bear sofa set (1955) by Jean Royère at Jacques Lacoste (won the Design Miami's award for best historical piece), and Dan Pollock's pair of blocky wood chairs at Galerie Desprez-Breheret, nestled in Lagerfeld's dressing room.
Other design highlights of the week included a colorful "¡ Hola Paris !" exhibition of Mexican designers, selected by India Mahdavi's friends from Mexico AGO Projects (runs until 4 November), an unconventional and chic Thema design salon on Rue de l'Université, just in front of the Design Miami/Paris location, and a gastronomic experience by Parisian darlings We Are Ona. They teamed up for the occasion with Michelin-starred chef Dalad Kambhu and designer Harry Nouriev of Crosby Studios, who created a one-of-a-kind decor celebrating the unseen part of restaurants – the dishwashing space. The work of the latter was also celebrated last week at Mobilier National, French's institution for state furniture that owns some of the rarest pisces created by international designers ranging from tapestries, ceramics, to chandeliers and all types of movables (the fashionistas know it thanks to Véronique Nichanian from Hermès that staged a few Hermès men's shows in this space). If you are planning to travel to Paris any time soon, La Carte Blanche à Harry Nuriev runs until 7 January.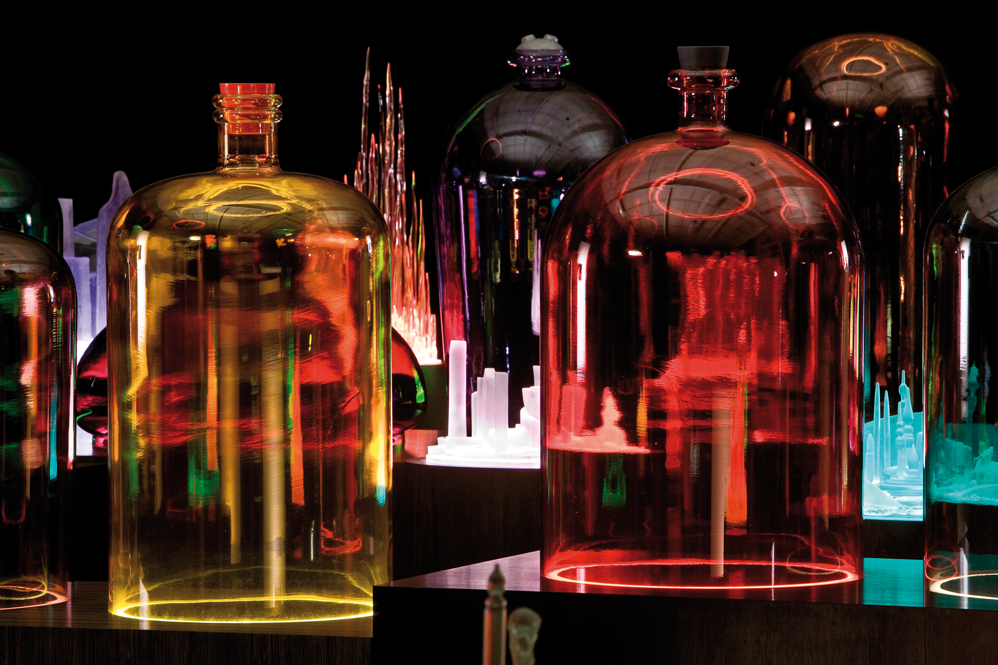 ALSO READ: THE LOEWE SS24 CAMPAIGN, STARRING 88-YEAR-OLD MAGGIE SMITH, PROVES THAT AGE IS NOTHING BUT A NUMBER.