The 2nd Wearable Art Gala was held in Los Angeles this weekend and the entire Carter clan was in attendance. Whilst Jay Z donned a slick navy suit, Beyoncé and daughter Blue Ivy wore matching gold looks. Beyoncé's dress was designed by Falguni Shane Peacock and was inspired by a Nubian warrior queen, according to WWD.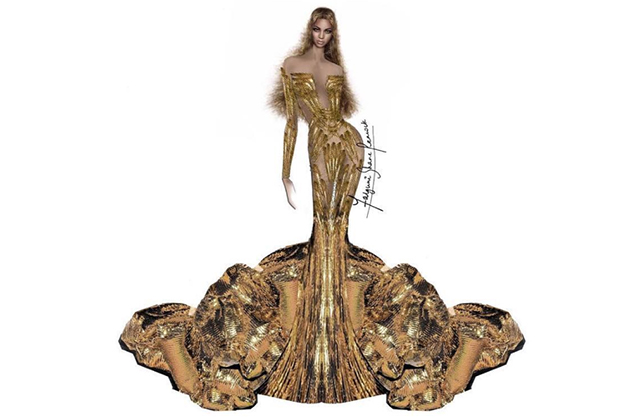 Queen B was honoured on the night, receiving the 2018 Humanitarian award, presented to her by mum Tina Knowles Lawson. According to People, Tina said of her daughter, "Honouring Beyoncé and Mrs. Carter is just an honour for us because so many people have asked to honour Beyoncé and she's always said no. So, she couldn't tell me no because I'm her mum. But the brave thing is that she has done so, so much for humanitarian methods and she never really talks about it or does a big hoopdeedoo about it." She added, "She gets on buses with these kids and goes on college tours, she gets prom dresses. They're both just changing the world and it's amazing to get to honour them."
However, despite her standout dress and award, Beyoncé was somewhat overshadowed by six-year-old daughter Blue. During the auction section of the evening, the famous offspring raised her paddle to bid Dhs65,000 on a painting, reports Vanity Fair. Jay Z jokingly tried to stop the youngster from purchasing the piece, however, she raised her paddle again at Dhs70,000. Luckily, she was outbid by director Tyler Perry who scooped the piece for Dhs73,400.
Blue Ivy out here bidding $19,000 for art. *cries in poorness* pic.twitter.com/SBoYL57Upq

— Proto (@The__Prototype) March 18, 2018
The magazine reports that Blue was eventually successful, however, landing herself a piece by Samuel Levi Jones for a cool Dhs36,700. We assume (/hope!) this time around she had her parents blessing!
Now, see who else is lined up to play alongside Beyoncé at this year's Coachella event.