After a year of forced hiatus, the Abu Dhabi Art fair is finally returning to its physical format this week, with an impressive (and diverse) line-up of galleries and artworks.
Organised by the Department of Culture and Tourism, the fair will see approximately 50 galleries from 19 different countries, as well as 14 new galleries joining from Colombia, France, Hong Kong, India, Iran, Italy, Jordan, Saudi Arabia, South Korea, Singapore, Spain, Turkey and the United Arab Emirates.
Hosting new curatorial frameworks by renowned curators and newly commissioned artworks, you can expect a rich curated fair programme experience, including Kind of Blue, a curated sector for the art fair by Simon Njami; the Performing Arts Programme, curated by Rose Lejeune; and the Beyond: Emerging Artists programme, curated by Sam Bardaouil and Till Fellrath.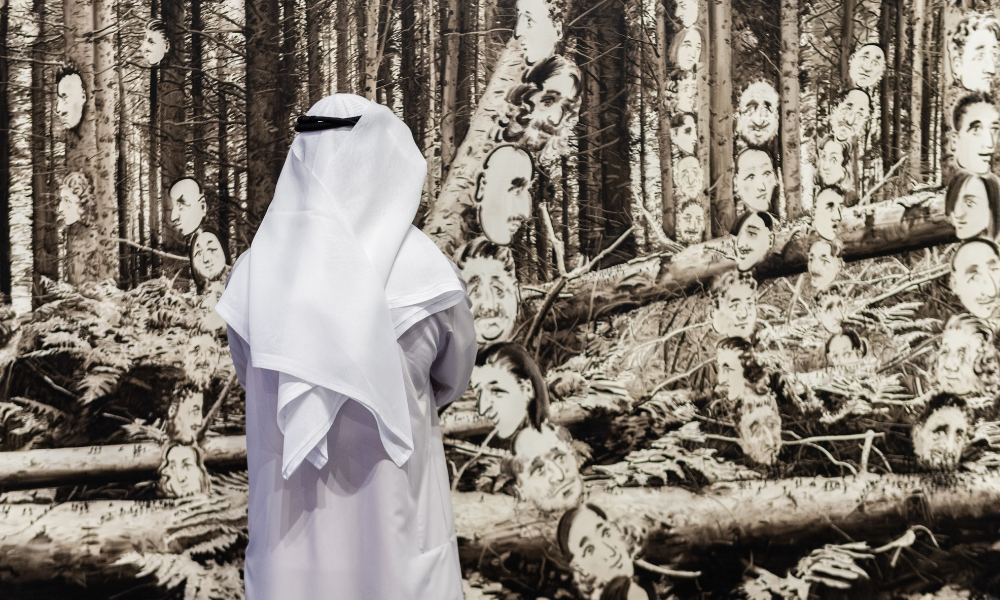 "Abu Dhabi Art has officially opened with a near-record number of 49 galleries presenting exceptional booths, which speaks to the thriving art community in the UAE and the support shown here in Abu Dhabi for artists and galleries during the pandemic, through our online edition last year and throughout the year," says Dyala Nusseibeh, Director of Abu Dhabi Art. "Returning galleries can't wait to reconnect with members of the public and collectors in person once again and first-time exhibitors look forward to meeting all the supporters, visitors and patrons that shape the fair each year."
Some other key highlights to visit is the Modern & Contemporary gallery sector of the fair – featuring 26 galleries from 15 countries around the world – presenting a wide range of works by different artists; and the Special Projects gallery sector, which will feature 21 galleries from 6 countries, presenting curated booths by one, two or three artists.
This year's ambitious programme will also see five new art commissions, with works being shown in cultural sites throughout the capital. These artists include Aya Haider (at Al Jahili Fort in Al Ain), Hazem Harb (at Manarat Al Saadiyat and Jebel Hafeet Desert Park in Al Ain), Dr. Najat Makki (at Manarat Al Saadiyat and at the Al Ain Oasis) Rasheed Araeen (at the entrance of Abu Dhabi's Cultural Foundation) and Richard Atugonza (at Manarat Al Saadiyat and Jebel Hafeet Desert Park). The artists' works will be revealed during the fair and will remain on view to the public until 22 January 2022.
Abu Dhabi Art is open to the public from the November 17 – 21. For more information on Abu Dhabi Art's 2021 programme and tickets, please visit tickets.abudhabiart.ae.