Rihanna is in the house. And by the house, we mean the Armani Hotel's Armani Ballroom, where the music star turned beauty mogul held her first ever Fenty Beauty masterclass overnight. Hundreds of makeup artists, editors and fans were at the event to hear straight from RiRi hersef, and she did not disappoint. Joined on stage by her two Pro Global Makeup Artists, Priscilla Ono and Hector Silva (as well as models Halima Aden and Leomie Anderson), Rihanna entertained the crowd (whilst wearing new season Burberry) with stories about makeup and the creation of her eponymous line. One thing's for sure, the woman knows everything there is to know about makeup. Not once during the hour-long event did she deflect any questions to the Pros — whether formulation, favourite products, or tips and tricks, RiRi shared her own personal insights with the crowd like a total professional. Here's what we learnt from the day: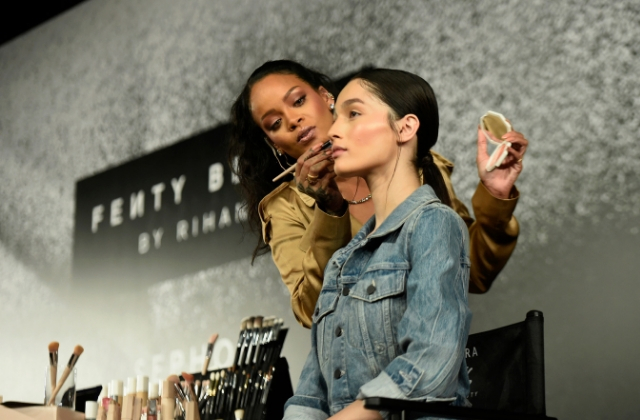 Her favourite product is…
"Invisimatte Blotting Powder is my favourite product. I do not leave the house without it. As I told you, I am anti-grease. I like dew but I do not like grease."
Her foundation shades…
"I wear 320 when I'm not tan, and 360 when I've been on holiday and I'm more tan."
Up until recently, she did all of her own tour makeup…
"I only started using makeup artists on my last two tours. I always did my own makeup before that and that's how I learned. You can't know certain things unless someone shows you or you learn it yourself. I love doing makeup, it is such therapy for me."
Why she loves the Moroccan Spice palette…
"I can't leave my house or go on any trip wihout having the Moroccan Spice palette. It has every base that I need to start my look. Cumin Get It is one of my favourite colours, you can create any look from that."
How she likes to wear a bold lip…
"When I'm wearing a bold lip in the day, or anytime, I like to do something really subtle on the eye. I like to create a shape that's really solid and then go in with a little bit of grease. But I don't like to go all out unless it's a specific look. The blold lip works best for me when I've got a clean eye and a lash."
Her advice for flawless skin…
"Work hard, don't sleep and wear Fenty Beauty girl!" (laughs)
She takes her job as creator of Fenty Beauty really seriously…
"I take formula really seriously. I don't play with that. I will send something back to the lab a thousand times. I will promise to put something out and then it will not make it to the shelf because it's not perfect. If it's not perfect, it cannot come out."
There's more products on the way…
When asked by a member of the crowd if she's planning on launching eyebrow or lash products, she replied coyly, "There will be no stone left unturned."
During the event, Rihanna unveiled the newest shade in her Stunna lip paint range — a universally flattering black called Uninvited — for the first time globally. It is now available in Sephora stores and online at Fentybeauty.com.
In case you missed the event yesterday, head to our Stories for your all-access pass.
Now, find out more about Rihanna's new government role in Barbados.