The holiday season comes with a different kind of glam on its own. From plenty of sparkles to bold pouts, it's a blend of sultry yet classic in our opinion – and we're so here for it. This season, our actions are aimed at finding the perfect go-to holiday party look and recreating it for every event booked on the calendar.
If, like us, you're a sucker for beautiful packaging, Charlotte Tilbury's gift sets and holiday collections feature the ultimate offerings, packed with limited editions, mini sets, stylish boxes and stunning shades – making them a perfect gift for your mom, sis, BFF, or yourself.
Thankfully, Bella and Sofia Tilbury – nieces of the ever-so-great beauty powerhouse Charlotte Tilbury – have jet-setted to Dubai to lend a hand (or two) to share their tips on festive beauty, the biggest beauty trick they've learned from their aunt and a little magic they're hoping to see this festive season.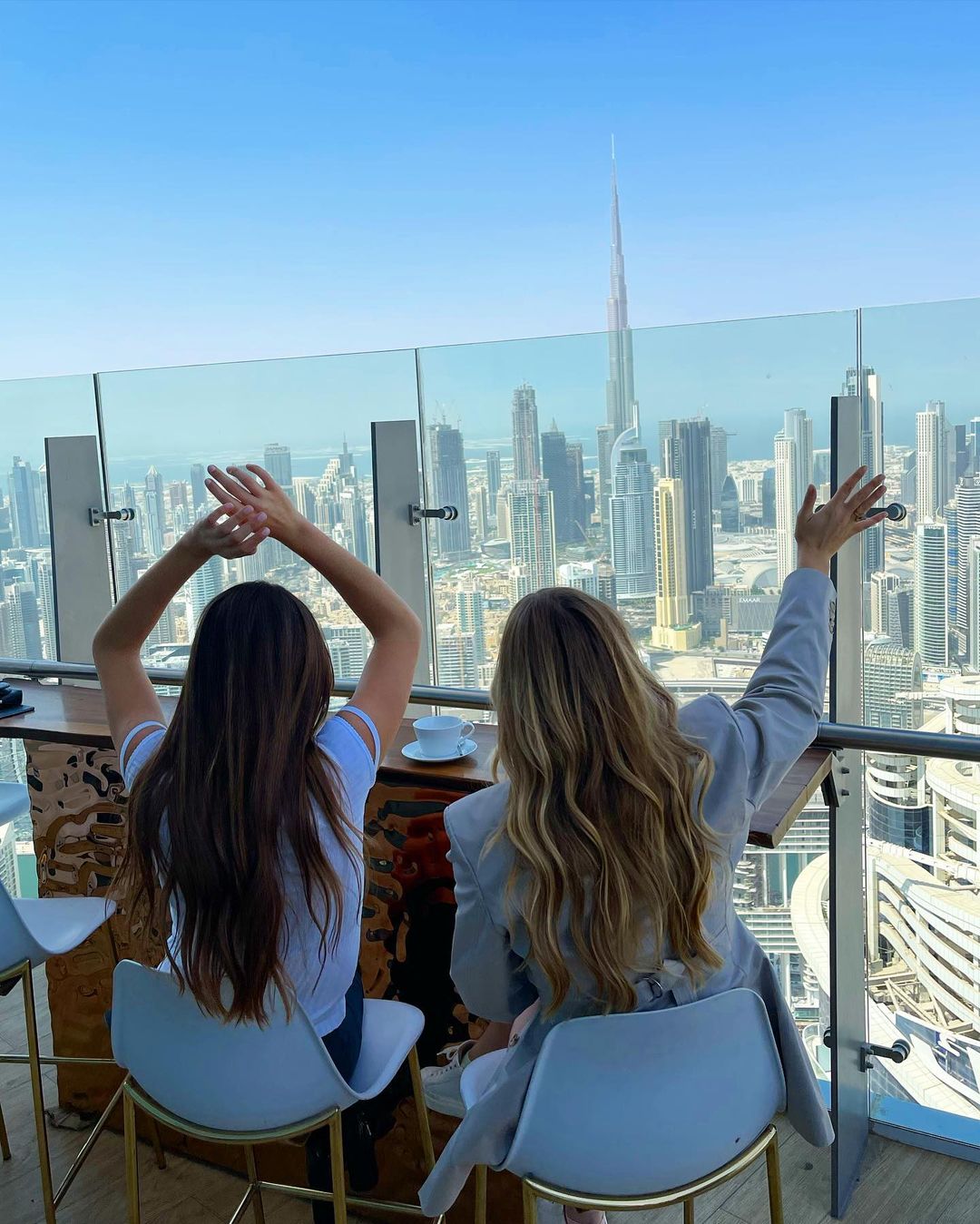 What is your approach to festive beauty?
Bella Tilbury: I love pop! I love pop shades! I love the glittery eye, a flick with a red lip.
Sofia Tilbury: For me, I think it's all about sparkle. I love the sparkle in the eyes. All our pop shades in our little palettes are amazing to create that gorgeous sparkly festive eye. And the other thing I like is glowy skin.
The festive season is where you get to experiment with your look…
ST: I love seeing people experiment with makeup. I feel like you can create a gorgeous smoky eye with a bit of a pop. Around Christmas, a lot of people like putting on lipstick or smoky eyes. And gorgeous glowing skin. I love glowing skin.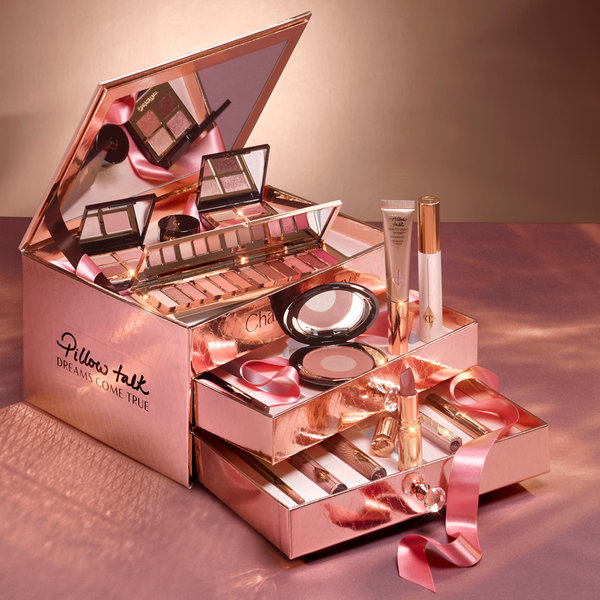 What is the secret to beautiful complexion?
BT: Skincare.
ST: A good foundation and a good concealer.
BT: Yeah, of course. But the prep before you put on any complexion is like, Charlotte really hones in a lot of that. She's like, take care of your skin. I feel like Magic Cream is actual magic skin. The serum too, with the Magic Cream and with the Cryo Mask. It's just about having a good routine with your skincare, and maintaining that glow, and elevating that glow further.
ST: Charlotte always says, you can't have a beautiful painting without having a beautiful canvas. So, she really tells us to hone in on our skincare. Use our skincare every day, morning, and evening, don't miss a step. So yeah, I think it comes down to skincare. And then obviously a beautiful foundation and concealer.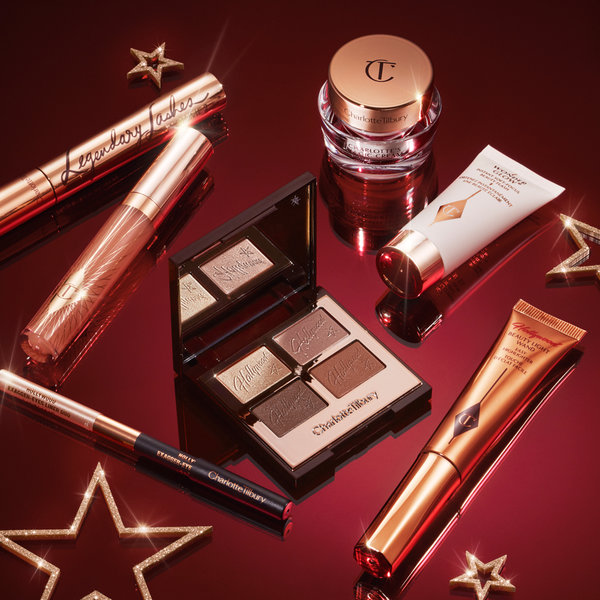 What is the biggest, or single trick that you learned from your aunt?
ST: I've learned so much from that woman. I can't even tell you.
BT: She's just amazing. It's like she knows every point.
ST: Let me think – she taught me how to create a feline flick. So, for me, I feel like Charlotte is all about feline flick and she literally can do it in seconds, especially on herself. She taught me how to create that classic tilt briefly line flick. A lot of the time, you can identify if Charlotte Tilbury's makeup by the flick and the glow on the skin. But I guess Charlotte's beauty hack for everyone was her brand.
BT: Yeah, exactly. And it comes with the branding. The DNA of the brand is to empower people to do their own makeup.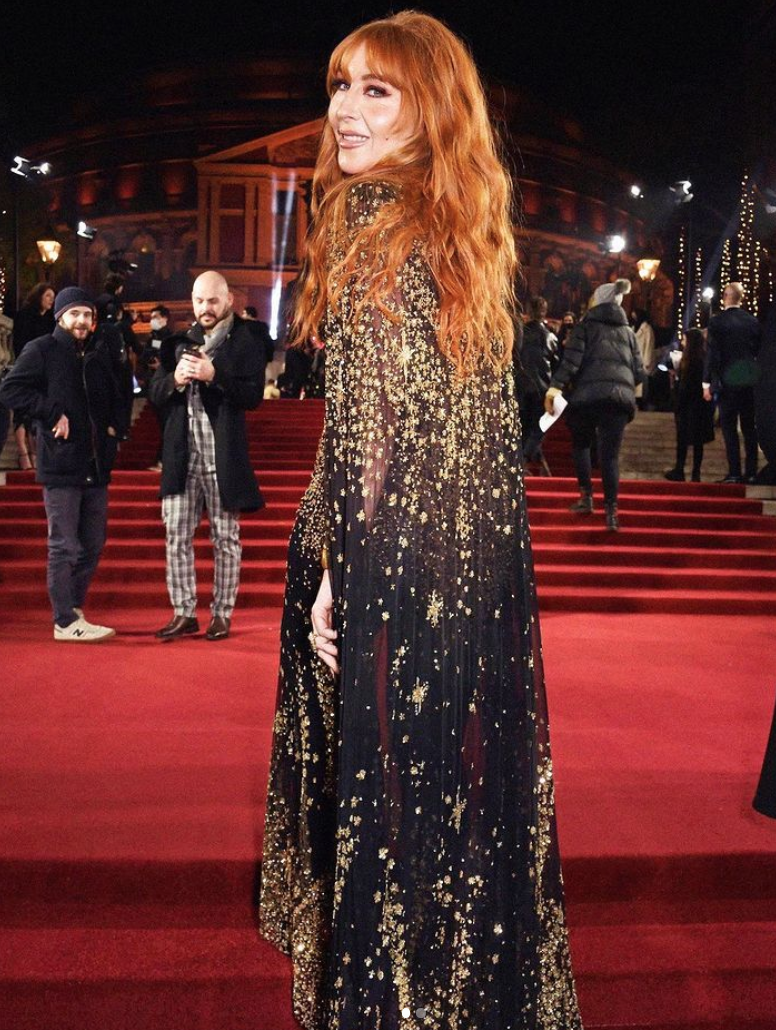 If you were going to a deserted island and could only take five Charlotte Tilbury products with you, what would they be?
ST: Thank God it's five!
BT: It's really hard! I would say the little mascaras, Hollywood Flawless Filter, Magic Cream, I love blush, so I think the little pink blush and I'm a big foundation girl. I feel naked when I'm not wearing foundation.
ST: I think I know mine. I'm really torn between Magic Cream and Magic Serum. I really don't know which one to pick! (Pauses to think) OK, I would do Magic Serum, I would do the SPF because I love that stuff – you want something to protect your skin, the Full Lashes Mascara, Beauty Medium Lip Liner and Lip Tint in Pastel Pink. And I must put this one in the Airbrush Flawless Powder. I can't live without that stuff. That powder saves my life. So, above probably anything else, it's the powder.
What makes the Airbrush Flawless Powder such an iconic product?
ST: It's the #1 seller, and it's got sweet almond oil and a rose wax in it. It's super hydrating powder. It's in everyone's makeup bags. It hides all the pores, smooths out the skin, and you can reapply it throughout the day.
So, it would work in the Middle East then. What other products do you think would resonate with the Middle Eastern climate here?
ST: Charlotte is going to want to make me say Magic Cream, so Magic Cream with love (laughs). And, by the way, Pillow Talk is all around us. It's everywhere!
BT: It sells out every twelve seconds. Every twelve seconds across the wall – it's insane! The thing with Pillow Talk with Charlotte is like, all the Charlotte products suits everyone. She has created shades for everyone. She wanted to make sure that anyone everywhere can use it. Pillow Talk is like universal craftsmanship. Let's make it for everyone and make everyone feel and look beautiful.
Magic is such a big thing for Charlotte Tilbury. What's a little magic you're hoping for this festive season?
ST: For people to go have fun, to get glammed up, go out, enjoy being with your friends, and enjoy being with your family! I think this whole collection is about spreading joy, happiness, and positivity. We've had a really rough two years with COVID. We haven't seen a lot of our family for a while, and our friends. With this collection, we just want people to have fun with it. I think that's my message with the magic. And I think that would be Charlotte's message as well.