Terezi's passion resides in the meticulous curation of pure, untamed elements sourced firsthand from global expeditions, as he weaves together his love for nature with his creative pursuits. Throughout an extensive career collaborating with renowned fashion and design icons across the globe, Terezi finally found harmony alongside Tiziana, birthing their distinctive brand in the year 2012.
1.If you could give one advise to a woman or a man who haven't found their scent yet, what would it be and why?
I always suggest taking time when choosing a fragrance for yourself or a loved one; it is a process that goes beyond the ultimate effect of the fragrance on the skin. Scent accompanies us throughout the day and are the best narrators of our story, because they expose our mood and personality to those around us. It is an intimate part of our Being and it should be handled with care. Therefore, I always recommend dwelling a while on the heart notes of the essence, because they are the true song of the perfume and represent what others perceive of us. In fact, the light and pandering top notes flee quickly in less than a few minutes, giving way almost immediately to the persistence and strength of the heart supported by the base of the perfume. From the physical point of view there are elements such as our skin phototype, and odour determined by our PH that definitely play an important role. On the other hand, the fragrance we wear allows us to project also who we are, what we feel at the moment, and at times it allows our most hidden emotions to reveal themselves. These are variables that highly influence how scents are perceived on different people.
2.You are known for your 'unconventional side' and you call yourself 'politically incorrect nose', why is that?
Tell us some stories about these nicknames. Following rules has always been a limitaYon for me and in order to innovate you have to explore, taking risks including that of not being understood. SomeYmes it is easier to stay in comfort zones in order to succeed, but we are creators of wonder and this is always our goal. We act by following inspiraYon, stepping out of the mold and the known to venture where the balance of notes touches dissonances that generate harmonies never heard before. Our innovaYve research has transcended the boundaries of known perfumery by deconstrucYng the classic olfactory or, in this case, "poliYcally correct" pyramid of perfume, where top, heart and end notes are the elements on which stylisYc creaYon is based. We have succeeded in transforming the creaYve structure from a pyramid into a spiral, opening up new worlds and new categories, even on the perfume wheel.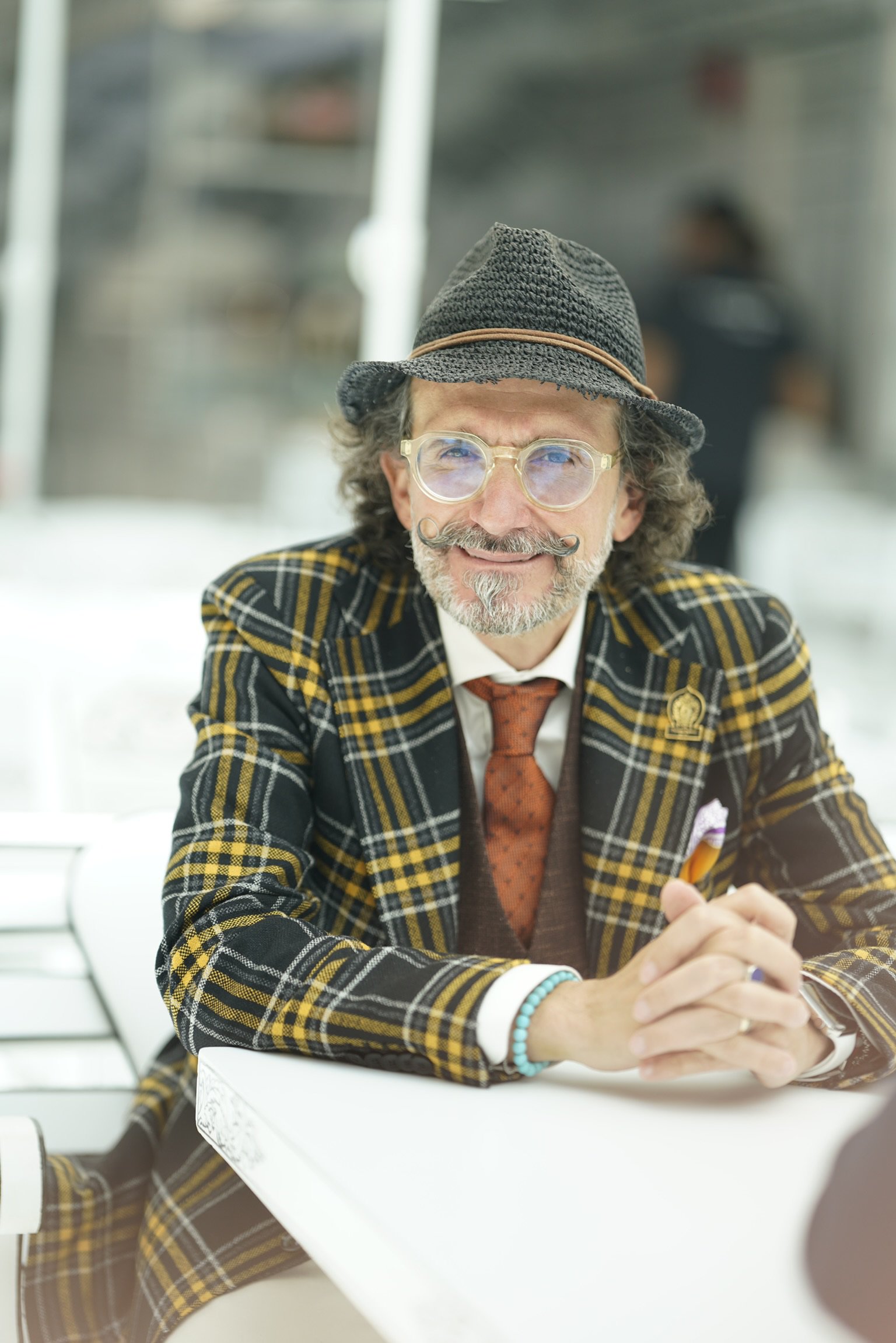 3.What is 'compose beauty' and why did you make it your philosophy?
It represents that specific period in life when beauty entertains the soul, and a moment becomes eternal. These universal feelings are transformed into scented journeys that are captured in our priceless bottles of perfume extract. Tiziana and I have a say that we embrace in everythig we do: Good things are beautiful, because it is beautiful to fee good. I absolutely love everything that is extremely beautiful, and I am deeply attracted by every form of art without boundaries, free to express even the pushiest nature of aesthetic. I am in awn of a strong taste for beauty in its most unique form of expression through a personalized style. For us at Cereria Terenzi, the creation of our perfumes is not only an extraordinary and ancient craft, handed down through three generations, but above all the ultimate expression of our inspirations experienced through the universal emotion of wonder. Artistic perfumery is therefore considered the eighth art because it is capable of embodying the perfumer's feeling and transforming it into a sentimental vibration that becomes pure liquid wonder sprayed onto the skin.
4.If you could pick one scent from Tiziana Terenzi to use for the rest of your life what would it be and why?
My favorite scent is the one that I have yet to be created, because this wonderful journey through emo;ons and experiences around the fire of life will never end. "Listening" to a perfume takes ;me and pa;ence. Scents, like a symphonic melody, evolve over ;me and a quick sniff is not enough to fully understand its explosion of perfumes. I consider all our crea;ons as children and I do love them all equally; it is tough having to choose which one is the favorite among your children.
5.Tell us a fun memory you have with your grandfather about perfumes.
My Grandfather, Guglielmo, taught me all about perfumes. He was my Teacher and my eternal example of style. Together with my grandfather as a child, I walked through the woods, surrounded by the wonderful and unspoilt nature of the beautiful Italy. Being a Perfumer, he taught me to recognize all the smells of nature and to compose my own olfactory tunes. He would pick flowers and, with my eyes closed, I would play at guessing the species. He would break a sprig of wood and I had to recognize the plant. I always bring the scent of nature with me as my universal sentimental dictionary with which I write my olfactory poems.
ALSO READ: TONE YOUR FACE MUSCLES WITH THIS REVOLUTIONARY TECHNIQUE FROM 23MD CLINIC IN DUBAI.