When it comes to beauty industry, we're always on the look-out for the newest brand to know. And Sephora Middle East has just delivered us a spectacular new option. NudeStix is a revolutionary, cruelty-free brand that follows the less-is-more approach with a range of multi-functional products that make looking good, really easy.
Two of the Co-Founders behind the brand, Taylor Frankel and mum Jenny (Ally Frankel is a Co-Founder, too), were in town this week to talk about their exclusive launch in Sephora stores across the Middle East.
Speaking to Buro 24/7 Middle East whilst unfolding tins filled with beautiful sticks and crayons, Taylor shares her story on why she started Nudestix, the best advice mum Jenny has given to her and Ally, the importance of their packaging and a fun fact…
Welcome to Dubai! What inspired you and your sister Ally to start your own beauty brand?
Thank you! So, Jenny has a long beauty history, she has been in the industry for over 20 years. She started working with M.A.C Cosmetics where she helped oversee the product developments, and then she created another brand called Cover FX when my sister and I were both in diapers, so way back then (laughs). Fast forward 12 years, this was her opportunity to connect with my sister and I, and how do you connect with your two teenage daughters? You literally have to go on all of these social media platforms, and she realised that we were only following lifestyle brands.
Why was that?
It wasn't necessarily about the perfect beauty for us. We didn't care for the artistry because we're not artists. We didn't care for the perfect eye, the perfect cheek, or the perfect lips. For us, it was really about looking like ourselves but better and so we wanted beauty to be relatable and authentic to our lifestyle.
So the more [Jenny] learned about what we liked and what we didn't like and who we follow, whether it was on Instagram, a lifestyle blogger, a YouTuber, fitness, food or fashion, she realised that the beauty industry was not talking about these modern women because they spoke so much about artistry and more colours, more coverage, more time and steps.
So how did Nudestix first come about?
We wanted to create products that were easy, fast and effortless and typically the thing we don't have as women, is time. We are always doing our make up on the go. Even if you stand on the sidewalk, it doesn't matter if you are in Dubai or New York, in LA, Toronto or Paris, we noticed that the everyday woman, is wearing a little bit here, a little bit there and if not nothing, it's because she feels that maybe there are no options for her. She feels that maybe she has to wear everything, and that is really what it was like about five, six years ago.
so we came up with this concept with nudestix because we truly felt that there was this gap in the industry for a brand that is a lifestyle and that was talking to this modern day woman.
When I say modern day woman, she can be 18, 35, 60, it doesn't matter. It's truly about a way of life and a way of looking at beauty.
Your collections have garnered immense support across the globe. What makes your products so effective and different?
Now, you're seeing more and more beauty brands speak about makeup and saying that "less is more" and we wanted to create neutral tones so that you look like yourself but better. When you look on the sidewalks and when you look at the real world, you see real girls and women and they're not wearing blue eyeshadow or a bright lipstick or spending an hour doing their makeup.
Like for me, I'm not an artist and I still don't know which brush is for which part of the face (laughs). Even if I did know and if I try to blend up one day, I'll be like, "you know what I don't have time" or "I couldn't be bothered." That's just real life.
So that was the inspiration behind Nudestix. So Nudestix, everything is a shade of neutral and so regardless of your skin tone, you have a neutral shade for you. Also, our main hashtag is #GoNudeButBetter and you know, not only are nudes super wearable for every day but you're seeing nudes on the runways, on red carpets, on celebrities because that is truly what everyone is looking for.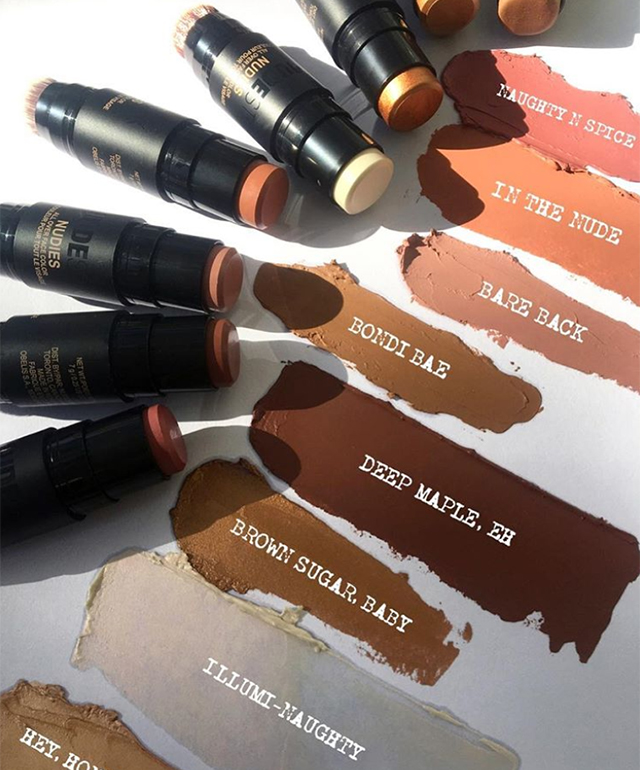 Nudestix is known for being cruelty-free and vegan. Why was this important to you?
I think specifically with my sister's generation, even my generation but more so hers, not only do they really care about how a certain product looks, but they want an ethical reason behind the brand.
How do you name your products?
When we first launched Nudestix, some of our lip colours like Mystic, Whisper, Love, Wicked, all of those were actually named after urban fantasy books. So my mum, my sister and I actually have this thing for vampires and werewolves (laughs), so anything that is urban fantasy. We would actually go through our books and find a name inspiration. Fun fact!
Your packaging of the tins is really interesting. Where did that idea come from?
My sister Ally, who was 14/15 years old when we launched Nudestix, said: "Why do we have to keep throwing the packaging away and how come we never reuse it?" and we thought well, that's really smart, let's just do that.
So we purposely created the tins so that they're smaller than your smartphones. If you think about it, how many girls carry a big bag these days? I think it's really practical, portable and great for travel as well.
Everything you purchase in our stores or online come in these tins and it's our final packaging so there's nothing to throw away. We did this because we wanted to recycle and minimise our packaging. Inside you have a mirror so you can always do your makeup on the go, as well as a pencil and a sharpener , and a vellum that shares tips.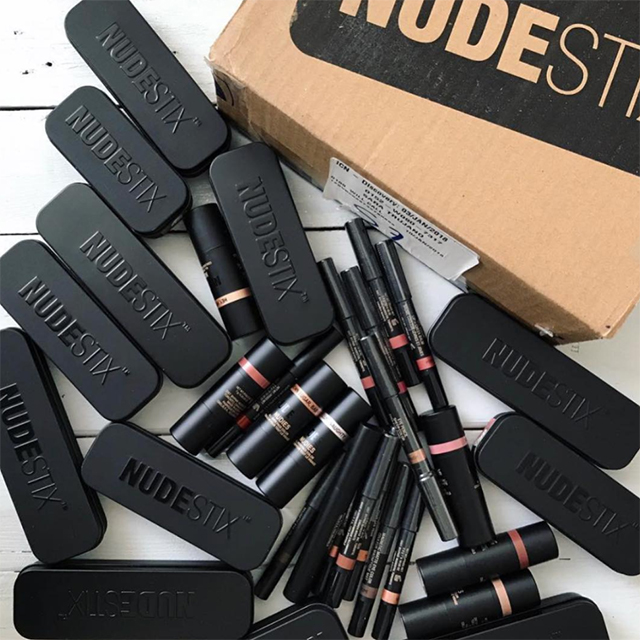 Speaking of practicality, your products are really easy to use…
Everything is in a stick or pencil form and we created sticks so that everything is multi-functional. For example, our lip colours are not only lip colours but a lip liner and cheek blush, too. We have our eyeshadow that is not only an eyeshadow but also an eye primer and eyeliner.
Everything is multi-functional to fit into out multifunctional lives, so they are very easy to use and our tip is you draw and you smudge. You don't need brushes, you don't need tools.
Jenny, who has a chemical engineering background, was able to formulate products you typically find in a tube or in a palette and create that same formula into a stick or pencil form. The innovation behind the formulas is truly unique.
What did Jenny teach you about what it takes to be successful in the beauty industry?
It's funny because we were actually talking about it on the way here. One of them was when you're on stage, you're on stage. It doesn't matter if you're tired, if you're having a bad day, you have to lift yourself up because even the energy you create gives off. So I think those are one of the things I've learned from a work ethic perspective.
From a leadership perspective, surrounding yourself with people who are as passionate and dedicated as you are, always lead by example and it doesn't matter what you're doing. Also thinking that no job is too small.
When launching the brand, were you considered to be too "young" of an entrepreneur to run your own business…
Yes definitely.
What were some of the challenges you faced?
When we first started Nudestix, I was 17 years old and I was very young and very new to the industry. I think that along the way I learned so much from a business perspective, but I really think it's about how you carry yourself and confidence. I think that for me, it was really about just being passionate about my brand, knowing my brand and carrying the brand ethos with me. I think it was difficult but you just need to be confident in your voice and I think my mum has really given my sister and I that platform to be confident and trust our voice.
If you think about it, there wouldn't be a lot of women or beauty executives that would listen or would care for the insights of the younger generation. So by giving us the opportunity to share a voice and listening to us, that already was important.
I think it's definitely about who you're surrounding yourself with and working with my sister, we're able to bounce off each other and we obviously have different skill sets.
jenny, who has so much experience in the industry, was able to create a path where my sister and I definitely feel comfortable and truly can share our voices in an authentic way.
How has social media helped your brand grow?
When we first launched Nudestix about three or four years ago, we started off with our Instagram page because we thought it was the one way to start a brand to get our voice out there. Even before we had any product, we had an Instagram page. By doing that, we were able to connect to the global girl by starting our social platform and for us, it was a great way to share the message and we wanted to create content in an authentic way. We knew that Instagram is a platform where we can share content that was authentic because, for us, we know that the Nudestix girl wants authentic and relatable content.
You're launching exclusively in Sephora Middle East! How exciting is that?
Very! So we're actually exclusive to Sephora in the Middle East. For the longest time, we've been getting comments and requests on social from the Middle Eastern woman saying "We need Nudestix!" and "We love Nudestix and we want it here." So finally we're launching! It's been a long time coming, and I really think that the Middle Eastern woman will love Nudestix, firstly because they love beauty. Secondly, because you just can't go wrong. All of our products are different shades of neutral so regardless if you love a "less is more approach" to beauty, a tint of moisturiser, a little swipe on the eye, lip, cheek, or if you love full coverage, you're still going to love neutral tones or a nude lip.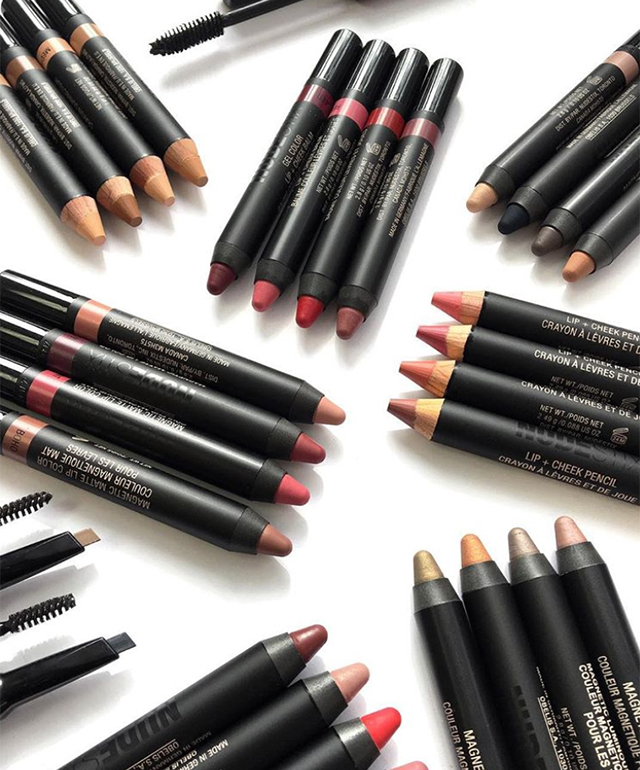 Will you be launching any products other than makeup?
Well, skincare, we're looking into because for us, we're all about skin!
Nudestix will be exclusively launching their lip collections in Sephora Middle East from April 15, 2018, and the full range is already available online at Sephora.ae.
Now, read more about the exclusive Beauty Board function launched by Sephora Middle East.