Rich fragrances are constantly on our scent lists but when it comes to Hermès' exclusive range of notes, it always shoots straight to the top.
Here, we get the inside look into the French house's newest perfume, Un Jardin Sur La Lagune, courtesy of Christine Nagel…
Can you tell us a little bit about the process of creating Hermès' new Un Jardin Sur La Lagune fragrance?
In January 2017, during my first visit I was struck in this garden, numb by the cold, with an emotion, a particular charm. The plants I discovered were very real and evoked powerful memories of the sepia photos of the garden which I had seen. I was very fortunate!
I went back several times and with each one of my visits, I enjoyed different olfactory experiences.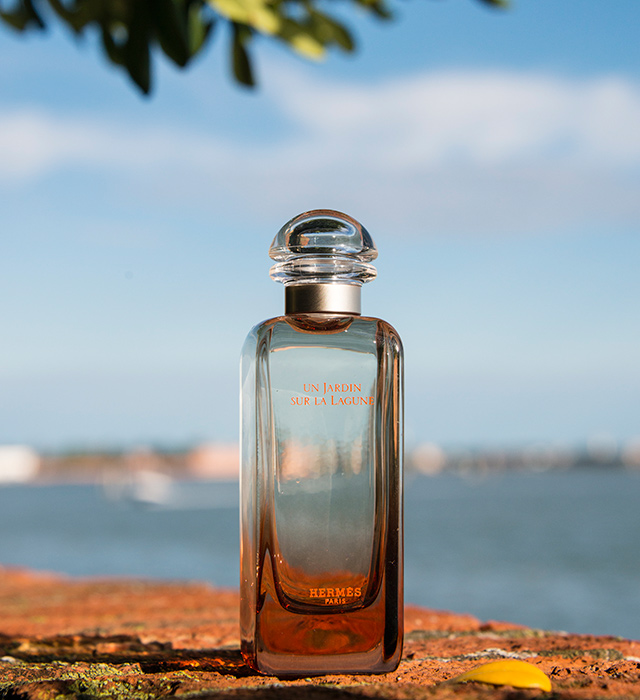 Can you give us an example?
In April, I experienced the pittosporums. There are these small trees, whose branches plunge into the lagoon, which were covered with thousands of tiny white and yellow flowers. They had a bewitching scent between orange blossom and jasmine.
Then in June, I was touched by the fresh and delicate smell of magnolia. These magnificent white flowers were perched so high in the trees that you had to lift your nose to smell them. It was as if their smell came from the sky.
How did you incorporate all of those feelings into a scent?
In this perfume, I wanted to bring together the tree flowers you can see and enjoy today (magnolia and pittosporum) with the original plants (madonna lilies and salicornia) without hiding the woody scents exhaled by thousands of twirling roots from the earth itself. I wanted to transcribe in a perfume, all the lives and all the moods of this garden… to evoke, without ever forgetting to dream. That is what I wanted to share with you today because through the perfume, this secret garden is finally open to you.
How did you find out about the secret garden in Venice?
This garden was first discovered in a story for which I had long searched. I was seeking a garden and had dreamed of a garden, but I did not know where it was. One day, I read a wonderful text about a garden in Italy, in Venice. It was a garden that had been planted on the lagoon and had inspired the dreams of generations of artists.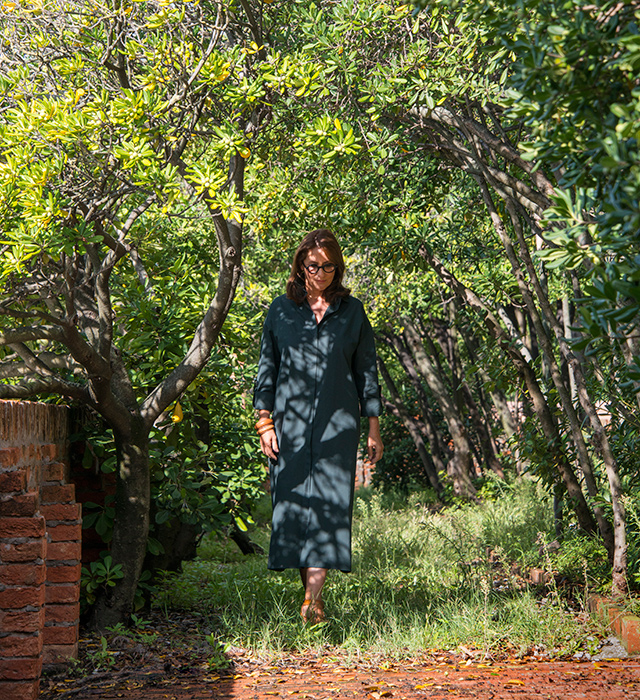 Of course, I wanted to visit this garden but discovered that this garden was completely secret, inaccessible, and impenetrable. It was much discussed, but no one had seen it and finally I decided to write to the Hunderwasser Foundation. Their president told me that he receives hundreds of letters a month asking to visit this secret location. However, I think that mine touched him and so in the end he gave me an appointment in Vienna. Then one chilly morning… I was finally able to push open the secret door.
Can you tell us a little bit about the history of the garden?
The story is amazing. This garden was born a long time ago from the sweet madness of a man with an evocative name, Mr. Eden. He was an English lord, in love with Venice, who wanted to create a dream garden… the garden of his dreams. And this, despite immense difficulties as the land on the lagoon is poor and salty. So much so, that at the beginning of its history, this garden was covered only with salicornia. After Mr. Eden's time had passed, other owners with other lives followed one after the other. They were sometimes artistic, often illustrious, but always private.
Why is perfume a good vehicle for storytelling?
Perfume is a good vehicle for storytelling because smell is an archaic and powerful sense. A meaning that seduces or repels instinctively, almost animal. Fragrances create emotions and touch the sensibility of the person wearing it. Fragrances resonate with our emotions, memories and hopes because they represent something personal and emotional.
What is the best part of your job and what is your first and best olfactive memory?
Freedom and time! The most noticeable difference for me at Hermès is having complete freedom and plenty of time. Decisions are actually made between 3 people. There is no market research, no consumer panels. Marketing is only there to support the creation, it doesn't influence it. I had never seen that before. This stance gives the creation and the creator essential roles. The perfumer has a huge amount of responsibility here. It is unique not having any pressure except the pressure you impose on yourself. It is wonderful being in control of your own creations. The time of creation is another singularity of Hermès. There is no defined time. There is no time limit. I present my projects when I judge them accomplished, mature. This is an incredible luxury, one that allows the beautiful. Within the maison, we call it "Hermès Time".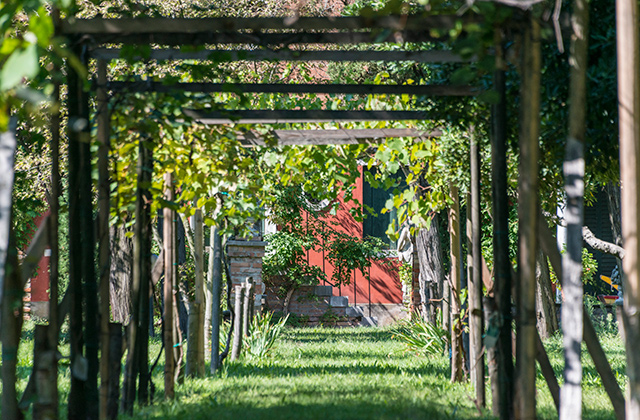 My first scent memory is of Borotalco, an Italian talcum my mother used to use daily. What is amazing is that I often find the heliotropic notes in Italian perfume today. The smells of our childhood, those which have rocked us and which we have loved follow us through our lives.
What can you tell us about a women's perfume ritual in the Middle East and what are your top 5 tips for choosing a new fragrance?
I cannot give you tips. I prefer to humbly give advice. To choose a perfume, you must first and foremost trust your own instincts and ignore tendencies, images and muses which do not give any relevant indication of the essence of the perfume. Essential data: the time to wear, the time to live and the time to feel. A perfume touches us or speaks to us by what it makes resonate in us (emotions, memories, desires). It makes us feel alternately seductive or protected. Everyone finds the answer to a need. The most important thing is to go to a perfume that gives more weight to emotions than sensations, to seduction rather than use, which offers the beauty and not the good, the style and not the trend, a perfume of supply and not demand. To sum up; a sincere perfumery, genuine, free and committed.
Also, did you know that Hermès have confirmed a cosmetics and skincare line? Read all about it here.