Known as the perfumers to the British royal household, Penhaligon's has had a long-standing history with rich scents, hand-finished glass bottles and British heritage. Founded in 1870 by William Penhaligon, it has become one of the most luxurious perfume houses today and luckily; we're in for a new scent this year. Inspired by the rising sun over the ancient city, Penhaligon's new scent, Cairo eau de parfum, boasts exquisite Damascan Rose, macerated in an abundance of woods and spices.
Here, Penhaligon's CEO, Lance Patterson, speaks to Buro. Middle East contributor Farouk Chekoufi, about the new fragrance launch, the founder and oud.
Can you tell our readers what your role is at Penhaligon's?
I am the lucky CEO to lead the brand Penhaligon's whose rich nearly 150 year history is incredibly exciting.
What is the best part of your job?
Leading a brand with such an incredible story and to by able to lead a team of talented, fragrance obsessed entrepreneurs!
Your first and best olfactive memory?
In high school a friend wore Eternity from Calvin Klein, today I can still remember the smell in my mind and recognise it instantly when someone is wearing.
Can you tell us how the company was founded?
William Penhaligon was an Englishman living in the late Victorian Era where excess and flamboyance abounded. William was witty, wildly creative and always inspired by the unusual which led him to open his own shop in 1870 to cut hair and create perfumes. The fortunes of William dramatically changed when in 1872 he created his most famous perfume of the day, Hammam Bouquet, dreamt up after inhaling the steam and aromas of his neighboring Turkish Baths. Royalty began visiting, the rest as they say is history!
Founder William Penhaligon believed in finding inspiration in the strangest of places. Does this ideal still hold true today?
True to William's founding principles, we continue to seek new ways to interpret fragrance with storytelling at the heart of what we do. From the original Hammam Bouquet in 1872 — created after the smell of the Turkish baths located next to his first boutique on Jermyn St — to the latest creation, Cairo where we went to Egypt to be inspired, William's legacy remains core to our values today.
Why is perfume a good vehicle for storytelling?
Because scent is directly linked to memory and emotions, it has an amazing evocative power that can make you travel through time and space immediately.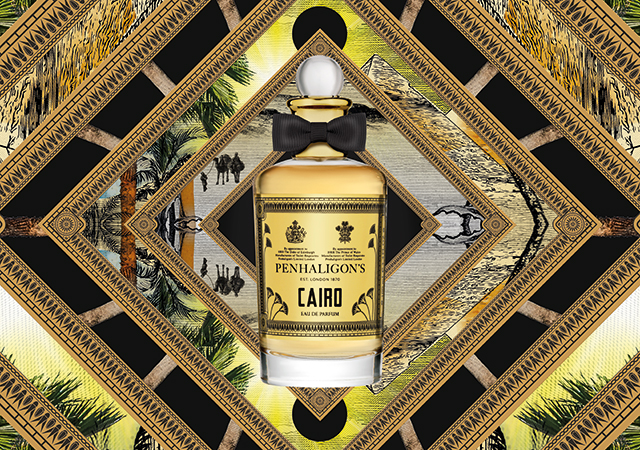 Can you describe the process of creating a new Penhaligon's fragrance?
Our Creations Team in Paris works with our Brand team to identify scent opportunities that are customers might like. They then create a story using Penhaligon's rich, British heritage as a place to find unlimited inspirations. The Master Perfumer is selected and they then translate the story into an olfactive territory. After a few or possibly many submissions a final scent is selected. The laboratory then takes over to test and produce. Many months later we bring the Creations Team and Perfumers vision to life in our stores!
How long did it take to design the fragrance?
From Concept to Counter can be 9 months or 24 months. We try not to put time limits as creativity needs time.
How about the inspiration behind CAIRO?
Perfumer Christophe Raynaud took inspiration from both his recent travels to Egypt, but also the Louvre's collection of Egyptian Antiquities in Paris. Cairo, the perfume from Penhaligon's offers a vibrant invitation to journey through the infinite richness and sensuality of the fabled Egyptian city. Cairo is a shimmering golden monument to its past. A cradle of scholarship; a centre of commerce. Above, the skyline reflects its mathematical magic, while below, the earth offers up an abundance of scented riches, growing defiantly from the hallowed soil. This Mediterranean melting-pot is home to a thousand minarets and a thousand fragrant gems.
To conceive this new olfactive journey to the heart of this mystical city, the perfumer Christophe Raynaud chose iconic ingredients from the ancient spice trade route: saffron and woods.  At first, like the sun rising slowly over the ancient city, the fragrance awakens with an intriguing hint of spice, as Saffron and burning Incense reveal their provocative powers. In Damascena Rose, a thousand and one seductive facets create a full and fascinating heart; drenched with beauty and rich with promise. The balsamic scent of Labdanum, aromatic Cypriol and sweet Vanilla Pod conjure the shimmering mirage of this timeless city. And finally, a triptych of iconic woods: Sandalwood Sri Lanka, Atlas Cedarwood and Patchouli reveal a softer, yet more carnal and sensual destination.
What makes Cairo so unique today?
Cairo is a blend of many influences resulting in a harmonious and luxurious ensemble.
Cairo is very rich! Was this fragrance created for Middle East market?
Cairo is a scent that will appeal to those who love the scent of luxury, rich and opulent Cairo is for the person who loves to be noticed. I myself have already gone through two bottles!
What are your thoughts on oud?
Oud is one of those fragrance ingredients that nearly stands as a fragrance in itself, full of facets it is sensual, leathery, woody, smoky almost animalic. It is also one of the most precious ingredients in perfumery.
Why do you think oud is so popular today?
Ouds bring the preciousness to fragrances at a time when people seek more and more quality in their perfumes. And of course, those that want to be noticed. I can't tell you how many times I am wearing either Halfeti or Cairo that people stop me to ask what I am wearing. And an Oud is not gender specific which we very much like at Penhaligon's. A scent should be worn if you like it, not if it is specifically created for a specific gender.
Now, read what Laurence Bloch had to say on how the Dior Spa at Hôtel Plaza Athénée Paris embodies tradition and modernity.