i
t's always a daunting task when trying to find the perfect perfume to satisfy your olfactory senses. But at Henry Jacques, the French haute parfumerie house that focuses on tradition, exclusivity and creativity, that was the only aim the maison had in mind to perfect, and they certainly did.
Explaining how her father, Henry, had come about creating the eponymous brand in the first place, Anne-Lise Cermona, CEO at Henry Jacques, said: "Henry Jacques is still a family-run house which is very important and rare in our industry. We're like an haute couture house for perfume and for many years we've been creating many private collections, with many clients coming to us and asking us for their own private perfumes. It was then that we understood that we needed to have limited editions and it was to organise how to enter the retail environment, but in our own way. Which is not easy."
Finally opening the doors to its newest post in The Dubai Mall's Fashion Avenue extension, the Henry Jacques flagship store marks its first in the region and it's a haven for exclusive fragrances that blends the visionary spirit of the past and present.
"My idea was to open a boutique, just like this one, but only in major cities and to only be present in our own boutiques. This boutique is very important for us because it's in Dubai, first of all, and we have a beautiful history with the region. The culture has really turned in terms of perfume and we also had the chance to have clients and friends," explained Cermona.
The boutique's interiors were made in France and then beautifully reassembled in Dubai, and the designs were envisioned by French architect and the brand's Artistic Director, Christophe Tollemer.
"When you enter, you get the feeling that you're in a house and it's what I wanted. We really wanted our clients to feel like they're coming to our home, sitting on the terrace in the south of France and welcome them and have them take their time. The idea was to build a boutique that resembles a house and this boutique is special because it is the biggest one we have," says Cermona.
Creating a sanctuary for perfumery, the boutique carries Henry Jacques' core selection on beautiful shelving, it's signature fragrances from the Le Classiques collection, as well as other offerings and accessories.
"We have 50 perfumes and the colours show all of the natural components we're using. 50 is quite a lot but for us, it's actually quite small and we had to reduce it. All of the fragrances have their own personality and they all work really well. We have a laboratory in the south of France where we used 1,200 components that are all different. All of our creations and compositions are from parfumerie and they're not simple. We keep this tradition of great perfumery and it's a beautiful painting with lots of layers," she continued.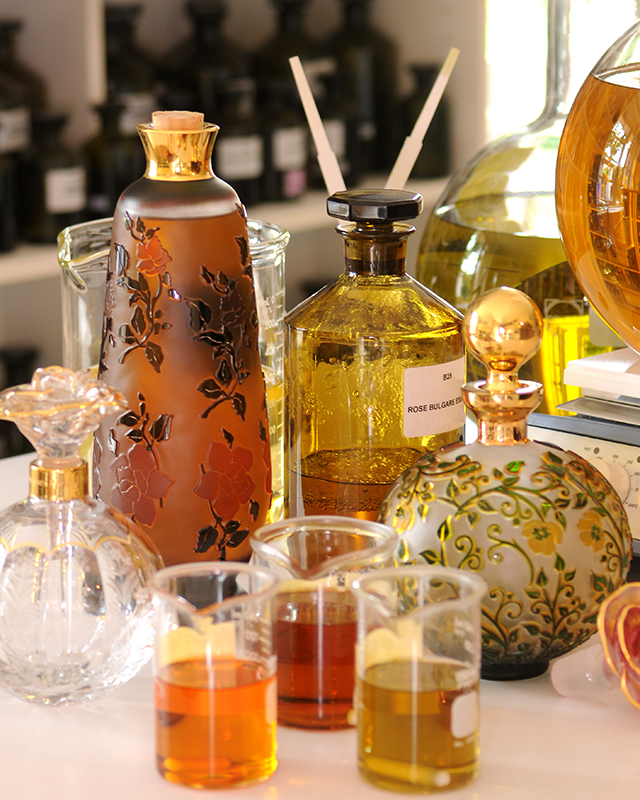 "We also wanted to have a collection of pure perfume because in France, we used to wear extremely concentrated perfume and just a little drop of this is strong. We believe that the perfume that has been put on the skin, and blends with the skin, will then become your own identity."
One of the major components from the brand is that it focuses on exclusivity and client relationships and that's why Henry Jacques welcomes its clients to mix and match their favourite scents in a box that they can take with them around the globe.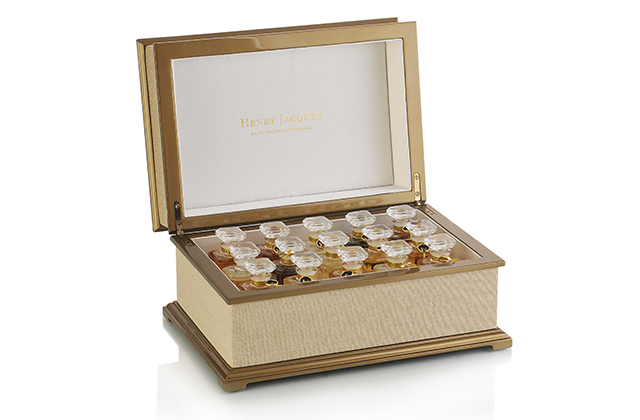 "It becomes really interesting because you even personalise this as a gift. We have many important clients and they love to come here and choose the scents for friends or family," Cermona explains of the process.
However, the brand also has a slew of masterpieces that the CEO describes as "very interesting because of the bottle. They work together to create a piece of art that is truly unique. For instance, the Essences have worked in a way that has matched the stones and we have different variations that are all beautiful. All of the bottles are hand-blown and they're all unique in their own way."
Guests of the maison will also have the chance to sit for a one-on-one consultation with the boutique's experts and together, come up with a completely bespoke masterpiece.
"In the past four years, we've kind of put bespoke on the side and this year, we actually spent a lot of energy on something that will actually make sense within this new identity of Henry Jacques where it's in a boutique. Now, if someone wants to come and get a perfume, they will come for a consultation and it's very personal, it touches a lot of their memories and usually, they already have a certain idea of what they want."
If you're looking to get your very own fragrance and take part in the creative process, you can visit the new Henry Jacques boutique in The Dubai Mall's Fashion Avenue.
Now, take a look at the 8 things we learnt from Rihanna's first ever Fenty Beauty masterclasses in Dubai.