Looking for the right skincare products for your skin can be quite a daunting task. It's not a one-size-fits-all situation. In fact, it's often the exact opposite. Founders Alice Carpentier and Gabriel Gougaud first launched Moneret as they both struggled with finding the right products for their very sensitive skin.
Made in France and inspired by Korea, Moneret is different from any other skincare brand as it offers simple, gentle and effective products that are crafted with authentic, innovative and eco-conscious formulas.
Below, we speak to the two best friends, Carpentier and Gougaud, to discover how Moneret was born, the brand's precious Iris Flower root extract (featured in all its products), the biggest misconceptions when it comes to skincare and tips on step-to-step application.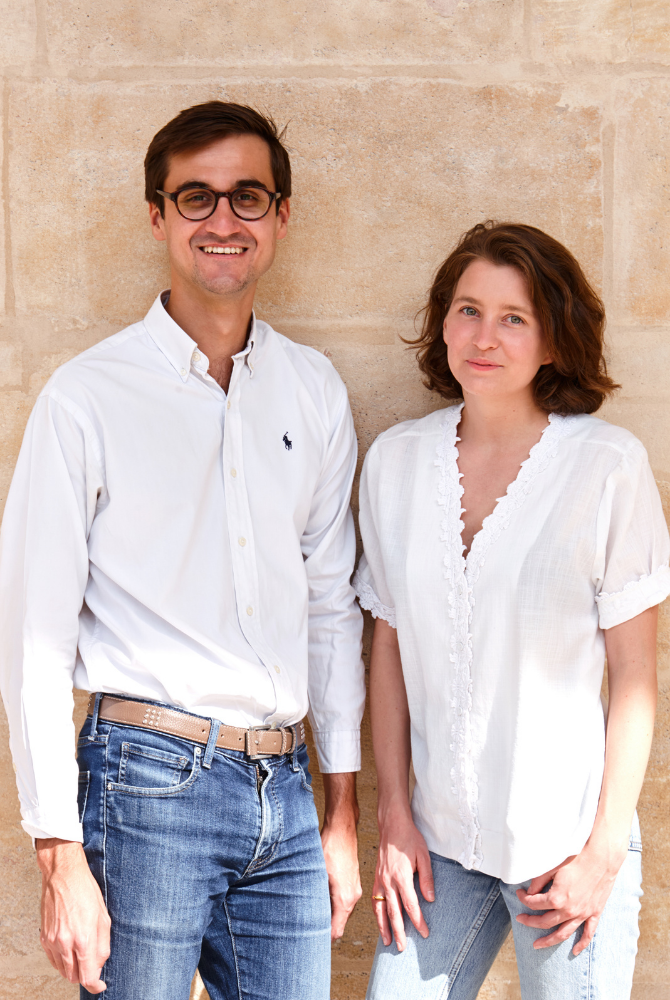 How was the concept of Moneret born?
The Moneret adventure began with our 10-year friendship when we met at the Dubai French School. We both struggled with finding the right products for our very sensitive skin. We tried tons of products but did not find anything that made us feel good and confident about ourselves. Pharmaceutical products just lacked the sensory experience that makes one enjoy their skincare routine, and like most of us, made us feel like we were sick.
This struggle carried onto early adulthood, and that's when we finally decided to create products that would make it possible for someone with sensitive skin, prone to allergies and blemishes, to also enjoy a sensory experience while treating regular skin problems that so many of us face.
You combine the best of France and South Korea in your innovative skincare brand. What are some of the countries' best elements you married in your products?
France and South Korea are the lighthouses of skincare in the world. Though Moneret is very much a French brand, as its name suggests: "Soin Français", we were inspired in our R&D by the technological advancement of South Korean skincare formulas. We particularly wanted to reach the same level of lightness on the skin provided by South Korean products. The Korean cloudless-skin movement drove our 3-year long R&D process to achieve a clear and flawless complexion through a range of formulas that follow a set ritual. The Moneret products work together and complement each other, reinforcing the action of each active ingredient.
All Moneret products are produced in France, a country with the strictest rules when it comes to product safety for the skin and the environment, as well as the tracing of ingredients. These two points are critical for a clean beauty brand like ours. In this way, we believe we have merged Korean innovation and French excellence and diligence in a bottle.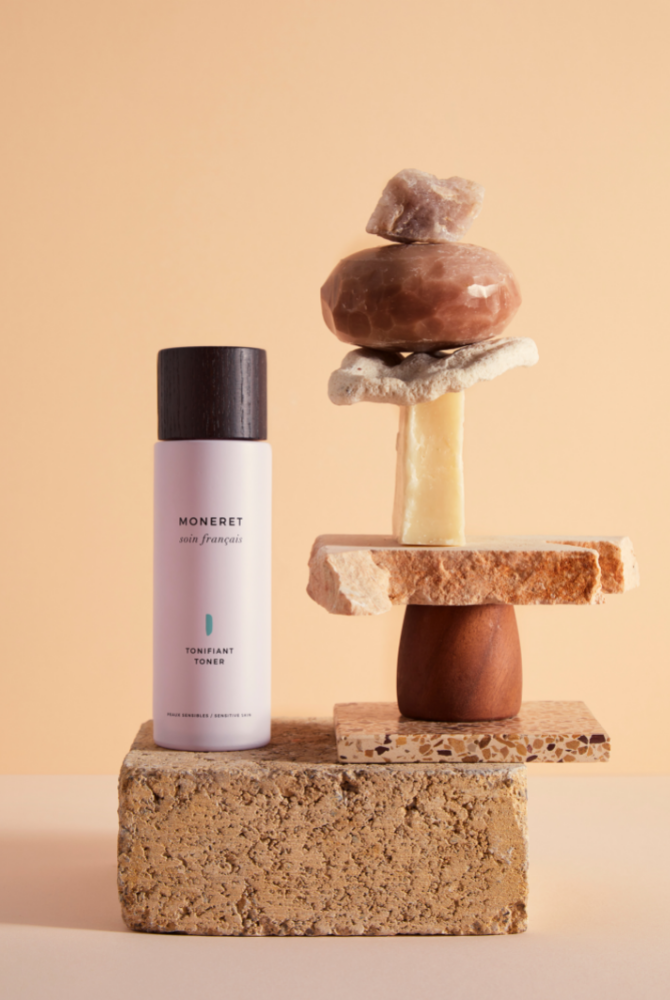 Can you tell us about the inclusion and meaning of the Iris Flower?
A symbol of French History, the Iris Flower is a proven anti-ageing active and natural antioxidant. Its precious root has been cherished by many cultures since the dawn of civilization. It is a flower that has been omnipresent in our childhood. The Iris was the favourite flower of Alice's grandmother, who gave her name to the brand; Moneret is her family name. It also holds a unique place in Gabriel's family, with Cayeux, France's largest Iris creator and grower, creating a flower named after his grandfather decades ago.
A precious flower for the skin, the Iris Florentina root extract, which lies at the heart of the Moneret skincare range, fights the visible signs of ageing. It efficiently protects against external aggressions, strengthens skin tonicity, and visibly reduces wrinkles.
One cannot start to comprehend the dedication that goes behind the creation of an Iris root extract: a raw material as precious as gold. Roots are grown for 3 years before being harvested. They are then dried and fermented for another 3 years before expressing their full potential.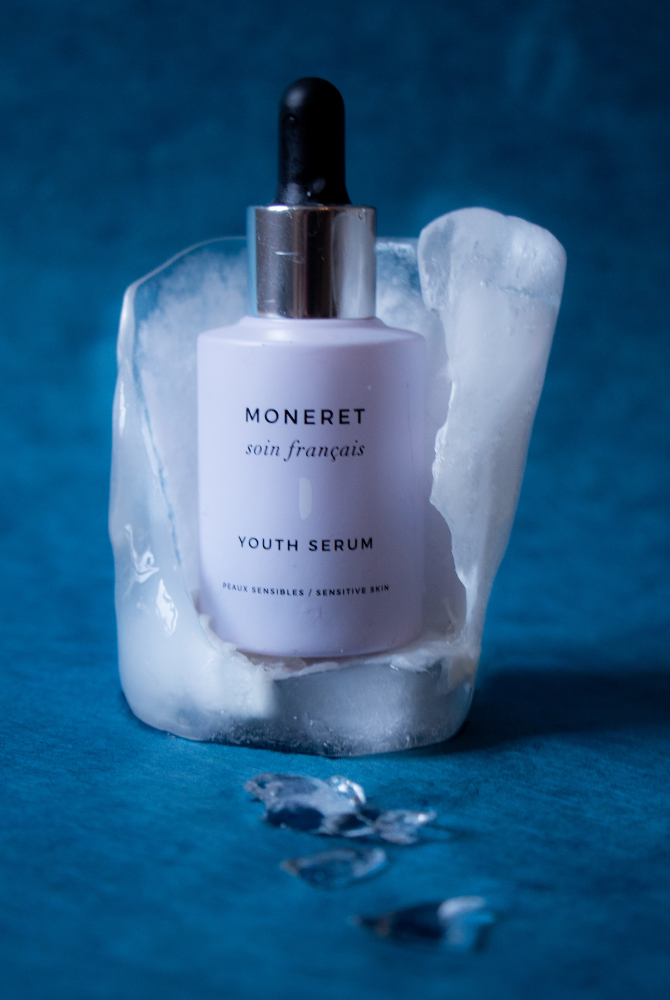 Moneret's philosophy is…
A clean and transparent beauty brand, using safe chemistry to enhance the clinical action of natural ingredients.
How many products are included in the collection?
We currently have 7 products: the 7 essentials for a daily skincare routine. These include the Cleanser, Charcoal Mask, Toner, Youth Serum, Moisturizer, Colour Control and Night Cream. We are currently developing new products to complement the existing routine as well as to provide targeted treatments for specific skin conditions, always respecting our commitment to offering a multi-sensory experience to our sensitive users.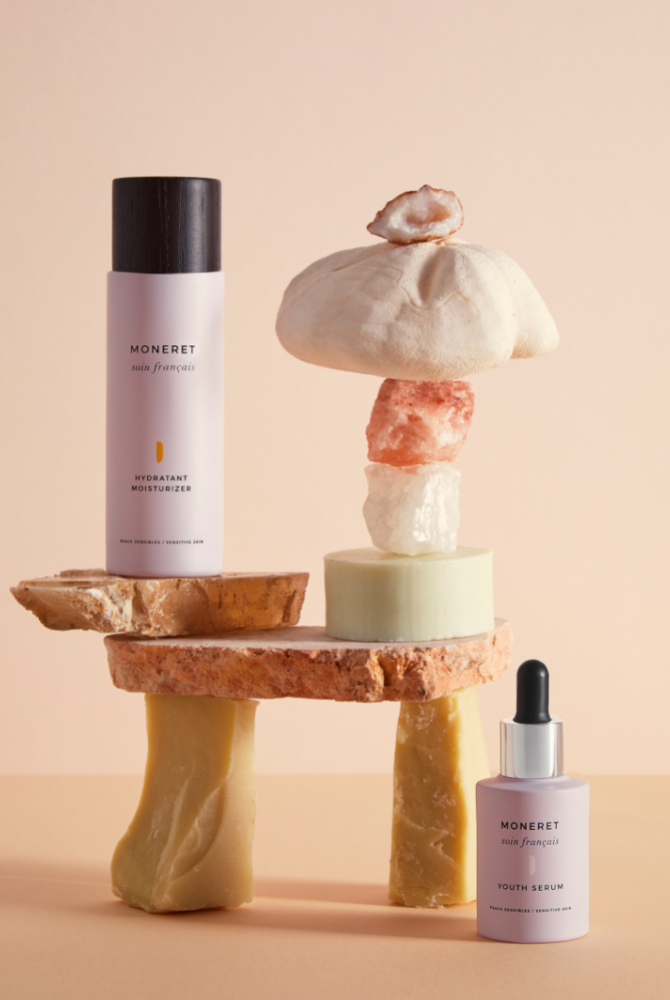 Do you recommend any step-by-step application?
The Moneret original ritual has been developed to follow a step-by-step approach inspired by South Korean beauty routines. Steps are clearly explained on the packaging of each product. We have created a range of 7 everyday essentials that work together to provide the highest efficacy. Each product has a specific goal and purpose.
Moneret has simplified the concept of K-Beauty layering creating the first ritual of French layering.
As we understand one may not use all products every day, we have developed specific 2 to 3 products routine for a specific purpose like Detox, Regeneration or Natural Glow. Our routines are created to offer a spa at home. Used alone or together, each treatment combines efficacy and a unique sensory experience. Moneret offers cocooning self-care for those of us with sensitive skin.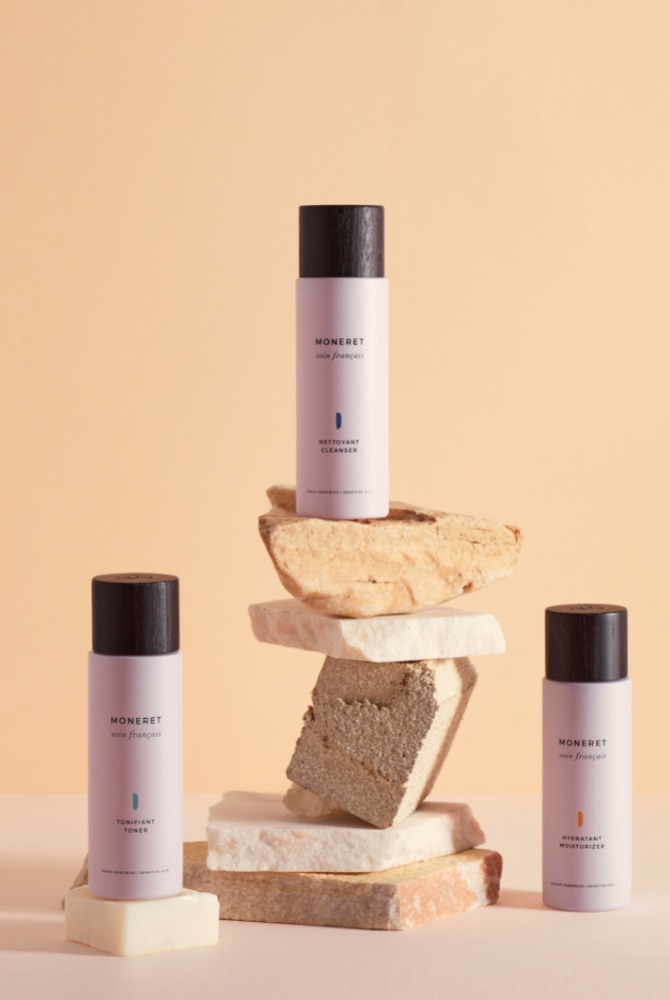 What makes Moneret different from other clean, skincare brands?
Our focus on the sensory experience
Our intemporal and luxury packaging, creating a brand that will live throughout the years
A unique price/quality ratio
A refusal to greenwash consumers. We know what our impact is, and we take the steps we can, to reduce it. All that we do, we do in full transparency.
What products do you think will resonate most with your clientele in the Middle East? Why?
All our products have such character that it is hard to make a choice. Our night cream is our worldwide bestseller, it is so light yet so rich; those who try it, adapt it for life. It provides an indescribable sensation of comfort and wellbeing. Our mist moisturizer and toner provide an excellent alternative in hot and humid weather. They are very light and ensure no greasy finish.
Finally, our colour control instantly brightens up the complexion while protecting the skin against micro particles, such as sand and dust.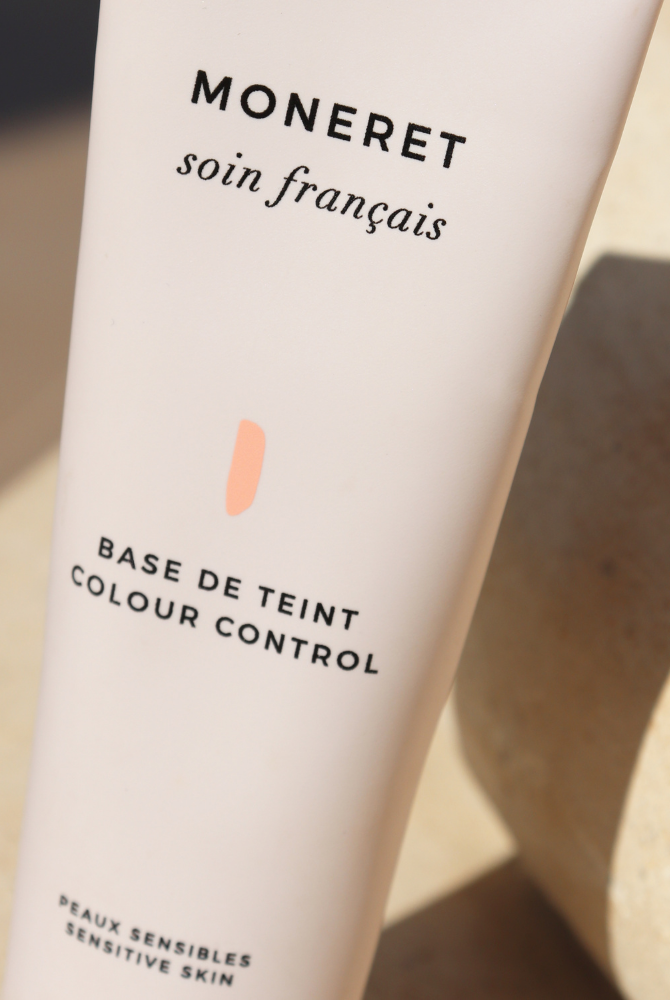 What is the biggest misconception of skincare?
That 100% natural and organic is automatically better for your skin and the environment. Moneret products are not 100% natural, and this is by choice. Not a choice by default, but a well-thought-out choice, a claimed choice. Above all, Moneret is a brand developing multi-sensory and effective products for the most sensitive skins. To achieve our mission, we had to remove natural products such as alcohol and allergen which cause inflammations on sensitive skin but are highly prevalent in organic and 100% natural products. As such some good chemistry was needed to formulate without them.
To answer the needs of sensitive skins we also must ensure that our products are non-comedogenic, leaving no chance of acne, blocked pores, or rough skin. Moneret uses safe and non-toxic molecules that favour penetration and ensure that products are within the epidermis in 20 seconds.
Organic and 100% natural products tend to be oily, penetrate with difficulty and be highly greasy, making absorption long and difficult. Moneret optimizes naturality rate but does not compromise on efficacy and good chemistry is not a devil. Our fear of the incomprehensible drives us to reject chemistry, we associate complex names with the bad, the dirty.
Molecules created in labs are not necessarily bad and scientific evidence should not be dismissed for fear of misunderstanding.

One must look at the 360-degree production approach and the impact 100% natural products can also have on the environment and health when sourcing, transforming, and transporting around the world, natural extracts. Science can help us replicate perfectly safe natural compounds found only on the other side of the world.
Skincare, like everything, in life is a question of balance. At Moneret our goal is to find the right balance, between naturality and efficacy. Safe synthetic molecules will reinforce the clinical action of our natural active ingredients and ensure a higher tolerance for sensitive skins.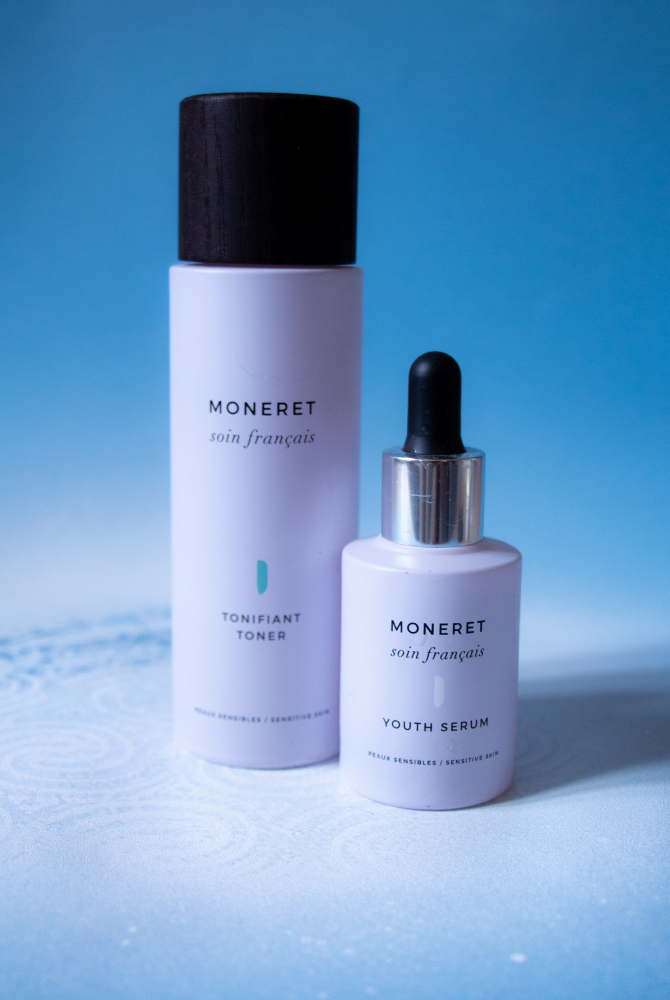 The most important skincare rule is…
Skincare is part of a broader approach to wellbeing. One should be consistent in it: set a routine and stick to it. Set a routine and respect it.
Three words to describe Moneret are…
Clean, Unisex, Multi-Sensory.

What is one beauty motto you live by?
There is no such thing as a perfect skin. Achieving a healthy skin, is a journey: it takes time and commitment.
The collection is available online through the brand's local website and the entire skincare range is available also in Marina pharmacies across Dubai.