Earlier this year, Hermès' new métier has officially launched across the globe and the debut of the new Rouge Hermès coveted collection have all been blended by a distinct colour story pulled from the brand's collection of over 76,000 silk and leather shades. In reality, beauty remains a main characteristic in all of Hermès' métiers (think leather goods, silk scarves, ready-to-wear, footwear and even jewellery), and the move to launching make-up seemed like an obvious choice for the maison.
Here, we speak to Jérôme Touron, Creative Director of Hermès Beauty, about the starting point of the collection, his personal approach to beauty and how the new range reveals the beauty of women rather than transform them.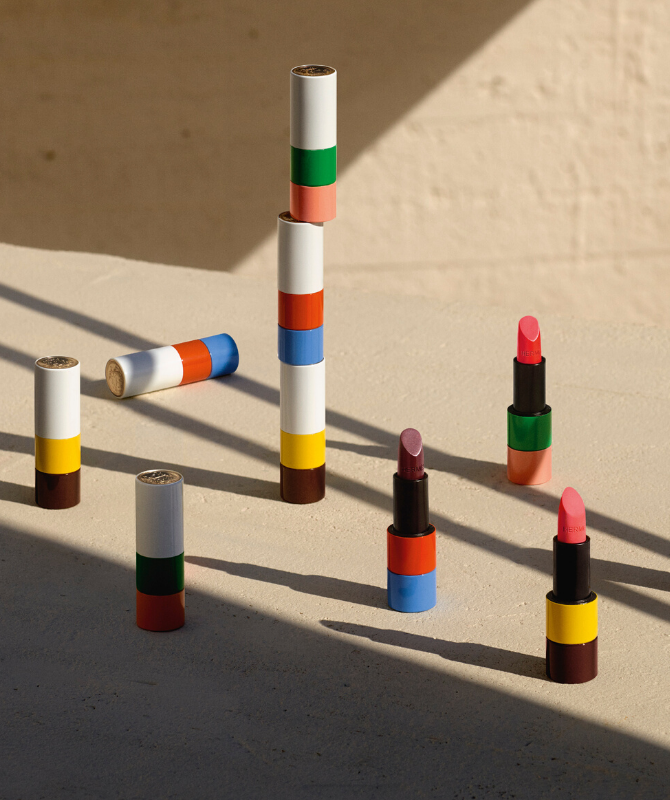 Please tell us a bit about Hermès Beauty's first chapter. Why did you choose to launch with Rouge Hermès for this very iconic initial collection?
I think the lipstick is special because it has the ability to reveal personality in a few seconds, in a single gesture, in just one application. Instantly, it reveals the colour of the personality. In a way, it exemplifies our conception of beauty: to reveal, not to transform. Hence the desire to start the Hermès Beauty with a lipstick collection. Also, perhaps because a lipstick concentrates in a very small size, our whole approach to the object, the colour, the material and the gesture in other words, some of the great fundamentals of Hermès.
For Rouge Hermès, what was the starting point in creating this collection (i.e. the Hermès elements, Hermès Orange,24 Faubourg Saint Honoré)? And what was the creative process like?
In Lyon, we have more than 75,000 colours in our archives, just for silk. That was an extraordinary source of inspiration for lipstick shades. That was pure freedom. And at the same time, the idea was to choose from these endless possibilities to create a perfectly edited range of 24 emblematic shades. This was a challenge. In the same way, for the matte and satin textures of the lipstick, we worked around a hundred variations, over almost three years. The matte finish was inspired by Doblis leather, with its soft, velvety, almost powdery feel. The satin finish was inspired by box leather, with its smooth, shiny and luminous look. That was another challenge. It's this search for ultimate quality and sensoriality that animated us throughout the creative process. It defines the intention, the starting point, the challenge, and the end result, I hope.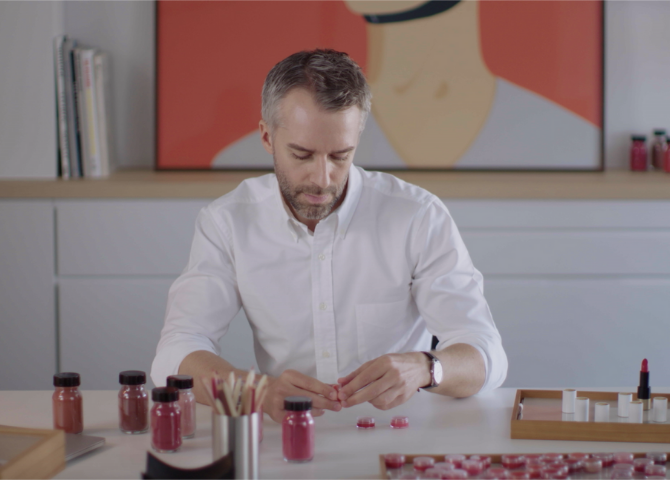 What are your five favourite must-have colours/products in the new collection? And why?
It is difficult for me to answer because I have a special affection for all the colours. They all have a reason for being. But If I had to choose, I would probably pick Rouge Casaque, Rouge H and Orange Boîte, because these colours are all three emblematic of Hermès for a different reason. Rouge Casaque is a universal, perfectly balanced red, that is both bright and soft, neither too warm nor too cold. It is full of character and elegance, which represents Hermès femininity pretty well I think. Rouge H is a symbol in itself within the house: a symbol of colour.
Émile Hermès introduced this colour in 1925, at the International Exhibition of Modern Decorative and Industrial Arts in Paris, with a truly pioneering spirit: he was the first to ask his tanners to create an exclusive "signature" shade for leather. This colour immediately became a signature colour for Hermès because of its unique and singular hue: different (darker) from the Art Deco bright red of the time. Finally, Orange Boîte. I couldn't help but be tempted by the Hermès orange box colour. Orange Boîte is the faithful transposition of it. On the lips, it's like a surprise, both daring and flattering, to the point of existing in two finishes, matte and satin. This colour is a bit like the youngest in the family; it is both charming and sassy. Beyond the colours, I really like the lip balm which is incredibly moisturising and smoothing with a non-shiny finish. I also love the Poppy lip shine which can be used all over on bare lips, to create a natural shiny effect, almost watery, or in the heart of the lips to catch the light and accentuate volume. Rouge Hermès is actually more than a lipstick collection, it is an entire collection dedicated to the beauty of the lips.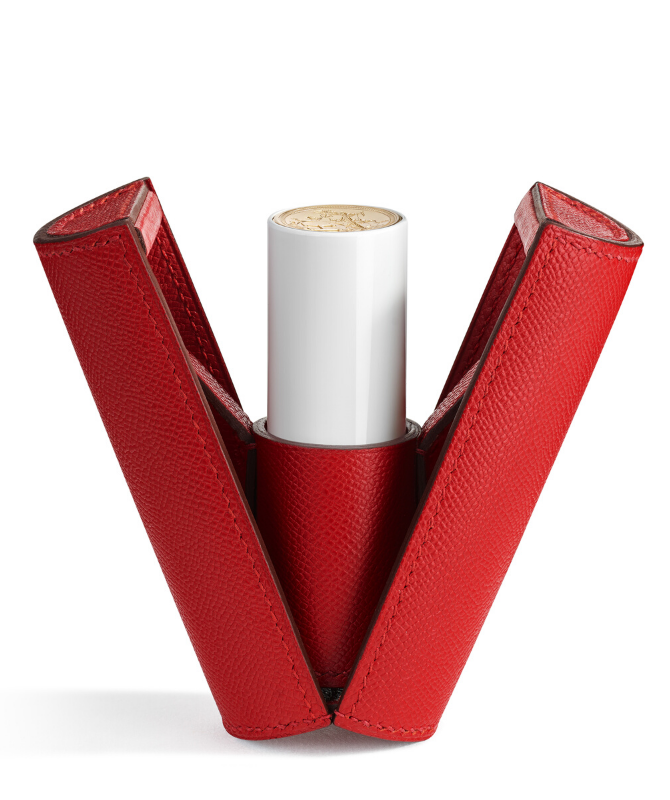 In your opinion, has the cosmetics industry changed at all with the digital age? And what are the challenges Rouge Hermès will face in order to become number one in the world?
The past ten years have been a time of great effervescence in make-up. Women today have a great knowledge of make-up. They know exactly what they like, what they want, what best suits their skin, what best suits their style and personality. So more than ever, make-up says something about the person wearing it. It is eminently personal. It is at the same time a gesture of self-aestheticization, and something deeper, more introspective. Make-up and skin care are also merging; therefore, Rouge Hermès is not limited to colour. Within this first collection, we offer lip care too. Finally, beauty is more than ever about taking care of oneself and taking time for oneself. If time is a luxury, beauty can again become a luxury. A simple and essential luxury. A true alternative to fast beauty in women's relationship to make-up. This is, I believe, Hermès' raison d'être in this territory.
How does Rouge Hermès "reveal the beauty of women rather than transform them"?
I think the purpose of make-up is neither to mask nor to transform. Instead, it's about revealing the colour of the personality. It's about creating a connexion, a correspondence, between the way you feel inside and the way you look outside. A lot of people say that make-up is about confidence, empowerment like a shield, a protection. Personally, I see it more as being about comfort. Because if you have the comfort, you have the confidence. So I think that make-up is truly about well-being and harmony with oneself. And about emotions too. When I create colours, I want to create emotions. At first, there's always the idea of making women happy with the colours.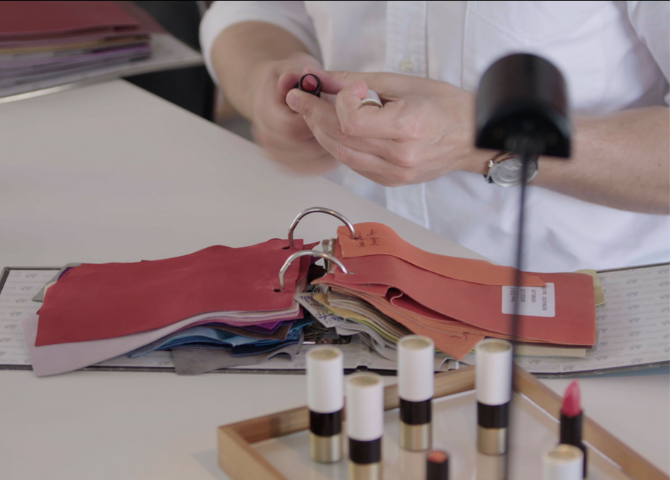 Which makeup trends are you most excited about and what can we expect in the future from this new métier, Hermès Beauty?
I am not really into trends; it is not the way I see creation. But it's true that I am sensitive to women's needs and expectations. Then the idea is to surprise them and please them. At Hermès, I think the idea is to create a full line of make-up and skin care, not only by focusing on single emblematic products, but also by creating objects and accessories that can accompany them. This is already the case with this first collection since, beyond the lipsticks, the universal lip pencil, the lip balm and the Poppy lip shine, it offers a lacquered wooden lip brush and small leather accessories. Looking ahead, we intend to continue imagining Hermès beauty in this way, the art of living way. It's not really a trend at Hermès, since it's our way of doing things forever.
Please tell us more about your arrival to the master house that is Hermès? What have the challenges been and how easy was it for you to align yourself with the vision of the house?
I joined Hermès to participate to the creation of the house's new Beauty métier. As creative director of Hermès Beauty, I am the "eye"; my role is to shape the vision of this new territory and to create the colours, textures and gestures of makeup, reflecting the spirit of Hermès Beauty as defined by Pierre-Alexis Dumas. Hermès is above all a house of multiple métiers, approaches and sensibilities, that together shape our singularity. For the Beauty métier, we work as a creative team, formed of several personalities. It's a multi-hand creation, a collaborative process: fluid, organic, continuous, like a conversation, between Bali Barret, Pierre Hardy and I. My relationship with the house was precisely built on and strengthened by this exploratory and creative work within the Hermès artistic collective.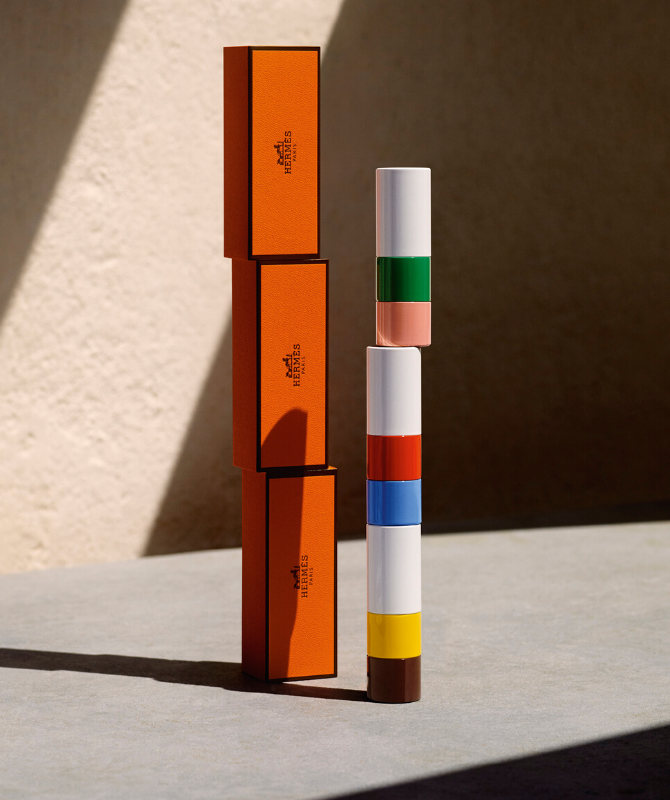 Rouge Hermès is created from noble materials, olfactory creation with innovative design. What is your approach to beauty?
Hermès has a very specific approach to beauty. Beauty comes from the inside. An Hermès object is as beautiful inside as outside. This is how our makeup collection has been imagined. What sets us apart, I believe, is in the design and the inner conception of our lipstick, which is refillable. It's truly an Hermès object: it's a durable object. What sets us apart is also found in our formulas, with a great colour pay-off in just one application and an exceptional sensoriality. The matte texture is extremely comfortable. The satin texture is weightless, with a very thin film, almost imperceptible. Actually, our approach to beauty comes from what has driven and distinguished the house forever. It comes from the aesthetic and sensory expectations in which we believe. And precisely, beauty and make-up reflect this aesthetic and sensory aspect:  through a taste for colour, a taste for material and a true "ethics of aesthetics". In the end, I think the essential value at Hermès is quality, quality without compromise. This is what guided us throughout the creative process: from the design of the objects, to the creation of textures, colours and make-up accessories.
With this new métier, how do you envision to combine performance and functionality while still inspiring dreams?
Make-up is indeed a combination of emotion and function, of pleasure and performance. For instance, our lipsticks are a concentrate of colour, of pigments, but also a concentrate of care and sensoriality, through exclusive formulas consisting of natural active ingredients, such as white mulberry (known for its antioxidant properties) and sesamine (a sesame seed extract with moisturizing properties). For comfort and protection, formulas contain beeswax, candelilla wax and shea butter.
Now, read more about Hermès' artistic darling, Leïla Menchari.