With a strong passion for perfume, powerful sister duo, Huda and Mona Kattan, joined forces in 2018 to create what would soon set the fragrance world alight: KAYALI. The debut collection saw a collective of four fragrances and although the scents finally landed on our shelves last year, the bottles of bliss have been under the works for a few years.
The high-performing notes have ultimately become our go-to scents and luckily for us, we got a chance to chat with the bonafide beauty royalty one year into the success of KAYALI. Here, Mona shares the process of creating a KAYALI fragrance, the concept of layering them and how fragrance is a different form of storytelling.
Why did you decide to branch out into fragrances?
I've always been really passionate about fragrance. I actually got a part time job when I was a teenager just so I could start building my collection! I had dreamed about launching my own fragrance for a long time, but it took a while for me to persuade my sister, Huda, to begin creating the collection since it's pretty difficult to sell perfume on social media.
It's a very experiential product and it wasn't until I shared the layering concept that Huda was really sold on the idea. She loved the idea of creating a collection that demystified the concept of layering and brought it to life in a very modern way. The fragrance category definitely comes with its marketing challenges but we're passionate enough learn as we go until we master it!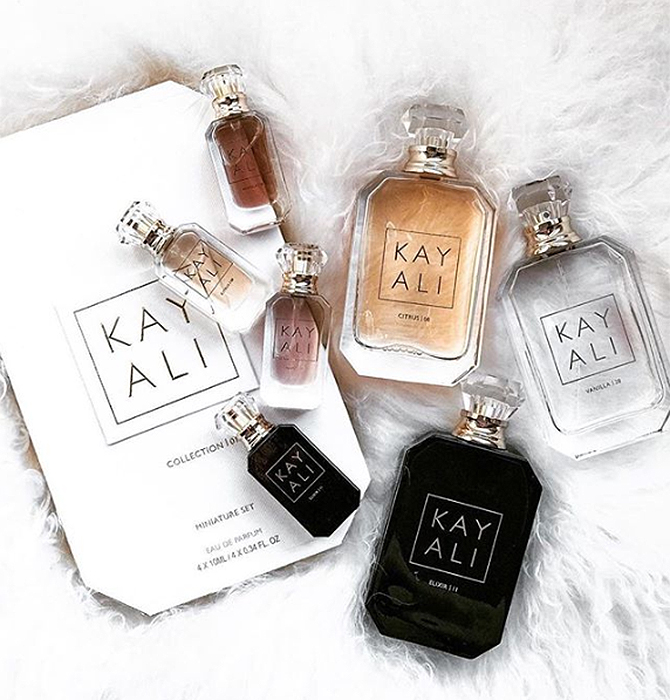 You touched upon the layering concept — which a lot of people didn't know can be done with fragrances. Are there any rules to layering?
Layering is truly what makes fragrance personal which is why we find it so important. We created KAYALI to modernise the Middle Eastern tradition and encourage people to just have fun with it. I've been experimenting with different mixes for years and I'm still learning more every day!
I think fragrance gives you an opportunity to be a little brave — mix something sweet with something musky; something floral with something spicy. There really aren't any rules — it's about creating something that is unique and special to you.
What is your favourite combination from the collection?
One of my favourite KAYALI blends is to start with ELIXIR | 11, then add VANILLA | 28, and finish with MUSK | 12. It creates the most gorgeous complex, floral scent.
Can you talk us through the process of creating a KAYALI fragrance?
The whole process is quite long as you can imagine. Achieving the perfect scent that smells good alone and mixes well with other scents is an intense journey!
I typically like to start with an emotion or a moment that I want to transport myself back to with whatever juice I'm looking to create next. Part of the process starts with sampling and smelling new ingredients and juices to figure out what I react well to and what I don't. I think we go through new submissions almost every single day and some stand out as more emotional bookmarks than others. When we test hundreds of ingredients, I always take so many notes indicating how they make me feel and what I like about them to really build myself a solid resource to work from when we start development for a new juice.
When we are ready to create a new juice, I go back to this list and make suggestions with my team to our fragrance house and we then spend weeks and months going back and forth on various combinations and modifications.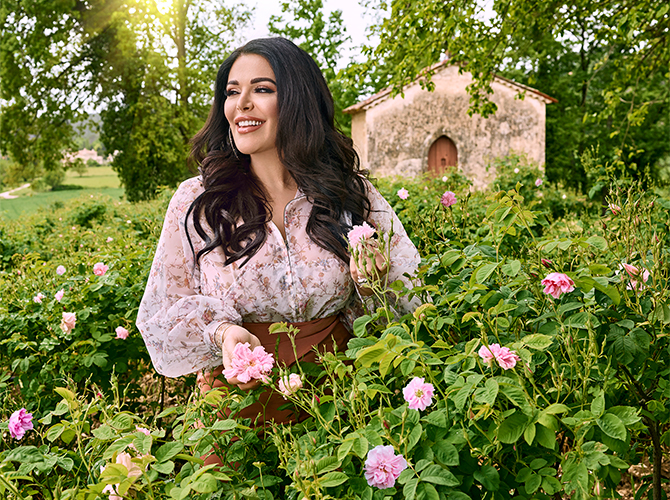 What process surprised you the most?
The raw material production process was really interesting! I went to Grasse, France with the Firmenich team to harvest Rose de Mai and meet the producers and it was such an incredible learning experience! I absolutely fell in love with the process and Rose de Mai quickly became a main ingredient in both Elixir and Citrus.
How did the name 'KAYALI' come about?
The word 'KAYALI' means 'my imagination' in Arabic, so the collection is all about exploring and playing with layering to create what suite your imagination. The four fragrances have been created so that they work beautifully on their own and layered together to create unique scents that are ownable to you. It's a collection that allows you to explore every layer of every mood through complex juices and scent, which I love.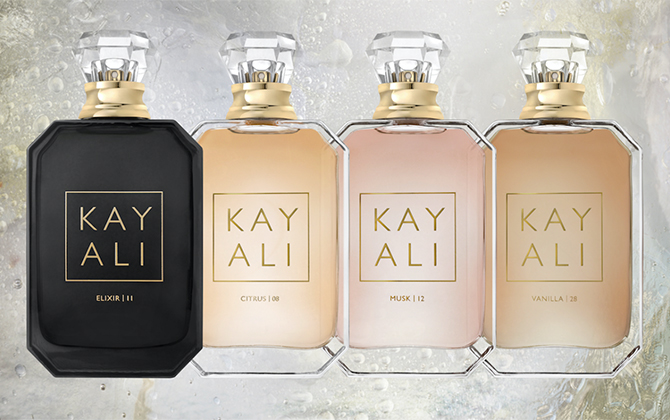 What's your favourite scent from the collection so far?
One of the juices in our next collection is my absolute favourite by far. I can't wait to share what that is with everyone soon!
Creating fragrances is just a different way of storytelling. Would you agree? If so, what story are you trying to tell with KAYALI?
Absolutely! I consider scents as bookmarks to my life — they can take me back to a specific place and time and that's storytelling at its core. I love the ability of scents to transform you. The fragrances were inspired by scents that stood out on their own but that also complemented one another when layering to create something totally unique! We aren't trying to tell a specific story with our fragrances but really to give everyone what they need to tell their own story through layering.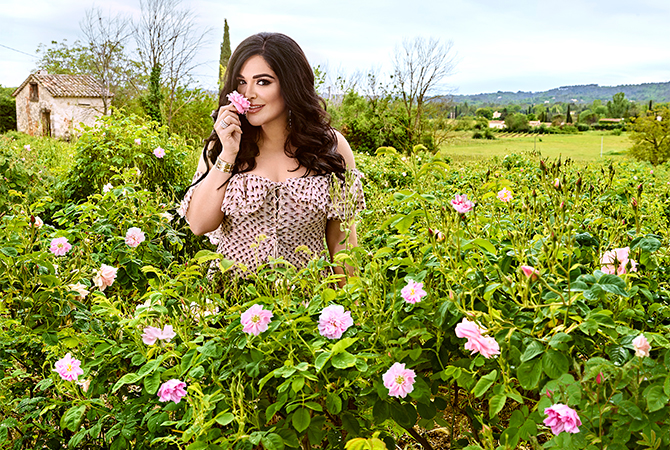 What has been the biggest achievement for you since launching KAYALI?
Stepping up as the face of the brand and playing the founder role has been both a huge achievement and challenge. When we launched KAYALI, Huda and I were both super involved, but I am now playing a more active role as Huda maintains her focus on Huda Beauty the launch of our upcoming skincare brand.
What's your earliest memory of scent?
I remember when I was younger my mom had this really beautiful Jasmine-scented perfume that she'd always wear so the jasmine notes in Musk really remind me of her. The perfume she wore wasn't anything expensive or branded, but I'll always remember it and associate it with her every time I smell Jasmine.
What did it mean to you to win big at the Fragrance Foundation Awards earlier this year?
It was such an incredible honour to be awarded Instagrammer of the Year at the Fragrance Foundation Award this year! It was amazing to be in a room full of so many well-respected and talented people in the industry who have as big of a passion for fragrance as I do. That award really made me feel like so much of our hard work was paying off. It also gave me so much positive energy to keep driving the KAYALI brand and I'm so excited to see where we'll take it from here!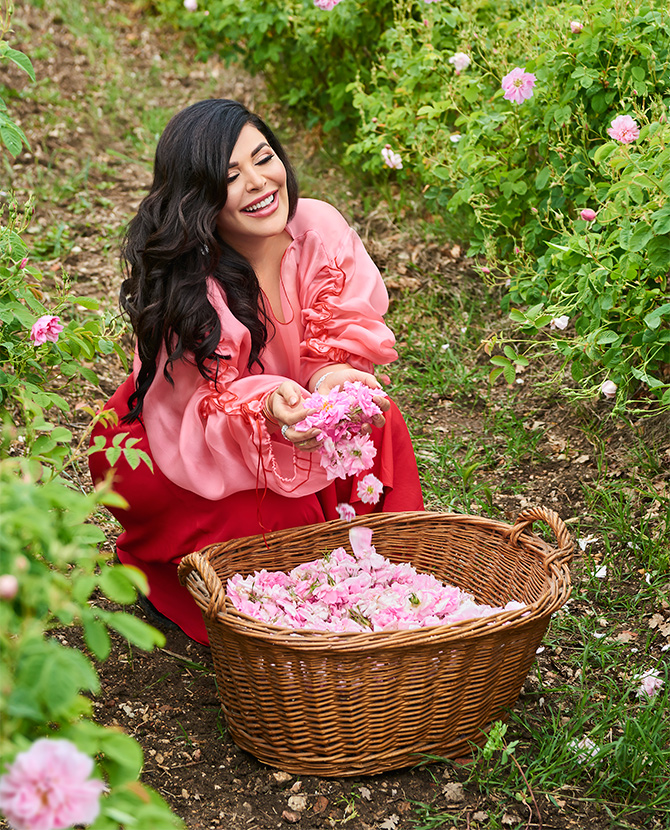 Before launching KAYALI, what was your favourite fragrance?
Watch By M. Micallef! I've been wearing it for about 15 years now! I was gifted it for my 19th birthday and then became addicted to it instantly. I ended up buying it for myself when I was 21 and it was the first expensive, niche product that I ever bought myself. I actually had to save money in university just to afford it! That's how committed I was.
How would you describe the fragrance industry in the Middle East?
The market is growing so fast and there are so many new local brands out there that everyone should explore! The growth is incredible for the economy, but it also means steady competition forcing everyone to really keep a pulse on the consumer. The market in this region is well-defined by the Middle Eastern consumer in so many ways.
Arabs are noticeably more educated when it comes to ingredients and techniques! They learn so much about fragrance at an earlier age since it's a part of their tradition and tend to have a good nose because of it. They buy a lot of perfume, so they tend to be more experimental with layering fragrances and understanding perfume in a deeper way than most consumers in other markets.
KAYALI fragrances are available for purchase from Sephora stores across the Middle East.
Also, read our exclusive interview with Sisley's Co-Founder, Countess Isabelle d'Ornano.