"My goal was to break free of convention. What's the point in creating or mimicking an oud-based scent just like the ones Persian Gulf clients can get from their local perfume store?" says Francis Kurkdjian, the renowned perfumer behind Maison Francis Kurkdjian, born in 2009.
With scores of niche and luxury olfactory creations to his name, he isn't one to go by what's already out there in the world. That's why his latest, Oud Extrait de Parfum, expresses the Middle East differently. He's tamed the typical wild contours of oud and gone for a spread of these ingredients: rose, patchouli, violet and vanilla. Here, he goes further in depth on his blended interpretation for his new creation…
How did you start your career?
There was not even the shadow of a perfumer on the horizon in my family. After a short-lived career as a classical ballet dancer, I pursued fashion to continue my family history. Unfortunately, my pencil refused attempts at design, and I could not enter the fashion school I wanted. At age 14 I read a piece about several perfumers in glossy pages of a French magazine called VSD. It was a true revelation. I then decided I would become a perfumer and started to do some research about perfume school and I found out about ISIPCA (the perfumer school in Versailles). At age 15 my parents took me there to visit the school and we had a meeting with the director. I was too young of course and the school director told me I had to come back after a master degree in science. I had one in Mathematics. I applied ISIPCA (from 1990 to 1992) at age 20. Then I did a Master in Marketing while being an intern at Quest in Paris in 1993.
So tell us about the inspirations and constructions for Oud Extrait de Parfum?
Oud Extrait de Parfum is echoing the magic of the Orient's A Thousand and One Nights. It is for me an olfactory treasure born of sand, wind and gold, built on a dream of supremely elegant oud from Laos.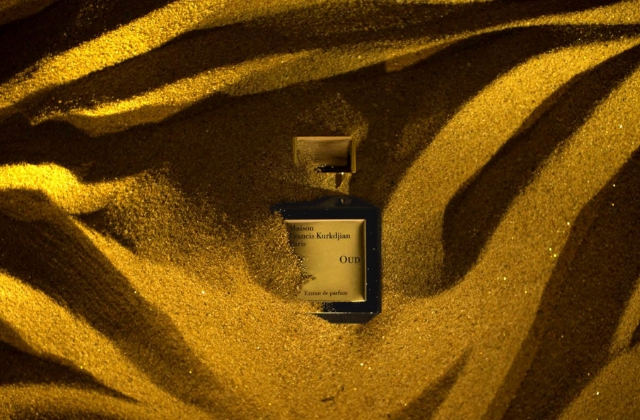 What makes Francis Kurkdjian's oud collection unique right now?
Oud is one of the most mysterious ingredients in my palette. I started to work on oud wood in 2010 and for my own first oud composition, I sought to swim against the tide and far away from the western clichés. Eschewing the trend of aping perfumes from the Persian Gulf, for the Maison I decided to create a very Western fragrance far removed from the stereotypical oud perfumes that were the rage at the time. My goal was to break free of convention and to get away from that note of oriental, traditional oud and its clichés, to simplify it at its most and outline its quintessence.
What perfume do you wear?
Surprisingly, since I have been creating perfumes, I no longer wear fragrances outside of what I am currently working on. I need to personally experience each of them, live with them until I decide they are completed.
So, what's your first olfactive memory?
It's hard to choose…I have so many scent memories: the scent of my grandmother fragrance (Femme by Rochas), my grandfather's after-shave lotion, and my father using colognes…. But one of my earliest olfactive memory remains my grandmother's cellar in her apartment. When I was a kid I used to play in this tiny room where she used to store all kind of spices and oriental ingredients she used for cooking. The overall odour was just incredible because it was a blend of sour, sweet, spicy flavours.
How does a fragrances appeal to you?
Creating fragrances is my way to express myself, what I feel about the world we live in, what I believe in. What I like about perfume is that it is not a beauty product. It's not a mascara or an accessory. It's invisible and an unparalleled sensory medium. It's only pure emotion and that's the magic of the scent world.
Can you tell us more about your adventure with LVMH group?
Two years ago, LVMH bought a majority stake of my company. LVMH is an amazing world leading luxury group that values creativity and entrepreneurship. Marc Chaya, the CEO and Co-founder of Maison Francis Kurkdjian, and I are still 100% involved in the business and remain on board as share-holders and in our respective roles. Also, we always will continue to be true to our vision and values. Nothing has changed in terms of know-how, quality, expertise, identity… and thanks to LVMH, we are benefiting from access to best practices and very talented people, developing additional capabilities in key areas such as digital and gaining from state of the art operational support for our international expansion in some key markets such as China.
What is the best part of your job?
The magic of my work is that I do not have a typical day. I don't like when all my days look alike. Since I have my eponymous fragrance line I work with many different people in many different areas!
Where do you go to take a deep breath?
I like being alone. It helps me to reconnect with who I am deeply, with no artifice. So, I'd go somewhere where I can be alone…