two weeks ago, the city was buzzing with celebrity visitors in the form of Rihanna, models Halima Aden and Leomie Anderson, who were all in town for RiRi's first-ever Fenty Beauty masterclass in Dubai.
Hector Espinal (who is the man responsible for the looks at the Savage x Fenty fashion show) is one of only two Global Makeup Artists for the brand (the other being Priscilla Ono) and won Rihanna over with his exceptional talent and funny personality.
His job consists of travelling the world to represent the ever-growing brand, creating looks for campaigns and glamming up RiRi herself and yet Espinal squeezed in time to speak with Buro 24/7 Middle East's Editorial Assistant Meeran Mekkaoui about Fenty Beauty, tips, tricks and trends…
During your time here so far, have you seen any beauty trends coming out of the Middle East?
Not yet. I mean, I follow a lot of the makeup artists from here and the fact that everyone here loves makeup is for me, like heaven!
You're a Global Makeup Artist at Fenty Beauty and it's true that Rihanna hand-picks everyone on the team. How were you chosen for the brand?
It was a very beautiful experience! It was a little long but it was great. It was a total of six months and I had met her once before during Paris Fashion Week. That's when I would do her touch-ups and everything, but the whole process, in general, was so well put together. They asked questions like "Can you do camera work?", "Can you be a good makeup artist?", "Can you dream?", "Are you good at public speaking?", and it was so many things. You had to be a very rounded person, plus have personality, plus be cool with her [Rihanna] and not be freaked out. So the whole process, in general, was great. And I learned so much in the process and I'm still learning.
What has been the highlight of your career with Fenty Beauty so far?
So far, I've had many highlights. I think my most favourite one was that I did her makeup for the beauty tour when we went to Spain. I was in the car with her and we had just finished her makeup, we were getting to the place, and I touched her up and I was like wow. I mean I've always dreamed of being in a car with a celebrity, and it was Rihanna I was doing a touch up for. I was like this is Rihanna! How huge it that?! It was insane and that was when it clicked. After we did hair and makeup, we got her dressed up and everything, and I was like, this is insane.
How did you first get into makeup?
I learned to be a makeup artist at Sephora. Sephora was my first job and Fenty is my second job. I actually dropped out of high school and got my GED and I was like "Ok, what am I going to do with my life now?" I applied to Sephora as a cashier and never in a million years did I think that I would be a makeup artist. EVER! I used to draw and sketch, and I actually had a phobia of touching people. It was just my biggest pet peeve. When the guy who interviewed me saw my drawings, he said "I'm going to make you into a makeup artist" and I told him that I thought he was going crazy because I do not want to touch people. It was bickering back and forth and six months later, I had already passed the highest certification within Sephora. A year later, I became Events Co-ordinator and three years later, I tried out for the national position and there were 2,300 people trying out and I won first place! That was in 2012 and that was the moment I realised that I was a makeup artist. From there, I started learning more.
The names of the Fenty Beauty products are quite special to Rihanna, too. How does she come up with naming the products?
So Rihanna names everything. She has her own list of stuff that she likes and it depends on the collection. For the Beach Please collection, it was obviously tied to everything beachy. I was at her house two weeks ago and she was telling me that when she names that products, it really does come from something. Like 7daywknd & Poolside (the Killawatt Foil Freestyle Highlighter Duo), it was a very long weekend (laughs). She said that "those are things that happen in my life and I want to share it with people". So, she names everything and sometimes she sends some weird names and we're just like, hmmm maybe that's not a good one.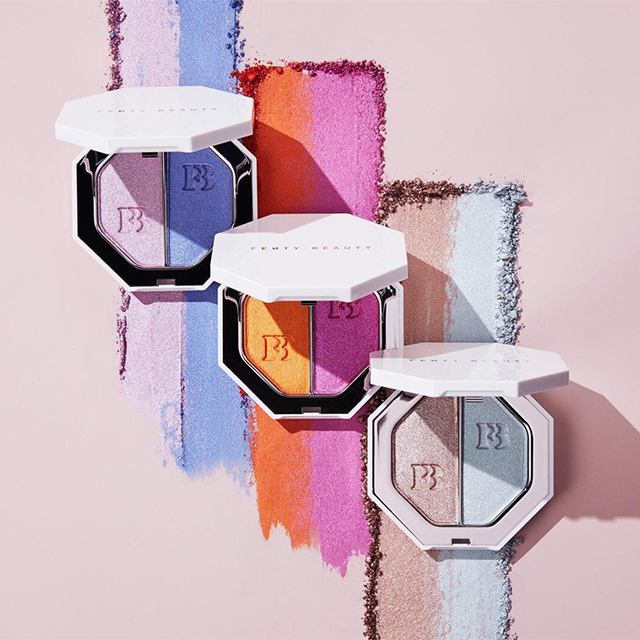 Most of the shades in Fenty Beauty's collection are really saturated and bold with a lot of shimmer. What advice would you give to those who aren't comfortable with applying such vivid tones to their skin?
Well, when it comes to bold colours, we wanted to create palettes that were more universal to race. Obviously, everyone loves the neutrals, you can never go wrong with neutrals. Then you have bold colours which are like a statement colour, so it's more of an accent colour. No matter what type of makeup application I do on eyes, I always go with neutrals first and then I add this as an accent colour. So if you're afraid of wearing colour or you're not used to wearing colour, colours like Evil Genie are beautiful if you just smudge it on the root of the lash or if you put a little pop of it until you get used to it. Unlike Rihanna, who wore this shade at the Wild Thoughts music video and she paired it with a red lip, so it was pretty bold. It all depends.
The whole Fenty Beauty range caters to such a diverse audience. How important was that for you being from the Dominican Republic?
You know what's so funny. I worked at Sephora for about eight years and I never realised that we were missing so many colours. Even when I was doing the training for the brand and it didn't even come out, I was like "Wow! We got all the colours, we're going to kill it", and in my mind, I was like "Please, I can make anything work. I can mix two or three foundations and make it look like one and I never used to use one foundation". So when Fenty Beauty came out, we were just getting a lot of DMs with people saying "I finally found a foundation that works for my deeper skin tone!" Even my mum always had to mix foundations and my aunts too, because we have an olive undertone, and I'm like "Try Fenty Beauty! It works." I cannot believe that all of this time we were missing this. I travel the world and I see people telling me that they have finally found a foundation and I'm like, this is insane that you had to keep mixing your whole life.
for me, it's rewarding as a makeup artist and it's rewarding to see the impact that we're having on women across the world.
Do you incorporate your Latin flavours into your beauty looks?
Always! (Laughs) I always want my girls to look sexy, provocative and confident.
How do you portray that?
It all depends on the client really. Usually, I always do like a brown smokey eye because it looks sexy and it looks good on everybody. Also, women in my family all love a red lipstick and it's a signature stamp. My great grandfather told me that when my great grandmother was 15, she could not leave the house without red lipstick. He always says that it happens with every woman in my family and it's a tradition. A woman without a lipstick is like a house without a roof. So, all of the women, no matter the age, they always have lipstick on. I usually see women in red so for me, it's just one of those things.
What's your favourite product from the collection?
I'll be honest with you… I started working with Fenty Beauty in 2016. I helped with the line-up and with the product launch, so everything for me is like a baby to me! But if I do choose, have to choose, I think I'd have to go with the Match Stix. Just because with these, I can do everything. It's my personal foundation but on a regular day basis, I use this. It's contour, concealer, highlight, bronzer, eyeshadow, lipstick!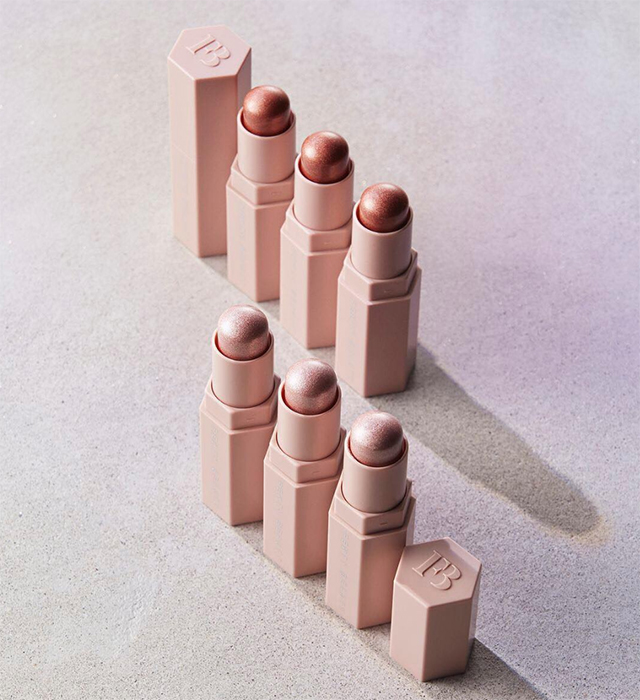 What's one makeup trend you don't want to see happen again?
Hmm. Boxy brows. I think they're very Instagram brows.
What is your favourite beauty trend at the moment?
I think it will always be skin and highlighting. I think highlighting should never go away! Obviously, not excessive highlighting like strobing only because it's one of those things that makes the skin look very clear and youthful, fresh and young.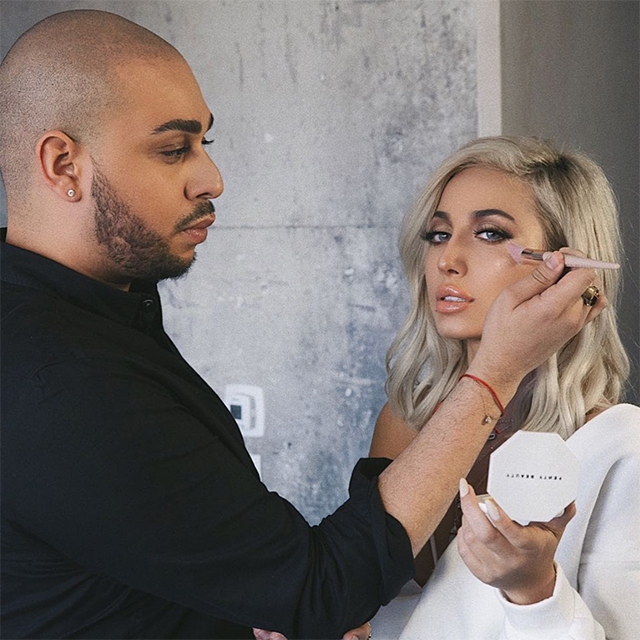 It gives that dewy glow…
Yeah! You'll look like a celebrity yourself. You're just glowing.
Being a Global Makeup Artist for Fenty Beauty, people think your life is glamorous all the time. What's the biggest misconception of it?
Luckily Rihanna's fans are very supportive of us! If anyone tries to say something, I feel like I have a navy behind me that will fight. The only misconception I have with this job is them thinking that we're not doing enough products. One of the foundations we created was sold out and people used to send me hate messages and say "How dare you guys come out with a new holiday collection and without my foundation". It's a global thing. But, I also understand because makeup is so personal so I didn't take it personally. I used to write them back and say "I feel you, sis. What can we do?". That's why I decided to start doing videos on how to use Match Stix and show what else they can do. Luckily so far, there aren't any misconceptions really.
What key products do you think work really well here in the Middle East?
Definitely the Invisimatte Blotting Powder because this is not a setting powder. This is a blotting powder. It's for the person that gets oily or sweaty and you can add this on and it eliminates that extra shine without making you look or feel cakey. Once you put powder, you get the texture, but because this is completely translucent, it's just a blotting powder, and you'll be good to go!
What advice would you give to a beauty artist just entering the business?
If you're an upcoming makeup artist, it's always about that drive because now, everyone is a makeup artist, everybody wants to be one and everybody wants to be an influencer. So when you want to do this, find out what makeup artist you want to be. Do you want to be an influencer, or do you want to be a celebrity makeup artist or a runway makeup artist? Obviously, you want to be a little bit of everything but find who you are and what your speciality is. For me, I've always been passionate about celebrity makeup. So really mastering the skin, red carpet, photography and still, I was the Key Artist for the Fenty x Savage show and being able to do no skin and just a beautiful look, and do an editorial and you have to be rounded but just know which one is your strength.
Now, take a look at the first ever Fenty Beauty highlighter palette.