It was in 1976 that a visionary entrepreneur, Hubert d'Ornano, wanted to launch a brand that relied fiercely on technological advancements to use in beauty products. Together with his wife, Isabelle d'Ornano, the Sisley brand was born and eventually blossomed into one of the most prestigious companies in the luxury cosmetics' sphere.
Sadly after Hubert's passing, Countess Isabelle d'Ornano took over the reigns (along with their children), and continued to grow the brand into what it is today: complete with heritage, luxury and the most divine products.
This month, the brand was preparing to relaunch a limited edition of one of its most iconic fragrances and one, very dear to Isabelle d'Ornano. The Eau du Soir was a beautifully crafted scent made by Hubert for his wife in 1990.
After its global launch in 1999, the maison aimed to introduce a new, colourful and revamped version of the Eau du Soir scent. For 2019, the new bottle comes complete with an explosion of colour, with cues taken from the "Action Painting" movement from the 50s.
Here, we speak exclusively to Countess Isabelle d'Ornano to learn more about the scent, her earliest memory of fragrance and why art and fragrance go hand-in-hand…
What was your earliest memory of fragrance or scent?
Surely, it was the perfume that my mother wore because she always wore the same perfume. I remember the days when I would come back from school and I knew that she would be back because in the elevator, I could smell her perfume.
Do you recall the scent?
Yes! I recall the scent because later on in life, I realised that it's not a scent that you could find easily. I used to bring it back to London from New York when I was there and used to smell of Red Rose by Floris. For me, it's really my mother and a perfume can really become a person. The perfume is also a part of the personality.
What does fragrance mean to you?
I'm the kind of person who doesn't like changing fragrances so often. Now, in the business, I do try a lot of fragrances but if I was not in the business, I would always use the same fragrance because I think that fragrance is part of the personality. It's something that is more than a dress you wear. Now, I must say, fashion has changed a lot and women work also, and for instance, I wouldn't think that the perfume my mother wore, would be a perfume she could wear to the office. I think, it's nice to have a much lighter perfumer in the office that doesn't leave a trailer.
Do you believe that there are certain fragrances for certain moods?
Yes! I think so and especially, I would say that there are fragrances for certain moments more than a mood. I think there's some sort of politeness to not impose your perfume but still, I think it also depends on the life you lead.
Can you tell us more about the Eau du Soir fragrance?
I must say that Eau du Soir is a perfume that men like a lot. Also, I can say that I have rarely had so many compliments from a man while wearing Eau du Soir.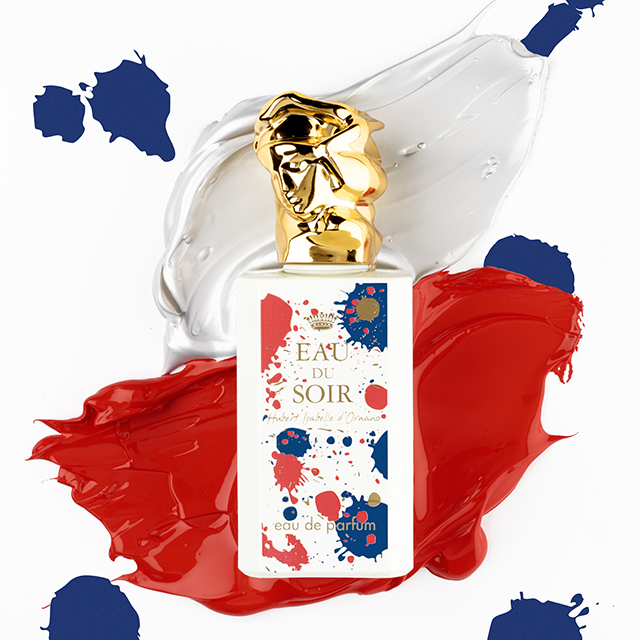 In 1990, when the Eau du Soir was created for you, what was your initial reaction?
I was actually a part of the creation! I wore it for a long time because we haven't decided to launch a second perfume. Eau De Campagne is a fragrance that is very connected with Sisley, to the beauty side of it. The second perfume [Eau du Soir], I was brought up in Spain and I was in love with the gardens. I've always been fascinated by the smell of the gardens — especially in the evenings. That's why we called the fragrance Eau du Soir [Soir meaning night in French]. That smell, is very much a smell of the serigna —it's sort of an orange flower — and it smells especially in the evening. It's not a very exuberant flower but it's a small flower with a smell that you can recognise it anywhere. I told several perfumers that I wanted a perfume with seringa, which reminded me of the gardens.
Was it the seringa ingredient that you were drawn to the most for this fragrance?
Well, the seringa was the starting point of the fragrance. We've had several noses working on it and the one I liked most, of course, we chose. However, a fragrance is a composition. It's like a piece of music or even a picture. You have an idea, a subject and you build around it.
It was a personal fragrance for you but nine years later, you decided to launch it worldwide. Why?
Yes! It was because I had so many compliments and you know what, I compared it a lot to other fragrances. I really thought to myself, if I don't get tired of it after two years, then I wouldn't. But I didn't.
Why do you think that Sisley fragrances resonate so well with your clients in the Middle East?
Our fragrances are quality fragrances and already, that resonates with the Middle East. They have plenty of natural ingredients and I think, Eau du Soir is not a light perfume and that's why I think, perhaps in the Middle East, they like perfumes which really exist on a person. I wouldn't quite say Eau du Soir was a heavy perfume but it is a perfume which is very present.
You know, I feel that you need to have a certain name to launch a perfume. You cannot launch a perfume without having a name. You either have to be a fashion house but in France, we really have a great name and now, we also have a good image with makeup and we've developed that side.
Can you tell us about the launch of the Limited Edition of Eau du Soir in September?
The Limited Edition version we actually launched a long time ago. We launched different looks of Eau du Soir around 15 years ago but now, we sort of connected these Limited Editions with art. For the last edition, it was inspired by Jackson Pollock and also, there was another inspired by great artists.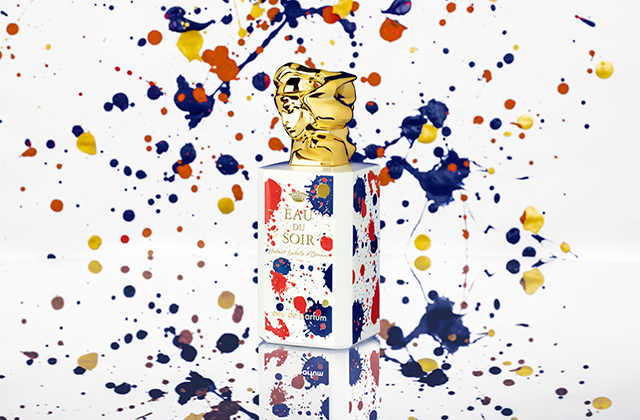 There's a lot of intertwining between industries these days and you mentioned art. Do you see art and fragrances go hand-in-hand?
For me, it's always the case. When people ask me when we launched Eau du Soir, they used to ask me what the top notes were, what the middle notes were. And my husband would always say that there were no pyramids and that there was just one composition. For me, the perfume is like a work of art. It's something which is just magical when you find the right balance and it's a creation. Now, I think there's a lot of intertwining and it has to do a lot with the commercial sides of things. There's so much talk about art now.
I created these limited editions with my daughter – she's very interested in art – and yes, I think of artists. But, I still think perfume is something different and it's more connected to something like silk, something you put around your body. It's something sensual. Art helps with the packaging but it's not sensual.
Is fragrance a good vehicle for storytelling?
Yes however, it is very difficult to be original when you're telling a story. I find that, to write about a perfume it's difficult if you don't smell it.
Sisley's Limited Edition Eau du Soir fragrance is now available at beauty counters across the Middle East.
Now, discover why you need to get your hands on Sisley's Velvet Nourishing Cream.